The Metro Is Going to Santa Monica -- Here's Why You Should Care
Today, the Expo line finally opens its railway to the sea, with its ultimate station right by the beach in Santa Monica -- and finally, taking the train all the way to the ocean will be a reality in LA for the first time since 1953. Sadly, that won't mean much to the many millions of people who don't even understand that LA has a usable train system, but, to many millions more, it's a milestone occurrence: in many ways, today is the day that the city of Los Angeles finally says, boldly, that it's willing to be taken seriously.
I'll check my privilege here: my parents drove me around when I was too young to drive, and, once I had a license, I always had a car or access to one. To me and many, many other Angelenos, LA has always seemed insurmountable without a car of some kind. When I was growing up here in the '80s and '90s (at the risk of seeming old to everyone spreading the "Damn Daniel" video, I'm 36), the idea of taking public transportation was absurd. Not only did the city busses have a reputation for being unsafe, but timing-wise (especially in the pre-Internet days) they were nearly impossible to count on. I have major respect for anyone who has ever been able to fully understand the system and navigate the city via public transit.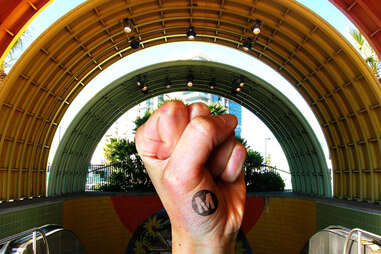 There was a blip of hope when the Metro's first stations opened, but nearly every aspect made no sense for convenience or ease, the two typical reasons public transit exists in the first place. The Blue Line -- the first to open, in 1990 -- connected Downtown to... Long Beach, via a route so perplexing it was hard to imagine who approved it. What many people, like my parents, wanted to be the beginning of a new world of convenient public transit was thwarted by location (for my family, the nearest station to our Van Nuys house was in North Hollywood -- not exactly walkable) and timing -- the Metro originally stopped running at 11 and, even as a teenager, that was prohibitive to any sort of nighttime activity.
But, more importantly, entire, major parts of the city were cut off from the train system entirely.That first line gave short-shrift to, well, anything North of Pico. When the Red Line came along, it formed an L: now you could get from the Valley to Downtown, if you happened to live within driving distance of a station. And so it went: soon Hollywood connected to KTown, but not Pasadena; then Pasadena could connect, but not Culver. And unreachable for this entire time was the whole Westside -- the City ostensibly forgetting that access to the ocean was the basis of LA's appeal in the first place. To many Angelenos, the train system as a whole felt like a failure.
And then... things changed. Slowly. Downtown, long regarded by many as unsafe and unlivable, started easing towards both, and the stations that were there so early started making sense, first with Staples and LA Live and eventually with restaurant rows and livable loft spaces coming in. (We could get into a gentrification conversation here, but I'd rather not: suffice it to say that money coming into Downtown is a boon financially but also is tricky politically, and for the sake of this story, lets leave it at that.) Hollywood and Highland's tourists were a quick hop away from Universal CityWalk; while this was not quite an Angelenos' dream itinerary, no doubt it enhanced many, many vacations (and, yes, put tons of money in corporate coffers, too). Somewhere along the way, too, Metro loosened its timing restrictions; the trains run 'til 2am on weekends, though they certainly didn't do a great job publicizing that change to passengers who may want to use the train system for late nights, but were still stuck carpooling to work.
A ride to the ocean, though, has always seemed like a dream scenario: here was a situation that would appeal to both locals and tourists alike, and really connect the city from its Westernmost point all the way East past Pasadena, through every sort of socioeconomic neighborhood, making a through-line between hipsters and surfers and Latino families and new-transplant African-American Millennials; through $1.50 tacos and $10 AYCE Korean BBQ, and $14 Old Fashioneds, and $3 Jack and Cokes, all accessible without anyone holding a steering wheel (Metro officially says a trip from Downtown to SaMo will take 46min -- which is a very-best-case scenario in a car for the same trip). The deal with our trains was an argument you'd always have to have with a friend visiting from NY or SF or Chicago, convincing them that the city made sense even when it didn't, justifying getting in your car all the time even as you knew it was part of the problem, rather than the solution. Those arguments now? Moot.
Well, mostly. These new stations aren't a catch-all: plenty of the city has no connection to easy public transportation, including my own neighborhood, near the Grove; I've got to take my own car and park, or figure out a bus schedule, or Uber or Lyft to the nearest station if I want to take advantage of the new line. And I live in a comparatively wealthy neighborhood; plenty of LA's underserved communities may never get the transportation options they deserve. But the tax-supported Railway to the Sea is proof that those options -- at some point -- are possible.
And LAX is coming soon. Well, soonish. See you in 2023.
Sign up here for our daily LA email and be the first to get all the food/drink/fun Los Angeles has to offer.
Jeff Miller is the editor of Thrillist LA and loves leaving his car in his driveway. You can yell at him at @jeffmillerla on Instagram and @ThrillistLA on Twitter.