The 14 Coolest Jobs in Los Angeles
<strong>DJ Ivy |&nbsp;</strong>Jesse Lee Fulton
From dog walker to barista, most jobs in Los Angeles are already cool. (Because, hey -- you never know if you'll serve Samuel L. Jackson his next tasty beverage.) But even someone like Megan Fox's male nanny starts to question his life choices after a while... So, if you're looking for really PEE-YOUR-PANTS cool jobs in LA, we found 14 of them.
Los Angeles
How he got the job:
"In 1996, I was doing illustrations for magazines but wanted to do something different to pitch to magazines and various companies. So I thought body painting would be cool. I body-painted a nude, pregnant model as a cyborg who was incubating a baby in a glass case for a photo shoot. I called it 'Motherboard.' I was instantly hooked."
What he does: "I body-paint human models for magazine photo shoots, TV shows, music videos, conventions, concerts, art galleries, biker events, and zombie events. Often, it's for a promotional or marketing event or campaign. I'll body-paint a model according to a specific theme, sometimes adding a logo on the model to promote a company or product. A few times, I've even painted QR codes on models that you could actually scan with your smartphone and the company's promotion would come up on their device. One thing I love about body painting is that every project is an adventure. The theme is always unique -- which keeps me on my artistic toes."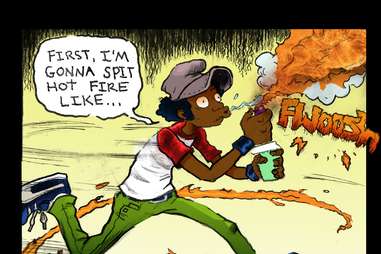 Sherman Oaks
How he got the job:
"I've always had stories I wanted to tell, and about two years ago, I got off my duff and actually put them out there. My brother Turner had been self-publishing his comic book
The Adventures of Wally Fresh
, so he had a pretty solid process in place. I just followed suit. Eventually, my bro and I were booking tables at comic conventions together. I also started pounding the pavement around LA. And before long, my comic
WARP ZONE
was on the shelf at major comic-book shops. After getting a rep as an 'indie dude' I hit up a few publishers. Now
WARP ZONE
is going to be available for iPad & Kindle. Soon, there's going to be a collected graphic-novel version sold through Amazon."
​​​​​​​​​​​​​​​​​​​​​​​​​​​​​​​​What he does: "My artistic process usually starts with rough thumbnail sketches, done in either pencil or ballpoint pen. I take those loose drawings and turn them into a larger, more detailed image on Bristol board. Once the details are penciled in, I add a few layers of ink (with a brush and a pen). Then, I scan the pages into Photoshop and color. Sometimes I'll do a few different drawings and composite them into a full page."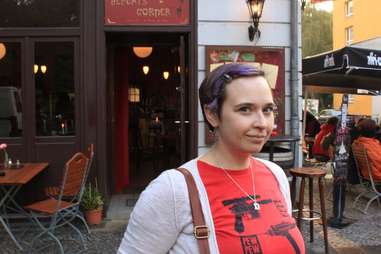 Alexis Ruegger, video game tester
Burbank
How she got the job:
"My first job out of college was testing firmware at a medical equipment company. It was a mismatch for me, but it made me realize I could test software. Because I'd played way too many video games, I also knew that video games were software. And I knew there were a lot of companies in LA making games. So, I applied to their online job postings. EA in Playa Vista was the first place I interviewed. It was 2008, and everybody was freaking out about unemployment, so I took a contract position at EA and ended up loving it. I've worked with several companies since then. But I've had the most contracts with Insomniac Games."
What she does: "There are bugs [things that go wrong] when a team is building a game. So my job is to tell the game developers what/where/when/how each little thing is broken and to provide relevant information to help them fix these problems. I go into the office, boot up the game, and write up bugs as entries in a database. They can be big and obvious, or subtle and frustrating. The subtle bugs usually require very specific steps that don't commonly get put together, and that's where the fun problem-solving skills come in."
"You don't always get to work on the games you might play on your own time, but I'm not gonna lie: I love it when I work on games that I still want to play -- even after testing them for maybe a thousand hours. That's when you know you've helped make something really great. And some kid out there is going to spend all the time you just did in the best version you could give them."
Rich Sandomeno, owner and jewelry/leather goods designer for Spragwerks
Echo Park
How he got the job:
"It took lots of hard work. It also took courage to distance myself from my chosen career at that time (heavy-duty diesel mechanic), as well as faith that following something I'm passionate about would work out. I asked for a lot of help, and took chances... almost never saying no. Most importantly, I never gave in to the voices or people who said it's impossible."
What he does: "I own and run a small business called Spragwerks, Inc. Primarily, I design and fabricate jewelry and leather goods for my business. Along with designing for myself, I do quite a bit of private-label work for other small businesses, plus lots of custom jewelry -- mainly custom engagement rings and wedding bands. I also design and fabricate furniture and fixtures, as well as art fabrication from metal -- again, mostly custom. There is also a fair amount of sculpting, mold-making, and plastic and epoxy castings. Basically, if you need anything custom-made, I can do it -- from a special piece of jewelry to steel furniture, any style -- from macabre to contemporary."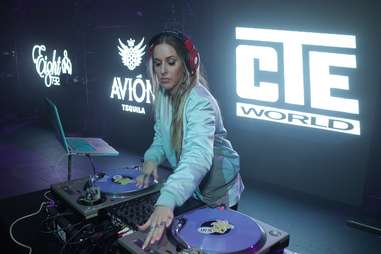 Halle Grano (aka DJ Ivy), open-format DJ
Los Angeles
How she got the job:
"I wanted to be one of the only white girl hip-hop DJs on the East Coast, so I started studying up -- listening to records and practicing at home. In 2002, my friend who I worked with at Triple 5 Soul invited me to open for him at a bar in Brooklyn. I just transitioned between record tracks by fading in and out of volume -- but I fell in love with the art. And I started playing with him for free as much as I could. We'd get paid in drinks or high-fives."
"When I moved to LA in 2006, I wanted to get a residency [as a hobby] so I could play my hip-hop and R&B records for anyone who'd listen. A DJ named Edski heard one of my mixtapes and asked me to open for him at Les Deux -- a popular club in Hollywood. We instantly connected. He wanted a girl on his team, so he got me in, opening for him for free. Finally, when he moved to a new club, I got the Les Deux residency. After that, a lot of doors opened up for me. And over time, my hobby turned into a career."
What she does: "I am an open-format DJ, which means I can play pretty much any genre of music needed for a client or event. I specialize in hip-hop, reggae, and R&B -- but I love everything. I used to only spin vinyl. But now, thanks to a digital platform called Serato, I can also take my iTunes library and calibrate my MP3s to vinyl. With this program, I can play fashion shows, corporate events, nightclubs, lounges, weddings, concerts, and much more. I get to travel all over the world, but the majority of my gigs are in the Los Angeles area."
"DJing isn't just coming into a spot and playing your favorite music. I have to be presentable, professional, and persistent. I have to multitask while reading crowds and be aware of my surroundings when I am in charge of a room. One bad move could kill the vibe at a party -- so I have to always be on my A game. It's an exciting, stressful, yet rewarding job -- but I wouldn't change it for the world!"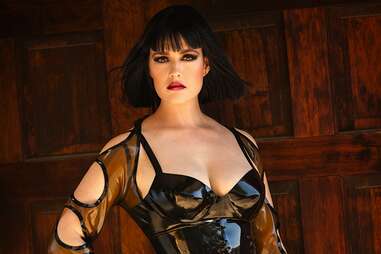 Snow Mercy, professional dominatrix
Los Angeles
How she got the job:
"I trained to be a professional dominatrix over the course of about two and a half years. Training took place at a BDSM studio ('dungeon') called The Dominion, which is in Los Angeles. I started, like most do, as a professional submissive, or a person in the passive role. I found out about The Dominion in a local newspaper's ad section. It took a while to work up the courage to send an introductory email. My email got me an in-person interview, which led me to being hired as a submissive."
"Eventually, after lots of serious training at the dungeon, attending BDSM workshops & events, and proving myself to the head mistress, I earned the title of 'dominatrix.' It's something I don't take lightly."
What she does: "In a nutshell: I'm a professional dominant role-player. That is, a client or couple hires me to be in charge of a scene. The scene can be as simple as having an adult conversation, or it can get very elaborate with specialized costumes, props, music, and furniture. My most common scenes involve discipline where I may spank someone's bottom. I see a lot of foot fetishists who enjoy kissing and massaging my feet. Some people are into being humiliated by being called names or ordered to do degrading activities. The overall idea is for me to take charge and help someone escape reality. It's called 'play' because we are playing. I offer a safe, sane, and consensual escape from civilian life, free of judgment. If someone wants to pretend he is a naughty boy for stealing panties out the locker room, I am the person he can share this with and I will happily help make it a reality."
"Training is needed because I use a lot of specialized equipment like bondage cuffs, mouth gags, whips, paddles, hot wax, and electricity to play with people. In unskilled hands, things can go horribly wrong."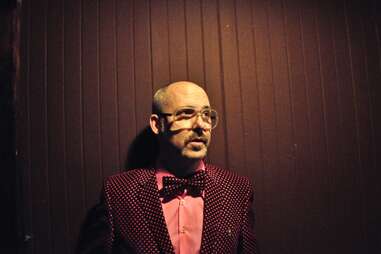 Los Angeles
How he got the job:
"In '91, I moved to NYC to make it in the music biz -- but instead, I hosted karaoke all over the town. One night, I was randomly hired to host Joel Rosenman's 50th birthday party. I had no idea who he was until he told me: he's the guy who started Woodstock. So, I trailed him. A year later, I made a re-creation of the original Woodstock poster and changed out the band names for my personal info. I also dyed my hair white, like the peace dove, and put myself on the guitar of the poster. I sent it to him and Woodstock co-creator Michael Lang -- and I got my first job with him as Michael Lang's personal assistant. But only for day; I was fired and re-hired. My big break in art came at Woodstock 1994. The merch designs showed up: they were all tie-dyed shit. I'm like... you guys know anything about Green Day or Nine Inch Nails? I put a fresh, modern spin on the stuff, and I was hired as the designer the next day. The rest is bliss!"
What he does: "I do many things in the world of art, music, and video... but I mainly create concert prints and some movie posters. I love pouring what I know into a design until it tickles that warm, fuzzy spot in your brain -- it's the place that connects the sound of the band to the right, simple imagery. Being a child of the '70s, I was obsessed with my older brother's records that he'd sell to my sister and then, steal back. Not cool... Anyway, the album designs of Queen, New York Dolls, Alice Cooper, and the likes mesmerized me. And I'm still stuck like glue!"
Jason Buhrmester, editorial director for Playboy
Beverly Hills
How he get the job:
"I was an unemployed kid in Chicago with a degree in journalism when I applied for a copy editor position at
Playboy
that required 10 years of experience. I wrote in my cover letter, 'I can't possibly do this job but I love
Playboy
and will start in the janitor's closet if you'll let me.' The human-resources person saw the humor in it and hired me to work at
Playboy
Online, where I spent most of my time answering subscriber emails and writing small bits for the site. I was a pest to everyone at the magazine and eventually starting getting small assignments from them. When the woman I wrote for at the magazine left, I was offered her position.
Playboy
later relocated me to New York City. But then, I left to write a novel. I spent several years as a contributing editor to the magazine before rejoining the company here in LA three years ago. It's been roughly 15 years and three cities with
Playboy
, which is crazy to think about. It really is part of my DNA at this point."
What he does: "I oversee Playboy magazine from cover to cover. That includes dealing with writers on assignment everywhere from Syria to Uganda to Afghanistan, coordinating celebrity interviews and profiles, and working with an array of authors such as Chuck Palahniuk and Don Winslow. It's a great fit for me since my interests can span literature, hip-hop, politics, art, and sports in a single afternoon. Plus, Playboy has such a legendary history of political activism, something more important than ever as our sexual freedoms and First Amendment rights are being attacked across the country. Right now, we're in the process of the biggest redesign and re-launch in Playboy history, so it's an incredibly exciting time to be in the building. It blows my mind to think of the photographers, writers, models, and artists who have come through the offices lately. I've barely had time to slip over to the Playboy Mansion for a drink!"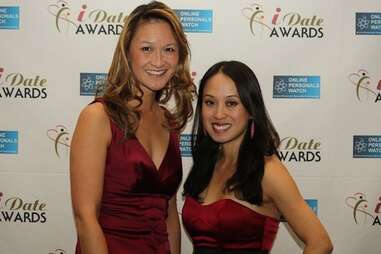 Katie Chen, co-founder and personal matchmaker at Catch Matchmaking
Los Angeles
How she got the job:
"In 2009, I lost my job and considered what to do next. Previously, I'd spent eight years in corporate management, assessing talent and interviewing candidates. While I liked it, I was the most passionate about learning people's stories -- how they got from point A to B in life. (This was probably due to my love for psychology. I had graduated from the University of California with a BA in psychology and economics.)"
"So on my job hunt, I connected with May Hui, who hatched Catch Matchmaking in 2007 to fulfill a tremendous need for a professional way for quality singles to meet and date in LA. After building up a clientele and launching the site, she was ready to take the next step and thought it'd be more fun to have someone alongside her to help -- which is how I became co-founder of Catch Matchmaking. Together, we've made thousands of connections and countless happy couples -- which have led to marriages and families over the years."
What she does: "I am an advocate for our clients and a headhunter for a match they are seeking. At Catch, there are no profiles to sift through or books to look at; we do the legwork for our clients. It starts with a face-to-face meeting, and if we agree that it's a good fit, then we go to work on matching. Clients receive brief profiles and current pictures of their potential dates. Once both parties approve their match, we set up the date. After the date, we give feedback to help improve the odds at achieving a relationship."
"The office is where we gather 'the story' behind each match and use part science and intuition to make the introduction. We have team meetings to discuss matches. We surf social media to get referral sources. And sometimes, we attend networking events or host our own to scope out eligible matches. In short, we're spending our time to save our client's time."
Venice
How he got the job:
"I was an LA bartender for years, which gave me a lot of insight into what consumers wanted and where the market was lacking in providing booze to meet that demand. I created Mama's Boy Infusions to elevate tequila's 'bad boy' reputation by enhancing its classic flavor profile with a vibrant, sweet-and-spicy twist. The recipe was a hit at the bar I worked at, and as people kept requesting it, I saw an opportunity. As the creator of Mama's Boy brands, I have positioned myself to be day-to-day sales/operations and event coordination to help with brand awareness and overall sales."
What he does: "Mama's Boy Infusions is a tequila infusion with pineapple, mango, and chili. I am the creator and founder of this company that launched 1.5 years ago, but it's been a passion project of mine for six years. Much of my time is spent building brand awareness in the bar and restaurant scene, as well as with retail outlets and consumers."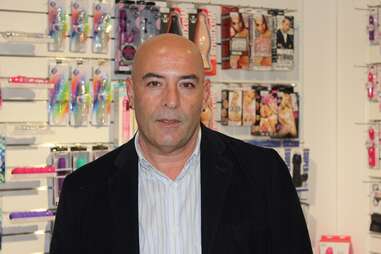 Lavi, director of operations and sex toy inventor for NS Novelties
Chatsworth
How he got the job:
"In the early 1980s, I moved to LA from San Diego to finish my degree in 2D and 3D dimensional design, with emphasis on architecture and interior design. After a brief stint as a set designer, I was recruited by New Beginnings -- a startup distributor in adult novelties -- to run their operations. After 14 years of learning the business, I was tapped to head Doc Johnson, a former industry leader that needed to be revived. While operating it for eight years, I delved deeper into production, product design, packaging design, and cooperation with overseas factories -- and I grew Doc Johnson to a market leader once again."
"My background in design and industry knowledge allowed me to combine all my experiences of the past 20 years. I departed Doc and started a new company with Scott Taylor -- NS Novelties. The first line of 120 toys was presented in October 2011 in Germany to overwhelming acceptance. Quickly, the company grew to become a worldwide leader."
What he does: "Most of my time is spent developing new products. As an 'old-school' designer, I still do 100% of my work with a pencil and paper. Working out the details of a product is the best part of the job and solving a production challenge is its most rewarding. Because a product is produced by machines, we must know and understand abilities of machinery and materials so we can design from the inside out. So, yes, we discuss the proper shape for a butt plug, the best materials to use, and how it will be packaged, but long gone are the giggles associated with what part of the anatomy we are designing a product for. Also, ergonomics plays a huge role. A sex toy has to work with your body -- and designing ergonomically is the most important aspect of the development. You could create the most beautiful toy in the world, but if it doesn't deliver sexual satisfaction, then it's fallen short. Overall, I would estimate that in the past 12 years, I have designed more than 2,000 sex toys."
Marcus Lindsey and Clare Benavides, paranormal investigators/researchers for Paranormal EXP
Los Angeles
How they got the job:
Their "ghost hunting'" began when Marcus Lindsey and his fiancé, Clare Benavides, took a road trip to Vulture City Mine in Wickenburg, AZ. While there, they recorded strange voice irregularities known as "EVPs" (Electronic Voice Phenomenon). Their curiosity was piqued. So using a metal detector and limited paranormal equipment, they loosely formed a paranormal group under the unprofessional name "Ghosts and Coins." But in 2010, DJ JoJo Wright from 102.7 KIIS FM invited them to investigate a home with suspicious occurrences in Glendale. Knowing that a huge audience would be listening, they changed their name to Paranormal EXP and called two friends, Lex Tellas and Jason Gates, to help them out. Their work caught the attention of the Travel Channel show
Paranormal Challenge
. And in June 2011, they were cast to be on it. Jason Gates joined them to round out their team.
Once the show aired, they were contacted by The Comedy Store to investigate years of haunted activity. Since then, they've appeared on various radio interviews, podcasts, and TV shows, as well as conducted local investigations.
What they do: Marcus, Clare, and their team use various technology, methodology, skills, and personal experiences to prove or disprove each case. They take a scientific and logical approach to their investigations and continue to find "unexplained phenomena." Paranormal EXP has investigated nearly 100 locations in Southern California and across the country, including the Black Dahlia "murder" house, ranches, restaurants, homes, and historic landmarks.
Jacqueline Antoinette Westman, founder and designer for JAWline
Los Angeles
How she got the job:
"Last December, I ventured out of my comfort zone: after designing for seven years for some of the top contemporary brands in Los Angeles, I left for a new opportunity as a senior designer, only to be fired within three months."
"My instincts were to immediately set sail for the unknown. I wanted to pursue my inner calling and childhood dreams. So I did. I created JAWline this past summer, and it officially launched on October 16th, 2015. It took every penny in my name, my lucky stars, and the hustle of selling built-to-fit men's clothing by Trumaker."
What she does: "Everything. I've had to put on my big-girl pants and play every role in every department -- from design to marketing, operations, product/business development, finance, web development, and casting."
"I am proud to be part of the fashion revolution that is making a difference in the world today. And I'm especially proud that JAWline is made in the USA!"
Ricki Kline, interior designer and owner of Ricki Kline | Design + Build
Los Angeles
How he got the job:
"Over 20 years ago, some friends of mine were opening a bar (Three Clubs in Hollywood). At the time I was lead carpenter and construction coordinator for an interior-design firm that created a lot of restaurants and bars in the LA area. Marc Smith and Matt Webb (owners of Three Clubs) knew what I did for a living and had seen some of my work. So they asked me if I could design and build their bar without the help of an outside design firm. I said yes, moved into the space with my construction kit and a small crew, and two months later, walked out of the space that became the newly designed Three Clubs. It took me another 10-12 years to finally hang up my tool belt and become a full-time interior designer."
What he does: "I created Ricki Kline | Design + Build, which is a full-service interior firm that designs mostly hospitality venues -- restaurants, bars, and cocktail lounges, plus some boutique hotel projects. We usually contract directly with the owners, starting with a raw space and a concept. Once we have that, we develop the mood and the layout, and then move into design visualizations. We work with architects and other sub trades to create a full set of plans. Bespoke lighting and furniture decor are also a hallmark of our brand. We design and build everything from scratch -- we don't buy. While under construction, we work as de facto project managers and, with a select group of artisans, create a signature environment for our clients. Restaurant and bar design allows me to have a small part in building the LA community and its popular haunts -- so the whole experience is extremely rewarding. And one of the biggest pleasures for me is seeing other people enjoy the new environment."
Sign up here for our daily LA email and be the first to get all the food/drink/fun Los Angeles has to offer.
Michelle Spencer is insanely jealous of these jobs and thinks there should be a "Bring a Thrillist Writer to Work" Day for each of them. (Hey, a girl can dream!) Catch her at @thermos62000 on Twitter and @rockingirlie on Instagram.