How 'The L Word: Generation Q' Remade Its Queer Community Hub
In recreating Echo Park's the Semi-Tropic on a soundstage for the show, the Showtime drama also created an IRL queer space for its fans.
Design by Maitane Romagosa for Thrillist
Design by Maitane Romagosa for Thrillist
The first thing you notice in a shot of Dana's bar are the women: seemingly hundreds of them, mostly gay, some bi, all gorgeous. One or two men, maybe, if they're there to support their friends or partners that day. Softly lit with a brick wall-backed bar and turquoise art deco styling, Dana's is the focal point of the reboot of lesbian comedy-drama The L Word: Generation Q, returning for its third season on November 18. The bar is a glitzy upgrade to The Planet of the original L Word, but its function remains the same: a central place in the neighborhood that draws characters into romance and chaos—because who can avoid their exes in such a small community?
The Planet was the heart of The L Word. Run by ally Kit (Pam Grier) for the majority of the series, it became a haven and safe space for the community of LGBTQ+ people in surrounding West Hollywood. Kate Moennig, who plays everyone's favorite lesbian lothario Shane McCutcheon, told Thrillist that Grier's decision not to return to the reboot was integral to the facelift: "There's no Planet without Kit." Plus, the writers wanted to move to the east side, signaling the end of the old era and the beginning of a more inclusive one, which is represented in the show's casting of transgender, nonbinary, and disabled people. It echoes an IRL shift for the LA gay community from West Hollywood to more affordable neighborhoods..
Moennig adds that The Planet was based on a coffee house called Little Frida's, a West Hollywood staple frequented by lesbians in the 90s. For that reason alone, The Planet was no longer feasible: "Realistically, these little coffee shops would never have survived for 15 years anyway!" Dana's has quickly become integral to L Word lore in its own right: Opened by Shane in Season 1, it's been a hotbed for drama and the meeting place for her and Tess, her longest love interest since Carmen. Played by Jamie Clayton, Tess is part of what makes Dana's feel so real.
While closing down The Planet marked a shift into the future, there is a key nod to the past in the new bar: the name. Dana Fairbanks, played by Erin Daniels, was a central character for three seasons of the original series before ultimately dying of breast cancer. The love of Alice's life, Dana was beloved by all, onscreen and off, and her loss is felt throughout the show. Naming the bar after Dana felt natural, like something Shane would do, says Moennig.
"I was always really curious about what it was going to be named, and when the producers said that was going to be the name of the space, it was, without question, the most perfect name for the spot." Clayton adds, "Shane did this amazing thing by naming the bar after her friend, so there's a sadness there. Dana was one of the legacy characters that so many people who are fans of the original are a fan of."

Bars have historically been a favorite of TV showrunners as a place to bring characters together, but as Generation Q showrunner Marja Lewis-Ryan points out that queer spaces are disappearing. "We're moving online and we're more accepted in a lot of traditionally straight spaces, but there is something so special about having a space just for us." Even if a thriving majority-lesbian space like Dana's is a fading vision of utopia, it made sense for Q. "When an episode is really working, from the midpoint to the end, we're in a single event," Lewis-Ryan says. "We needed an event space in which we could have multiple characters come together, and for us it seemed natural to have a bar where people could get drunk and make out and fight."
More than anything, it had to be somewhere that exes trying to avoid one another could crash back together. "This is a relationship story. You want a space that forces us into all of those awkward moments with exes long enough to become friends again," says Lewis-Ryan about a dynamic that she calls a "queer staple." Plus, she adds, the show demands drama. "This audience wants a brawl in the alley and someone falling into a pool." She laughs. "It's all in the anatomy of the show. You want the most dramatic set of circumstances alongside the most dramatic stories. This space just feels so right for queer conflict."
"The bar has become ground zero for everyone to meet up and for drama to occur," agrees Moennig. "It really is its own character."
The updated inspiration for Dana's came from a real bar in Echo Park, the Semi-Tropic. Reality and fiction blur in the Semi-Tropic, particularly on Sunday nights, when Showtime holds screening parties for the new episodes. "Those first scenes [in Season 1] that you see when I'm there with my girlfriend, we're at the Semi-Tropic. We filmed all of that on location," says Clayton. The art department, set and props teams then recreated the bar on sound stages between seasons one and two. Being based on a real bar, however, is why the layout remains realistic, even on a soundstage.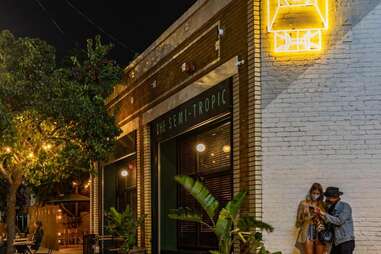 "Rebuilding a space that was actually a location was a very trippy experience for me. It's amazing what the art department did," says Lewis-Ryan. By building a new set based on a real place, they got to maintain verisimilitude while making real-time edits: adding new bathrooms, a back patio, and changing how you get behind the bar. "In the Semi-Tropic, to get behind the bar, you have to go through the kitchen. That's insane!" says Lewis-Ryan. The real-life layout made the narrative difficult to execute: "I could never have a scene where somebody was standing behind the bar unless they were going to stay there. They were trapped."
Of course, for any location to feel truly real, it's not just about the set; it's about the performances that take place there, how real the relationships that play out can feel. In Generation Q, the ensemble cast makes all that fighting, fucking, and loving feel authentic wherever they are. But in Dana's, it's Clayton (and Tess's relationship with Shane) that makes it feel flesh and bone.
Whether she's offering someone a drink, swanning around with a tray or narrowing her eyes at a troublemaker, she is Tess. Clayton tells me that she's bringing her real experience to the table. "I lived in New York for ages and I did it all. I was in the service industry for over a decade. I bartended, I waited tables, I hostessed, I go-go danced, I DJed. I know all the different personalities you would encounter, so I've been able to bring all of that to Tess," she says. It's that experience that makes it real. "Working in nightlife for so long, there is specificity to certain things like the way I make drinks or the way that I move through the crowd or talk to people. All of those things come from my experience."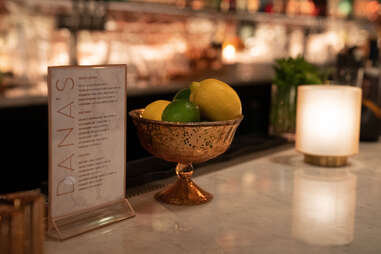 Dana's is a haven for the characters, offering space for growth and healing. "I think that any space filled with majority queer people, there's going to be a sense of, 'Yes, come, making money is hard and staying sober is hard. Let me help,'" says Clayton. "By default, queer spaces become this haven. I've always had that, where if my friends can hire me to do something, even if I'm not that great at it, I can get $100 for the day." Dana's also becomes a source of conflict, with so many clashing personalities and exes and people mid-fight coming to events. With Finley (Jacqueline Toboni) and Tess's sobriety, respectively, it becomes a space for temptation. "I think it is a tough space for someone who is dealing with sobriety," laughs Clayton. However, she adds, that makes it a kind of haven, with Tess functioning as Fin's sponsor.
Shane opened Dana's as a kind of distraction, a way to remove herself from her life as it had been, and as Season 3 opens, we wonder if owning a bar is what Shane actually wants to be doing with her life. "Last year there was poker, and then the benefit. There's a lot going on there! It's a lot! Shane isn't doing what she wants to be doing," says Clayton. Moennig agrees: "I think it's true that the bar has become much bigger than Shane had ever anticipated, and Tess only wants to make it grow and grow. I feel like opening Dana's in the first place was a bit of a distraction from what she was dealing with at that present time, and now it's the question of Is this really something that I want to keep doing? It's taking on a life of its own." Running Dana's becomes a source of conflict for Shane and Tess's relationship. "They're not happy," Clayton says. "They both want distractions instead of communicating with each other."
In the upcoming season of Generation Q, Dana's continues to play a key role, and Lewis-Ryan says we've got tons of drama to look forward to—as well as holiday episodes that transform the space for Halloween and Thanksgiving. "Our art department really got to flex this season!" she says. That also means that screening parties at the Semi-Tropic will continue into January, bringing the utopia to life. Those experiences make Dana's even more special to Lewis-Ryan. "When I go to the screenings there on Sunday nights, I realize that we built this thing. We wrote about it and then it became real," she says. "I love that place and I just feel excited that we get to have a space like that. It's really important to watch and do things together. It undoes shame and it builds community. It's really special."
Marianne Eloise is a contributor to Thrillist.