11 Things People in LA Are Irrationally Passionate About
Angelenos are generally a laid-back bunch with a fondness for athleisure outfits and "work" flip-flops. Yet, despite our casual appearances, there are a few things that are bound to get us riled up. Some topics we can be understandably insistent about -- having an earthquake kit is totally a good idea -- but others are far less rooted in practical or even, dare we say, rational reasons. Try out one of these topics at your next brunch sesh with the gang and watch the passions flare.
Avocados
Perhaps some of this has to do with the fact that about 80% of the avocados grown in the US are grown in California, but people in LA sure love their avocados. We'll put avocados on just about anything, but especially toast. According to a 2013 market study, Angelenos consumed 293.15 million avocados that year, making them by far the winner of the avocado-eating olympics, as New York, who came in second, only ate 119.49 million. Clearly they're not committed to the avo-cause.
Hiking
LA's Tinder is but a sea of bronzed Angelenos standing atop a scenic crest, proclaiming their love of hiking. And why not? LA offers a bounty of beautiful nature and sweeping views. However, what exactly a hike is can vary greatly. We've got woods hiking, mountain hiking, desert hiking, ocean-side hiking, and hiking that's not very strenuous and kind of not hiking at all -- in other words, bring-your-chihuahua hiking. There's Runyon Canyon, of course, the definitive hike for those who want to see and be seen, but we've also got plenty of cool hidden trails for those who want to take the path less Instagrammed.
Making geography-based friends & lovers
Companionship can be hard to find, but even harder still when two parties live on opposite sides of the great divide that is the 405. If you live in, say, Koreatown, and your honey lives in Santa Monica, you could be looking at a two-hour rush hour drive to meet them for dinner. Or if your pal's coming to Koreatown, where are they going to park? Sometimes, the convenience of a $7 Lyft or a 10-minute drive and easy parking is too good to pass up, even if the sparks aren't there. Perhaps the new Expo Line will be the great equalizer.
In-N-Out vs. every other burger
East Coast transplants extol the virtues of Shake Shack, while others cherish Whataburger. Angelenos, however, must defend the honor of a Double Double Animal-Style and a side of fries, also Animal-Style, obviously. We've done a good job as messengers to the world, as demonstrated by Londoners who waited up to five hours in line just to sample our glorious grease. It doesn't count against In-N-Out that they're good to their staff, offering higher pay than other fast-food joints, and have maintained a consistent and simple menu. Of course, there's no better way to be an edgelord around these parts than to say In-N-Out is overrated.
Taco trucks
While other cities certainly have their food trucks, Los Angeles has an overabundance of the simple, reliable staple that is the taco truck. In fact, in some neighborhoods in LA, they really are on practically every corner. We love our taco trucks because they are delicious, fast, and cheap, and it's fun to spoon sauces into tiny cups while we wait for our spiced meats, wrapped with cilantro and onion in a soft tortilla. Taco trucks are seen as slightly more acceptable than the quintessential hot dog wrapped in bacon known as the dirty dog, but let's be honest: When it's late, both are great.
Mystical magical things
Have you ever been anywhere else that has such a high concentration of psychic readers? While Angelenos are generally less conservative and Christian than their Midwestern or Southern brethren, they do have a certain tolerance, if not love, for the spiritual side of life. Your casual dabbler will have no shortage of places to buy a healing crystal (as long as it doesn't get stolen, like cold pressed juicery Moon Juice's rose quartz), and there are plenty of Reiki healers, Tarot reader, and other magical thinkers to guide you on your path to success and enlightenment. Many psychics claim that they are frequent consultants to the stars, which could explain what's keeping them in business. It's also totally unsurprising that E! has a show called Hollywood Medium about a 20-year-old Los Angeles psychic who says that Snooki was his most interesting client.
Hating the Valley
Every city has the area of town that they like to pick on, and for LA, it's the Valley. In most cases, The Valley is defined as the San Fernando Valley, in particular, and contains cities like Chatsworth, Studio City, and Van Nuys. Central LA folks claim there's no reason to ever go there, but what makes this irrational is that the 818 actually has quite a few cool things, including cheaper rents and easy parking. There's the quirky CIA in North Hollywood, the Warner Bros. studio tour, and fun places to eat like Casa Vega, Ca Del Sole, Mom's BBQ House, and Go's Mart.
Freelancing
It's hard to stay cooped up in an office all day when the weather is always perfect. That's why you're always running into people who work part-time, but have a side hustle here, a night gig there, a weekly podcast, and some overarching personal project. Luckily for all of those people, we have a number of good third-wave coffee shops, as well as great out-of-the-box options, for them to hole up in while tapping away at their screenplays.
Halloween
Halloween in LA is amazing. Within an hour's drive, we have three theme parks that get decked out for Halloween with multiple mazes, scare zones, and interactive experiences, and that's not even counting Disneyland. On top of that, we have dozens of alternative options including bizarre immersive theater, extreme haunts where you have to sign a waiver first, creative and colorful home haunts in residents' own backyards, and a spooky hayride that crawls through one of our most supposedly haunted parks. Many of these haunts are crafted by folks who work in the film industry building sets, designing costumes, and practicing special FX makeup, so the scares are of the highest caliber. And that doesn't include all the screenings, art exhibits, and parties that pay homage to the macabre, or West Hollywood's massive carnival where thousands flood the streets in some of the most elaborate costume you've ever seen. The horror-loving Angeleno will find at least one creepy thing to do every day in October, and then some.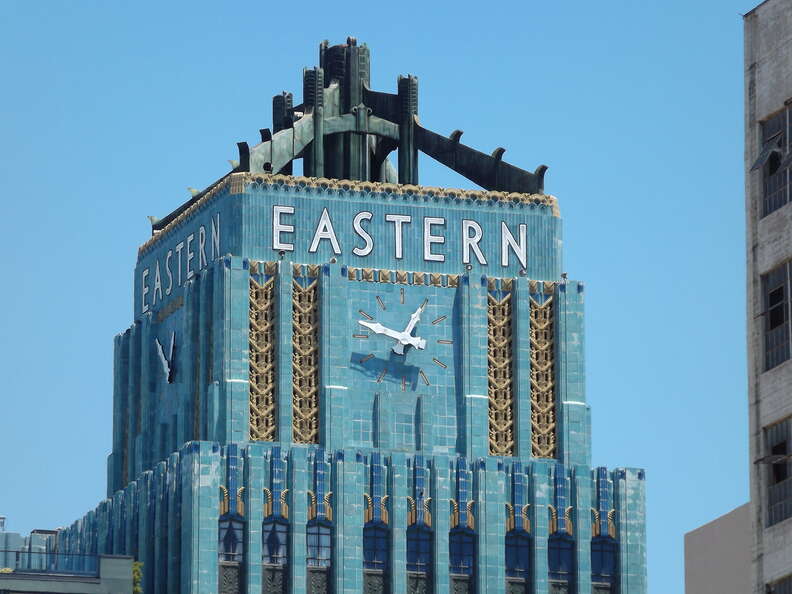 Art Deco
Los Angeles is splendidly Art Deco, with so many glamorous buildings to wonder at: the Chinese Theater, the Eastern Columbia building, the Oviatt Building, the Wiltern. There are little nods to the style nearly everywhere you look in LA, including our own City Hall. The glamorous style emerged in France following WWI, and became quite popular here, as certain movers and shakers were able to see examples at the Paris Exhibition in 1925 and brought it back to LA with them. Over time, many of the buildings, like the Richfield Tower, were demolished and replaced with something else, but fortunately, several remain and are fiercely preserved by local history buffs. Los Angeles even has an Art Deco Society for those who appreciate the aesthetic to converse and mingle at Gatsby-esque soirees.
Shortcuts
Public transit is getting better nearly every day in LA, but the daily headache of traffic jams remains. For that reason, we're all about trying to find shortcuts. Many of us will maintain that certain roads are better than others, and that can vary depending on what time of day it is. Some common shortcuts you might hear are taking Fountain through Hollywood, or taking one of the canyon roads when going between the Valley and the Westside. Some shortcuts, however, are very complicated and involve multiple turns, and those have been immortalized in the SNL skit, 'The Californians,' where all you have to do is take "get back on San Vicente, take it to the 10 then switch over to the 405 North and let it dump you out into Mulholland where you belong." In modern times, apps like Waze and Google Maps have configured all of this for us. The problem with those, however, is the dreaded left turn from a side street onto a busy road with no light. The worst!
Sign up here for our daily LA email and be the first to get all the food/drink/fun Los Angeles has to offer.
Eliza Deckard is a reclusive, Los Angeles-based journalist who is irrationally passionate about cats.