Every Story You Need to Survive LA's Thanksgiving Traffic
There's no question that, at some point today, as you're trying to get out of town, you're going to say either, "I can't believe this traffic," or "I can't believe this check-in line," or even "I can't believe I'm home alone on my couch instead of in traffic or in an airport line." For all three, we've got you covered: some of the best stories we've run on Thrillist recently, since we know you haven't had time to read every single thing... until right now. Enjoy your turkey. Eventually.
(Oh, and if you're driving? Don't look at this. Wait 'til you switch spots and are a passenger. In three hours.)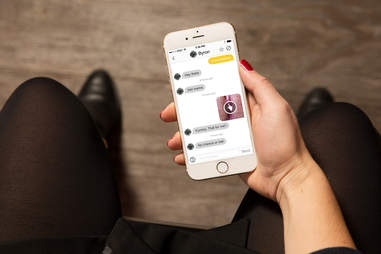 Cole Saladino/Thrillist
Let's be honest: while I enjoy penises, I don't necessarily want unexpected visual boners intruding on my day. I wondered, "What would guys do if I turned the tables and sent them an unexpected vagina pic?" And so, in my own twist on revenge porn, I sent 40 unexpected vagina pics to men on Bumble. READ MORE
You're almost definitely driving like a dick, just like the rest of us. Here are just a few of the little things you're probably guilty of doing at one point or another without even realizing it. READ MORE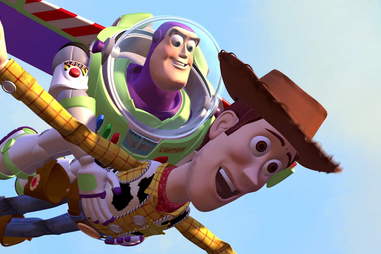 Walt Disney Pictures
Choosing a favorite Pixar movie is an impossible task we wouldn't wish on anyone -- not even Sid, the toy-torturing bully first introduced to audiences back in 1995. But with the 20th anniversary of Toy Story arriving this weekend and the company's latest magnum opus, The Good Dinosaur, opening on November 25th, we decided to bite the plush yellow Zurg-bullet and rank all 15 of the company's films, from worst to best. Grab a hanky -- things are about to get kid-friendly but emotionally devastating! READ MORE
Vimeo/Ellusionist
I know what you're thinking. Flamethrowers are quite badass and rad and chock-full of Mötley Crüe-esque fun, but they are so damn cumbersome -- you can't take them anywhere. And you definitely can't hide one under your sleeve. What a bummer!
Well, I have some news that'll turn your sensible boxer briefs into a pile of steaming-hot ash. Say hello to your new little friend, the Pyro Mini Fireshooter. It's the clandestine, elegant solution to all your flaming needs. READ MORE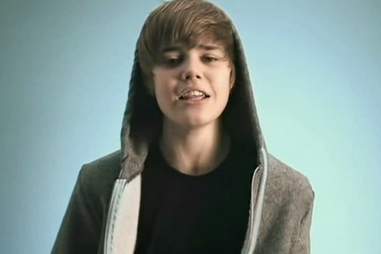 The Island Def Jam Music Group
Like Justin Timberlake's breakthrough album, Justified, Justin Bieber's made a strong musical statement with Purpose, a nimble, carefully crafted batch of classic dance-pop boasting contemporary EDM influences. But here's the thing (and all due respect to the other Justin): Bieber's records have always been great. The moody R&B confessions of Journals, the icy whisper-pop of "Boyfriend," and the Ludacris-enhanced "Baby" were are all flames. As it happens, the seeds of Bieber's "comeback" have been in front of us all along, namely in the video for this very first single, "One Time." READ MORE
There are about a billion movies about LA out there, from Sunset Boulevard to (sigh) Entourage: The Movie, but every list that's attempted to rank them has come up against arguments of subjectivity. Which is why we decided to make it more fair, and have a bunch of people who ACTUALLY MAKE MOVIES rank the best movies about LA. READ MORE
Dustin Downing/Thrillist
If you're a waiter or bartender, you've seen your fair share of horrors. But the brave souls manning the headset at fast-food chains aren't any safer, even if they have a wall separating them from the customers. With the help of several Redditors and a rogue live source, we unearthed some of the most horrific and hilarious things ever ordered in a drive-thru lane. Remember, folks: McDonald's does not cater weddings. READ MORE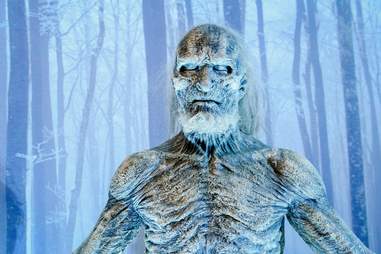 White Walker from HBO show <em>Game of Thrones</em>; Jonathan Nackstrand / Stringer / AFP /&nbsp;Getty&nbsp;Images
I watch too much TV. This much is clear. But what I hadn't realized until talking with my coworkers is that I'd actually seen at least part of almost every scripted show HBO has ever put out. And so, over the course of a couple months, I set out to complete the mission and watch every single HBO show, avoiding miniseries I hadn't already seen (sorry, Mildred Pierce), HBO film productions (apologies, Angels in America), anthologies (that means you, Tales From the Crypt), and sketch series (no, Little Britain USA). Rank them definitively. Eat sea-salted pita chips. Go on with my life. READ MORE
Sarah Norris/Thrillist
SO many things give you cancer: the International Agency for Research on Cancer (part of the WHO) lists 481 substances that possibly, probably, or definitely give you cancer. Avoiding all of them is pretty much impossible, partly because they're everywhere, and partly because some of them are so damn enjoyable. Here are 17 of the most prevalent cancer-causing culprits, ranked by how much fun it is to partake in them (do so at your own risk!). READ MORE
From titanic muffler men, to hilariously oversized furniture, to junked cars parked where they shouldn't be, seeing the next roadside attraction is the biggest reason we never want to stop driving. So we scanned the highways and byways of America to rank all 50 states by roadside excellence -- how weird, big, and beautiful did your road candy come in? READ MORE
Sign up here for our daily LA email and be the first to get all the food/drink/fun Los Angeles has to offer.