From its history as LA's first upscale suburb (and resort for the East Coast elite) through its current reputation as the home of the Rose Parade, Pasadena has always been LA's not-so-hidden secret sister city. But there's so much more to the City of Roses than what you see on TV one day a year: There's also art, architecture, a food-filled Old Town, and some of the most important scientific discoveries going on at its world-class laboratories. You pretty much have to be a local to understand everything that goes on here.
Whether it's browsing the oldest bookstore in SoCal or eating an incredible sandwich with no real name, here are 19 things you must do in Pasadena, none of which includes trying to buy coveted Rose Bowl tickets on Craigslist.
See a Monet in person
The Norton Simon Museum has been hailed as one of the greatest private art collections on display, and with pieces by Rembrandt, Goya, Degas, Monet, van Gogh, and Picasso, it's easy to see why. Wander through this tiny-but-mighty museum before heading outside, where a sculpture garden and pond modeled after Monet's favorite await.
Beat your high score
Relive your childhood at the two-year-old Neon Retro Arcade, which is loaded with over 50 vintage arcade and pinball machines that don't require you to break a single bill to play. In lieu of bulky tokens, you'll pay $10 an hour for unlimited games; get a full day for $25, and spend hours beating your friends in Pac-Man, Street Fighter, Galaga, and more.
Get ideas for your next home project
Part design showcase, part fundraiser, part chance to sneak a peek inside homes bigger than you'll ever be able to afford, the Pasadena Showcase House for the Arts lets local interior decorators have at a massive Pasadena-area home, then sells off tickets (starting at $35) that let you explore the resulting room decor.
Explore Old Town
Since walking is free (and so are the first 90 minutes in the parking structure), a stroll through bustling Old Town Pasadena might just be the best deal in town. All 22 square blocks of the city's revitalized business district are on the National Register of Historic Places, meaning there are plenty of vintage Art Deco buildings and brick-lined alleys to take in along the way.
Take a food tour
Unsure where to even begin to feed the hunger pangs in Old Town? Melting Pot Food Tours offers walkable, nosh-able explorations of the neighborhood's best (and most diverse) restaurants. In just a few hours with your guides, you'll eat multicultural food, gorge on ice cream, and wash it all down with a cup of tea. Not bad for a mile-long walk.   
Eat "The Sandwich"
In Pasadena, there is only one sandwich worth eating, and only one man who can make it: 78-year-old Rosario Mazzeo, who still sits behind the meat and cheese counter at his Italian deli and grocery, Roma Market. "The Sandwich," the only go-to item on offer, might seem like just a simple pile of mortadella, capicola, salami, and provolone, but it's so much more than the sum of its parts -- you'll just have to find out why for yourself.
For most of the year, the Levitt Pavilion is an empty bandshell at Pasadena's historic Memorial Park. But every summer, the mini-Hollywood Bowl throws off the cobwebs with 50 concerts featuring Grammy-winning Americana, blues, jazz, and Latin acts, from Dean Torrence of surf-rockers Jan and Dean to LA's Latin-fusion Quetzal. Oh, and one last little detail: All the concerts are 100% free.
Hit up one of the best flea markets in the country
Need a pair of vintage sunglasses? How about a bike? Or an entire set of living room furniture? If you can dream it (and it was made before 1990), it's probably for sale at the monthly Rose Bowl Flea Market, arguably one of the best of its kind in the country. With hundreds of vendors selling everything from shoes to stoves, you're guaranteed to go home with something new to love/ask yourself why you bought it six months later.
Give a hoot, read a book
Remember those glue-bound pages with words printed on them called books? At 122 years old, Vroman's Bookstore knows a thing or two about selling them, even in the digital age. Still in its original spot on Colorado Blvd, this two-story wonderland for all things textual hosts famous authors, book-related events, and continually proves why it's still SoCal's oldest and largest independent bookstore.
Get a few belly laughs in
There's never a shortage of good jokes when you catch a show at Pasadena's Ice House Comedy Club, one of the LA area's OG stand-up spots. Opened in 1960 as a folk-music venue, this intimate 200-seat space has become well-known for hosting up-and-coming comedians before they hit it big, along with famous names like George Carlin, Lily Tomlin, and Jerry Seinfeld.
Explore where space robots are made
Interested in how scientists cull data from the vast nothingness of outer space? Head to NASA's Jet Propulsion Lab, the leading US center for robotic exploration of the solar system, to witness how the magic happens for yourself. Nearly 30 spacecraft and instruments from JPL are currently carrying out missions, which you'll learn more about if you score a spot on one of the public weekday lab tours or show up for one of the monthly public lectures.
Tour the world's top university
Home to 34 Nobel Prize winners and thousands of scientists who are literally changing the world as you read this, Caltech has time and time again been voted the No. 1 university in the world (the TV show The Big Bang Theory is set here, for whatever that's worth). Luckily, you can try to glean some of the smarts from this campus during a self-guided tour, or wait around for the monthly architectural tour during which you'll get to see inside some of the high-tech labs.
See Doc Brown's house from Back to the Future
Glimpse into the past when Pasadena was a haven for well-to-do businessmen at the Gamble House, a pristine example of early-1900s home design and craftsmanship. Designed by famous architect brothers Greene & Greene (and featured as Doc Brown's abode in the Back to the Future trilogy), the house is only accessible by docent-led tours which run every 30 minutes most days. Drop in on a Tuesday, when the rear lawn and terrace are open for casual visits -- just make sure to BYOL (bring your own lunch).
Watch the Rose Parade
You probably knew this one was coming -- after all, the internationally broadcast Rose Parade has been putting Pasadena on the map for generations. But there's something to be said for seeing the New Year's Day action up close, which you can only do if you plan ahead, camp out all night in the frigid (60-degree) winter, and snag a primo spot along the parade route. The experience is a rite of passage for all Pasadenans.
Volunteer to build those Rose Parade floats
Why wait all night just to see a few floats roll by when you can help build them instead? Be a part of the history by volunteering to help painstakingly attach seeds, bark, fruits and vegetables, grasses, and, of course, flowers to a variety of moving artworks that will be in the parade. Don't feel like working either? You can always stop by the warehouses to watch other volunteers do the attaching -- or wait until after the parade when the Showcase of Floats lets you see the finished products up close.
If rehearsed high-school band performances and cars covered in flowers aren't your bag, you might prefer the local eccentrics and zany steam-punk participants of the Doo Dah Parade. Often called the Rose Parade's twisted sister, this irreverent march lets everyone (entries include Count Smokula, Partying Parrotheads, and The Boob Mobile) wave their freak flag as this annual tradition winds its way down Colorado Blvd.
Watch a movie under the stars
Drive-ins may be a thing of the past, but Eat | See | Hear is your modern-day update. Taking over parks, empty lots, and public spaces across LA County, the traveling outdoor film series brings food trucks, live music, and special screenings to the Rose Bowl every summer. One of the better Eat | See | Hear locations, Pasadena doesn't require chairs and is dog-friendly to boot. Bring a posse and have a night under the stars.
Tailgate a Bruins game
It's nearly impossible to get a ticket to the infamous New Year's Day Rose Bowl game, but luckily, the UCLA football team uses the same stadium for regular-season play, meaning there are plenty of opportunities to catch a game or, at the very least, sit in the lot and tailgate beforehand. Tailgating at the Rose Bowl is a time-honored tradition -- one that involves lots and lots of beer and grilled meat, of course.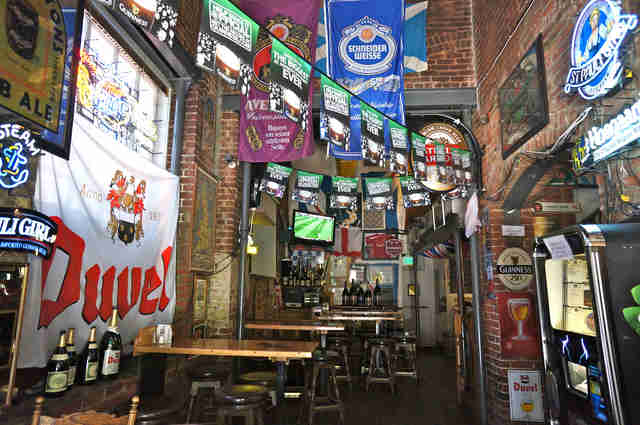 Drink a perfect pint
It's a Pasadena tradition to catch a game of footie (soccer) and a right proper pour of Guinness at Lucky Baldwins, one of LA's oldest British pubs. You're coming here for more than just nostalgia, though -- for over two decades, the expat owners have been importing hard-to-find European beer, making a name for their bar as somewhere to not only get the best fish and chips around, but a great pint of craft beer as well.
Sign up here for our daily LA email and be the first to get all the food/drink/fun Los Angeles has to offer.