People Won't Stop Doing Donuts in Front of the 'Fast & Furious' Torretto House
The city finally stepped in to try to stop the street racing and burnouts in front of Vin Diesel's character's house in Echo Park before the premiere of 'Fast X.'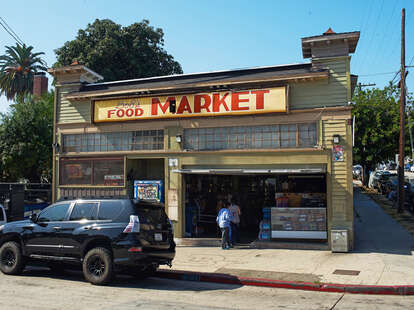 Toretto's Market & Cafe

| Unique Nicole/Contributor/Getty Images Entertainment/Getty Images
Toretto's Market & Cafe

| Unique Nicole/Contributor/Getty Images Entertainment/Getty Images
There are skid marks all over the large multidirectional intersection of East Kensington, Marion, and Bellevue. The tracks form a snarl of black lines at odd angles, streaks and swoops, tight curves, and the occasional entire donut. That's not unique in the greater Echo Park area, much less in LA, but their density is striking. Seen from above, it looks like modern art. And it is, in a sense, or at least it's born of such. These aren't just any skid marks; they're skid marks in honor of Fast & Furious. This intersection is right in front of Bob's Market, the real-life location of Toretto's Market & Cafe, and just down the street is the house that Vin Diesel's Dominic Toretto has called home since the original Fast & Furious in 2001, which appears again in the new Fast X.
Kensington is an otherwise quiet Echo Park street, a long uphill block above the chaos of Sunset and far away from the busy section of the 101 on the other side. The immediate area is perhaps best known for the gorgeous Victorian-era homes that line several of its shady, winding blocks, as well as its proximity to the lake and all of the gentrified action in Echo Park. Now every house on the block is worth millions, and rent is wild. However, at the turn of the millennium when The Fast and the Furious came out, it was still a working-class neighborhood with some rough edges, a plausible place for a street racing mechanic and his cafe-running sister to live in a family home.
There was little sense then of where the franchise would go—Tokyo, Brazil, London, Samoa, Abu Dhabi, outer space—or that it would become one of the highest-grossing series of all time, a wild globe-spanning heist/espionage/street racing set of blockbusters with a multicultural familia/pantheon of demi-gods dragging vaults, catching torpedos, flexing their way out of arm casts, and crushing Coronas.
There was also little sense of the insanity the movie might bring to this quiet strip of Echo Park. When the series really took off in popularity, the jumbo intersection became a hub for street racing fans, a regular spot for car lovers to do burnouts and donuts, street takeovers, and the starting point for races.
The house itself is blurred out on Google Maps, and the yard is decorated with handfuls of very clear "Keep Out" signs. And yet, on any given afternoon, a handful of tourists are almost always taking pictures, walking by slowly and pretending not to stare. Neighbors say the looky-loos don't really bother them, except for the minor annoyance of sidewalk clutter and the regular appearance of double-parked cars and extra traffic in an already parking-challenged area.
The street racing and burnouts, though, are another story. Those are loud, disruptive, and sometimes dangerous, a regular source of stress to locals for most of the last 20 years. Or it was until the city finally took action. In March of this year, officials put forward a plan to adjust the traffic flow at the intersection, with the goal of implementing the changes before the release of Fast X on May 19. To everyone's surprise, the city delivered.
Now a dizzying array of yellow plastic bollards is strewn all over the space, and two newly manufactured roundabouts and several one-way street signs were also added. Instead of a giant canvas marked with tire tread, it's now an obstacle course of bright plastic, a disorienting jumble of yellow in unpredictable patterns in the middle of the asphalt. One thing's for sure; it will undoubtedly slow people down. At least until everyone gets the hang of it, and then it may become light work for the Drift King.
The other addition to the intersection is a new group of 15-minute parking spots set on a diagonal right in front of Bob's Market. Unlike most of the store's residential neighbors, Bob's Market doesn't seem to suffer from the publicity. The market embraces it. There are cases of model cars for sale, hats, and other merchandise. Google is littered with photos of rad dudes posing with their cars out front, and if you sit nearby for a few minutes, you'll see a steady stream of people taking pictures, checking out the model car selection, and maybe even buying some Funyuns and an energy drink. The plentiful bollards out front may not help their photos, but the parking spots prove more than a little practical at Bob's.
In a city that has been so thoroughly captured on film over the past 100 years or so, it's easier to find a place that hasn't appeared in a movie or TV show than one that has. But few locations have captured the zeitgeist like this one. It's not entirely clear why, other than the obvious fact that the movies are juggernauts, a rare piece of monoculture in an increasingly fragmented time. The stunts are dope, sure, and there's a big, meaty center to the Venn diagram of "people who are seriously into F&F" and "people who are likely to ignore a 'don't try this at home' warning," but there has to be more.
Maybe the charitable interpretation is that the movies show an aspirational sort of friendship, a chosen family that is loving, supportive, multicultural, and badass. And the chance to feel close to that is worth the pilgrimage and pissing off a few neighbors. Salud, mi familia.