Check Out These Cannabis Markets in LA and SF This Summer, If You Know Where to Look
These two markets are working to create unique cannabis-inclusive experiences for their attendees.
In Los Angeles, looks can be misleading.
Behind a nondescript door, hidden by one of the thousands of billboards across the city, is a secret. A popup flower shop with a rainbow of bouquets for sale inside an old Volkswagen bus parked out front marks the spot, confirmed by the distinct aroma of another type of flower—cannabis—floating through the air alongside music spinning from a rooftop DJ.
Further south on the 101 freeway, in front of another nondescript door and next to a questionable mattress store, a handwritten neon green sign points beckons—"FREE EVENT! 21+, 420-friendly, dog-friendly (+all pets). Artists, small businesses, food! Live music!"
Both locations are home to blank, one a forbidden farmer's market where culinary meets cannabis smack dab in the middle of Hollywood; the other a four-twenty night market full of various vendors.
And the people coming to these events are young, diverse, artsy, and eclectic. These are private events and spaces where attendees can freely consume, enjoy a vibe, and connect with like-minded people, where weed and shrooms are just a part of the story. Modern Cali sober consumers who attend these forbidden markets and events are looking for more than just products. These popup events provide a place to socialize, find community, and support small businesses.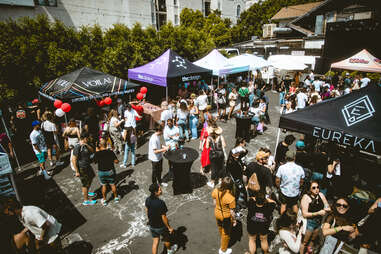 A Sunday Farmers Market
Behind the billboard at PuffDAO's Farm to Table event, it looks like your average Sunday farmers market with wide-brimmed hats, flowy outfits, organic hemp tote bags, and a few surprises. An enticing array of popup stalls offer an assortment of culinary delights and captivating wares. Here you'll find fresh-shucked oysters, acai bowls, Slutty sandwiches, homemade salad dressings, and hot sauces. Artisan soap, exquisite jewelry, stylish clothing, and elegant glass smoking accessories add to the allure.
Meandering through the spaces and rooms, you'll discover flash tattoos, tooth gems, talented artists, and captivating chef demos. Amid this lively ambiance, cannabis brands proudly showcase diverse offerings, encompassing everything from flower and wellness products to vapes and concentrates. Don't miss the custom printed gourmet infused macarons and farm-to-table cocktails served from a visually stunning pop-up trailer bar, making for an aesthetic-worthy spectacle.
I sip on a Cali sober margarita, a cannabis beverage that contains zero alcohol, and nibble on a bar of caramel-filled chocolate from the edibles bar. By this point, I'm riding a mellow high and pleasantly surprised by my remarkable hand-eye coordination while playing a miniature claw game filled with nugs. In addition to my new treasures, a bottle of hot sauce, and a cat-shaped bong, I place an order for ice water hash gummies and a pack of prerolls with Amuse, a cannabis delivery service setup onsite to fulfill orders.
Sure, there's cannabis, but it's not the main focus. Events like these normalize cannabis as part of the social experience where it's just one of the elements as part of a vibey, community-driven gathering space.
A Four-Twenty Night Market
In another part of town, I followed the enticing aroma of waffles and a handwritten neon green sign that led me into an elevated artisanal four-twenty night market that showcased an array of unique treats, artistic creations, handcrafted goods, vibrant jewelry, and a variety of food vendors. Local cottage businesses crafted these offerings, giving the market a charming and welcoming atmosphere. It reminded me of an intimate Rose Bowl Flea Market but with an unmistakable air of forbidden allure.
There's a warm, welcoming community vibe and closeness. As I browsed a nearby table of baked goods and magic mushrooms, one of the vendors offered me a bong hit. I graciously accept the offer and spend the rest of the evening floating on a cloud, browsing from table to table while eyeballing the Wagyu beef sliders and pillowy soft ube cinnamon rolls.
Not everything is infused. The majority is not. I try my best to resist the colorful snow cones, stacks of cookies, cheesecake bars, mini donuts, smoked bbq, and grilled hot dogs among the candles, jewelry, food vendors, clothing, organic herbal flower blends, tooth gems, and smokeware accessories. These are genuinely unique one-of-a-kind creations that you can only find from craft makers.
As a result of new rules that started in January 2018 for California's legal recreational cannabis industry, "tighter restrictions on ingredient options and THC dosage levels, more stringent standards for packaging and lab-testing, or conflicts with the Food and Drug Administration have led to hundreds of small mom-and-pop manufacturers closing up shop or returning to the underground," according to cannabis edibles expert and author of Bong Appetit, Elise McDonough. Prior to the rules going into effect, there was a veritable smorgasbord of creative small-batch edibles ranging from infused beef jerky, popcorn, cheese, salsa, potato chips, crackers, nuts, vegan sweets, ice cream, and empanadas. Afterward, established artisanal makers were forced to discontinue their entire product lines and put their businesses on hold.
Here at the forbidden night market, you'll find some of those innovative edibles and other sundries that aren't on dispensary shelves, including cannabis-infused coffee creamer, ice cream, kush tea, pumpkin peanut butter pet treats, popcorn, jerky, and more. Look close enough, and you'll also find mushrooms in various creative forms, including chocolates, microdose capsules, vegan power balls, and a crunchy rainbow surprise called Cosmic Gobstoppers.
Where to Find the Markets
Must be 21+. The next PuffDAO Farm to Table events will be in San Francisco at SF Buyer's Club on July 22 and in Los Angeles on August 20. You must RSVP for entry. Upcoming Four2Zero Nightmarket events in Los Angeles are on July 16 and August 27. Entry is free and no RSVP is required.
Christina Wong
is a cannabis food, drink and travel writer, creator, and baked baker in Los Angeles, California. She's the Founder & CEO of
Fruit + Flower Co
. and writes
Fruit + Flower Unfurled
, a weekly newsletter for culinary cannabis enthusiasts. Her work has been featured in High Times, Cherry Bombe, CannaCurious, and Kitchen Toke magazines.