16 LA Restaurant Openings to Get Excited About in 2023
From tacos to tasting menus and vegan sushi to jamón ibérico, these are the spots to watch this year.
Photo by Jakob Layman courtesy of Angler
Photo by Jakob Layman courtesy of Angler
The flip of the calendar from one year to the next can feel arbitrary, an imaginary dividing line like a birthday—are things so different now than they were on December 31, than they were when you were both one day and also one year younger? But even manufactured breaking points can provide some clarity; or an excuse to look at time in finite pieces, at least.
The new year, then, is as good a reason as any to look ahead, to consider the upcoming 12 months of thrilling new restaurant openings. There will be Mexican food, sushi, pizza, the continuation of the Iberian takeover, and so much more. Here are some of the places we're most excited to try this year:
Frogtown
Anticipated opening: February 1
The next project from husband and wife duo Peter and Lauren Lemos, the pair behind beloved sandwich shop Wax Paper, has been hotly anticipated from the moment it was announced several years ago. The build out has taken a while, which only means our anticipation has built up too—the space is beautiful, and the old school takes on New American cuisine are sure to be thoughtful and delicious.
Highland Park
Anticipated opening: February
The first-ever back-to-back champions of LA Taco's Taco Madness are going from a stand on York to a brick-and-mortar on Figueroa in Victor Villa's home neighborhood of Highland Park. The taquero and his crew have won fame for their mesquite-grilled meats, fresh handmade blue corn tortillas, killer salsas, and their uplifting, inspirational attitude. The good vibes will undoubtedly continue through their move to a stationary spot on Fig; for more backstory on them check out the short film Échale Ganas.
Melrose
Anticipated opening: February
So much discussion around both vegan food and alcohol-free beverage programs centers on wellness, on the vague and aspirational concept of healthful self-improvement, and tends to overlook the actual quality of the food and drinks. APB, which stands for All Plant Based, gives us good reason to be excited about the food and drinks beyond their wellness potential—there is a vegan bar program from legendary barman Julian Cox, which includes a whole host of nonalcoholic options, a menu of elevated vegan sushi from Niku Nashi, and a lovely vintage greenhouse design.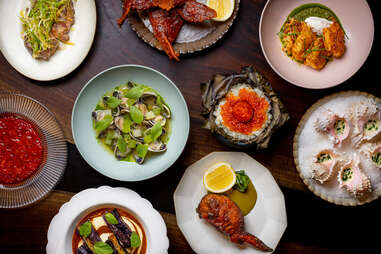 Beverly Grove
Anticipated opening: February
The luxurious Bay Area import from the Michelin-starred restaurant group behind Saison is getting ready to turn the lights back on at their Beverly Center SoCal flagship. The menu has been rebuilt with more multicultural LA-specific touches, but it will still revolve around sustainably sourced seafood cooked largely on the wood-fueled open hearth. There are also new dividing walls and whimsical wallpaper for a warm, intimate evening.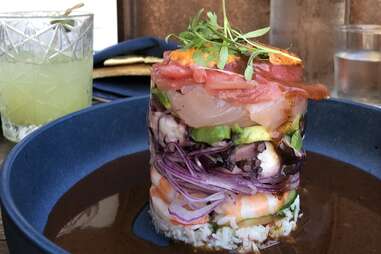 Frogtown
Anticipated opening: Mid-February
The mariscos-focused spin-off of Arts District and Mexico City mainstay Cha Cha Chá has been delayed a few months, but it remains at the top of our most-anticipated list. Executive Chef Paco Moran took over the kitchen at their Arts District location for a pop-up preview a few months ago and knocked our socks off with creative, elevated seafood including dishes like a Pata de Mula Coctel, a Swordfish Al Pastor taco, and a gorgeous Torre de Mariscos. The space looks stylish and we anticipate a similarly creative cocktail list and fun energy at the new spot.
Culver City West
Anticipated opening: Late winter
It's been a little more than three years since word spread that Roy Choi's A-Frame was closing and that Chef Jason Neroni was taking over the space. In that time a lot has changed in the world at large (an early contender for understatement of the year), and also inside the walls of the former IHOP. The restaurant has been completely renovated to lean into a fun '70s vibe, to match Neroni's nostalgic menu of New York pizza mixed with memories of summers spent in Italy. There will be wood-fired Neo-Neapolitan, Sicilian, and deep-fried Montanara style pizzas, along with farmers market sides and modern cocktails.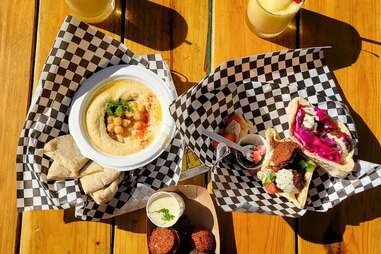 Glassell Park
Anticipated opening: Spring
Chef Amit Sidi has long missed the casual falafel joints of her home in Israel—it's why she left the entertainment business to start her beloved vegan Israeli street food pop-up B'ivrit in the first place. So she popped up at bars, in friends' restaurants, and became a fixture at the weekly market Smorgasburg, serving her three colors of falafel, her Cauliflower Shawarma, Lentil Arayes, and killer hummus to plant-based and omnivorous diners alike. Now, almost four years after her first pop-up, she's going brick-and-mortar in Glassell Park, an exciting addition to what has become a hot restaurant neighborhood over the last couple of years.
Beverly Hills
Anticipated opening: Spring
Hotel bars don't usually qualify as anticipated openings, but this one is different. Dante opened in Greenwich Village, New York City in 1915, and cruised along as a casual neighborhood gathering spot and cafe for literally a hundred years. Then, things changed—new ownership came in, and suddenly it became a fixture on the bar awards circuit, hitting number one on the World's 50 Best Bars list in 2019, among other accolades. They're best known for the Garibaldi, a cocktail with Campari and oranges that are juiced to order, but their negronis are also extremely popular. They're set to open on the roof of Beverly Hills' Maybourne Hotel with cocktails and a menu of wood-fired Italian and Mediterranean dishes.
Shin's Pizza
Cypress Park
Anticipated opening: Spring
The fun thing about the lack of a distinct LA pizza style is the scene's malleability, its openness to innovation and creativity. Shin Irvin and Last Word Hospitality have partnered on a particularly unconventional pizzeria coming to Cypress Park this spring. Shin's Pizzeria will blend Irvin's Philly slice shop nostalgia with his Asian heritage, serving both classic East Coast pizza and also creative modern sides from Executive Chef and Partner Melissa López. That means BBQ Pork Arancini, Roasted Squash with Togarashi Oil, and more.
Barra Santos
Cypress Park
Anticipated opening: Spring
Shin's Pizza isn't the only Last Word Hospitality project going into Cypress Park. Just next door to Shin's, they're also working with Chef Melissa López on Barra Santos, a casual Portuguese restaurant. There will be Salt Cod Fritters, fresh chorizo, grilled sardines, and of course Piri Piri Chicken. The wine list will be focused on the Iberian Peninsula, and they will also have plenty of port, sherry, Madeira, and the classic Portuguese beer Super Bock.
Highland Park
Anticipated opening: Spring
Married co-owners Chef Danielle Duran-Zecca and Alessandro Zecca have been popping up around LA for a while, serving their whimsical MexItalian cuisine—a fusion of Duran-Zecca's Mexican heritage with Zecca's Italian roots. They've gone from high-end chef's tasting menus to casual pop-ups at breweries, and they've bounced around from NELA to Ensenada and back, all while working on the build-out of their future Highland Park home, a formerly jewelry shop on York not far from Galco's and Barcade. The little storefront should make a perfect home for the duo's gilded and fused dishes like Menudo Cappelletti, Vitello Tonnato Tostadas, and Birria Ravioli.
Beverly Hills
Opening: April-ish
It's been fun to watch Evan Funke rise from pasta-obsessedwhiz kid to a bona fide star and a household name in the LA food scene. His name is set to get even more recognizable later this spring, when it will be splashed across the marquee, the menus, and the front pages of food media across the country thanks to his forthcoming restaurant FUNKE in Beverly Hills. The three-story project is sure to bring all of the glitz and glamor that the neighborhood demands, with Funke's signature immaculate pastas and highly specific upscale regional Italian cooking.
Otoño Mercat
Highland Park
Anticipated opening: Late Spring
The Iberian invasion continues apace this spring, as Chef Teresa Montaño prepares to open Otoño Mercat, an offshoot of her standout Spanish restaurant Otoño, which is housed in the same building on Figueroa in Highland Park. The new Mercat will be a marketplace, of course, with a selection of rare conservas, jamon, vermouth, snacks, and bocadillos, but it will also be a bar and event space by night. Montaño plans to host pop-up dinners, chef and bartender collaborations, and FC Barcelona viewing parties, among other things.
West Hollywood
Anticipated opening: Late summer
LA is not a fine dining city in general; even our tasting menus trend casual. So Somni was quite the change of pace, a truly high-end artistic marvel of a restaurant, where Chef Aitor Zabala played with texture, shape, and flavor over a 20-ish course journey that was thoughtful, creative, and fun. It closed in 2020 amidst the pandemic, and now it will finally reopen, in a new location in West Hollywood with more seating and plenty of new ideas. When it does, it seems likely to vault right back into the upper echelons of LA's fanciest, most exclusive, and best high-end restaurants.
Yi Cha
Highland Park
Anticipated opening: Late summer
The name Yi Cha refers to the second round of drinks on a night out, a fitting title for the forthcoming Highland Park restaurant from chef, TV personality, and cookbook author Debbie Lee. It is a return to the type of cooking she did at her long-ago food truck Ahn-Joo, a melding of Korean and Southern food that she calls "Seoulful" cooking. The former factory on York Boulevard has been totally remade into a modern, fashionable restaurant with a big outdoor patio and a bright and breezy aesthetic that is also partially inspired by Korean hanok architecture. Lee will also roll out a food truck preview before the restaurant officially opens.
Glassell Park
Opening date: TBD
There may still be no official opening date for the long-awaited tasting room from local brewery Solarc, but we are no less excited about it than we were when word of their eventual opening broke several years ago. In particular, their creative takes on gruit—an old style of beer made without hops, and bittered instead with herbs, spices, and plants—are a refreshing change of pace from the IPAs and sour beers that continue to dominate the craft beer scene. See, for example, Glasselllager, a crisp gruit-style lager bittered with yarrow, sage, and rye.
Ben Mesirow is Thrillist's LA Staff Writer, and he is going to eat so much this year. Find him on Instagram.