9 Hands-On Ways to Fight Climate Change in LA
There are plenty of ways to make a difference and support the environment ahead of Earth Day.
After a crushing heat wave followed by chilly, gusty winds throughout LA County, the realities of climate change are becoming impossible to ignore. And while we've all had plenty to worry about over the last two years, preserving the environment and keeping our planet inhabitable for future generations is a cause that we can't delay paying attention to any longer. In fact, the climate crisis has become so dire, various organizations have petitioned to extend Earth Day (which falls on Friday, April 22) into Earth Month as a way of keeping people engaged in this fight.
According to the 2022 Climate Change report from the United Nations, we are perilously close to tipping points that could lead to devastating and irreversible climate consequences, with the average annual emissions reported from 2010-2019 higher than any other decade on record. While governments and corporations deserve some of the blame for breaking climate promises, we as individuals can also make a difference. Whether you want to help keep our beaches clean, reduce food waste, become a regular volunteer for an environmental cause you're passionate about, or just stay educated, here are nine local volunteer opportunities geared towards protecting the environment and fighting climate change.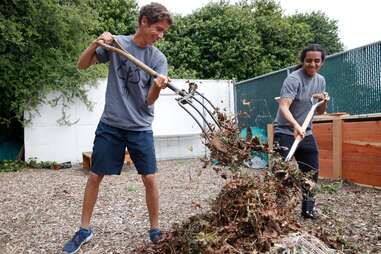 Reduce landfill waste and create healthy soil through composting
LA Compost is a grassroots nonprofit that works to create local access and community engagement around composting, with the idea that healthy soil created by a community compost can then be used locally to enrich the soil in the neighborhood where it was first created. Committed to reducing food waste, in 2020, the nonprofit diverted 739,050 lbs of organics from landfill. Get involved by donating, joining an LA Compost Community Hub or Compost Co-op, composting in your own backyard, volunteering at one of their community composting hubs (no experience necessary), or attending an event. The organization collects food scraps for composting at the Silver Lake Farmers Market every Saturday, at the Highland Park Farmers Market every Tuesday, and at the Elysian Valley Community Garden every Sunday.
Help restore LA's green spaces by planting a tree
TreePeople's motto is "Trees need People. People Need Trees" and ain't that the truth. The nonprofit's mission is to help communities across Los Angeles make urban environments safe and sustainable. The group focuses its resources on BIPOC communities, which often have the lowest tree coverage, higher levels of pollution, and increased heat-related illness and death, due to systemic racism and historic lack of investment. The group has a slate of activities throughout Earth Month, including restoration at Paramount Ranch and a tree planting in Lynwood on Saturday, April 16; a tree planting in Lynwood and Commerce, and an Earth Day celebration with a tree planting at Rudy Ortega Sr. Park on Saturday, April 23; and more. Donations are also welcome.
Clean up the LA River or organize a neighborhood cleanup
For more than 30 years, Friends of LA River (FoLAR) has worked to engage, educate, and empower community members to help repair the LA River (which was first encased in concrete and fenced off in 1938), in order to benefit local wildlife and fight for policies that will hopefully give Angelenos equitable access to enjoyment of the river. They're hosting Earth Week cleanups at various sites, including a cleanup with FoLAR members and corporations at Lewis MacAdams Riverfront Park on Friday, April 22, and a student cleanup at Lewis MacAdams Riverfront Park on Saturday, April 23. Donations are also welcome.
Advocate for the protection of LA's public lands
Originally founded as San Gabriel Mountains Forever in 2008, Nature For All changed monikers a few years back to reflect its expanded mission of conserving resources to be more climate-resilient, creating more natural spaces such as parks and bike paths in historically underserved neighborhoods, and connecting more Angelenos with public lands through additional trails and more outdoor recreational opportunities in order to improve public health. Support their work by signing your name to their letter in support of legislation to protect California public lands, which includes the San Gabriel Mountains Foothills and Rivers Protection Act; by voting in every election; and signing up for alerts to call or email your representatives on climate change issues. You can also make a tax-deductible donation online. Interested volunteers can contact Araceli Hernandez at Araceli@LANatureforAll.org for more information.
Email your local politicians and advocate for climate change
Climate Resolve—which uses the apropos hashtag #KeepLACool—works with communities, local organizations, and the government to address the global issues of climate change with local action. They prioritize working with BIPOC communities that are often most impacted by climate change. Get involved by taking action on one of their current campaigns or make a donation to support their mission.
Collect scientific information that could help restore local wetlands
The Bay Foundation was founded in 1990 to restore and enhance Santa Monica Bay and local coastal waters. Staffed with scientists and policymakers (i.e. people who know what they're talking about), TBF does everything from projects to clean up local waterways to those that create green spaces in urban areas, and restore natural habitats like wetlands and kelp forests. For Earth Month, they've got Manhattan Beach Dune Restoration community events, dockwalker trainings (to learn best practices on environmentally sound boating), and an Earth Festival where volunteers will contribute to a community garden at Environmental Charter Middle School in Inglewood. Check out their calendar for more information on how to join individual events. Donations can be made online.
Support local food deserts in growing their own food
More than a decade ago, the self-proclaimed "Gangsta Gardener," Ron Finley succeeded in getting the City of LA to change its laws after he was cited for gardening without a permit when he planted vegetables in a couple city-owned dirt patches in his South Central neighborhood. Since then, he's become a well-known force in the community, given a viral Ted Talk, led one of the pandemic's most-watched MasterClasses, and launched the Ron Finley Project to transform food deserts by teaching citizens to grow their own food (which he likens to printing your own money) and spreading the word on the upside of urban gardening. Make a donation or sign up for the project's email list to learn about volunteer opportunities.
Join or organize an Earth Day community cleanup
Many communities throughout LA, including East Hollywood, Dockweiler Beach, Hermosa Beach, and Venice Beach, will be holding citizen-led cleanups of streets, sidewalks, parks, and beaches on Earth Day and throughout that week. Find events near you by poking around on Eventbrite for local cleanups, or organize your own, which can be as simple as walking around your neighborhood with a trash bag, gloves, and trash pickup sticks.
Danielle Dorsey is the Editor of Thrillist LA. Follow her at @danielledorky on Instagram and Twitter.