9 Hands-On Ways to Combat Climate Change in Los Angeles
Make a difference this Earth Day by volunteering and/or donating.
We get it, you've had a lot on your mind over the last year and maybe things like environmental justice and climate change weren't always at the top of your things-to-worry-about list. But with our declining COVID numbers, relatively successful vaccination rollout, and life getting a little closer to normal (fingers crossed) every day, this upcoming Earth Day 2021 on Thursday, April 22, is a convenient calendar reminder that the planet still needs our help.
The world is currently dealing with the hottest decade on record—which triggered some of the worst-ever wildfires right here in California—rising global sea levels, persistent ocean pollution issues, and continued deforestation. Before you get completely bummed out and stop reading this, the good news is that you (yes, you) can actually do something meaningful to help combat all that aforementioned bad news. Whether you want to attend a one-time Earth Day beach cleanup, become a regular volunteer for an environmental cause you're passionate about, or just stay educated, here are nine local volunteer opportunities geared towards protecting the environment and fighting climate change.
Reduce landfill waste and create healthy soil through composting
LA Compost is a grassroots nonprofit that works to create local access and community engagement around composting, with the idea being that healthy soil created by a community compost can then be used locally to enrich the soil in the neighborhood where it was first created. Committed to reducing food waste, in 2020, the nonprofit diverted 739,050 lbs of organics from landfill. LA Compost is hosting a virtual event series for "Earth Month," including a cultivator training program, save the scraps cooking demonstration, and more events yet to be announced.
How to help: Several days a week the group needs volunteers to help with compost turning and building in various locations, including Downtown's Carver Middle School Garden, Cottonwood Urban Farm in Panorama City, and Pasadena's Arlington Garden. There are both morning and afternoon shifts ranging from 90 minutes to three hours.
How to sign up: Sign up for a shift here.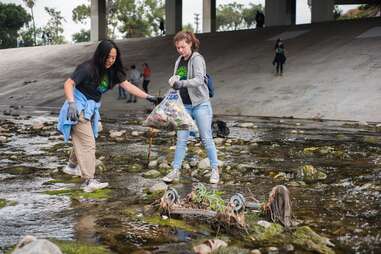 Clean up the LA River or organize a neighborhood cleanup
For the last 30 years, Friends of LA River has worked to engage, educate, and empower community members to help repair the LA River (which was first encased in concrete and fenced off in 1938), in order to benefit local wildlife and fight for policies that will hopefully give Angelenos equitable access to enjoyment of the river.
How to help: The Great LA River CleanUp—usually the largest urban river cleanup in the country—will return in the form of a series of smaller cleanups limited to less than 50 participants each through both FoLAR and its partners. You can also conduct your own DIY, self-guided cleanup in your neighborhood with a kit provided by the group.
How to sign up: Registration launches on April 22 here. You can also sign up for the group's email list to stay up-to-date on events.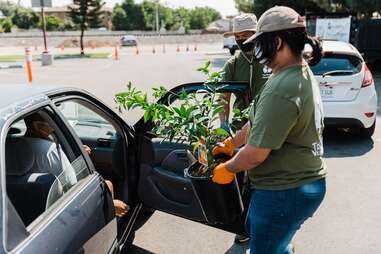 Help restore LA's green spaces by planting a tree
TreePeople's motto is "Trees need People. People Need Trees" and ain't that the truth. The nonprofit's mission is to help communities across Los Angeles make urban environments safe and sustainable. The group focuses its resources on BIPOC communities, which often have the lowest tree coverage, have higher levels of pollution, and increased heat-related illness and death, thanks to systemic racism and historic lack of investment.
How to help: The group is still holding in-person events with limited capacities due to COVID restrictions, including multiple restoration events a week at San Francisquito Canyon in the Angeles National Forest along with other locations, plus virtual opportunities like phone-banking, with the next one taking place on April 22.
How to sign up: Check TreePeople's online calendar and choose an event to sign up for, including the upcoming phone-banking session.
Advocate for the protection of LA's public lands
Originally founded as San Gabriel Mountains Forever in 2008, Nature For All changed monikers a few years back to reflect its expanded mission of conserving resources to be more climate-resilient, creating more natural spaces such as parks and bike paths in historically underserved neighborhoods, and connecting more Angelenos with public lands through additional trails and more outdoor recreational opportunities in order to improve public health.
How to help: Become one of Nature for All's stewards, a group of volunteers on a mission to engage the community in conservation efforts, educate the public on the issues of access to open spaces and environmental justice, and help with overall advocacy efforts.
How to sign up: Contact Araceli Hernandez and Araceli@LANatureforAll.org for volunteer opportunities.
Head to the beach for a cleanup
Oceanic Global focuses on inspiring citizens around the world to care for and protect the oceans (which, it turns out, are all over the world) and raising awareness about the awful effects of human consumption on our aquatic ecosystems. Oceanic Global also has an arm centered around education and sustainability consulting, including plastic-free solutions for the hospitality industry. The Los Angeles hub is led by local volunteers that host awareness and fundraising events around town.
And after a year-plus-long shutdown, the environmental nonprofit Heal the Bay will mark the reopening of the Heal the Bay Aquarium on the Santa Monica Pier with an outdoor celebration on April 24 and 25 with eco-friendly activities, pollution exhibits and beach cleanup kits for purchase you can use to tidy up a stretch of sand near you.
How to help: Join the LA hub's Earth Day cleanup at Toes Beach in Playa del Rey on Sunday, April 25, and check out the lineup of educational Earth Day month events on Heal the Bay's website or consider becoming a regular volunteer.
How to sign up: Register and get more details about the Toes Beach cleanup event on Eventbrite. Keep an eye on Oceanic Global's LA activities here. Buy tickets to the aquarium online or sign up for a virtual volunteer orientation with Heal the Bay on Eventbrite.
Email your local politicians and advocate for climate change
Climate Resolve–which uses the apropos hashtag #keeplacool–works with communities, local organizations, and the government to address the global issues of climate change with local action. One recent win: getting a judge to delay the construction of the Tejon Ranch mega-development due to wildfire risk.
How to help: The group will be announcing a new crop of events soon, but in the meantime you can lend a hand from the comfort of your laptop by sending emails to your political representatives advocating for things like greening our nation's ports and making the San Gabriel National Recreation Area part of the national park system, which will help expand its natural resource protections and guard it from future development.
How to sign up: Click on a campaign on the Take Action page. You'll fill in your name and address and Climate Resolve will auto-populate your local congressperson's contact info and a sample letter you can tweak before sending. Easy!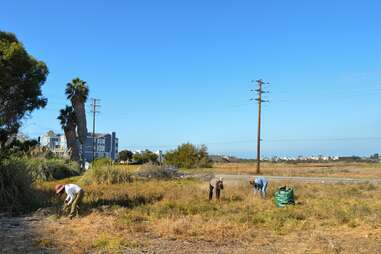 Collect scientific information that could help restore local wetlands
The Bay Foundation was founded in 1990 to restore and enhance Santa Monica Bay and local coastal waters. Staffed with scientists and policymakers (i.e. people who know what they're talking about), TBF does everything from help create projects to clean up local waterways, create green spaces in urban areas, and restore natural habitats like wetlands and kelp forests.
How to help: Attend a virtual monthly training session, which will teach you how to become a "Dockwalker," i.e. a volunteer who can conduct boater education about environmentally sound boating practices. After the training, The Bay Foundation will send you materials you can distribute at marinas or launch ramps. You can also sign on to collect scientific information about the Ballona Wetlands and Malibu Lagoon by sampling water quality, vegetation, and other stuff.
How to sign up: Register for Dockwalker training here and other Bay Foundation opportunities here.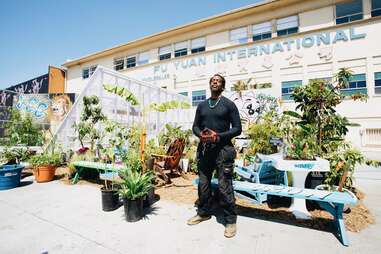 Support local food deserts in growing their own food
More than a decade ago, the self-proclaimed "Gangsta Gardener," Ron Finley succeeded in getting the City of LA to change its laws after he was cited for gardening without a permit when he planted vegetables in a couple city-owned dirt patches in his South Central neighborhood. Since then, he's become a well-known force in the community, given a viral Ted Talk, led one of the pandemic's most-watched MasterClasses, and launched the Ron Finley Project to transform food deserts by teaching citizens to grow their own food (which he says is kind of like printing your own money) and spreading the word on the upside of urban gardening.
How to help: Make a donation or sign up for the project's email list to learn about volunteer opportunities.
How to sign up: Donate via PayPal and sign on to join the movement on the RFP website.
Join or organize an Earth Day community cleanup
Many communities throughout LA, including Palos Verdes, Santa Monica, and Claremont, will be holding citizen-led cleanups of streets, sidewalks, parks, and beaches on Earth Day and throughout that week.
How to help: Attend a cleanup in your neighborhood or, better yet, create your own and recruit friends and neighbors to lend a hand and a garbage bag. We guarantee you won't regret it.
How to sign up: Poke around Eventbrite for local cleanups, or organize your own via this Earth Day Cleanup site. Yes, there's still time!