10 Environmental Volunteer Opportunities in LA
Help preserve the coastline, restore green spaces, reduce landfill waste, and save the world.
Joking about California turning into the Pacific Northwest, with the continually gray skies seemingly inspiring a grunge revival heavy on chunky knitwear, can be fun. But there's also a touch of gallows humor to it. This year of floods and tornadoes is an outlier now, but it's likely to be closer to the new normal as climate change continues wreaking havoc.
It's easy to be disheartened by this, particularly when so much pollution happens at an industrial scale. Still, our individual efforts are not futile, especially when you team up with some of the best organizations in Los Angeles. So it's time to take action and do what we can while we can. Fortunately, there is a wealth of environmental volunteering opportunities.
To help you get out and get involved, we've put together a list of the best places to volunteer for environmental conservation causes; whether you want to help keep our beaches clean, reduce food waste, foster native plants, or just stay educated, here are 10 local volunteer opportunities geared toward supporting public health and protecting the natural world by combatting climate change in and around LA.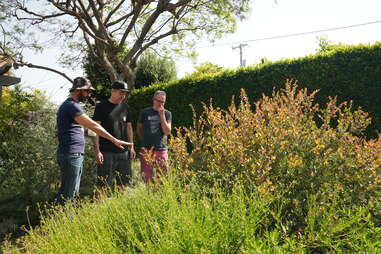 Promote California's native plant ecosystem
The Theodore Payne Foundation (TPF) has a lot of great reasons for Californians to support native plant gardens. They use 80% less water than conventional gardens on average, require fewer pesticides and less fertilizer, and are better for native animals like butterflies and hummingbirds. TPF has advocated for California flora since 1960, developing training programs for the landscaping industry, partnering with government agencies, and educating the public. You can help the organization further its goals by volunteering, becoming a docent for its garden tours, staffing event booths, and helping out at sales. For the gardeners out there, you can also volunteer in the plant nursery alongside professional horticulturists, learning from the experts as you plant, prune, weed, and water all sorts of native plants.
Recover excess food and divert it to feed hungry people
Food Cycle LA has a straightforward mission statement: Feed people, not landfills. As an organization dedicated to rerouting food that would land in the trash, it delivers the food to people experiencing food insecurity instead. To that end, Food Cycle LA has partnered with local businesses that regularly end up with excess food, including Bristol Farms, Peet's Coffee, Noah's Bagels, and Le Pain Quotidien, to offer these support services. Edible food is diverted to people in need, and inedible items get composted instead of thrown in a landfill. Volunteers can help make pickups or deliveries and provide office help with fundraising, web design, social media, community outreach, and more.
Preserve Southern California's gorgeous desert
The Anza-Borrego Foundation has been working to preserve and maintain its namesake desert state park in eastern San Diego County for some 50 years now, providing substantial financial and physical support to the park and its staff. The organization helps conserve the land, educates adults and kids alike, hosts research symposia, and provides grants and scholarships for research on the desert landscape. The foundation also offers plenty of excellent conservation volunteering opportunities. Those looking to get involved can contribute articles and photos to the foundation's website, newsletter, and social media channels; help support the office with administrative work; and help staff outreach events and fundraisers.
Restore one of Orange County's essential ecological preserves
The Bolsa Chica Land Trust is a 30-year-old organization with a mission to acquire, preserve, and restore as much of the Bolsa Chica Wetlands as possible. The stretch of Orange County coastline right along Pacific Coast Highway has been threatened by development many times over the years. Still, several organizations are working to preserve the ecologically significant area, which serves as a habitat for local animals and native plants. Volunteer days at the Bolsa Chica Land Trust are generally the first and third Saturday of each month, and folks can become an official Steward to help tend plants, set up a tent to help with outreach in Huntington Beach, become docents for elementary school educational programs, or help with beach cleanups. The Bolsa Chica Conservancy also has a full calendar of volunteer opportunities in the area, including some live animal feeding opportunities for all the animal lovers out there.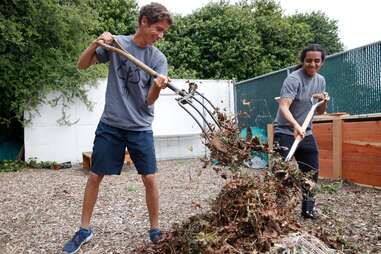 Reduce landfill waste and create healthy soil by composting
LA Compost is a grassroots nonprofit that works to create local access and community engagement around composting, with the idea that healthy soil created by a community compost can then be used locally to enrich the soil in the neighborhood where it was first made. In 2020, the nonprofit diverted 739,050 pounds of organics from landfills, reducing food waste and landfill emissions. Get involved by donating to the organization, joining or volunteering at an LA Compost Community Hub or Compost Co-op, or composting in your own backyard. You can also attend an event, most of which are at local farmers markets, including Highland Park, LA River, and Crenshaw.
Help restore LA's green spaces by planting a tree
TreePeople's motto is "Trees need People. People Need Trees." Ain't that the truth? The nonprofit's mission is to help communities across Los Angeles make urban environments safe and sustainable. The group focuses its resources on BIPOC communities, which often have the lowest tree coverage, higher levels of pollution, and increased heat-related illness and death, due to systemic racism and a historic lack of investment. The group has a slate of activities going on all the time, from tree planting in Inglewood to oak tree restoration in Castaic, workshops, park cleanups, and more.
Clean up the LA River or organize a neighborhood cleanup
For more than 30 years, Friends of LA River (FoLAR) has worked to engage, educate, and empower community members to help repair the LA River, which flows nearly 51 miles from Canoga Park through the San Fernando Valley, Downtown Los Angeles, and the Gateway Cities to its mouth in Long Beach, where it flows into San Pedro Bay. FoLAR is "committed to [creating] a River Movement that is as diverse as the communities the river touches." FoLAR also hopes to benefit local wildlife and fight for policies that give those living in Greater Los Angeles equitable river access. The organization is hosting its 33rd Annual Great LA River CleanUp on April 15 and 22 at seven different sites along the river. There are other activities year-round, and donations are always welcome.
Head to the beach for a cleanup
Heal the Bay is an environmental nonprofit that's been around since 1985, working to make the coastal waters and watersheds in the greater Los Angeles area safe, healthy, and clean. The organization hosts all sorts of events for all ages and levels of activity, from beach cleanups on the third Saturday of every month to guides for giving online feedback to local officials. You can even adopt your favorite beach, park, or creek and get access to all of Heal the Bay's educational resources. And once you've completed three cleanup days within a year, you get a prestigious Certificate of Completion.
Collect scientific information to help restore local wetlands
The Bay Foundation was founded in 1990 to restore and enhance Santa Monica Bay and its local coastal waters. The organization is staffed with scientists and policymakers who clean up local waterways, create green spaces in urban areas, and restore natural habitats like wetlands and kelp forests. The organization hosts regular events for volunt,eers including dune restoration, community gardening, and training for its Dockwalker program. Dockwalkers are volunteers who educate and encourage recreational boaters to practice environmentally responsible boating. The Bay Foundation sets up in harbors around Southern California to stroll or sit and chat up folks as they head out to their watercraft, handing out the foundation's California Boater Kits and explaining the importance of ethical recreation along our fragile coast.
Support local food deserts in growing their own food
More than a decade ago, the self-proclaimed "Gangsta Gardener," Ron Finley, succeeded in getting Los Angeles city to change its laws after he was cited for gardening without a permit when he planted vegetables in a couple of city-owned dirt patches in his South Central neighborhood. Since then, he's become a well-known force in the community, continuing to spread the word on the upside of urban gardening, which is similar to sustainable farming, but on a smaller and less rural scale, by creating a viral Ted Talk and leading one of the pandemic's most-watched MasterClasses. He also launched the Ron Finley Project, which focuses on transforming food deserts by teaching citizens to grow their own food, which he likens to printing your own money. Donate or sign up for the project's email list to learn about volunteer opportunities.