The Strangest Workouts in LA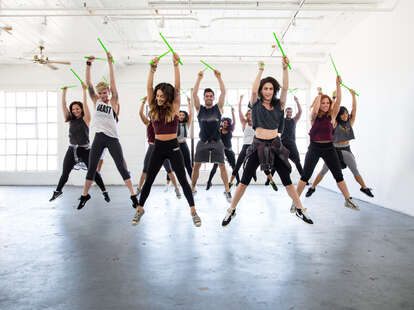 Courtesy of Pound
Courtesy of Pound
Does the idea of lifting weights over and over in another cookie-cutter gym bore you to death? Do you have a sense of adventure that has a tendency to lead you to the weirder things in life and Los Angeles? If so, then check out these workouts:
The Love Dome
Venice
Leave your yoga pants at the door, because you won't need them here. Not recommended for the shy, bashful, or modest, naked yoga lets you get to the basics by baring it all. Yes, it's co-ed. Yes, it's fully nude. Yes, there are private sessions. Yes, this is real.
Stronghold
Downtown
At most climbing gyms, anyone can show up, take a class and learn the ropes, so to speak. But every few months, Stronghold Climbing Gym, located downtown, encourages members to also bring their headlamps -- because they turn off the lights. That's not all: you'll climb in the dark while playing games such as climbing Twister and giant Jenga as DJs play electronic music and disco lights (and all those headlamps) light up the 45-foot walls. The gym also offers numerous classes and clinics for climbers of all skill levels, so you'll be able to get a workout whether the lights shine or not.
Tempest Academy
Hawthorne & Reseda
Parkour, also known as free running, pretty much turns the natural world into a big playground. Athletes run, jump, and tumble their way across ledges, roofs, and more. But, if jumping off a roof seems daunting, you can practice your moves in a controlled environment at Tempest Freerunning Academy. Buy a day pass and play around the gym, or take classes for any level and learn all the techniques you'll need to turn the streets of Los Angeles into your own personal playground.
Sky Zone
Van Nuys (and other locations)
If you spent your formative years bouncing around on backyard trampolines, then you'll probably literally flip when you get a look at Sky Zone Trampoline Park, best described as a warehouse space covered in trampolines. You can bounce off the walls during free jump, or team up for a game of pickup dodgeball or basketball, where you'll finally have no trouble reaching the rim. If it's been a while since you've bounced, your legs will definitely be sore the next day.
YOGAqua
Marina Del Rey
Giving new meaning to yoga flow, and take your practice to the water by combining yoga and paddleboards. Put your balance to the ultimate test and see if you can stay dry through the 90-minute class. You'll spend 30 minutes paddling and another 60 doing yoga on the boards, probably half of which will end up with you in the Pacific.
Cirque School
East Hollywood
Did you always dream of running away with the circus? Maybe joining the trapeze act and flying high above sold-out crowds? If you're a person who never quite realized this oddly specific dream, then check out cirque school, where you'll learn the basics of circus performance (including classes in aerial dance, contortion, trapeze, and more) in a controlled, closer-to-the-ground environment.
Crunch & other gyms
Burbank & other locations
If you feel like your gym's normal cardio sessions could be bit more jam session, then grab a set of Ripstix (basically, weighted drumsticks) and you won't just listen to music while you exercise -- you'll become the music, bashing through aerobics, cardio, and conditioning to the beat (hopefully).
Hoopnotica
Venice & other locations
What if a toy from your childhood could help you burn as many as 600 calories an hour? That's the idea behind Hoopnotica, where you'll combine a fitness routine with -- you guessed it -- hula-hoops. This class is super-hip. Ha. Ha.
Crunch
West Hollywood & more locations
You probably already know all about Soul Cycle and its dance-club-meets-fitness-bike vibe. But if singing is more your speed, check out Crunch Gym's Cycle Karaoke. You'll still break a sweat during the interval bike training, but you'll also get to break into tune as the instructor walks around the room giving everyone a chance to sing along to the Backstreet Boys or Beyoncé or whatever the day's theme music might be.
Sign up here for our daily LA email and be the first to get all the food/drink/fun Los Angeles has to offer.
Jared Clark is a Thrillist contributor who's always on the lookout for new and exciting ways to work out because normal gyms bore him to tears.