Halloween season in LA is full of macabre merriment, ghoulish gatherings, and dressed-up debauchery throughout October. The whole ghastly affair culminates on October 31st, when the biggest monster of them all goes down in West Hollywood, attracting close to 500,000 revelers for a party in the streets like no other. The annual West Hollywood Halloween Carnaval is a scary, sexy mess of wild get-ups, audacious entertainment, and horror-themed holiday shenanigans. It's a blast and a half, but it can be a bit of a nightmare to navigate, too, especially if you don't do it right.
Here's how to get the most fun out of the night, while avoiding any unwanted frights:
Know the deets
The event runs from 6pm to 11pm on Halloween night, which this year is on a Monday (which for many will be followed by Sick Day Tuesday). It takes place along Santa Monica Blvd from Doheny Dr to La Cienega Blvd. It's free (but bring cash for drinks and eats at area businesses).
Arrive before the Bewitching Hour
Don't spend all night perfecting your "sexy Hillary" costume, kids. Depending on where you're coming from, leave the house around 4:30-5pm -- especially if you're driving or ride sharing -- to allow for delays from street closures, traffic, parking, and settling in.
Grown-ups only
The event's own website suggest leaving the youngsters and pets at home due to the large crowds and potential nip-slips or other risqué costume choices, which make this celebration "a bit on the naughty side." Um, that's an understatement.
Chills and thrills
At press time, the forecast for October 31st in LA indicates cloudy with a high of 72 and low of 58. You may want to reconsider the Lady Godiva get-up if you're not a "long hair, must bare" hot-blooded type.
Words of wisdom from the Master of Ceremonies
Emcee'd by actor/scenester/rabble rouser Jeffrey Damnit since 2010, the Carnaval is always a spectacle filled with music, contests, and wicked amusements. Past performers have included Boy George, Pink, Robyn, and Rocky Horror Picture Show's Dr. Frank-N-Furter (well, a tribute to him). Damnit revealed to Thrillist that this year's theme is "Disco Party," so anything '70s-themed is so hot right now. Here's some more insider tips straight from the event's own master of ceremonies:
Park south of the party and walk: "There's more room that way and then your walk back later is downhill," he says. "Even if you go straight to the parking lot at the Beverly Center, it'll still be faster than searching for parking nearby.
"


Dress to express/impress: "Everyone is at this party!" Damnit says. "It is the biggest in the world after all. There are going to be some risqué outfits there... but make sure to respect everybody and don't get touchy-feely unless you know them and have their complete consent."
Make sure to keep moving: "There are six stages and a zillion people in costumes. Don't get stuck in one place with one group of people," advises Damnit. "Move around and catch it all!"










Don't be in the dark when you park
There are several lots and garages in the area and most are gonna cost you upwards of $20. If you're even thinking about trying to score street parking prepare to walk several blocks to the actual event. Streets nearby are almost all permit, so now may be the time to call in that favor from your friend with the condo on Robertson. Residents can usually get a few temporary permits.
Here's a list of the biggest public parking options in the area:
Pacific Design Center ($20)
 8687 Melrose Ave at Santa Monica -- The big blue building is our go-to for the Carnaval and LA Pride because it's always self-park and we can always find it quick after a long night.
City Hall Parking Lot ($20)
 8300 Santa Monica Blvd at Sweetzer
Kings Road Parking Structure ($20)
 8383 Santa Monica Blvd at Kings Road
La Jolla/Havenhurst Lot ($20)
 1046 Havenhurst Dr at Santa Monica Boulevard
La Peer Lot ($20)
 623 La Peer Dr at Melrose
Orange Grove Lot ($20)
 1114 N. Orange Grove Ave at Santa Monica
Queens Lot ($20) 
8459 Sunset Blvd at Queens
Spaulding Lot ($20)
 7718 Santa Monica Blvd at Spaulding
Sunset Lot ($20) 
8775 Sunset Blvd at Horn Ave
901 Hancock Parking Structure ($20)
 901 Hancock Ave at Santa Monica
If you don't want to fly on your own broomstick
Uber and Lyft are great options for those who don't want to drink and fly, but prepare for price surges on the big night. A good old-fashioned taxi may be the way to go in this case. Consider taking advantage of the PickUp, WeHo's free evening trolley if you live in the area, or FrankenRide, a shuttle that will pick up at all Metro bus stops along Santa Monica Blvd between Plummer Park and La Cienega Blvd, courtesy of the City of West Hollywood.
Trucks and treats
Food trucks will be on site and the hottest clubs on the boulevard will be pouring during the party (Rage, Micky's, etc.). But we polled an assortment of creepsters and WeHo cosplay lovers who attend the Carnaval every year and here were their picks for best bites and booze:
1. The Abbey, 692 N Robertson Blvd
2. Kitchen 24, 8575 Santa Monica Blvd
3. Saint Felix, 8945 Santa Monica Blvd
4. Barney's Beanery, 8447 Santa Monica Blvd
5. Hamburger Mary's, 8288 Santa Monica Blvd
6. Shake Shack, 8520 Santa Monica Blvd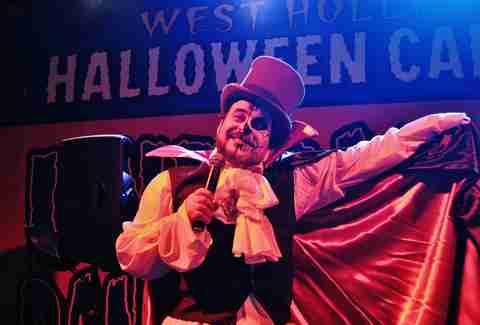 Stay charged
Though the Carnaval doesn't do a proper parade like LA Pride does with floats or anything, it is quite the procession and you will want to take a lot of pictures of clever, creepy, and just plain craptastic costumes. Charge up and/or bring a portable backup charger.
Nightmare on which streets?
Here are all of the specific street closures in case you're wondering:
San Vicente Blvd between Melrose Ave and Santa Monica Blvd from 12am Thursday through 7am Friday.
Santa Monica Blvd between Doheny Dr and La Cienega Blvd including all side streets from 12pm Thursday through 6am Friday.
Robertson Blvd between Melrose Ave and Santa Monica Blvd from 12pm Thursday through 6am Friday.
Almont Dr between Melrose Ave and Santa Monica Blvd from 12pm Thursday through 6am Friday.
La Peer Dr between Melrose Ave and Santa Monica Blvd from 12pm Thursday through 6am.
San Vicente Blvd between Cynthia St and Santa Monica Blvd from 12pm Thursday through 6am Friday.
Santa Monica Blvd between La Cienega Blvd and Holloway Dr/Croft Ave from 4 pm Thursday through 6am Friday.
La Cienega Blvd between Sunset Blvd and Santa Monica Blvd from 4pm. Thursday through 6am Friday. Northbound La Cienega Blvd will be open between Holloway Dr and Sunset Blvd.
Sunset Blvd eastbound and westbound turn lanes onto La Cienega Blvd from 4pm Thursday through 6am Friday.
Sign up here for our daily LA email and be the first to get all the food/drink/fun Los Angeles has to offer.