Paid Content For
Casa Modelo
Inside LA's Secret Garden That's Helping Veterans
Paid Content For
Casa Modelo
Nestled within the sprawling 387 acres of the U.S. Veteran Affairs' West Los Angeles campus stands a tiny, unlikely plot tended by a handful of volunteers, so small and unassuming, it's easy to miss. But the garden is a rare experiment. Not only does the fertile plot yield plenty of unique organic crops -- African blue basil, thornless raspberries, giant cantaloupes, and Dutch kale for example -- it also provides a pioneering form of holistic therapy for veterans with severe mental illnesses. See how this tiny garden is doing a world of good, not just for the volunteers who harvest it, but for anyone who might benefit from its abundantly unconventional, groundbreaking ethos.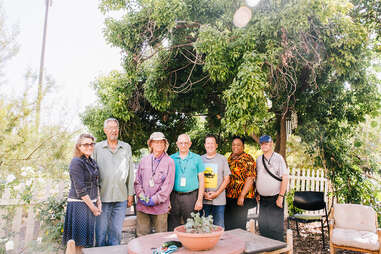 WHAT IT IS
The U.S. is facing its highest suicide rate in thirty years. Among army soldiers, that rate is up 80%, according to the Army Behavioral Health Integrated Data Environment. With so many wars going on simultaneously, the U.S. government reports that up to 20% of soldiers who served in Iraq will have PTSD in a given year as compared to 15% of those who served in Vietnam. In L.A., where the homeless population is the largest in the nation, skyrocketing 55% during the past five years alone, veterans with mental illness comprise a significant portion.
Dr. Donna Ames, a U.C.L.A professor and psychiatrist, who'd been working with acutely ill patients suffering from mental illnesses in Los Angeles inpatient wards, has become increasingly concerned about the rising number of veteran patients who were gaining weight and getting diabetes.
"I published on that," she explained in her office at the Los Angeles VA's Psychosocial Rehabilitation and Recovery Center, which she now helms. "Then I said -- we gotta do something about this! People were very skeptical."
Undaunted, Dr. Ames began integrating as many forms of alternate therapy into the center as she could. Alongside conventional medications and talk therapy, she experimented with a diabetes prevention course, yoga, meditation, creative writing, wellness education, silkscreening, and a dance program (created in collaboration with the Mark Morris Dance Company in New York). The center's curriculum proved so pioneering it attracted international attention from research groups in Spain and Israel and eventually inspired Dr. Ames' brother, cult-adored author Jonathan Ames, to create an episode about it on his Starz workplace comedy Blunt Talk. At a certain point, Dr. Ames thought: "Could we have a garden? Could we eat the things we grow?"
WHERE IT'S LOCATED
"It's very humble," Ames admitted, leading me from her office to the half-acre (at best) patch attached to the Recovery Center on the North Side of the rambling L.A. VA campus in Westwood. Along the way, she nodded toward a modest kitchen, explaining that there, vegetables from the garden were cooked at least once a month, adding: "We do juicing every week."
The plot itself was originally destined for a dump when the house on a neighboring property was torn down. Now it sits enclosed by a white picket fence with many of the garden's components having been salvaged, starting with its seeds. There were dozens of edible plants, from Cherokee beans derived from those that once grew along the Trail of Tears to a bottle gourd vine that had overgrown a shade tree. From that same tree dangled a set of wind chimes that had once belonged to one of the veteran's parents. In two opposite corners of the garden stand battered composting bins.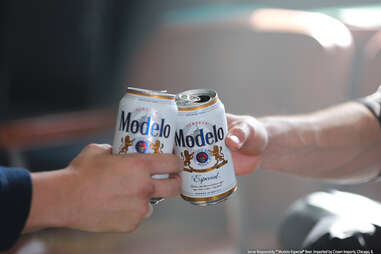 Every beer brewed at Casa Modelo is brewed with the fighting spirit that recognizes hard work, quality and flavor. It's hard work that inspires Casa Modelo to fight for better with every batch of Modelo Especial.
WHO IT HELPS
Twice a week, a handful of dedicated veterans work the soil, water the plants (the garden does not have an irrigation system), harvest fruits and vegetables, and man the composters. One of those veterans, John Steffen, was cranking the composter as Dr. Ames and I strolled onto the grounds.
A Los Angeles native, Steffen's parents had been Iowan farmers, and he said he tried to apply what he'd learned from them growing up to the plants. Another L.A. native veteran, Alton Tremble, was raised in the projects and had never gardened before he'd stepped into the center's plot. When asked what he liked most about gardening, Tremble replied enthusiastically: "The yellow crookneck squash. Fresh air. Getting dirty. Fixing things. Harvesting plants after they grow. We're growing blueberries and raspberries. Berries grow slow so we've got to be patient and wait until we can pick them."
So yes, he likes to garden now.
Another gardening veteran was away that afternoon. After dealing with schizophrenia for decades, he'd recently made a breakthrough. "He was on the streets drinking for five years," Dr. Ames said. "Now he's in college."
Technically, the veterans' bi-weekly gardening is considered horticultural therapy, an endeavor Dr. Ames has pioneered at the L.A. PRCC, but she admits that it takes a village. Lewis Vinocchio, a Vietnam veteran and Peer Support Specialist, oversees the horticultural sessions. "I grew up in Connecticut and my parents were Italian. Their garden would've made Martha Stewart jealous," he said. Other members of the team include a nurse, a psychologist, a chaplain, social workers, recreational therapists, and occupational therapists.
"[Dr. Ames] uses the center's holistic programming as a model for training young medical students on the importance of considering a patient as a whole being, with opportunities for healing that extend beyond the realm of pharmaceuticals."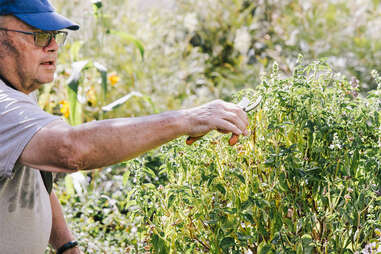 WHY IT MATTERS
What would the veterans want other veterans to know about the power of their garden? "Well, if you like weeding, you'll love gardening," Tremble quipped. After a pause, he added: "Gardening is happiness."
Dr. Ames put it differently. "There was this Los Angeles Times piece that asked people on the street: 'So when are you going to finish your script?' Because everyone in L.A. has an unwritten script. We've all got deferred dreams," she said. "Recovery is about more than medication. It's about having a person dig in to figure out what their hidden dreams are -- and then nurture those dreams and talents into action."
Symbolically, the process sounded a lot like, well, gardening. "Yes!" she laughed, going on to explain that the scope of the garden's importance extends well beyond its white picket fence. At UCLA, she uses the center's holistic programming as a model for training young medical students on the importance of considering a patient as a whole being, with opportunities for healing that extend beyond the realm of pharmaceuticals. The approach aims to destigmatize mental illness on the grand scale.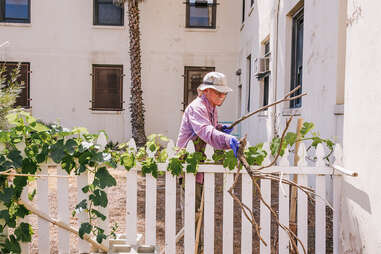 WHAT'S NEXT?
Once upon a time, the L.A. VA harbored a different vegetable garden -- without a specific therapy component but with a corresponding farmer's market that supplied local restaurants (and, rumor has it, the Playboy Mansion). While Dr. Ames is aware of the challenges of becoming a larger supplier, she is open to the idea of reinstating a for-profit component... someday.
In the meantime, she has loftier goals for giving back to the L.A. community at-large. In January, the Veterans Affairs office announced plans for constructing 1,200 housing units on the Westwood property, to help combat the city's homelessness crisis. Dr. Ames' vision? "Each of those new housing buildings should have a garden like this one and be entirely self-sufficient," she said. In that scenario, the one existing garden would multiply until thousands of L.A. citizens would not only have a roof over their head, they'd have a place to put down roots. Literally.