We've noticed a ton of confusion about escape rooms, a still-getting-off-the-ground trend that can best be described as a live puzzle game, utilizing a team (from two-12 people, depending on the size of the room and your ability to get along with others) to figure out clues and puzzles, and that all add up to the ability to unlock a door after a set amount of time (usually 30 minutes to an hour, again depending on your ability to get along with others; if you're super-stuck, there's always someone watching who'll give you a hint... if you want it).
Though some are horror-themed, they're not particularly scary... we promise that countdown clock doesn't mean you'll die in there. And they're ultra-fun for groups of friends or as team-building for a small company, or as a date that'll let you know whether or not you can actually trust the person you swiped right for. And here's where you can do them in LA:
Recommended Video
This Tiny Kitchen Gadget Turns Radishes Into 'Super Mario' Mushrooms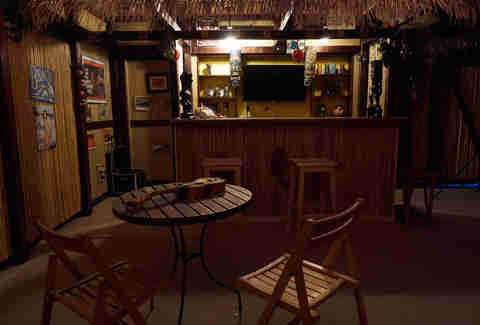 Downtown
This Las Vegas-based company has a handful of themed rooms that rotate occasionally. Right now, they've got a semi-permanent one based on the movie Krampus (seriously!), and a tiki-themed room that'll remind you of every Jimmy Buffet song you've ever heard... if Jimmy Buffet songs included the lyrics "figure out what order the totems go in / and you'll open a door to a secret volcano room and win / margarita time!!!"
Slymar
This totally themed experience (i.e., their first room, "The Basement," has a story that continues into their second room, "The Boiler Room," and their third room, "The Study") gets points not just for creativity, but also for scale: rooms range from a max of 12 in The Basement to just four in the The Boiler Room, meaning you've got to put together the ultimate dream team to get out. And by "get out" we mean you'll escape being eaten by the cannibalistic serial killer who kidnapped and locked you in the room to begin with.
Hollywood
This company's got three rooms, all of which combine tech elements (they've even got virtual-reality segments to the games!) with physical sleuthing to make you feel like you're totally immersed in a movie set. They boast a 15% success rate, which means you definitely get bragging rights if you get through their scenarios, which include an Indiana Jones-esque archaeological mission and a game in which your team has to diffuse a ticking bomb.
Pasadena
After a test run around Halloween, this cinematic, multi-room experience is returning this spring in a more permanent fashion; the experience is very Maze Runner-esque, with a plot that's set 60+ years in the future with all inhabitants (that's you) living in maze-like underground tunnels that, obviously, you need to escape from. Like, pronto.
Mid-Wilshire & other locations
Each location of these mini-cabal of rooms has totally different adventures, so you've got to hit all three if you want to have each of the experiences: West Hollywood's got a difficult jungle-themed room, Los Feliz boasts a '70s-era safe-house for a Soviet spy, and the one in the middle of the city has an all-oculus-rift game that bucks convention by being entirely VR-powered.
Downtown
The company with the easiest-to-remember-name was also one of LA's OG escape rooms: their first room, The Detective, is a challenging one full of cyphers and maps, but they have four total, including a puzzle that takes place in an abandoned theater (if you think it's a coincidence that all the posters in here have numbers on 'em, uh, think again) and another where you're racing against time in an underground cavern before air runs out*.

(*Not really. They're not gonna let you die in there, OK? It's just an excuse to have a countdown clock. Calm down.)
Downtown
Room Escape's original escape room is another OG to the LA scene. Called "Trapped in a Room With a Zombie," you can guess the hook... werewolves! Just kidding. There is an "actual" zombie in the room with you, chained to a wall, whose chain gets extended every five minutes; if he touches you, you're "out" and can't physically explore the room any more. They're launching a second room soon that'll be dubbed "Still Hungry," which will feature... werewolves!!! Just kidding again: it's more Zombies, duh.
Universal City
Most of the other rooms on this list will match you with other groups coming in so you're playing the game with strangers (unless you're able to max out the room's suggested team number), but the Hungarian company PanIQ Room asks that you book out each experience entirely -- which is great if you've got a gang of friends ready to take one on. They've done events for Google and Fox, thanks to realistic props and challenges that take communication and teamwork to figure out.
Sign up here for our daily LA email and be the first to get all the food/drink/fun Los Angeles has to offer.
Jeff Miller has always made it out. Find out if he can maintain that record at @jeffmillerla on Instagram and @ThrillistLA on Twitter.