El Niño 101: All Your Questions, Answered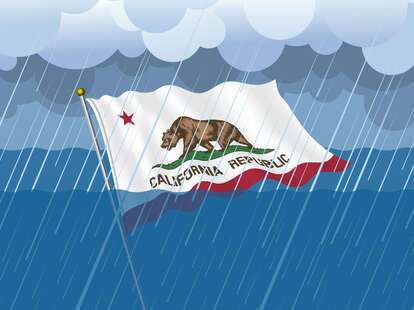 Jennifer Bui/Thrillist
Jennifer Bui/Thrillist
We got a quick hit in January (or was it just a few days of rain?), but it seems like the "record-breaking El Niño Monster," aka "Godzilla," as coined by some experts, has been a semi-nonstarter since then. So, does this week's rain mean that it's finally here for real? Or did El Niño truly start before? Is it more than just, y'know, "it's raining"? We talked to scientists and read reports and articles and even cracked open almanacs to find answers to all the El Niño questions you've been too embarrassed to ask.
So, WTF is El Niño?
According to the National Oceanic and Atmospheric Administration (NOAA), El Niño is part of a gnarly weather pattern that happens irregularly in the eastern tropical Pacific every two to seven years. Nicholas Pinter, a geosciences professor at UC Davis who hosted last year's El Niño summit, explained it like this: "El Niño starts with (and really is defined as) unusually warm ocean water in the tropical Pacific Ocean. This warm water then has various impacts on the ocean-atmosphere system. Most importantly, it reduces or reverses regional winds over the tropical Pacific, changing them from east-to-west to west-to-east."
The result is pretty much abnormal and erratic weather, meaning, in a nutshell, way more rain than we're used to in LA. And with it, comes more bad drivers, too.

Is El Niño only here in California?
No, it's pretty much global. Pinter said that the reversal of regional winds "brings moisture and increased precipitation to the western coasts of North America and South America; conversely Australia and Southeast Asia see reduced rainfall, drought, and wildfires."

Why is it named El Niño?
Much to our dismay, it is not named after this wrestler (RIP Chris Farley). Pinter told us El Niño conditions "bring other effects including changes in Pacific Ocean currents that can for example reduce fish populations and fish catches." Turns out, some fishermen in Peru back in the 1800s noticed this weird weather happening around Christmas every year. So, they named it El Niño, which means "little boy" in Spanish or "Christ child."

How long will it last?
Just like Ricky Martin and his not-so-memorable Menudo bandmates, not all El Niños are created equal. El Niños typically last for 9-12 months but some have lasted 3-4 years. The longest El Niño on record back in the 90s lasted for five years. An updated forecast by NOAA says that this El Niño has an 80 percent chance of lasting into early spring 2016 (like, right now!!!), which means even Presidential hopeful Trump can't build a wall to stop it.

Is it still happening?
Yes. According to NOAA, El Niño is underway and remains strong. Pinter of UC Davis said, "Those warm "El Niño" conditions are still there, but waning." He confirmed that "it's not unusual for much of the season's precipitation to come in March, but it does make you wonder what's happening with the climate system that the second largest El Niño ever delivered us such a mixed picture. Southern CA has had a really disappointing winter. People talk about the "atmospheric river," but I think of it more as an "atmospheric garden hose" -- as in, with no one holding it. It can shoot up or down, and you either get hit with a lot of water or not." There's a joke in there somewhere, but I can't think of anything other than, dammit, can we please get hit with a bunch of rain already?

So, how much rain will we get?
Nobody really knows. Susan Buchanan, National Weather Service spokeswoman, told us the precipitation forecast for January-March predicts above-normal precipitation for much of the country, including all of California. NOAA predicts that California will get 35 to 50 percent above normal amounts of rain. Sounds sort-of like a good thing, except... well, just read on.
Does it mean the drought is over?
Nope. According to NOAA, a strong El Niño will ease the drought conditions but it will not end them. Put it this way: the normal amount of rainfall in LA is approximately 15in per year. In the past four years, LA has only racked up 32 inches total when it should have been closer to 60 inches total! Ted Johnson, a hydrogeologist with The Water Replenishment District of Southern California told the San Gabriel Valley Tribune that it will take two to three years of above-normal rainfall to get out of the drought. NASA analyzed its satellite data (of course they did; they're NASA!) and announced that it would take 11 TRILLION gallons of water to end California's drought. Sounds depressing, right? Just do your part with water conservation and avoid getting your name added to this list of drought offenders, aka jackasses.

Is it good or bad for surfers to be in the Pacific Ocean during El Niño?
Surfers apparently have it good during El Niño. In this LA Times story, Bill Patzert, climatologist for NASA's Jet Propulsion Laboratory in La Cañada Flintridge, said past El Niños have brought winters that went down in surfing history, noting "it was one great set after another," though since this one's been less-strong than expected, results may vary. Still, Bodhi, wherever you are, this could be your 50 year storm!

Anything else I should know about El Niño?
Yes. We prefer him to his crazy ex-girlfriend La Niña -- the opposite phase of El Niño -- which could hit us by next winter or even this fall, according to NWS spokeswoman Buchanan. Historically La Niña (which means "little girl" in Spanish) brings reduced precipitation to the West. This means drier than normal conditions in Southern California -- definitely no bueno for this ongoing drought. Buchanan told us their latest outlook report forecasts a 40 percent chance of La Niña and a 46 percent chance of Neutral conditions for next winter (Neutral means no El Niño or La Niña). In case your mind has been blown OR perhaps La Niña has you a bit confused like me, take a look at these NOAA diagrams or this NOAA blog post.

So, a quick recap:
El Niño is still here, though it's getting weaker, not stronger. And, it will not end the drought.
Sign up here for our daily LA email and be the first to get all the food/drink/fun Los Angeles has to offer.
Kat Jacob is a freelance writer who survived the last El Niño back in the '90s. Follow her on Twitter @katcalbes to see if she survives the 2016 El Niño.