While there are plenty of good Louisville date ideas around, there's a chance that you've done them all. And while we would never ever suggest you stray from the path of law-abiding righteousness in the search for something new... if you did want to spice up your next Tinder date, here are some lawyer-baiting ideas (that we would in no way recommend you do).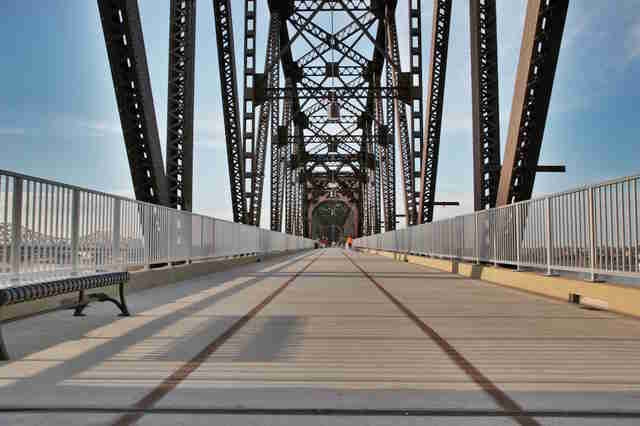 Race skateboards on the Big Four walking bridge
How to pull it off, despite us very clearly advising against it: Honestly, if you're going to low-key break the rules by skating on the Big Four Walking Bridge... Heelys are the way to go. Glide past the long arm of the law in style.
Laws you'd be breaking: Waterfront Park's regulations governing what is and isn't allowed on the Big Four walking bridge. Fun fact: pets, scooters, and motorcycles are also banned.
Take the, uh, shortcut home through Cherokee Park
How to pull it off, despite knowing that shortcuts through Cherokee Park are never short: Craving a little hot-and-heavy out in nature? Cherokee Park has lots of hidden nooks for a car or a more adventurous couple with a blanket and no shame. Be quiet and hide in the bushes.
Laws you'd be breaking: Indecent exposure, of course. And also all the laws that your mom prayed you'd never break.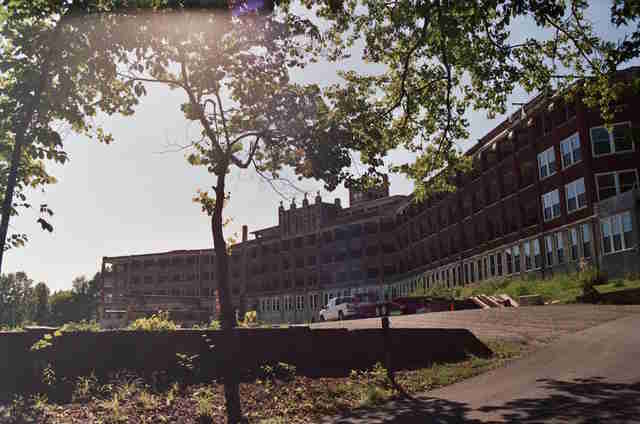 Go monster/ghost hunting
How to pull it off, despite knowing what happens to couples like you in horror movies: The trestle at Pope Lick, the Gates of Hell and the Witch's Castle are not very well-watched, so it's pretty easy to sneak a peek. Waverly Hills, however, is really guarded, so you're definitely better off taking a totally legal tour.
Laws you'd be breaking: Laws of common sense (why are you crazy kids hunting monsters?), and of course the usual: trespassing, breaking, and entering.
Take the Louisville Bambi Walk
How to pull it off, despite knowing you're getting too old for these shenanigans: The Bambi Walk is supposed to begin at Bambi Bar and end at Outlook Inn. To REALLY say you've crushed the Bambi Walk, you're supposed to have a drink in each Highlands Bar along the way. Unless you've got a crazy committed DD, you and your Bambi-walking/staggering companion will be intoxicated. In public. The way to get away with this is simple: do not invite amateur drinkers to participate in the Bambi Walk. Keep your sh*t together. Be polite. Be reasonable.
Laws you'd be breaking: Public intoxication, and probably lots of other random Highlands regulations. Combining a beloved bar scene with some of the city's highest-price housing doesn't always work well for Highlands residents (who want you to shut up) and for Highlands bar-hoppers (who want to have the BEST NIGHT EVER!).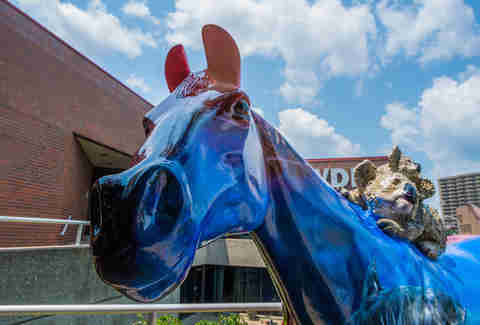 Hop up on as many Gallopalooza as you can find together. Post pictures.
How to pull it off, despite the probable social media shaming that will occur: People perch up on Gallopalooza all the time for pictures, and very rarely will anyone stop a camera-wielding couple smooching all over public art. So just don't do it right in front of a parked police cruiser.
Laws you'd be breaking: Public nuisance, especially if you accidentally harm a Gallopalooza.
Have a sneaky bourbon tasting in a public park
How to pull it off even though we totally advise against it: Want to impress a fellow bourbon lover? Take him/her on a romantic picnic in one of Louisville's many amazing parks and forests, and bring four small flasks of your four (current) favorite bourbons. Bonus points: have the flavor notes for each bourbon written down, and have your date guess the bourbon by taste profile. Extra bonus points: blindfold them.
Laws you'd be breaking: Public intoxication, the (myriad) laws surrounding open containers. Also: make absolutely sure your date is aware of your sneaky bourbon tasting plans, so he or she can give full consent to an afternoon/evening of drinking.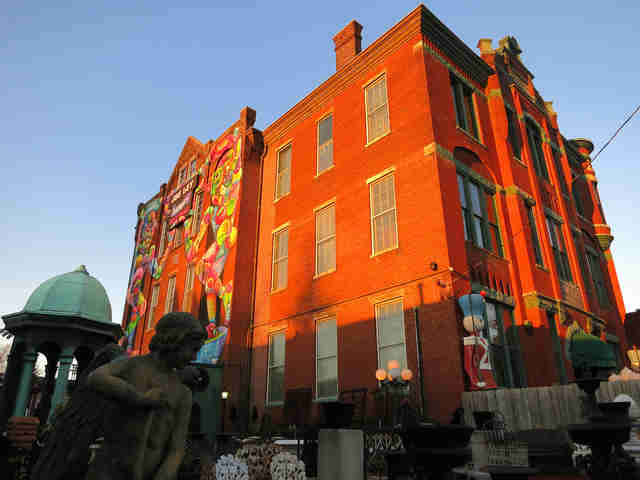 Get the perfect picture of your date at Joe Ley Antiques
How to pull it off, because you're trying to up your Insta-game: Don't use a camera with a flash and don't mess with the antiques
Laws you'd be breaking: Just the law of Joe Ley, which dictates pictures are a no-no
Legal version: Ask for permission, or persevere with no photographic evidence of your date
Tag corporate businesses with the ear X-tacy slogan together
How to pull it off, in spite of our warnings: Since the Panera on Bardstown Rd was somehow tagged, and it's at a pretty busy spot in the Highlands, it's safe to assume this wouldn't be too hard to do, especially if you tagged the backs of buildings.
Laws you'd be breaking: Trespassing, graffiti laws
How to pull it off despite being definitely landed on the naughty list: You'll be driving, so get a group of cheer-loving Louisvillians together and draw straws for the designated sober, responisble position. The best way to smuggle booze in anywhere is in your stomach, but a flask or two or three will do the trick to set up your car-bar.
Laws you'd be breaking: Open container laws, possibly, public nuisance laws should your cheer become too merry and bright.
Sign up here for our daily Louisville email and be the first to get all the food/drink/fun in town.
Rachel Heatherton is a Louisvillle writer who should probably be in jail by now.