All the People You'll See at the Kentucky Derby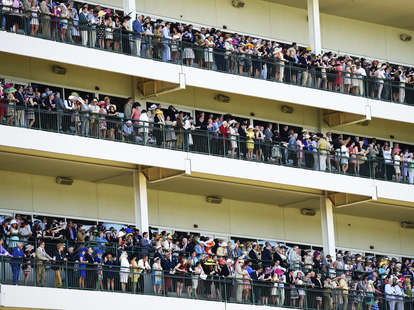 The greatest day of the year here in Louisville is nearly upon us: Derby Day! When it comes to being a Kentuckian, nothing quite compares. An incredible number of visitors take over the city in early May to catch a glimpse of the most exciting two minutes in sports. And while the race itself is something to see, it's the people-watching that really makes this event a spectacle. From the ones who paid top dollar to sip that $1,000 mint julep, to the infield onlooker in search of a cheap beer and a $5 win, you're sure to encounter a wide variety of people attending this tradition. These people:
The Infield Goer
Any Louisvillian worth their salt has spent at least one first Saturday in May traipsing amongst the raucous debauchery that defines the infield at Churchill Downs. Accessible with a General Admission ticket (which clocks in at $40 for Oaks and $60 for Derby this year), the infield is the everyman's way to watch the Derby... from a massive 4K video board, that is. You'll see pretty much everyone from college coeds who've imbibed far too many cheap beers, to the family of five who packs up a Churchill Downs approved picnic every year.
Little of the infield experience is actually about the horse race; rather, it's the people-watching. This is where you will find homemade hats of epic proportions, authentic Kentucky rednecks, and a damn fine group of over 60,000 people all crowded together to toast the greatest two minutes in sports (even if they never see a single horse).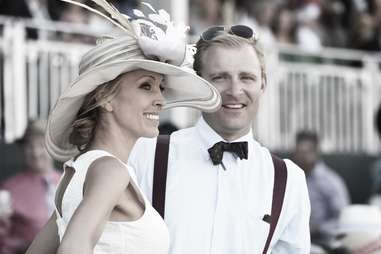 The Millionaires Row Attendee
The name of this fabled corner of Churchill Downs says it all. This is where the rich and beautiful come to play on Derby weekend. Sitting high above the insanity of the infield, Millionaires Row stretches across the fourth and sixth floors of the track and offers an unprecedented view of the races. Here you'll find women in Manolos and matching fascinators and men decked out in Armani with pastel ties and golden cufflinks. Do a large number of them know anything about horse racing? Probably not. Will they be ordering a hot dog from one of the hundreds of vendors or a batch-made mint julep? HA! Yeah, right.
The Millionaires Row attendees are usually seen lounging on a covered terrace, casually watching the races while dining on gourmet fare and sipping on one of those famous $1,000 (!!) mint juleps. To be honest, the below infield attendees always look to have more fun. But dammit that air conditioner must be nice.
The Celebrity
Even the famous can't escape the lure of the Kentucky Derby. Whether we're talking A- or D-list, one doesn't have to look far to see a familiar face from television or sports. While many are cajoled by party promoters looking to take their shindig to the next level, there are countless stars who have fallen for the Derby's charm: anyone from Kate Upton and Aaron Rodgers, to Kid Rock and Taylor Kinney. It's well worth keeping your eyes peeled during the event (and that night's festivities) because you just never know who you might run into when the world turns its eyes to Louisville on Derby weekend.

The Bucket List Crosser-Offer
Attending this event is high on many out-of-towners' list of things they want to do before they meet their maker. This person can be found anywhere and everywhere and is best identified by the "Oh my gosh, I can't believe I'm at the Derby!" expression on their face. They often spend a small fortune to see this dream come true. From sky-high hotel rates to near impossible-to-secure restaurant reservations, the bucket list crosser-offer is pulling out all of the stops (and draining their bank account while at it) in the pursuit of taking part in a tradition approaching its 142nd year. They will bet on every race, drink one too many mint juleps, and will let nothing stop them from having the time of their lives.
The Grandstand Goer
So. Much. Seersucker. The Grandstand Goers are a mix of locals and out-of-towners; some have reserved bleacher seats and some are winging it, happy to mingle amongst the masses. They're the type of people ecstatic just at the idea of dressing up and wearing a hat for the day. You may spot one sneaking a peek at the infield insanity, but you'll definitely see a few female Grandstand Goers holding their heels at the end of the day (because their feet will undoubtedly give out from the constant walking). These people know they're stuck in the middle and are perfectly happy with that: they're over the infield antics but not quite ready to trade in their life savings for a spot on Millionaires Row.

The Serious Better
Forget the amateur "$2 to win on No. 6" bets. That's child's play for those who come to the Derby looking to make some serious bank. These individuals will be found hunched over racing forms with a pencil in one hand and a cigar in the other. Small cups of bourbon on the rocks surround them, and they could not care less that one of the Real Housewives of Whatever just waltzed by. These guys know you have to bet big to win big, and that's what they intend to do.
Churchill Downs paid out a whopping $154,300,000 to bettors on Derby Day alone last year. It's just another day in the office for these seasoned gamblers who have every intention of returning home a winner this Derby Day.
The Julep and Lily Vendor
There were 127,000 mint juleps sold during Derby weekend last year and 72,000 glasses of the Lily (the official drink of the Oaks) poured. That's a lot of booze sold by tireless vendors schlepping large trays of pre-poured cocktails all over Churchill Downs, ensuring attendees don't have to wait long or look far for their next drink. Sure, these signature concoctions come with a high price tag, but the Derby is all about tradition. These vendors are working hard to make sure that tradition is upheld. So please, make sure to tip them well. After all, you'll be cashing in loads of winning tickets anyhow, right?
The Churchill Downs Employee/Volunteer
There's always someone prepping for Derby weekend here in Louisville. Whether it's the massive volunteer community-wide cleanup to ensure the city is bright and shiny for the deluge of visitors, or the eight noble individuals who put in over 30,000 plants at Churchill Downs within the three weeks leading up to Derby, there is no question that it takes a village to pull off an event of this magnitude. These volunteers and Churchill Down's employees will be out in full force over Derby weekend and are the true heros of the day. So tip those hats to the hard working Kentuckians who make it possible each and every year.
Sign up here for our daily Louisville email and be the first to get all the food/drink/fun in town.
Lindsey McClave is a food and travel writer who believes the Derby should be declared a national holiday. Follow her food and travel adventures at @FoodieGirlKY