All the Best Places for Free, Outdoor Exercise in Louisville
We can probably agree that New York's Central Park, designed by Frederick Law Olmsted -- the unofficial God of park design -- is the most famous city park in the country. So guess which other city ol' Fred had a passion for? Yep, our very own 'ville. Over a century ago, Olmsted designed a network of parks and parkways throughout the city, including some of Louisville's most popular green spaces, like Cherokee and Iroquois Park. Leaving aside his masterpieces, our city is remarkably verdant. With well over 100 parks in the metro area, Louisville locals are spoiled rotten with beautifully designed and preserved green spaces, and the number of heart-healthy activities one can engage in is as lengthy as the number of parks our city boasts. So the next time you need to work off the Hot Browns and Old Fashioneds (like, today, let's be honest), try exercise in the Louisville park system.
Get back into skateboarding at the David Armstrong Extreme Park
If we told you there was 40,000sqft of concrete surface Downtown, you'd probably go on a rant about the overabundance of parking lots in our city. But what if this massive swath of pavement included a 24ft full pipe and a wooden vert ramp? Yup, it's time to break out that skateboard you attempted to master in middle school (you know you still have it) or dust off your BMX bike, and hit the David Armstrong Extreme Park! Open 24 hours a day, this park has been immensely popular since its 2002 opening, and is considered one of the best skateparks in the country, attracting visitors from various states 365 days a year.
Run to Indiana and back via the Big Four Bridge at Waterfront Park
We've got to give the city big props for restoring the century-old railroad bridge at Waterfront Park, allowing pedestrians to cross over to Indiana while enjoying sweeping views of Downtown and the Ohio. The Big Four Bridge officially opened to pedestrians in 2013, and has been packed ever since. "You could definitely do a timed jog," says Chance Cianciola, co-owner and trainer at Everyday Athlete. "Set a timer, or choose to run from the beginning to a certain bench, then use it do step-ups. If you incorporate step-ups, push-ups, and lunges, you'll add some upper body and strength training along with the conditioning."
Play soccer at Seneca Park
Whether you're in a softball league, enjoy a game of tennis, or have simply lived in the St. Matthews area at some point in your life, we're willing to bet good money you've spent an hour or four at Seneca Park. The large "infield" of sorts, surrounded by the park's 1.2-mile walking path, is home to several soccer goals, giving visitors a beautiful space to channel their inner David Beckham... all while burning plenty of calories.
Sprint up Baringer Hill at Cherokee Park
Arguably the city's most popular park, Cherokee Park offers a 2.5-mile loop featuring two massive hills, hiking trails, and flat, open spaces. If you want to set yourself up for a big, heart-healthy fitness challenge, the dramatically steep climb of Dog Hill -- the slope of grass leading to the highest viewing point in the park -- is your best bet. "Depending on your fitness level, you may want to sprint up, then walk right back down," Chance says. "This way, rather than standing there or resting, you have an active recovery, so your heart rate lowers a little, but you're still continuing to work the leg muscles. If you're more advanced, sprint back up as soon as you get to the bottom. If you're newer, take a rest, do some stretches for the hips and thighs, keeping the muscles and joints loose and giving them time to recover before their next set." Chance also recommends setting smaller goals for yourself if you're not advanced. "Run halfway up the hill, or slow your pace -- for somebody who's new, just walking up the hill can be a challenge."
Throw horseshoes at Chickasaw Park
OK, throwing horseshoes may be a stretch when it comes to buffing up your bod, but if it gets you up off the couch and outside at the scenic Chickasaw Park, then we say it is a worthy calorie-burn.
Give cricket a shot at Buechel Park
Buechel Park is home to one of the few cricket pitches in the city, and gives Louisvillians the opportunity to try out a generally unfamiliar sport that happens to be wildly popular internationally. So read up on the rules, gather a group, and up your hipster cred.
Hike to the top of Iroquois Park
Be prepared for one hilly climb -- but know that there's a reward coming your way, too. The view from the overlook perched at the top of the park is unbeatable, making the workout on the way up totally worth it. "If you wanted to make the hill more challenging, you could add resistance to yourself by wearing a weight vest," Chance says. "Doing lunges up the hill adds a challenge, as well. Or try a bear crawl -- when you add upper body, you make it more difficult."
Play a pickup game of flag football at George Rogers Clark Park
There's more than enough room for a pickup game at George Rogers Clark Park… and this classic American activity is made that much better when you pack a cooler and claim one of the various grills for a postgame cookout.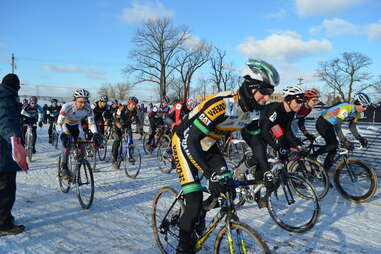 Get your cyclocross on at Eva Bandman Park
Adventure-seekers, take note: the premiere cyclocross venue in America is located right here in Louisville. The Eva Bandman Park underwent a dramatic transformation in 2009, and was reintroduced to the community in 2010 as the Eva Bandman Park & Cyclocross Venue. In case you're unfamiliar, cyclocross is basically mountain biking on crack: take regular off-road cycling and add in steep hills, very wooded trails, and numerous obstacles calling for the cyclist to dismount and carry his or her bike over whatever is obstructing their path. Not for the faint of heart, cyclocross may just be the athletic challenge you've been seeking.
Try out tennis at Tyler Park
If you're new to tennis, or are simply looking for a place without pretension or intimidation to practice your swing, the courts at Tyler Park are for you.
Be one of those people who plays disc golf at Charlie Vettiner Park
Whether you call it disc golf, frisbee golf, or frolf, only two Louisville parks are home to complete courses, the Charlie Vettiner Park being one of them. If frolf isn't exactly up your alley (fun as it is, you do have to accept being That Guy when you're playing it), you'll have no trouble keeping busy at this sprawling park, with volleyball, tennis, golf, and basketball on offer.
Relive your cross-country running days at Joe Creason Park
With over 62 acres of wooded beauty, Joe Creason Park really is a cross-country lover's dream.
Kayak at McNeely Lake Park
If you have a kayak in your garage gathering dust, then go hit up McNeely Lake Park. One of the most expansive parks in the city, McNeely Lake Park is ideal for kayaking, and its 46-acre lake is basically tailor-made for paddling. Plus, you can go fishing, too -- which counts as an activity, right?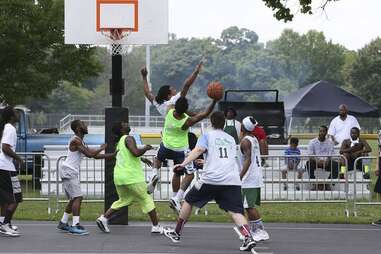 Play basketball at Shawnee Park
Whether you cheer for the Cards or the Cats, Louisvillians love their basketball. Home to Louisville's annual Dirt Bowl basketball tournament, Shawnee Park is the best place we can think of to join in a pickup game, or practice your free throw. And if playing basketball's not your thing, there's also a soccer field, baseball diamond, and tennis court for those who prefer a less hands-on approach to our state's unofficial sport.
Take a free yoga class at the Shelby Park Community Center
Channel your inner yogi at Shelby Park, where free yoga classes are offered every Monday from 6-7pm (and at other times and park locations as well -- just check out the website for the Kentucky Yoga Initiative, which provides the instructors). "This is an all-levels class, so it's a great place to begin," says Mimi Hahn, founding board member and yoga instructor. They teach power vinyasa class, so it's different from some yoga you may be more familiar with: power vinyasa gets pretty aerobic, and involves moving from one position smoothly to another, rather than standing still and holding poses for a long time. "We have all the materials that are necessary -- mats and blocks -- but you're welcome to bring your own," Mimi says. "Power vinyasa is really versatile, and is great for building strength as well as increasing flexibility. These classes really give you an opportunity to challenge yourself in an atmosphere that's safe and encouraging."
Hop on the Louisville Loop at The Parklands of Floyds Fork
The Parklands of Floyds Fork link together four of the city's parks via trails and drives, crossing over dozens of miles of beautifully maintained and preserved landscape. It's an excellent place to jump on the Louisville Loop, an ongoing project led by the city to develop a 100-mile loop connecting all corners of the community via parks and greenspaces. If you're not on the southeast end of town, then no worries -- you can also find access to the completed portions of the Louisville Loop at Shawnee Park, Lannan Park, Riverview Park, and Riverside, the Farnsley-Moremen Landing. "There are concrete paths here, but also paths through the woods," Chance says. "Even going to a playground and doing things like the monkey bars and stuff -- you can do pull-ups on there, a good way to mimic stuff like Tough Mudder. And if you want to go on a bike ride in The Parklands, the hills there are going to make a ride more challenging."
Go hiking through the Beargrass Creek Greenway
Tucked between the Highlands and St. Matthews in the Irish Hill neighborhood, locals can find lush hiking trails and bike paths, stretching 1.3 miles along Beargrass Creek. Keep your eyes peeled for wildlife, unique birds, and an array of native plants.
Sign up here for our daily Louisville email and be the first to get all the food/drink/fun in town.
Lindsey McClave is a food & travel writer who counts the Big Four Bridge and Cherokee Park as two of Louisville's greatest assets. Follow her adventures throughout the 'ville at @FoodieGirlKY.