Where, oh where, did our summer go? One minute we're splashing around in the pool and taking long walks with the dog, and the next we're pondering football season, long pants and chili cook-offs. Did someone delete August this year and we didn't notice? But the end of summer and the subsequent arrival of fall doesn't mean it's time to shut it down. Nope. There are plenty of fun times to be had in Louisville when the leaves begin to change and the breeze begins to cool, so don't crawl off into your cage of hibernation just yet. Here's everything you need to do in Louisville this fall.
September 20-22
Kentucky Exposition Center
Things got wet last year, but the popular Bourbon & Beyond festival sets up shop in a new location this time around. What hasn't changed is the fantastic music lineup including acts such as Foo Fighters, John Fogerty, Robert Plant, Alison Krauss and many more. Naturally, there will be plenty of food and bourbon along with dozens of guest speakers, distillers, panels and more. It's a very Louisville way to kick off the autumn season.
Cost: Tickets start at $89.50
September 21
Louisville Zoo
The Louisville Zoo and Idlewild Butterfly Farm present an educational and fun family event filled with butterflies. Fifteen different stations will help attendees better understand monarch butterflies, their importance and their migration. Interactive entertainment such as a buggy toss, a caterpillar-to-butterfly matching game, and a migration obstacle course will keep the kids smiling.
Cost: Free with paid admission to the zoo
September 27-29
Kentucky Exposition Center
The folks who bring Bourbon & Beyond play their second card every fall with the amped-up Louder Than Life. The festival delivers on its promise to make it loud, this year welcoming acts like Guns N' Roses, Slipknot, Rob Zombie and Stone Temple Pilots while blending in sets from artists like Ice Cube and Marilyn Manson. Earplugs sold separately.
Cost: Tickets start at $79.50
September 28
600-800 block of East Market Street
Now in its 11th year (my, how time flies!), NuLu Fest is one of the city's most popular "welcome to autumn" events. The streets of the NuLu neighborhood are lined with local vendors, live music blasts from the stage and the neighborhood's shops, galleries and restaurants open their doors for all comers. It's downhome Louisville entertainment for one and all.
Cost: Free
September 28
Portland Avenue
A celebration of one of Louisville's oldest neighborhoods, this festival is a celebration of the area's revitalization. Bring the whole family for arts and craft booths, food, a planetarium, horse and buggy rides, history and plenty more.
Cost: Free
Ongoing
Worldwide
Getting treated like a VIP takes any beer festival, barbecue showdown, or sporting event to epic levels, and as a Marriott Bonvoy member, you'll be able to cash in on luxury experiences across the globe with points. Marriott Bonvoy offers benefits and endless experiences at more than 7,000 hotels worldwide, so whether you're into live music, Michelin-star restaurants, or box seats, you're bound to find a perk that fits your lifestyle. Of course, they have you covered on where to stay if you want to make a weekend of it, too. 
Cost: Free to join
October 2
636 Barret Ave.
Hosted by the Kentucky Restaurant Association, this mouth-watering event is now in its 45th year, bringing together the culinary and libations communities for a cause. Attendees sample fine foods from the city's top restaurants and chefs alongside wine and bourbon tastings, with proceeds going to three different community charities. Eat, drink, and feel good about it.
Cost: $65-$100
October 5
Parade starts at Baxter Ave. & E. Broadway and ends at Bardstown Rd. & Rosewood Ave.
Louisville kicks off the Halloween season in style, with a parade circling the Highlands and a companion festival that has been named one of the "Top 10 Halloween Parades" in the country by the Travel Channel. It's a full day of family-friendly Halloween fun, including a street festival featuring craft booths, food and live entertainment. Come in costume.
Cost: Free
October 5-13
Downtown New Albany
For more than half a century, Harvest Homecoming has been a central gathering place for friends and families in New Albany. The classic fall festival features pumpkins, vendors, enough food to feed an army (try the fresh donuts or the classic rolled oysters) and plenty more. Families can enjoy rides and the annual Harvest Homecoming parade. Heck, there's even a Harvest Homecoming queen pageant every year. Small town fun at its best.
Cost: Free
October 6
1420 East Washington St.
In the mid-1800s, German immigrants settled in Louisville in large numbers, building several neighborhoods at the edges of the city's center. Butchertown celebrates that heritage each year with its own version of Oktoberfest featuring plenty of German food, live music and beer, beer, beer. Expect fun for the whole family at this neighborhood festival that dates back more than four decades.
Cost: Free
October 8-November 3
Iroquois Park
Now in its ninth year, the Jack O' Lantern Spectacular this year will feature some 5,000 carved pumpkins along a walking trail one-third of a mile long. This family favorite originally began in Oxford, Mass., and dates back to 1988. Louisville's version appears here to stay.
Cost: $10-$18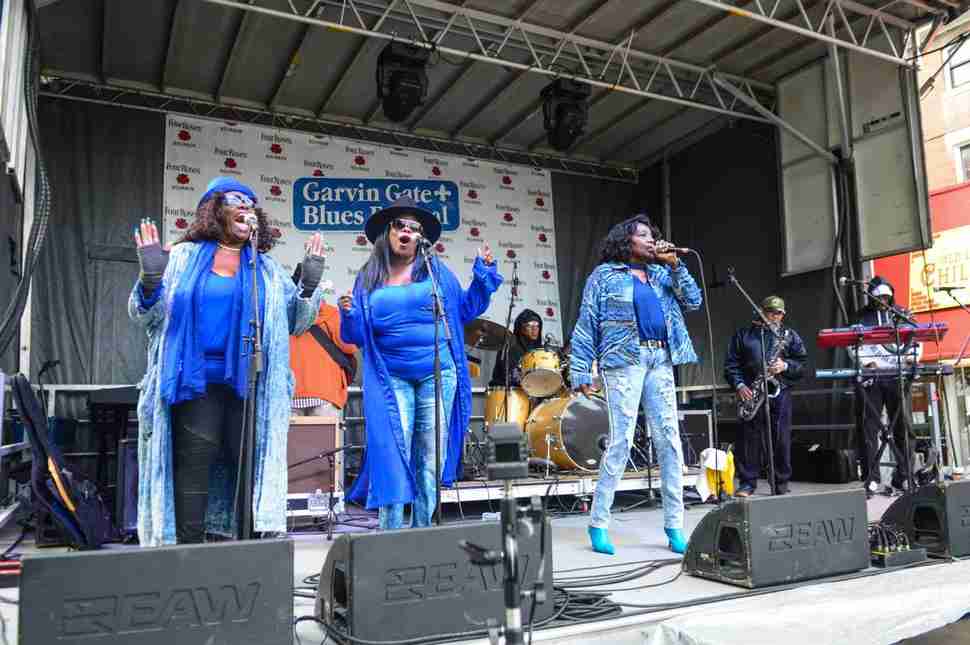 October 11-12
500 W. Oak Street
Once a year, the blues take over the small Garvin Gate neighborhood in Old Louisville, filling the streets with sound, food, drink and more. Dating to 1988, the festival each year brings in local and regional blues acts to do their thing, with two stages of continuous music. This year's event will feature the Hazel Miller Band, Laurie Jane and the 45s, Da Mudcats, the Revelators and more.
Cost: Free
October 11-12
Douglass Loop
Arts and crafts, food, beer and wine, live music, family entertainment...the annual Belknap Fall Festival has all the makings of a classic local fall festival. And it certainly delivers. The kids can paint a pumpkin or explore a fire truck while adults can shop, eat and have a tasty beverage or two while enjoying some live tunes. The neighborhood is never livelier.
Cost: Free
October 11-12
St. Michael Orthodox Church
Tired of the same ol' burgers and fries? This event is also known as Louisville's Ethnic Fair, and it's largely about flavors from around the world. Here, you can sample exotic foods such as an Ethiopian sampler, gyros, kubie, pastitso, pierogies, shish kabobs, spanakopita, tabouli, an Indian sampler and much more. There also will be dancing demonstrations, a gift shop, a bookstore and church tours. Beats the heck out of another grilled cheese sandwich, right?
Cost: Free
October 26
Gaslight Square
Get the kids dressed up in their costumes and trick-or-treat along historic Gaslight Square. Get in on fun Halloween-themed activities at the pavilion, enjoy refreshments, win door prizes and more. Bring out your inner kid at this traditional town square festival.
Cost: Free
November 2
Fourth Street Live!
They had us at "bacon." But the Bacon Jam -- featuring live music, bacon-centric dishes and curated cocktails -- is more than just pork. It doesn't matter if you like yours crispy or chewy, you're in for a mouthful of goodness. There will even be bacon-themed games and competitions. Best of all, a portion of the proceeds benefit the Louisville Metro Police Foundation.
Cost: $35-$80
November 8-10
812 South 2nd Street
Louisville gets its nerd on this fall with Nerdlouvia, a home-grown festival dedicated to tabletop gaming, anime, cosplay, video games, and general nerd culture. Attendees can check out panels, play Dungeons & Dragons, fuel up at a food truck stop, join in on the cosplay contest and plenty more. Don't be shy; everyone is welcome. (No wedgies allowed.)
Cost: $13-$40
November 9
KFC Yum! Center
Grammy Award winners Fantasia and Anthony Hamilton headline the Louisville Soul Music Festival. Special guests for the one-night only event include Tamia and Dru Hill, along with guest host comedian Gary Gthang Johnson.
Cost: Tickets start at $45.50
November 15-17
Slugger Field
The Festival of Trees & Lights has kicked off the holiday season in Louisville for three decades. Bring the family for a walk-through display of hundreds of decorated holiday trees, wreaths and greenery while enjoying holiday-themed attractions and activities. Other activities include photos with Santa, children's crafts, a ride-on train, a gift shop and more.
Cost: $9 for adults; $6 for children 12 & under and seniors
November 22-24
Kentucky International Exhibition Center
Supercon (a.k.a. GalaxyCon) promises three days of celebration for enthusiasts of comic books, anime, cartoons, video games, cosplay, pop culture…well, you get the gist. It's the largest con in Kentucky and is sure to appeal to your inner geek. And you'll have the chance for photo ops with a wide variety of pop culture icons, from actor John Cusack to illustrator Greg Capullo.
Cost: Tickets start at $20
Sign up here for our daily Louisville email and be the first to get all the food/drink/fun in town.