Isn't it annoying when the sun shines bright but it's still 22 degrees? It's a spring tease, winter's way of letting us know that relief from its icy grip is still out of our reach. For now.
But you've hibernated long enough. It's time to start planning your spring activities, and we've got the goods you need. And, luckily for you, most of the events take place outdoors. So put the sweaters away for the season, pull on your flip-flops, and get the hell out of the house. Your body isn't going to tan itself, you know.
MARCH
March 29 - March 30
The Gillespie
If you're into Harry Potter, this beer festival might be right up your alley, promising not just more than 20 beers, but also "magic, debauchery and mischief." That's not terribly specific, but the beers are stated to be primarily winter and spiced beers, along with special attractions like the Lair of Secret Cider Potions and Adult Butterscotch Beer Tavern. You can also be entertained by food, photo ops and live music from the Sorceress Sisters and DJ DumbleD.
Cost: $42
March 30
E. Market Street & S. Clay Street
A century and a half ago, Louisville went wild each year for Bock Day, when the bock beers that had been lagering over the winter were released in local taverns and breweries. The city has brought back a version of the tradition featuring local beer, goat races, live music, goat costumes and Wurst Fest, in which local restaurants will enter their own versions of German-style sausages to be voted on by a panel of judges.
Cost: Free
APRIL
April 6 - April 7
E. Market Street & Baxter Avenue
Custom crafts, art, collectibles, random stuff, music, food and drink...where else but the Flea Off Market? It's the recurring, family-friendly event of the spring where you can spend an afternoon on the cheap, browsing the goods from 100-200 vendors and sipping a soda (or something harder, if you're so inclined). It's even pet-friendly. While you're there, be sure to get some locally-made bath bombs, if only because you can.
Cost: Free
April 7
Louisville Palace
If you grew up watching people humiliate themselves on Nickelodeon's Double Dare and always wished you could participate, now's your chance. Double Dare Live! is coming to the Palace Theatre and, as long as you sign a waiver, you'll be eligible to be called from the audience onto the stage to get slimed or catch a pie in your pants. Yes, the physical challenges will be live, real and likely quite messy.
Cost: $29.50 and up
April 9
Louisville Slugger Field
Yep, the big race is still a month away, but Louisville starts celebrating early. Attend this particular event and you'll get to sample signature dishes from more than 65 of Louisville's top restaurants and beverage companies. There's a bourbon tasting, a wine tasting, and a silent auction, and all proceeds benefit the Dare to Care Food Bank. It's a great way to get Derby season off and running.
Cost: $85
April 11
Louisville Slugger Field
The Louisville Bats, the city's AAA baseball team, opens its 20th season at Slugger Field, widely recognized as one of the best minor league ballparks in America. Originally called the Riverbats, the Bats recently have changed team colors and logos, and new manager Jody Davis will make his home debut for the team. Have a Slugger Dog or a fried bologna sandwich, enjoy a $2 beer until 7pm, and root, root, root for the home team. The Gwinnett Stripers won't know what hit 'em.
Cost: $10 and up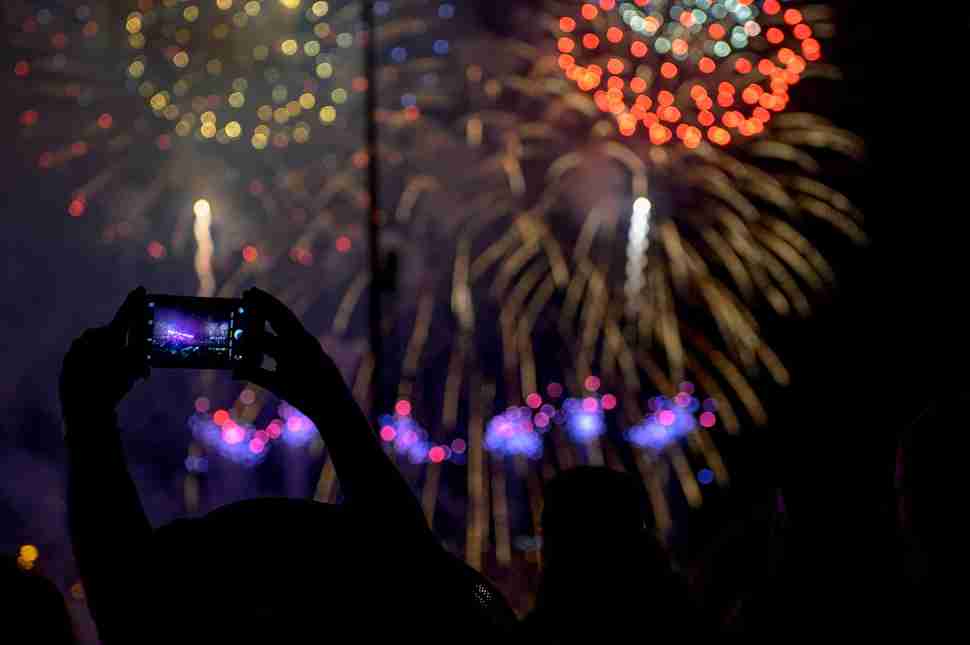 April 13
Downtown
This is the event that really lets Louisvillians know that Derby Festival time has arrived. Kick back at Waterfront Park for an afternoon air show featuring vintage and military aircraft, then be thrilled by one of the largest fireworks displays in the world when the sun sets. It's a Louisville tradition that annually draws hundreds of thousands of spectators.
Cost: Free
April 20
Louisville Zoo
The zoo is a cool place to be any time, but the EGGStravaganza just adds to the fun. The animals will engage in Easter-themed activities with additional events including family games, Easter egg hunts for kids 11 and under, and the chance to kick it with the Easter Bunny himself. You can even get in on an Easter brunch, if you purchase tickets in advance.
Cost: Free (with zoo admission or membership)
April 27
Monnik Beer Co.
Once a year, the folks of Schnitzelburg get together for a day-long street festival to help welcome spring and also Derby Week. The Walk & Rock, in conjunction with the Flea Off Market, features street sales, games, beer, food and live music, with the block surrounding Monnik Beer Co. closed off to traffic. Bring the kids and have a ball.
Cost: Free
April 27
Kentucky Center for African American Heritage
Taste food from chefs and caterers all over the city while enjoying live jazz, blues and R&B music in an elegant setting. The event benefits TheSlice, a non-profit organization that raises funds to support social service organizations and scholarships throughout West Louisville. This year's theme is: "A salute to a more compassionate Louisville."
Cost: $65-$75
April 27 - April 28
Cherokee Parkway between Willow Avenue and Cherokee Road
The Cherokee Triangle Art Fair is a Louisville tradition that happens every spring on the weekend before the Kentucky Derby. Residents in the neighborhood and all over the city descend upon the unique atmosphere to shop the booths of hundreds of artists and other vendors. It's one of those events where, if you're from Louisville and you attend, you're almost guaranteed to run into someone you know.
Cost: Free
April 28
Start & finish at Waterfront Park
Get out your bike to get spring started in a healthy way. Choose from three different courses of 62, 35 or 20 miles and join hundreds of others in this bike tour around Louisville. Course highlights include Olmsted park tours as well as cruising through all areas of the city from Downtown and Churchill Downs to the South End and Highlands.
Cost: $45-$55
MAY
May 1
Riverfront
On your mark, get set, steam! Yeah, steamboats racing each other might sound about as exciting as watching paint dry, but steamboats are part of Louisville's heritage, and the event is an annual family favorite during the week before the Kentucky Derby. Folks flock to the riverfront to watch the great steamers do their thing and see if the Belle of Louisville can reclaim the title.
Cost: Free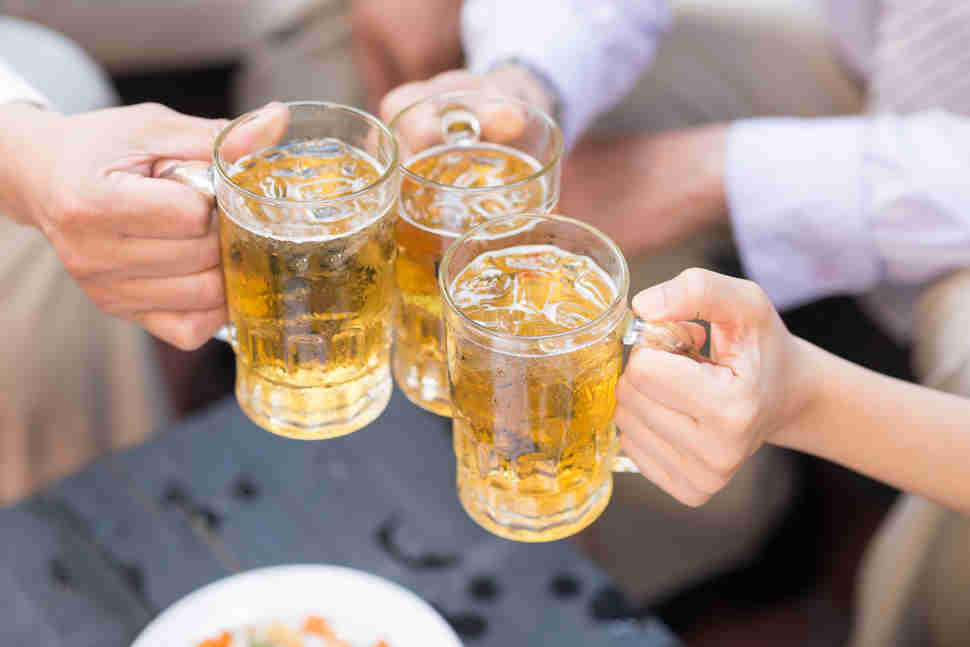 May 1
Overlook at Kroger's Fest-a-Ville
It must be Derby time. Yes, each year, Louisvillians gather to sample lots of beer on the riverfront. This year, expect roughly 150 different national and regional beers (mostly lighter fare for spring and summer) plus a free souvenir glass, food vendors and more. You may want to consider getting a Lyft to this one, because that's a lot of beers.
Cost: $50-$85
May 2
Broadway from Campbell to 9th Street
Another free family favorite, the annual Pegasus Parade sees Louisvillians congregate along Broadway to watch a bevy of floats, marching bands, colorful characters and other attractions make their way down the normally bustling street. Of course, all eyes are out to see the huge, flying Pegasus balloon that is the parade's signature. Get there early for a seat in the city-provided bleachers or bring a folding chair.
Cost: Free
May 5
4th Street Live!
The city is dubbing it Cinco Sunday, and the traditional Mexican holiday commemorates the Battle of Puebla. But let's face it: in Louisville, we'll all be treating it as one last day of fun surrounding Derby Week. Nevertheless, this family-friendly event will include mariachis, folkloric dancers, piñatas, face painting and live bands with the all the salsa dancing you can handle.
Cost: Free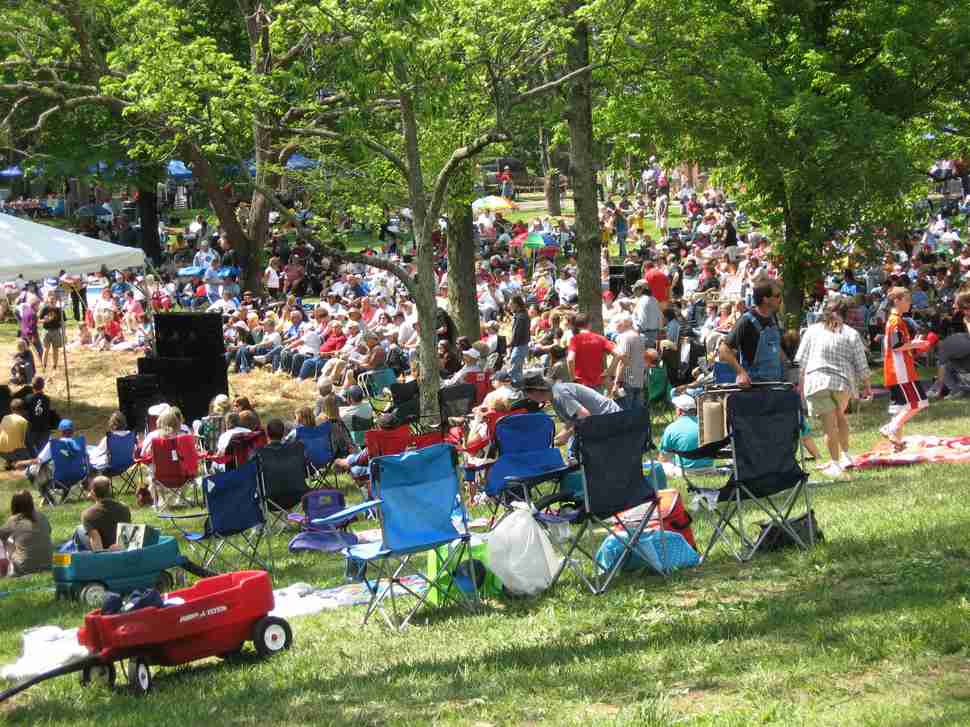 May 18
Jefferson Memorial Forest
Jefferson Memorial Forest is the largest municipally-owned forest in America at 6,500 acres. Why wouldn't we celebrate that? Forest Fest is a free, family-friendly festival that features bluegrass and Americana music, along with lots of local food and crafts. The goal of the festival is to promote exploration and creativity within our natural areas, but it's a lot of fun however you look at it.
Cost: Free ($10 parking fee)
May 18
Toonerville Trolley Park
Every year, this fun festival in Toonerville Trolley Park attracts an estimated 10,000 people, where they discover outdoor shopping with a wide range of artists, vendors and food trucks. Old Louisville's oldest-running spring festival, this event spans blocks with 100+ vendor booths alongside live music, a beer garden and a kids' zone.
Cost: Free
May 19
Louisville Water Tower Park
This popular spring festival highlights local businesses, artists, craftspeople, farmers and much more, with booth after booth of unique crafts, products and other wares. Check out live local music, an Iron Chef-style cooking competition, activities for the kids and local beer and spirits to enjoy while you browse. It's an annual city favorite.
Cost: Free ($5 to park)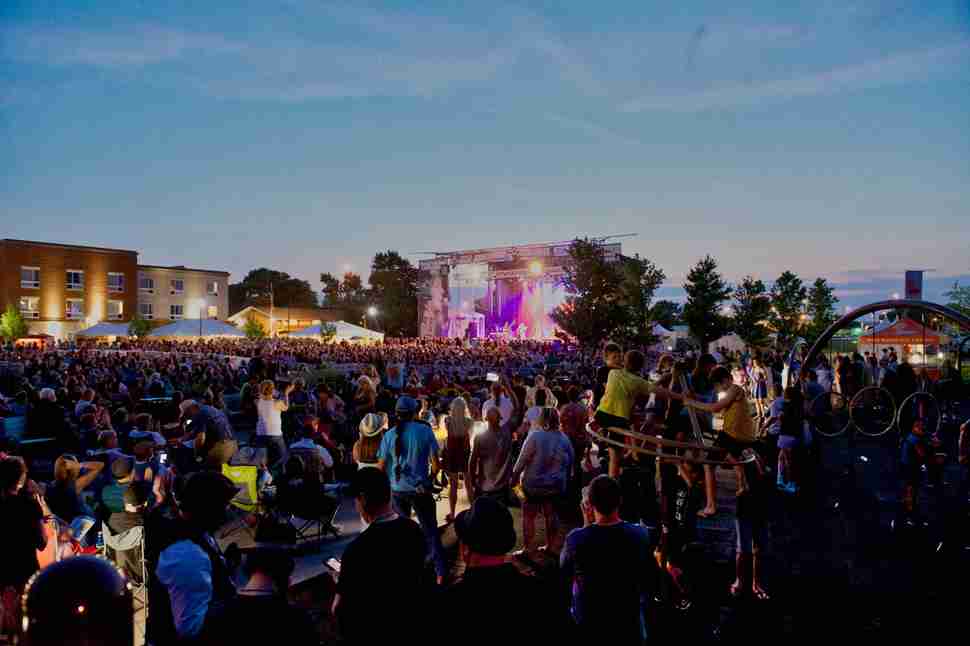 May 23- May 27
Downtown Jeffersonville
It's the ultimate tribute to The Beatles, and it spans five days with dozens of bands and other musical tributes plus vendors selling Beatles gear, guest speakers, food, drink and lots of dancing. While it's mostly Beatles-centric, expect sets from other musical icons of the era such as The Buckinghams, not to mention musical tributes to Woodstock, The Who's Tommy and others.
Cost: $40 and up
May 25
Waterfront Park
Break out your best picking strategy and bring it to this flea-market-meets-antiques-show on the waterfront. But it's more than just lots of vintage stuff, from old beer bottles to furniture to advertising signs. There are plenty of food and beverage vendors, arts and crafts, pet products and more. Bring the kids, bring the dog, and bring cash, because you can almost be guaranteed to find something you'll want to take home.
Cost: Free
May 31 - June 1
33rd & Northwestern Parkway
Spanning five blocks, the annual Portland Festival, a tradition for 45 years, is a classic street festival with a variety of attractions for all members of the family. There's live local and regional music on two stages, cutest kid and pet contests, a casino, a car show, plus dozens upon dozens of booths and food vendors. You can also enjoy games, rides, and a kickoff parade.
Cost: Free
JUNE
June 1- June 2
East Washington Street between Shelby and Wenzel
This neighborhood tradition that began in the 1970s brings thousands of people to Butchertown every year. Dozens of artists from around the region and country bring their works to participate in the juried art competition. For the general public, there are food trucks and beverage vendors, street performers and two full days of live music to go with art vendors as far as the eye can see.
Cost: Free
June 8
Hillview Community Center
Now in its fifth year, this festival brings together hot rods from all over to raise money for cancer research. It's a combination art show and car/truck/motorcycle show (including model cars), ensuring there's a little something for everyone. Not a bad way to spend the afternoon, and all proceeds go to the James Graham Brown Cancer Center at the University of Louisville.
Cost: Free
Sign up here for our daily Louisville email and be the first to get all the food/drink/fun in town.