Grab your eclipse glasses (trust us, there's a lot to know about them) and make up an excuse to get out of work, because today, August 21, a total solar eclipse will cover parts of southwest Kentucky in complete darkness. This is the first total solar eclipse to happen since 1918, and it's the only one we'll get to see in our lifetime. Suffice to say, it's worth a watch, especially with the positive weather predicted for the area. Some towns along the path can expect some clouds, but hopefully, those will dissipate by the time the eclipse happens. In case you need a quick refresher: A total solar eclipse is when the moon passes between the Earth and the sun, blocking our view of the sun's rays. Though the eclipse will only bring darkness for a few minutes, these cities will be celebrating for days leading up to the event.
If you can't make it to one of the below towns, check out this map to find the closest place to watch near you. And be sure to head outside before 11:50am to catch the beginning of the partial eclipse (with totality happening just before 1:20pm). And if you need any last minute tips, our pal Neil deGrasse Tyson has you covered.
Cerulean
Partial eclipse start time: 11:55am
Totality start time: 1:23pm
Situated 2 miles from the point of greatest eclipse (as deemed by NASA), Princeton will put on SolQuest2017, a three-day festival that's open to the public, culminating in a watch party on Monday. It includes food, live music, educational activities for families, and a themed 5K run.
Hopkinsville
Partial eclipse start time: 11:56am
Totality start time: 1:24pm
Hopkinsville, Kentucky is taking the celestial happenings seriously, transforming itself into #Eclipseville in preparation. Starting the weekend leading up to the eclipse, residents can gather at Jefferson Davis monument for a family-friendly festival including food vendors, arts and crafts, live music, a poster contest, and more. The event goes from 10am until 9pm from August 18 through 21. Tickets are $15 for adults, $10 for kids ages 5-12, and $13 for seniors and members of the military. Hopkinsville will also have NASA scientists, as well as Brother Guy Consolmagno -- chief observer of the Vatican Observatory -- on hand. Recommended viewing areas for the eclipse include the Western Kentucky State Fairgrounds, Western Hills Golf Course, Casey Jones Distillery, and Good Shepherd Church.
Oak Grove
Partial eclipse start time: 11:55am
Totality start time: 1:25pm
If you're in Oak Grove, Kentucky, you can take part in a three-day festival in anticipation of the total solar eclipse. This includes a performance from Pink Floyd tribute band American Floyd. Attendees can also check out outdoor movies, bouncy houses, food, and more. If you want the perfect view on Monday the 21st, head to the Viceroy Performing Arts Center, where the berm (and a pair of eclipse glasses, of course) will make for an unbeatable experience. Check out the Oak Grove Facebook page for more details.
Franklin
Partial eclipse start time: 11:58am
Totality start time: 1:26pm
Science enthusiasts will go crazy for Franklin, Kentucky's eclipse plans. At the Franklin Drive-In, you can get an up-close-and-personal view of what's happening in the sky via telescope, with expert narration from telescope operator Tom Mason. Images will be projected onto a large screen, with eclipse glasses available for purchase. Burgers, drinks, ice cream, and candy will also be for sale. The event goes from 9:45am until 3pm and costs $5 per carload.
Paducah
Partial eclipse start time: 11:54am
Totality start time: 1:22pm
Paducah is hosting the Great American Eclipse Viewing Party at McCracken County Public Library. Festivities will take place in the library garden. Enjoy themed foods like sun tea and moon pies as you grab a free pair of solar viewing glasses to safely keep an eye on the sky.
Russellville
Partial eclipse start time: 11:57am
Totality start time: 1:26pm
The Logan County Public Library and the Kentucky Science Center are putting on an educational program in preparation for totality in Russellville. Doors open at 7am. Events include crafts and other family friendly activities like a storyteller, plus attendees receive free eclipse glasses. The library's website has more details.
Dawson Springs
Partial eclipse start time: 11:55am
Totality start time: 1:24pm
Dawson Springs has a weekend's worth of activities planned at Pennyrile Forest State Resort Park. On Saturday evening, head to the park for a night walk. Park staff members will provide telescopes and guide you as they point out constellations and planets. Beginning at 10am on Sunday, August 20, enjoy the Eclipse Beach Party. Kids can play games and tie-dye their own eclipse T-shirt to mark the occasion, and there will be live music as well as food. On the 21st, join a viewing party that will feature eclipse-themed arts and crafts, science projects, food, and more.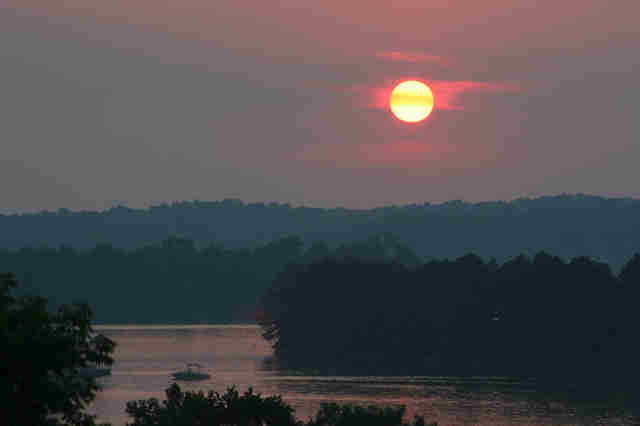 Cadiz
Partial eclipse start time: 11:55pm
Totality start time: 1:24 pm
Head to Lake Barkley State Resort Park for a prime eclipse viewing spot. The first 100 attendees receive free solar glasses, and food will be available for purchase. On Saturday, the park will feature eclipse chasers talking about their experiences, and amateur eclipse enthusiasts can have a chance to use telescopes to take a peek at Jupiter and Saturn. The cost is $5 per car for residents of Trigg County and $20 for non-residents.
Calvert City
Partial eclipse start time: 11:54am
Totality start time: 1:22pm
Kentucky Dam Village is hosting a weekend packed with educational events. On Saturday, attend a breakfast hosted by University of Louisville astronomy professor Benne Holwerda. On Sunday, take part in the Great American Eclipse talk by Holwerda, before an appropriately timed showing of ET the Extra-Terrestrial later that night. On Monday, gather for a viewing party leading up to totality just before 1:30pm.
Aurora
Partial eclipse start time: 11:58am
Totality start time: 1:23pm
Kenlake State Resort Park has a slew of activities in store leading up to the eclipse. Early birds can enjoy some pre-dawn telescope work on Friday morning, starting at 5am. You'll join stargazing expert "The Stargeezer" Mark Steven Williams as he points out the waning crescent moon and Venus. If a 5am wakeup call isn't really your thing, at 9pm you can head to the Star Party, where you can use a giant telescope to take a look at Saturn's rings and Jupiter. On Saturday at 2pm, catch a presentation on tips for safely viewing the eclipse.
Sign up here for our daily Louisville email and be the first to get all the food/drink/fun in town.