Louisville has been bountifully blessed by the bourbon boom. We've been canonized as a culinary hot spot. We're on all the "where to visit" lists. So what more could we possibly want? Well, this stuff...
One of those fast-food burger chains the East & West Coasts go crazy for
Whether it be In-N-Out Burger, Shake Shack, or Whataburger... just give us something. Louisville is supposed to be the birthplace of the cheeseburger (Kaelin's is allegedly where some genius first thought to add cheese to a hamburger), so we should get our pick of the nation's burger-serving fast-food chains, don't you think?
A statue of Jennifer Lawrence
J-Law is from Louisville. If you see her out and about (usually over the holidays) leave her be and let her live her life. Instead of bothering the real Jennifer, install her in effigy on a sidewalk in the Highlands or on a bench Downtown. Sure she has a big Hometown Heroes banner, but we can't take selfies with that.
Google Fiber may actually be coming to Louisville, if AT&T doesn't ruin it for all of us.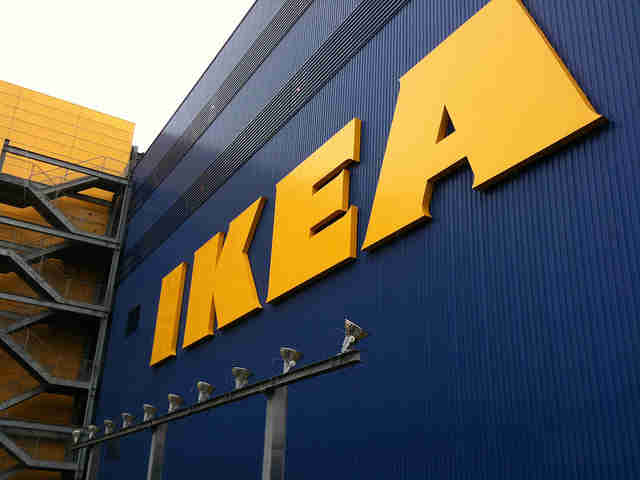 IKEA
Louisvillians currently have to make the hour-and-a-half trip to Cincinnati to properly outfit their first apartment or dorm. Let's change that.
A professional sports team
Kentucky is major college basketball country, so it's a little weird that we don't have an NBA team. Having said that, it might make more sense for an NFL or NHL team to make Louisville home since college ball is already king. But come on, give us something.
An aquarium
A freshwater aquarium focused on educating people about the wildlife around the Ohio River would be great for our city and for the kids growing up here. I know, I know: the drive to Newport Aquarium isn't terrible, but wouldn't it be nice if we had our very own Louisville Aquarium?
A waterfront Ferris wheel
How great would Waterfront Wednesday look from the top of a Ferris wheel? Let's build one, charge per ride, and apply the profits to the Ohio River Bridges Project so we can end all bridge tolls ASAP.
More bike lanes
As Louisville's Downtown develops, cyclists are becoming a common sight. But commuting by bicycle is tricky without enough bike lanes. Thankfully, we've already got a bike-share program in the works.
A much cleaner Ohio River
We stay away from the water of the Ohio for the most part. If it were somehow less disgusting, we'd probably paddle around in it. We would wade, we would swim, and we would definitely be less grossed out.
A light-rail system
Public transportation around Louisville sucks. Seriously, we're one of the largest cities without a passenger train system of any kind. It's time...
A Zara or Nordstrom
At least once a year (Derby time), the residents of Louisville go all out, fashion-wise. But we need more than just seersucker. And no, the Nordstrom Rack off Shelbyville Rd does NOT count as a real Nordstrom.
More grocery options
The planned West Louisville FoodPort will hopefully help partially break up Louisville's food desert, but a Trader Joe's or Lucky's Market Downtown would be incredibly convenient for everyone. All Louisvillians should have equal access to fresh and healthy food, don't you think?
An international grocery store (like Jungle Jim's)
It's strange that Louisville isn't home to a big international grocery store. Since we ARE home to the UPS Hub, we can easily get foodstuffs shipped in mega-fast. Plus, there are enough adventurous eaters in Derby City to keep a big international grocery store busy.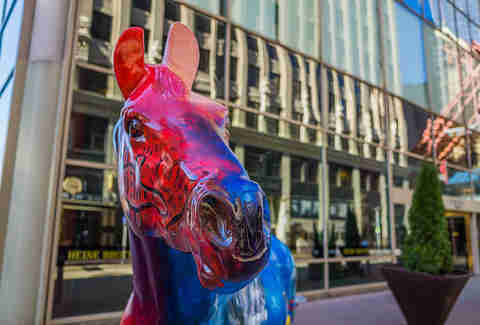 A Gallopalooza carousel, playground, or art park
There are bunches of artist-decorated, life-size horse statues all around Louisville. They're called Gallopalooza. Why we haven't already made a bunch of them into a carousel is a mystery. We should. And then create Gallopalooza playground or art park.
A clothing-optional or topless pool
Louisville doesn't have beaches (don't swim in the Ohio, just don't), but we have a few quarries and some great pools. An adults-only, clothing-optional, private place to swim and socialize (preferably with a poolside bar) would be crazy-fun on those summer evenings.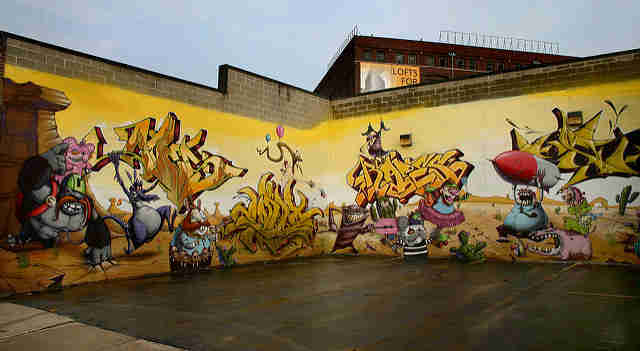 A graffiti park
Ever heard of Brrr? He's not the only underground graffiti artist sneaking around the 'Ville tagging it up. We have tons of legal, sanctioned (and wonderful!) public art. Let's create a place where it's legal to tag to your heart's content.
Things for people under 21 to do
Shifting gears here... Louisville's had, shall we say, some trouble with our youths. Over the past few years the mostly under-21 set has caused alarm by getting into shenanigans at Waterfront Park, and more recently, at St. Matthews Mall, where you now have to be 18+ to be shop unattended. So there need to be some things for the under-21 crowd to do. They need somewhere to hang out and cause a riot without actually causing a riot. But please, no more hookah bars. We have enough.
A racetrack that won't hurt horses
We need a synthetic racetrack at Churchill Downs. Running on dirt or turf is more dangerous for horses than running on a synthetic track. Whatever your Derby or Oaks-related feeling, we can all agree it should be as safe as possible for the animals involved.
WHY Louisville
Once upon a time, we had two WHY Louisville stores: one in NuLu and one in the Highlands. WHY Louisville sold mostly Louisville-related gifts, apparel, and trinkets. These kitsch-laden stores were fun to visit as a resident or a tourist. After the highly publicized breakdown of WHY Louisville proprietor Will Russell in 2015, both stores shuttered. Bring them back!
A disco-ball mirror maze
Louisville has a lot of history with the disco ball. The largest one in Kentucky is currently hanging at Fourth Street Live!, but sadly, Louisville has no disco ball-inspired mirror maze in which to take endless selfies and throw pop-up parties and generally boogie down. The Louisville Mega Cavern has an amazing Christmas lights show, an aerial ropes course, and a zip-line tour, but how about a mirror maze section celebrating the city's sparkliest product?
Sign up here for our daily Louisville email and be the first to get all the food/drink/fun in town.