So, you've got guests coming to visit you in Louisville for the first time. You know it's going to be your job to entertain them, take them to the best restaurants in town, buy 'em a drink at one of our many fine drinking establishments, treat them to a solid brunch, and show them of all the sights Louisville has to offer. Or hey, maybe you're just looking for something new to do. To be a tourist in your own town and get out of your comfort zone. 
But where do you start?
Fortunately, we have you covered. We've rounded up the best places to hear live music, go dancing, dine, imbibe, and so much more. Some are classic, some are obscure, but we promise you'll definitely have a good time.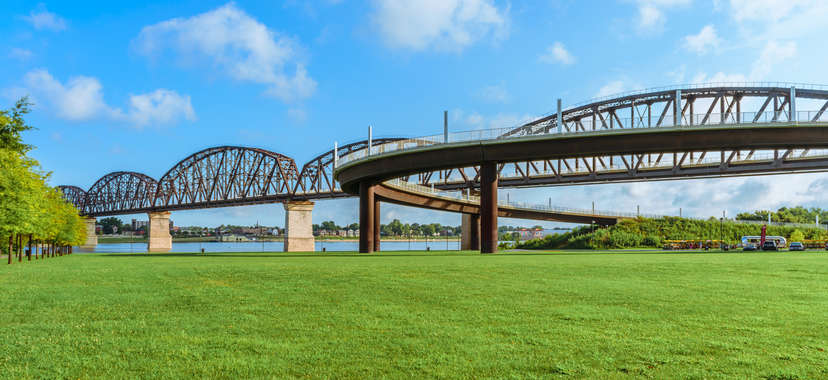 Free
Waterfront
Few things are more Louisville than taking a stroll across the Big Four Bridge. What was previously an eyesore is now one of the coolest places in town. It happened when Indiana and Kentucky got together and decided to make it a bona fide attraction. Enjoy gentle strains of music being piped in, take in the views, and relax on one of the many benches. And since you're going that way, why not explore Downtown Jeffersonville when you get to the other side? Lots there to shop, eat and drink.
Free
Waterfront
Anytime you head Downtown during lunchtime, you'll find workers strolling by the river or hanging out on benches. On a nice day, it's the perfect place for a casual lunch. Take your crew here during a weekday, and you'll find a slew of food trucks near the Humana Waterside building, just steps from the Mighty Ohio. There are also a couple of sandwich places nearby, or you can simply bring sandwiches from home. Spread out a blanket and enjoy the sight of barges creeping down river as you dine.
$$
Butchertown
When you visit Kentucky, you get off the plane expecting to see bourbon everywhere, and you absolutely will (there's literally a bourbon bar at the airport). But Louisville has another gem of a distillery called Copper & Kings American Brandy Company, and it's as cool a facility as you'll find. Take a tour, taste the brandy, and when you're done, hit the new rooftop pub, Alex&nder for amazing views of the city.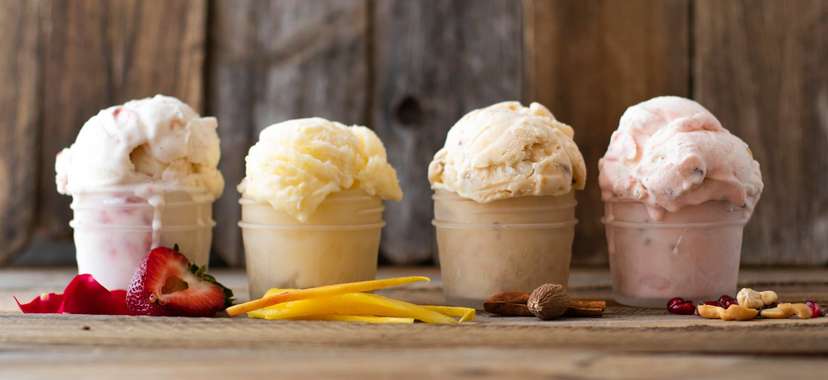 $? (depends on how much you eat)
Clifton
When out and about in The 'Ville, it's almost expected that at some point you'll stop off at Comfy Cow for a cone or a cup. Hit up the Clifton location -- just look for the big pink building -- and sample flavors like Cookie Monster Dough, Bourbon Pecan Pie, Summer Lovin' and Blueberry Cheesecake. Not sure what to order (there are a lot of choices)? Ask for as many samples as you want.
$$$
Poplar Level
You go on vacation, you see zip lines. And Louisville is no different. Except here, the best ones are underground… in a giant cavern. Take a two-and-a-half hour tour through the man-made cavern, which contains more than 17 miles of underground passageways. It's surely a new way to experience the "best view in town."
Hit an Arcade Bar
$-$$$
Germantown/Jeffersontown
Louisville has a couple of great places to drink whilst gaming. Start out in the east end of the county in Jeffersontown's Recbar, which not only has a full bar and restaurant, but more than 40 arcade games and more than 30 pinball machines. In Germantown, Zanzabar is the spot with a collection of rare pinball machines, not to mention a music venue, plus pub grub and all the booze you can drink. Bring lots of quarters.
Check out a Downtown brewery tour
$$
Downtown
Louisville doesn't have the brewery scene that, say, Asheville or Portland does, but it's getting there. And in the relatively short space between Downtown and Clifton, you've got access to as many as seven breweries -- several of which are walking distance from each other. Start at Against the Grain Brewery & Smokehouse, then make your way east to Goodwood Brewing, Akasha Brewing Co., Apocalypse Brew Works, Falls City Brewing Co., Gravely Brewing Co. and Mile Wide Beer Co. We also have Uber, so you know, call them.
$$
Poplar Level
The Louisville Zoo isn't just for kids. You can take a train tour, you can ride a carousel, you can even visit a really old cemetery (if you're into that), and if you're feeling like having a more adult zoo experience, you can also grab some beer… which will make it even more fun when the polar bear wrestles with that steel barrel.
$$$
Downtown
What launched Downtown in a former train station has blossomed into an internationally-recognized acting company. If you want to do Louisville right, you need to add Actors Theatre Louisville to the agenda. Catch a play in one of the cozy theaters to soak up the history. Make reservations for dinner at Milkwood, Chef Edward Lee's signature restaurant at the theater complex, and enjoy Asian-Southern fusion before the performance begins, along with a signature cocktail.
$$
Butchertown
The Butchertown neighborhood is an up-and-comer, with restaurants and bars popping up left and right, but Play Louisville is its own attraction. It's a dance club that features drag shows pretty much every weekend (and other nightly fun). It's open late, and if there's not a show on stage, there'll assuredly be a DJ… who will have you dancing until 4am.
Eat your fill of Louisville-style pizza
$$
Highlands/Clifton
Louisville has a lot of things, but many don't know it has its own style of pizza. Well, kind of. Louisville pizza brings with it a thick crust, lots of tangy sauce, plus a double layer of cheese that usually is placed OVER the toppings. In other words, you probably won't be able to identify what's on the pizza until after you take a bite. It's hearty, it's delicious and it goes great with beer. Fortunately, the three different restaurants in town that serve Louisville pizza -- Impellizzeri's, Clifton Pizza and Wick's Pizza -- all serve booze.
$$
NuLu
Head to Climb NuLu, Louisville's indoor wall climbing complex. There you'll find 15,000 square feet of adventure in the form of artificial climbing walls. All the floors are padded, so when you fall, you'll be fine. Just show up rested and ready, and you can go bouldering to your heart's content. You can take a lesson if you want, and there are plenty of places for beginners to climb and get their bearings.
$$
NuLu
Few bars in Louisville are as quirky and interesting as Garage Bar, an indoor/outdoor establishment that once was a service station. Outside, there's table seating under an awning that used to shelter gas pumps, along with a pair of ping pong tables and some seats covered in artificial turf. Inside, there's a traditional bar and restaurant with an automotive theme, specializing in house cocktails, craft beer, as well as a raw bar and wood-fired pizza. If you need a go-to evening spot, this is it.
$$
Downtown
Sports! Louisville is a college basketball town first and foremost, but you won't find that until the winter. However, there's a minor league ballpark that consistently is rated as one of the best in the country. Said ballpark would be Slugger Field, home of the Louisville Bats. It's cheap to get in, there's not a bad seat in the 13,000-seat park, and the food is delicious (fried bologna sandwiches!). And if baseball isn't your thing, you can catch the city's professional soccer team, Louisville City FC, in the same park.
Free
Highlands
It may sound a little macabre (because it, um, is), but Louisville's Cave Hill Cemetery oozes with history. Not only is it the final resting place of notable Kentuckians like Muhammad Ali, Col. Harland Sanders, and Pappy Van Winkle, it also contains a Civil War cemetery and is a rolling, gorgeous, park space. It's easy to get lost in your thoughts (and lost in general, so follow the white lines on the roads) as you roam around the grounds. Feel free to feed the ducks at the pond, and pack something to eat (which we swear isn't weird).
$
Clarksville, Ind.
Just across the Ohio River lies the Falls of the Ohio State Park on the site of a 386-million-year-old Devonian fossil bed. You can take a tour of the interactive museum that will tell you the story of the falls, the aquatic life that called it home millions of years ago, the importance of the Falls and much more. When you're finished, you can walk around on the beds (assuming the river isn't up) and see them for yourself. Educational AND interesting!
$$
Downtown
Muhammad Ali just might be Louisville's favorite son, and the late boxer and humanitarian is memorialized in this museum-meets-events center Downtown. Enjoy multimedia presentations about Ali's life and accomplishments, see memorabilia, browse galleries of images, and learn about the principles which guided his life. When you're finished, walk a couple of blocks south to Bristol Bar & Grille for a drink and some green chili wontons -- a Louisville favorite.
Hit the distillery attractions Downtown
$$$
Downtown
Louisville is bourbon and bourbon is Louisville. In the past few years, the city has come full circle to embrace its distilling heritage, and the result is an array of new Downtown attractions. Go old school and tour Peerless Distilling, get blown away at the Evan Williams Bourbon Experience, go to Fourth Street Live for the Jim Beam Urban Stillhouse, then make your way east to Angel's Envy and Rabbit Hole Distilling to finish off your jaunt. And hey, remember, Uber. We have it. Use it.
Free/$$
Old Louisville
Louisville is home to one of America's largest collection of Victorian homes. The neighborhood, built in the late 1800s, remains a vibrant residential neighborhood, and it's worth a couple of hours to simply walk around and admire the Victorian architecture saying things like "Are you sure this isn't Gothic Revivalist?" You can walk down the pedestrian-only streets littered amongst the neighborhood, and you stop by the Old Louisville Information Center to secure a guided walking tour if you're into that. When you're done, walk a few blocks to Old Louisville Brewery for a beer… or four.
Free
Middletown
Louisville has public park facilities that could rival most cities, and the Parklands of Floyds Fork might be the cream of the crop. The are is comprised of five different parks with varying amenities, and you and your party can paddle, hike, fish, enjoy playgrounds and spray parks (especially if kids are involved), bike, garden, play sports, and even bring your dog(s). You can also just have a picnic and stroll alongside Beckley Creek. Basically do whatever the hell you want (as long as it's legal and you're not bugging anyone).
Definitely eat a Hot Brown
$$
Downtown
A Hot Brown is a classic southern dish that was invented in Louisville in the 1920s, later becoming a city signature. To the surprise of no one, you can find Hot Browns in restaurants all over town. When it's time to head out for a true Louisville dinner, seek out the dish made with turkey, bacon, cheese and mornay sauce, and go to town. If you want to go to the source, head to the Brown Hotel, where the dish originated (thus the name).
Hit the Urban Bourbon Trail
$$
Downtown
You don't come to Louisville without hitting some of the city's bourbon bars. Hell, Louisville even has its own organized course known as the Urban Bourbon Trail which will help you find the best bourbon bars in town (in general, this means 60 or more bourbons in stock). Pick out a few within walking distance, and you're off. May we suggest starting at Sidebar at Whiskey Row, Down One Bourbon Bar and Jockey Silks Bourbon Bar are nearby, and that's just getting you started.
Hit up the Highlands Farmers' Markets
$
Highlands
Assuming you didn't hit the town too hard on Friday night, Saturday mornings are a great time to be up and around in Louisville -- particularly in the Highlands, where you can hit a pair of farmers' markets to stock up on fresh produce, fresh meats, sauces and herbs, flowers, crafts -- you name it. Start with the Bardstown Road Farmers Market, then make your way a few blocks to the Douglass Loop Farmers Market. You'll find snacks and live music at both stops to keep the energy up.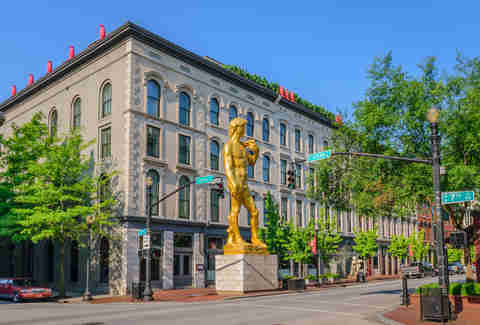 $$
Downtown
Museum Row is a collection of museums located in and around West Main Street. Take a walk, and take your pick from intriguing institutions like the Louisville Slugger Factory and Museum, the Kentucky Science Center, Frazier History Museum, the KMAC Museum and more. While there, stop for lunch at one of several Downtown spots (may we suggest Atlantic No. 5).
$
Hawthorne
Just east of the bustling Highlands neighborhood sits a place that's stuck in time. Built in the early 1800s, Farmington sits on a former 550-acre hemp plantation, featuring a beautiful, 14-room Federal-style farmhouse that is restored to what it looked like in the mid-1800s. The home was built on a design created by Thomas Jefferson (and Abraham Lincoln famously visited there so you know it's dope).
$$
Churchill Downs
Churchill Downs isn't always running, but the Kentucky Derby Museum is. There you can find a capsule of "the most exciting two minutes in sports," with interactive attractions, cultural exhibits, video of famous Kentucky Derby races and more. There's also a gift shop and the on-site Derby Café, where you can get lunch and a signature mint julep (which will make any museum a little more interesting).
Free
NuLu
If you're into antiques, Joe Ley Antiques is your damn dream come true. Housed in a 19th-century schoolhouse, it's three stories of antique toys, furniture, smalls, advertising, architectural salvage and much, much more. Be sure to grab your pricing key at the desk -- you'll be lost without it -- and wander to your heart's content. If Joe Ley isn't enough, hit up the nearby Crazy Daisy Antique Mall and Louisville Antique Market.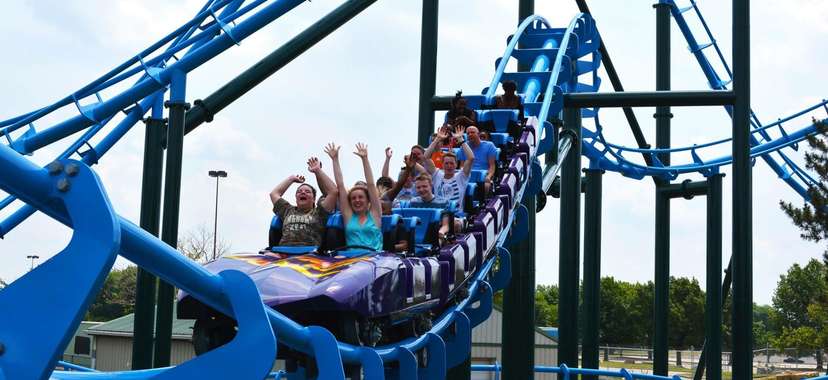 $$$
Kentucky Fair & Exposition Center
Louisville's signature theme park will have you screaming at strangers on roller coasters and splashing strangers in Hurricane Bay water park. There's a ton of extremely intense sounding rides there like Raging Rapids River Ride, the Storm Chaser, and Scream Extreme. And based on those names, you should know what you're getting into. It's all outside, so you'll want some water to keep you going, but if you feel the need you can grab a frozen cocktail at the Hurricane Bay Beach Club.
Free
Downtown
Fourth Street Live is where the tourists go, but there's more to it than chain restaurants and sports bars. Start by checking out the Seelbach Hilton Hotel, one of the city's most historic luxury hotels (ask to see the Rathskeller). Then make your way south, where you'll soon find the historic Louisville Palace theater and the historic Brown Hotel (check out the breathtaking lobby). And all along your merry way, you'll find cool restaurants and shops to pop into.
Free
Clifton/Crescent Hill
Frankfort Avenue corridor is a stretch of two-lane road through the Clifton and Crescent Hill neighborhoods, where one will stumble upon historic homes, restaurants, bars, shopping, a mysterious lack of Frankfurters, and other attractions leading right into the busy St. Matthews neighborhood. But it's in the areas between Mellwood and Stilz avenues where you'll find upscale bourbon bars, regular-scale bookstores, and solid restaurants like the Irish Rover, El Mundo and Blue Dog Bakery.
Sign up here for our daily Louisville email and be the first to get all the food/drink/fun in town.