They say 30 is the new 20, but what do "they" know? You're in your 20s and you want to have fun... now! And if you're in Louisville, there are plenty of great things to do in your 20s before you become ass-old and settle down. Whether we're talking celebrating the Kentucky Derby (even when you can't afford it) or chowing down on some of the best food in the 'Ville, you're pretty much guaranteed a great time while you're here. Hell, J-Law's from this place, so it can't be that bad, right? OK, enough talk, do these before it's too late (translation: before you're 30)...
Recommended Video
France's Fête des Lumières Is a Light Festival Unlike Anything You've Ever Seen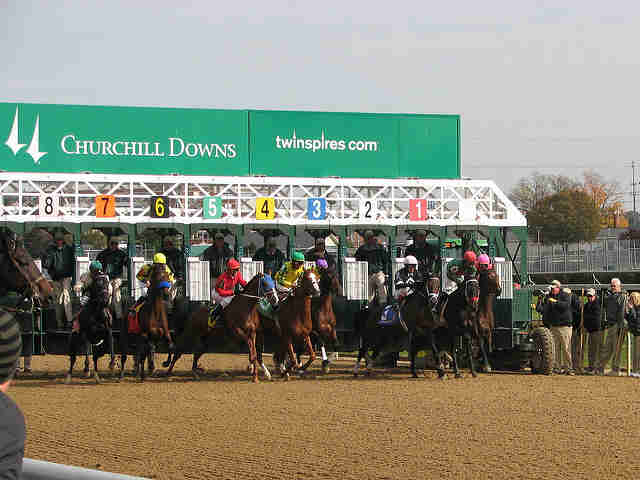 1. Place your bets at The Kentucky Derby
Come on. You only live once. After all, this is a big event in Louisville -- one considered to be the most exciting two minutes in sports (and you'll see all types of people). Held the first Saturday in May, The Kentucky Derby has been a tradition in Churchill Downs since 1875. It's a day filled with extravagant bets, copious amounts of alcohol, and the occasional $1,000 mint julep (seriously). So, whether you're sipping on Millionaires Row or downing those vodka-soaked fruits you snuck into the infield, this is a day at the races you won't soon forget (although some parts may be fuzzy because of those Juleps).

2. Drink a Lily on Oaks Day
This delicious vodka and sweet-and-sour mix concoction is the official drink of The Oaks, which is the pre-game horse race the Friday before The Derby.

3. Get some fresh air at the Pegasus Parade before those Lily-infused hangovers
Held the day before Oaks, this Derby-inspired parade has had Grand Marshals like John Wayne and William Shatner.

4. Lift your spirits at The Balloon Glow
Watching a bunch of hot air balloons not float into the air the night before The Derby Hot Air Balloon Race might not sound like the best of times, but once the pilots fire up the burners and you catch the glow of the balloons against the night sky, you'll understand why this is a must-see event.

5. Get loud and rowdy at Thunder Over Louisville
Looking for something in Kentucky even louder and more over-the-top than Kim Davis (but a ton more fun)? Check out some fireworks at Thunder Over Louisville, one of the top fireworks displays in the entire country.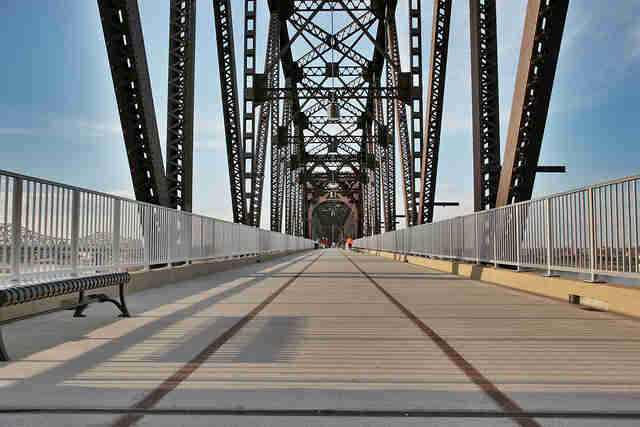 6. Sweat that Derby hangover away on the Walking Bridge
Walk the bridge all the way over the river to Jeffersonville, IN. If it takes you all day, no worries; it lights up at night.

7. Be a trailblazer at Bernheim State Forest
It's a little out of the city, but it's definitely worth the ride if you're looking for some beautiful scenery. This place has it all: hiking trails, random statues, various wildlife, and trees. Lots of trees.

8. Learn to say the city the right way
Lou-A-Vul. Not "Lou-y-ville" or "Lewisville!" Trust us, the locals WILL get restless on this one.

9. Try stand-up and get free food at the Silver Dollar
Every Monday at 10:30pm you can work up your nerves and your appetite at this firehouse-turned-bar. Explore the free buffet downstairs while participating in the open mic upstairs. Here's a tip: this place sells drinks in case you're in need of some liquid courage.

10. Have fun helping the planet at Forecastle
Forecastle is a three-day music festival held every year to raise money for helping the environment, so you'll be supporting a great cause just by showing up. Impressing your parents will never be this easy again. Ever.
11. Catch a game at the Yum! Center
This city's love of basketball is pretty intense, so let out your inner-angst and pent-up aggression, all whilst enjoying some stadium beer.

12. Embarrass yourself at the Mag Bar
The Mag is a great Louisville dive bar, one custom made for late night shenanigans due to the great selection on the jukebox, the heavy pours, and the cheap drinks. If you're going to make some bad decisions, do so here. (It's OK, you'll only remember half of them anyway.)

... and some delicious chili cheese fries to go with it.

14. Catch a drag show at Play Louisville
The only thing hotter than these performances are the bartenders.

15. See a stand-up show at The Laughing Derby
Whether we're talking major touring headliners or local comedy legends, there's never a dull moment at this place.

16. Check out 4th Street Live
This little cornered off section of downtown Louisville houses over a dozen bars and restaurants, all right next to each other. So leave your two-drink tolerance at home; this party is for the professionals.
17. Hang out in the Highlands
This part of the city has everything from comic book and vintage record shops, to popular restaurants and bars. It's a favorite for true Louisvillians, seeing as it has way more history than 4th St, and isn't just about drinking. (But of course, there's plenty of that going on, too.)

18. Channel your inner crooner at Akiko's karaoke
With the full bar, you should be able to get the courage to belt out some Mariah in no time.

19. Chow down on bison at El Mundo Mexican
Fresh salsa, bison burritos, and delicious margaritas. Enough said.

20. Ride the mechanical bull at PBR Louisville
Why wouldn't you?

21. Fall in love with baseball at the Louisville Slugger Museum & Factory
Tour the museum, read the stories, and get a bat made with your name on it. For baseball lovers, this is an obvious must. For non-enthusiasts, it'll (maybe) change your mind.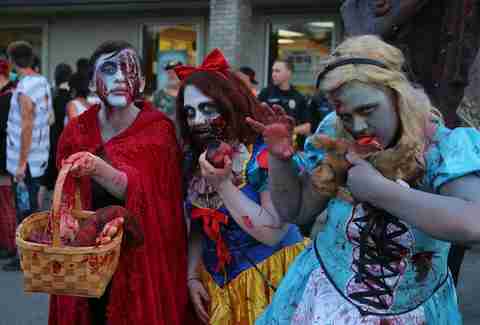 22. Search for brains at the Louisville Zombie Walk
A frat house isn't the only place you'll find a bunch of sweaty people incoherently moaning. But at Louisville's Zombie Walk, they're just pretending to be brain dead (ohhhhh!).

23. See The F*ckMunkys play at the Highlands Tap Room
If the name of this local band isn't enough to draw you, maybe the song titles will: "Bologna and Cheese," "When Pigs Fly," and the ever-so-charming, "I'll F*ck Anything."

24. Get a "burrito as big as your head" at La Bamba Mexican
It's true... depending on the size of your head.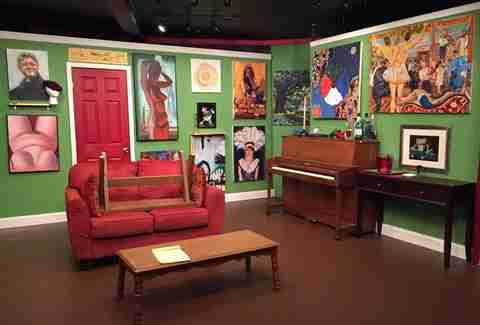 25. Get your thespian on at The Bard's Town
Live plays, comedy, and karaoke accompanied by some of the best bartenders in the 'Ville.

26. Become the Botschafter of bloating at the Germantown Beer Walk
Over half a dozen bars and restaurants play host for the day to this beer-infused walk-a-thon. Grab some scrumptious eats at Check's Cafe or cheap drinks at Nachbar and the Old Hickory Inn. And for the record, "Botschafter" means "ambassador" (because we knew you were wondering).

Even if you're not buying anything, it's a damn good time.

28. Boogie down at Waterfront Wednesdays
Catch a free concert at an amphitheater overlooking the Ohio River every Wednesday.

29. Check out Liverpool by way of Louisville at Abbey Road on the River
If you're cool with listening to and honoring The Beatles for five days, this is the festival for you.

30. Leave Louisville (for a little while)
Whether you are leaving to go home or just venturing out to see other places, you'll soon realize there's nothing quite like Louisville. Even if you leave, you'll eventually come back.
Sign up here for our daily Louisville email and be the first to get all the food/drink/fun in town.
Melissa Doran is a stand-up comedian in Louisville currently doing one of these things before she turns 30. Follow her on Twitter at @MelissaDComedy.