Often called "pointless," "strange," and "the best," camping is an activity that many enjoy but in which few are well-versed. And the only way to become a virtuoso at something is to practice it for 10,000 hours (probably). This means you absolutely should get out of Memphis and try out these nine spots. Take your pick from nearby Shelby Forest, Mississippi, Alabama, and our most beautiful neighbor, Arkansas. Whether you are in need of a primitive, secluded campsite, or prefer glamping, we have you covered… like a tent. We're so sorry.
Distance from Memphis: 13 miles, 20 minutes
If you need to get yourself in a tent within the hour, this is the place. Meeman-Shelby Forest State Park is a 13,476-acre hardwood bottomland area bordering the mighty Mississippi River 13 miles north of Memphis, and featuring a mature bald cypress and tupelo swamp. Most of the facilities are on top of the majestic Chickasaw Bluffs that rise from the bottomlands and are covered with large oaks, American beech, hickory, and sweetgum. The park campground has 49 campsites, each equipped with a table, grill, electricity, and water hookups. A modern bathhouse provides hot showers and there is a dump station for self-contained trailer rigs. There are also six two-bedroom standard cabins situated along the shoreline of Poplar Tree Lake in a heavily wooded section of the park.
Distance from Memphis: 131 miles, two hours and 25 minutes
This is an especially great place to stop if you're traveling the Natchez Trace Parkway. Tishomingo offers a unique landscape of massive rock formations and fern-filled crevices found nowhere else in Mississippi. Massive boulders blanketed in moss dot the hillsides, and colorful wildflowers border trails once walked by Native Americans. There are 62 standard campsites and seven cabins available. Amenities include a bathhouse/restrooms, a dump station, hot showers, and laundry.
Distance from Memphis: 134 miles, two hours 14 minutes
Looking for a more personal touch? On the South Fork of the Spring River in the Arkansas Ozarks near Hardy, AR, Southfork Resort is clean, well-positioned, and run by super-nice folks. There are campsites and air conditioned cabins mere feet away from the river with no nearby train noise. Campsites come equipped with picnic tables and fire pits. Electric hookups are also available. The bathhouse includes hot showers and electricity. Canoes, kayaks, and tubing trips are all available, plus there's great fishing nearby.
Distance from Memphis: 156 miles, three hours
Located right on the banks of the Sylamore Creek (swimming!), with the tall bluffs (cliff jumping!) of the Ozark National Forest on the other side, Sylamore Creek Camp is five miles north of Mountain View and seven miles from Blanchard Springs Cavern. The camp offers campsites, RV sites, and comfortable cabin getaways. There's even a sports field and open-air pavilion, plus an indoor recreation room (ping pong and pool, a couch, chairs, and a big-screen TV) and exercise room. For reservations or additional information, call 870.585.2326 or, toll-free, 877.475.4223.
Distance from Memphis: 165 miles, three hours 18 minutes
Blanchard Springs has 31 campsites that include grills and tables. There are no equestrian campsites or RV hookups, but there is a waste station with potable water. The campground is in a beautiful spot nestled in the Ozark National Forest just minutes from all sorts of fun stuff to do. Camping, caving, biking, hiking, swimming, birding, and sightseeing are available to Blanchard visitors. The campground's elevation is 400ft and composed of one loop and a spur. There's also the Blanchard Springs Caverns, a spectacular "living" cave -- it's a must-visit. Then, in the same recreation area, there is the walk to Blanchard Springs -- a wonderful spectacle of water pouring out of the mountain side.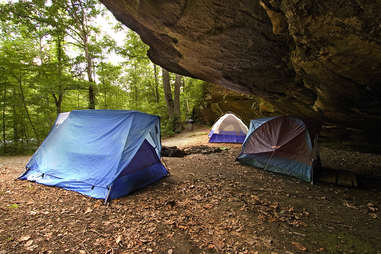 Distance from Memphis: 168 miles, two hours 52 minutes
Dismals Canyon in northwest Alabama is a National Natural Landmark. There are cabins, secluded campgrounds, and a country store. The primitive campsites at Dismals Canyon are scattered off the main path and given a wide berth. The number of campsites is limited by design in order to maintain the pristine nature of the site and to offer guests privacy. You cannot drive to any campsites -- you must hike. Guided night tours allow visitors to view the glow-in-the-dark creatures known locally as dismalites.
Distance from Memphis: 181 miles, three hours
This Hot Springs resort is for glampers. It has tent camping, RV sites, yurts, and resort cottages. It combines the camping and hotel experience. There's a zip-line, saltwater pools, a pontoon, kayaks, and a short drive to spas. Water from the springs can be gathered free of charge.
Distance from Memphis: 196 miles, three hours five minutes
A favorite of Memphians, Petit Jean is gorgeous with both easy and challenging hikes. There's lots of scenery, including an interesting formation at the top of a plateau and a waterfall. The campgrounds feature a total of 125 campsites (including 26 pull-through sites). Thirty-five of the sites -- the Class AAA sites -- have 30- and 50-amp electrical, water, and sewer hookups. The 90 Class B sites offer 30-amp electrical and water hookups. For those who don't own camping equipment, the park offers four rent-a-yurts available year-round. The yurts are round, high-walled tents with electricity, screened windows, and doors with locks. The rental includes cots, a lantern, stove, and ice chest. Each yurt accommodates up to six persons. Call 501.727.5441 for more information or to make reservations.
Distance from Memphis: 203 miles, three hours and 15 minutes
Brady Mountain Campground offers fabulous views and boasts an idyllic placement on Arkansas's Lake Ouachita (picture crystal-clear water and bountiful fishing opportunities, and check out the Geo-Float Trail). The lake stems from the Ouachita River and boasts 690 miles of shoreline with over 200 islands. Of the 74 camping sites, 57 have electric hookups. Other amenities include a dump station, a fish cleaning station, hot showers, a boat ramp, a playground, and a swim beach. It sits just 10 miles west of Hot Springs National Park, where you can enjoy a traditional bath or modern spa experience with the natural spring water.
Sign up here for our daily Memphis email and be the first to get all the food/drink/fun in the Blues City.