We told you where to find the most beautiful places to explore in urban Memphis... but what about outside the city? With temperatures quickly rising and no sign of them cooling down anytime soon, we wanted to show you where you can find cool, shady relief... in the form of tree-lined trails and breezy summits. Whether you have a day or a weekend, these are the best hikes in and around Memphis.
Village Creek State Park
Distance from Memphis: 50 miles
Arkansas' second-largest state park is basically right over the Mississippi Bridge on Crowley's Ridge. Crowley's Ridge -- a geologic anomaly -- is the most unusual of Arkansas's six major physiographic provinces, or natural divisions. It's covered with a lush mixed hardwood forest including oak and hickory, as well as hardwood trees such as American beech, sugar maple, butternut, basswood, cucumbertree, Kentucky coffeetree, and Tuliptree (or yellow poplar). The rolling hills and hardwood forest are perfect for hiking, mountain biking, and even riding horses. There are beautiful views, a swinging bridge, and the longest preserved section of the Trail of Tears.
Petit Jean State Park
Distance from Memphis: 200 miles
Considered by most as "strenuous", the Cedar Falls Trail is a two mile round-trip. It begins behind the breezeway at Mather Lodge, a majestic Civilian Conservation Corps rustic-style mountain lodge, and winds down into Cedar Creek Canyon. Massive stone boulders and large trees adorn the trailside. The trail then follows Cedar Creek to the 95ft Cedar Falls, one of the tallest continuously flowing waterfalls in the state. This is a photographer's paradise.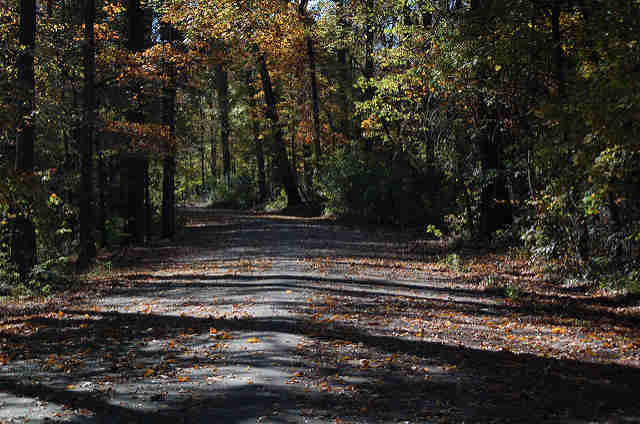 Overton Park
Distance from Memphis: 1 mile
Overton Park's old-growth (like, 10,000 years old) forest -- which also happens to be a State Natural Area -- may be one of the city's best kept secrets. The trails are guaranteed to be at least 10 degrees cooler than the rest of the city and Citizens to Preserve Overton Park volunteers lead free nature walks on the second Saturday and last Sunday of every month (but you can grab a map and head out on your own any time you like). You like flora and fauna?! Hell yeah! Thanks to the Overton Park Conservancy, you can access an online field guide to 350 flowering plants in the old forest.
Shelby Farms Park
Distance from Memphis: 5 miles
You've been to the playground and the dog park, but have you ever been on a hike? The trailhead is located just south of the Agricenter off of Germantown Rd at the Wolf River, and ends at the Walnut Grove bridge over the Wolf River. There are three intersecting trails (yellow, blue, and white trail) that are great for running, walking, and biking. You'll see people of all ages out there enjoying the eight mile loop, so this one is great for beginners.
Meeman-Shelby Forest State Park
Distance from Memphis: 20 miles
Shelby Forest is loaded with lots of great trails, but the Red Trail is the most challenging. A "hilly" three-mile loop, it is great training for mountain runs, and just steep enough to get your heart rate up even when walking. The trailhead is a short walk from the visitors center. (And be sure to fuel up and/or reward yourself with a grilled cheese at the nearby General Store.)
Pinnacle Mountain
Distance from Memphis: 151 miles
Pinnacle Mountain, which rises more than 1000ft above the Arkansas River Valley, is basically within Little Rock and offers beautiful river valley views (there's a bike path that runs from Downtown to the mountain). Its cone-shaped peak has long been a central Arkansas landmark and attraction for outdoorsy types. Two of the park's hiking trails lead hikers to the mountain's beautiful summit. The easy way up is by way of switchbacks at the main trail head. A more challenging way is to hike the base trail and go up the backside of the mountain by bouldering. It takes about an hour, and can get intense.
Blanchard Springs
Distance from Memphis: 205 miles
Located in Mountain View, the Blanchard Springs Recreation Area is loaded with awesome things to do: visitors can stroll on the paved trail to where the Blanchard Springs gushes as a waterfall from the hillside, swim in the clear waters of the North Sylamore Creek, and hike into the Ozark woods for an hour (or a weekend). The North Sylamore Hiking Trail also connects all three recreational areas.
Sign up here for our daily Memphis email and be the first to get all the food/drink/fun in the Blues City.