Civic pride runs deep in Memphis -- grit and grind country -- but, on a more micro level, Memphians also take extreme pride in their neighborhoods. You'll find "38104tified" (Midtown's zip code) or "Binghampton is Memphis" bumper stickers on cars across the city. Now that you've settled on moving to Memphis, you'll need to decide whether you're best-suited for our eclectic, unconventional Midtown, or the buttoned-up, suburban Cordova.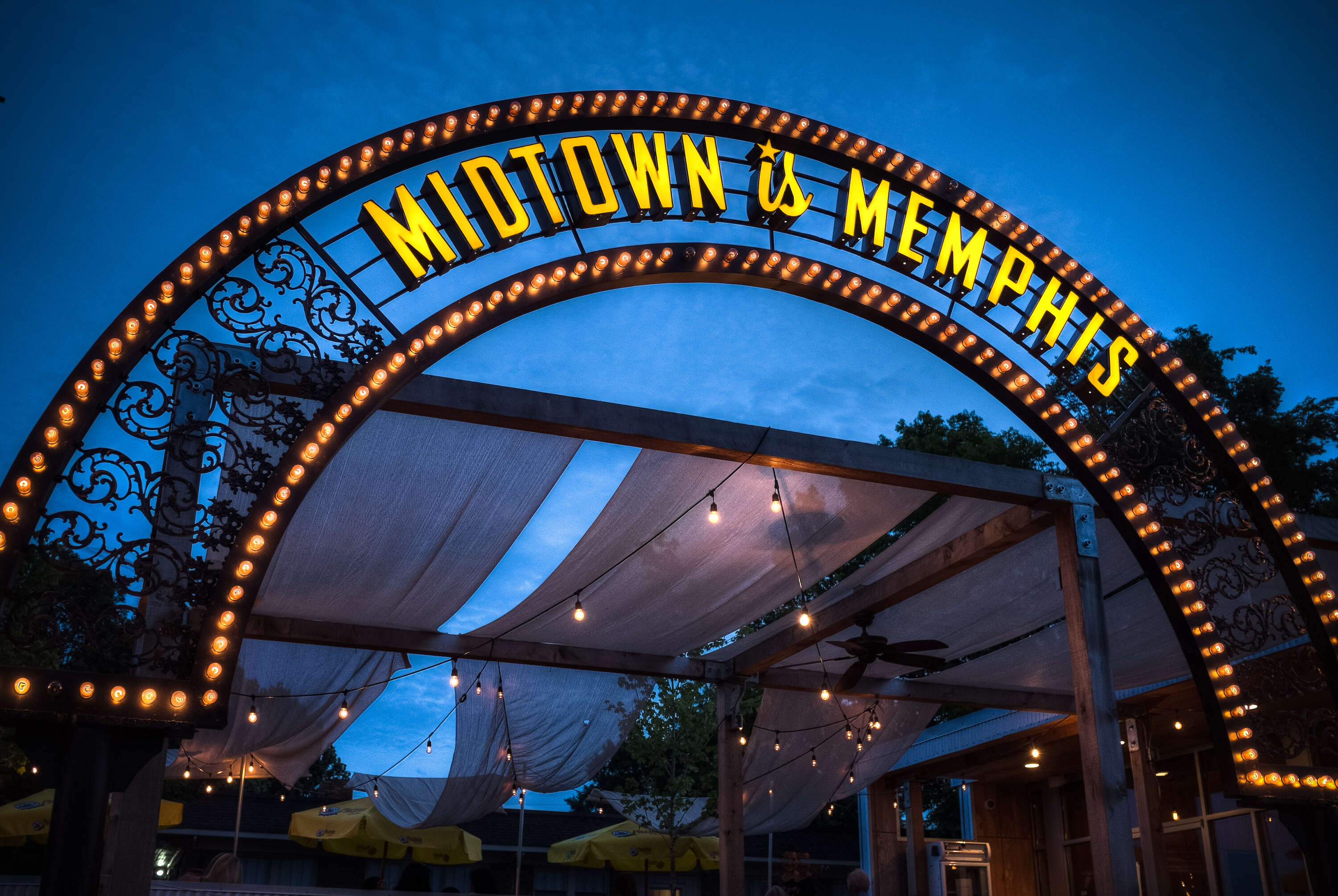 Midtown
This hip area in the city core -- known as the funky, artsy area -- is perhaps the most diverse neighborhood in Memphis. You'll find grand, historic homes with wraparound porches and stately columns on one street, and rundown apartments just a few streets over. Midtowners are passionate (and even a bit pretentious) in their love of the neighborhood.
Who lives here: Hipsters, political progressives, aging hippies, and artists of all stripes
Average one-bedroom rent: $650/mo
Bar and restaurant scene: Midtown is home to Overton Square, a quirky collection of bars and restaurants ranging from the laid-back New Orleans-themed Bayou Bar & Grill to the classy Bar Louie, to the live music venue Lafayette's. You'll also find dive bars like The P&H Cafe, the Buccaneer, and The LampLighter filled with crust punks and artists. Midtown is known for having the most diverse food scene in the city. Try the Korean-style ramen at The Crazy Noodle, the fried tofu buffet at Pho Binh, the upscale Italian fare at Bari Ristorante, pizzas topped with local meats and produce at the Trolley Stop Market, or the classic curries at Bhan Thai.
Added bonus: Overton Park, often called the "crown jewel of Midtown," is a 342-acre public park with a natural forest area, running trails, a dog park (called Overton Bark), a lake, a golf course, the Levitt Shell amphitheater, and plenty of green space for picnics, Frisbee, soccer games, or simply hanging out on the grass.
Cooper-Young
This historic district is, perhaps, the most iconic neighborhood in the city. It's definitely the hippest. The community is mostly residential, but its 1920s bungalows are bordered by a few colorful mom-and-pop coffee shops, trendy restaurants, and lively neighborhood pubs.
Who lives here: Young progressive families with kids, artists, hipsters, a thriving LGBTQ community
Average one-bedroom rent: $680/mo
Bar and restaurant scene: The relaxed vibe of Cooper-Young can be best felt in its laid-back pubs and casual eateries. There's authentic Irish pub Celtic Crossing (stop in for brunch and get the Galway shrimp & grits), craft beer bar Hammer & Ale (they'll let you try before you buy), art-school-kid hangout Young Avenue Deli (award-winning French fries), and the craft beer taproom at Memphis Made Brewing Co. For a gourmet farm-to-table meal, check out contemporary American eatery Sweet Grass, or get a taste of the Pacific Rim at Tsunami. The city's most popular vegan diner, Imagine Vegan Cafe, offers down-home, meat-free meals like "chicken" and waffles or vegan bacon cheeseburgers.
Added bonus: The Cooper-Young Trestle, a 150ft-long steel sculpture along an abandoned rail track, features tiny homes based on actual houses in the neighborhood. Artist Jill Turman created the piece in 2000, and it has marked the entryway to the 'hood ever since.
Crosstown
An up-and-coming arts district centered around the old Sears Crosstown headquarters. For years, the massive 1.4 million-square-foot building sat vacant in the center of the neighborhood, but it's currently being renovated and rebranded into Crosstown Concourse, a state-of-the-art medical/arts/education center. Since that project began, a lively arts district has sprung up around the Concourse, and although some gentrification is clearly underway, the modest homes of those who've lived in the area for decades have remained untouched... for now.
Who lives here: Young professionals, artists and musicians, lower-income families that have lived in the area for years
Average one-bedroom rent: $650/mo
Bar and restaurant scene: People come from all over the city to catch local and national punk/hardcore shows nightly at the Hi Tone (and the tallboys of PBR are cheap). One of the city's few remaining gay bars, The Pumping Station, is in Crosstown. The pizza at Midtown Crossing Grill can't be beat, but they also serve vegan banh mi sandwiches and Philly cheesesteaks. A true neighborhood bar, Midtown Crossing also hosts art shows and comedy nights featuring local talent.
Added bonus: Crosstown is home to the city's only hula-hooping fitness studio. Co-Motion Studio offers lessons in hooping and sells light-up LED hoops and all manner of unicorn and cat leggings, naturally.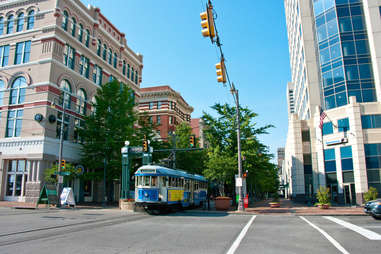 Downtown
A few blocks from the calm quiet of the Mississippi River, you'll find the hustle and bustle of Downtown. During the daytime, the area is filled with office workers, but at night the neighborhood transforms into a lively entertainment district with restaurants and bars brimming with locals and tourists.
Who lives here: Hip young professionals and empty nesters who've sold their suburban homes in favor of condo living
Average one-bedroom rent: $1,100/mo
Bar and restaurant scene: Downtown is home to the Beale Street Entertainment District, which is a bit of a tourist trap. But if you're looking for a wild night of bar hopping, it really can't be beat. Blues bars like Rum Boogie Cafe and B.B. King's Blues Club are located alongside dance clubs, such as Club 152, and Irish pub Silky O'Sullivan's, and the street is closed to vehicular traffic. For a more relaxed evening, grab a seat on one of the many restaurant patios on the Main Street Mall. The Majestic Grille offers high-end fare served in an old converted movie house. Hit up Aldo's Pizza Pies for a slice and a cold one, or stop into DeJavu for a taste of New Orleans.
Added bonus: Beale Street Landing -- a river cruise boat dock -- offers sweeping views of the Mississippi from its observation deck. There's a playground for the kids (the only public playground Downtown), a gift shop specializing in kitschy wares, and a restaurant and bar with a covered patio that's great for (safely) watching thunderstorms blow over the river.
Harbor Town
Located on tiny Mud Island on the northern edge of Downtown, Harbor Town is an eclectic collection of upscale townhomes and condos overlooking the Mississippi River.
Who lives here: Well-to-do young families and empty nesters
Average one-bedroom rent: $980/mo
Bar and restaurant scene: Harbor Town is relatively small, so options for dining and drinking are limited. That said, the area is somewhat isolated from the rest of Downtown, so residents can be found watching the Grizzlies game and feasting on burgers at Tug's Casual Grill or enjoying a more sophisticated evening with handcrafted cocktails and continental-style fare at Paulette's. Neighborhood coffee shop Cafe Eclectic serves gourmet coffee drinks and picnic box lunches to enjoy at nearby Greenbelt Park. Miss Cordelia's Grocery carries basic grocery items, as well as locally made dry goods, a fine selection of craft beer, and grab-and-go deli foods.
Added bonus: Harbor Town shares Mud Island with Mud Island River Park, a free public park featuring a 2,000ft-long scale replica of the Lower Mississippi River. Patrons can wade in the tiny river or ride paddle boats in the large "Gulf of Mexico" pool where the "river" ends.
South Main
Also known as the South Main Arts District, it's home to galleries, boutiques, casual and upscale restaurants, and the city's largest farmers market. A new crop of condos have been popping up all over the south end in areas that were previously home to abandoned warehouses.
Who lives here: Wealthy millennials, former suburbanites
Average one-bedroom rent: $1,100/mo
Bar and restaurant scene: Much of the nightlife and dining attractions can be found along South Main Street, which is home to the elegant Italian restaurant Spindini, the laid-back South Main Sushi, Japanese fusion burger joint Oshi, and The Arcade, a greasy spoon that claims to be the city's oldest continually operating restaurant. As for watering holes, there's Max's Sports Bar for the game, Onix for a glass of fine wine, or Earnestine & Hazel's for greasy burgers, domestic beers, and a jukebox that's rumored to be haunted (it comes on by itself). Just a few blocks from South Main is Loflin Yard, a rustic outdoor bar with a waterfall, a smokehouse, and barrel-aged cocktails.
Added bonus: The last Friday of every month is South Main Trolley Night, where galleries and shops host art receptions (often with lots of free snacks and wine) and public parties.
Binghampton
This diverse neighborhood is home to the uber-hip Broad Avenue Arts District, the Hampline bicycle path, and a tight-knit community of lower-income residents.
Who lives here: Mostly lower-income families, plus a handful of young, single millennials who have chosen the area for its cheap rent
Average one-bedroom rent: $550/mo
Bar and restaurant scene: Most of the dining and drinking scene in the Hamp is concentrated along artsy Broad Avenue. Pirate-themed bar The Cove boasts a massive menu of handcrafted cocktails and oysters on the half shell. Maximo's on Broad is the place to go for fine wines and tapas, and Bounty serves up farm-to-table meals, all made without gluten. You'd be wise to start your day with a pour-over coffee at City & State. Just a few blocks down from the arts district, you'll find Wiseacre Brewing Co.'s super-sleek taproom and the Rec Room, an adult arcade with booze, pizza, and "living rooms" complete with old vintage gaming consoles (Super Mario Bros., anyone?).
Added bonus: Neighborhood community center Caritas Village, located in the heart of Binghampton, was established to break down the walls of hostility between races and those in different income brackets. People from all walks of life gather there at lunch to break bread with Caritas' popular menu of burgers, paninis, and hot soup.
University District
The community surrounding Memphis' largest public university -- the University of Memphis -- is teeming with activity throughout the school year, but it's Highland Row's bars and restaurants that attract patrons year-round.
Who lives here: Mostly college students, some post-grad 20-somethings who never left the area after college
Average one-bedroom rent: $513/mo
Bars and restaurants: The newly remodeled Newby's -- billed as "the college bar you never graduate from" -- has been a Highland Row staple for years. Head there for pool and pub grub. Shooters are discounted when trains pass by RP Tracks, a casual sports bar best known for its BBQ tofu nachos (pro tip: get the chips on the side). For something a little fancier, The Farmer offers a menu of seasonal dishes made with local produce and meats. Cafe Eclectic and Avenue Coffee sell gourmet coffee drinks that are perfect for pulling those all-nighters or just perking you up in the evening. Brother Juniper's is arguably the most popular brunch spot in the city. Arrive at least an hour before you plan on being hungry, as the weekend wait is excruciating.
Added bonus: The Mediterranean Grocery on Park Ave boasts the city's largest selection of imported Middle Eastern packaged foods, beauty products, and housewares. If you're in need of cardamom-spiced Turkish coffee and the copper cezve to prepare it in, this is your place. You'll also find all sorts of hummus, stuffed grape leaves, bulk Medjool dates, and fresh-baked pita.
East Memphis
This wide swath of neighborhoods on the eastern side of town features quiet communities -- mostly middle- to higher-income -- filled with 1950s ranch-style homes. It's also where you'll find the city's only Whole Foods store and many of the commercial retail outlets absent from Downtown or Midtown.
Who lives here: Well-to-do and middle-income families, folks with a wide mix of political views (but you'll find more conservatives)
Average one-bedroom rent: $760/mo
Bar and restaurant scene: Hog & Hominy, arguably East Memphis' most acclaimed restaurant, is a sea of bearded guys in plaid. There you'll find upscale Italian/Southern American fusion cuisine prepared by childhood best buds Andrew Ticer and Michael Hudman. You'll also find an impressive selection of experimental house-made cocktails in the adjoining bar, the Holding Pen. At gourmet restaurant Acre, chefs Wally Joe and Andrew Adams combine the flavors of Italy, Asia, and the American South. For a less classy evening, there's always karaoke at the Windjammer. And Patrick's has long been a casual hub for East Memphis residents to meet up over burgers and beers.
Added bonus: The Shelby Farms Greenline -- a 10.8-mile rails-to-trails bicycle and pedestrian path -- runs through the heart of East Memphis and connects up with the 4,500-acre Shelby Farms Park.
Cordova
Residential areas in this quiet suburb offer a mix of mid-sized and massive homes, as well as sprawling 'burb-style apartment complexes.
Who lives here: Families avoiding inner-city schools, suburbanites, middle-income residents who were priced out of similarly sized, more expensive homes in Midtown
Average one-bedroom rent: $750/mo
Bar and restaurant scene: As with most suburbs, chains reign in Cordova. The Flying Saucer Emporium -- a regional bar chain -- offers the largest selection of beers on draft of anywhere in the city, while the Fox & Hound (another chain) is the place to go for brews and billiards. As for eats, the locally owned Casbah Restaurant makes a mean baba ganoush, and Chang's Bubble Tea offers both boba and a full menu of Asian delights. The Butcher Shop offers classic American steakhouse ambiance and all manner of beef cuts. And of course you'll find the usual suspects: O'Charley's, Applebee's, Chili's, and On The Border, among other predictables.
Added bonus: Malls may be a dying breed, but the Wolfchase Galleria in Cordova is still alive and kicking. This two-story mall has all the shops you'll ever need, plus there's a working carousel in the food court.
Sign up here for our daily Memphis email and be the first to get all the food/drink/fun in the Blues City.
Katie Smith is a writer for Thrillist and one of those pretentious Midtowners who proudly displays a "Midtown is Memphis" bumper sticker on her car.