The Most Beautiful Running Paths in Memphis
Locals love to tout Memphis' grit as part of its charm. And sure, the city is a little rough around the edges with graffiti and blight. But Memphis is also known for its impressive tree canopy, its gorgeous views of the Mississippi and Wolf Rivers, and its wooded, hilly river bluffs. Take a run on one of these paths for a prime view of the Bluff City's true allure.
V&E Greenline
This 1.7-mile gravel path runs through the Vollintine Evergreen neighborhood along an abandoned rail track. The route takes runners (and the occasional cyclist, although the rough terrain isn't good for street bikes and cruisers) behind historic homes and over two bridge crossings at Lick Creek. Along the route, a large, volunteer-maintained flower garden and plenty of public art (fish sculptures, large cartoon-like people with planters on their heads, a musical bench) help take runners' minds off working out. Portions of the trail are completely covered by a canopy of trees, offering a respite from Memphis' scorching summer heat. Bonus: there's a working water fountain near the midway point.
Shelby Farms Greenline
The city's largest and most successful rails-to-trails project, the Shelby Farms Greenline runs 6.5 miles from Midtown Memphis to the 4,500-acre Shelby Farms Park. It's a paved trail, so runners share the path with cyclists, many of whom zip by at high rates of speed. If you wear headphones, keep the volume low and be aware of your surroundings. The west end of the path runs through neighborhoods, giving Greenline users a sneak peek into backyards. Further east, the path leads to a long wooden bridge overlooking the Wolf River and a wooded area popular with ATV riders. Pro tip: if you get a little peckish near the western end, Cheffie's Cafe -- a casual, build-your-own salad and sandwich shop -- is located near the High Point Terrace crossing on the western end of the trail.
Old Forest at Overton Park
Years ago, the paved road that circles Overton Park's Old Forest -- 172 acres of old-growth forest that's listed on the National Register of Historic Places -- was closed to vehicular traffic. These days, the only traffic the wide road gets is from runners, walkers, and cyclists. Since it was designed for two-lane traffic, the path offers plenty of room to spread out, meaning runners don't have to worry about being rolled over by cyclists. The paved road takes users in a circle around the forest -- past the Memphis Zoo, the East Parkway pavilion and playground, and more primitive running trails through the forest. If you run through those trails early enough in the morning, you might catch a glimpses of snakes, foxes, or even the infamous Midtown coyote.
Wolf River Greenway
Currently, this 10ft-by-12ft paved pedestrian & cycling trail runs 2.6 miles along the Wolf River from Walnut Grove Rd to the start of the Germantown Greenway. But the Wolf River Conservancy has plans to extend the trail 36 miles over the next several years, following the path of the river from Collierville to the northern end of Mud Island, where it flows into the Mississippi. The existing stretch of the greenway features lush trees, great views of the muddy Wolf, and plenty of wildlife. The Wolf River Greenway blends seamlessly into the Germantown Greenway, so those out for a long run have plenty of pathway.
Germantown Greenway
This 11-mile paved path picks up where the Wolf River Greenway ends, taking runners and cyclists through a wooded portion of suburban Germantown. It runs through several parks -- Neshoba, Johnson Road, and Houston Levee -- and links area schools and neighborhoods. Runners can pause for a short breather at Turtle Bayou, a rustic boardwalk over the Wolf River where trail users can watch turtles sunning themselves on fallen logs. Eventually, the city of Germantown plans to expand this greenway to 22 miles.
Meeman-Shelby Forest State Park
This massive state park in northern Shelby County features 20 miles of single-track and gravel roads that make for great running paths, and the forest is dotted with dirt trails offering a secluded getaway. Most of Memphis is located on very flat land, but the area around Meeman-Shelby is located on the third Chickasaw Bluff (one of four bluffs in West Tennessee), so the terrain throughout the park varies in elevation. That means there's no excuse to avoid hill practice, no matter how badly you'd prefer to skip it.
Stanky Creek
With a name like Stanky Creek, this nine-mile trail in Bartlett might dissuade you from logging your miles. But the only thing smelly at Stanky Creek is probably some dog poop left behind by some rude hiker. The area, located in Bartlett's Nesbit Park, features three separate trail loops totaling 10 miles. Much of the terrain is made up of a roller-coaster of hills, making the area a favorite for local mountain bikers and hikers. But it's also perfect for getting in that dreaded hill practice.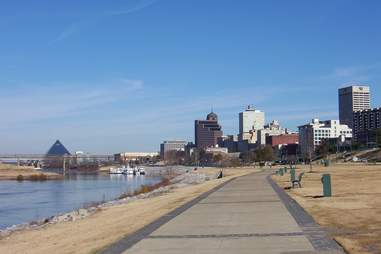 Tom Lee Park

| Thomas R Machnitzki/Wikimedia
Riverbluff Walkway
This short running/walking path runs along the fourth Chickasaw Bluff through Downtown's South End, and offers sweeping views of the Mississippi River and a peek at some of Downtown's finest homes. The path runs past several city parks, and those looking for a longer route can take stairs or a land bridge over busy Riverside Dr into Tom Lee Park, the city's riverfront park. Tom Lee features a couple miles of sidewalk that run along the river's edge, as well as public restrooms and the Riverfront Bar & Grill, where runners can stop in for a post-run beer and meal. Bonus: the steep staircase connecting Butler Park to Tom Lee Park offers a great "stadium stair"-style workout.
Sign up here for our daily Memphis email and be the first to get all the food/drink/fun in the Blues City.
Katie Smith is a writer for Thrillist who logs her weekly miles on the very flat Shelby Farms Greenline and avoids hill practice like the plague.