Get to Know the Memphis Grizzlies Grannies and Grandpas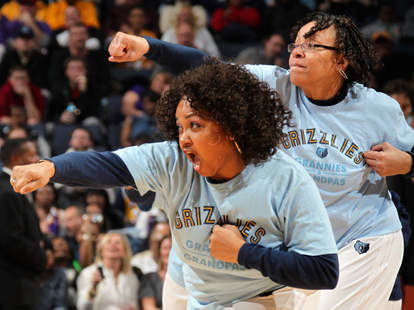 Courtesy of Memphis Grizzlies Grannies and Grandpas Dance Team
Memphis Trampolining mascots and T-shirt cannons are nice, but the real timeout entertainment at Memphis Grizzlies games comes courtesy of their energetic team of dancing grannies and grandpas. They're all over 50 and fabulous, don't let their age fool you -- there's still plenty of time left on their shot clocks. Under the direction of choreographer extraordinaire, Terran Gary, the Grizzlies Grannies and Grandpas entertain fans at select Grizz home games like no other group can. "You need a good mix of dancers. Those who are going to get the dance perfect and those who are going to be adorable messing it up," says Gary. "Everyone knows their role." We chatted up members of the senior dance squad to get their take on killer moves, today's music, and life in general.

Meet the dancers: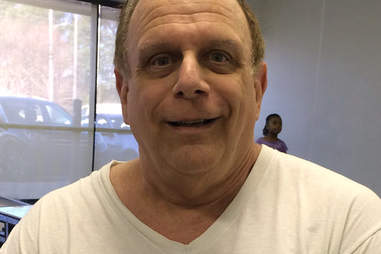 Stacey Greenberg/Thrillist
Rob Mann
Age: 61
In his 10th year as a Grandpa, he was actually trying out for the PA announcer's position when someone in marketing suggested he be among the inaugural dancers. He had participated in the Gridiron Show singing, dancing and acting for four years, so it wasn't too much of a stretch. Continue Reading
Stacey Greenberg/Thrillist
Dian Harmon
Age: 74 (second oldest on the team)
This is Dian's tenth season with the Grannies. She did ballet for six years and toe as a child, but after age 14 only danced socially. She was at a game, the first year when they had 12 people, and she was in the stands with friends. They said, "You could do this." She and her husband both tried out and made the team, while he left after four years, she still loves it and finds it very energizing.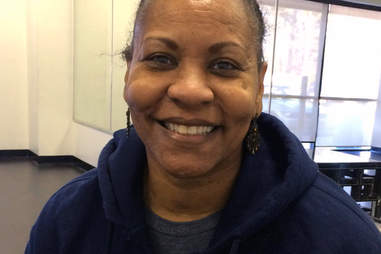 Stacey Greenberg/Thrillist
Phylliss Johnson
Age: Old, "I don't tell how old."
This is her third year with the team,"I'm a junior," says Johnson. She was a professional dancer who came out of high school and toured with Donna Summer, Dianna Ross, and later, New Edition. Then she had her own studio in St. Louis for ten years.


Stacey Greenberg/Thrillist
Mary Arnold
Age: 66
She's also been on the squad for ten years. "I danced in high school, was a cheerleader, and blew sax in the band," says Arnold.
Stacey Greenberg/Thrillist
Jacqueline Smith
Age: 58
This is her eighth year on the squad. She had no previous dance experience, but her dad was a dancer and her inspiration. She tried out after her family dared her.
Courtesy of Memphis Grizzlies Grannies and Grandpas Dance Team
Do you have a signature dance move?
Rob: I have three of them. The Nae Nae, Hit the Quan, and Gangnam Style.

Phylliss: Haha, no. Other people might say I do. I'm a locker, it's a style that's a mix of re-run Hip Hop and Afro Cuban.

Jacqueline: I always bring my legs up high. I like for people to see that an almost 60 year old woman can still lift her legs.

Mary: Shaking the booty.
 
Who's the best dancer in the squad?
Rob: I'm not going to answer that. All of us bring something different that the fans enjoy and look for.

Phyllis: Oh god, um, who's the best? There are a couple of them. I like to watch Craig Wright. He's the most entertaining.

Dian: Probably Shelly or Phylliss. I have to practice every day.
 
Who are you current favorite music artists?
Rob: Wow... um... I have several. I'll go with Katy Perry.

Mary: I've got so many... Adele.

Jacqueline: Usher.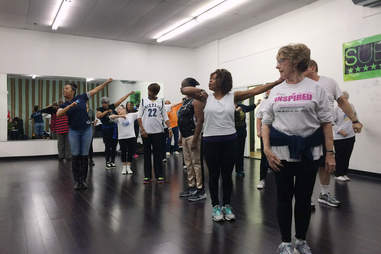 Stacey Greenberg/Thrillist
Any embarrassing stories from a performance?
Rob: I had a cramp in my calf once, but adrenaline kicked in and I made it. Oh and another time, the headband I had on over my afro broke and it fell down and covered my eyes.

Dian: We were invited to perform at the Peabody Hotel for a couples' 40th wedding anniversary party. The wife told her husband that the Griz Girls were coming!
 
Are there any drawbacks?
Dian: It's a tremendous group. We have seven men now. We have to audition every year. It's stressful! You never know who is going to come and do better.

Jacqueline: I don't think so. I just love to come and be around other people from other fields.
Courtesy of Memphis Grizzlies Grannies and Grandpas Dance Team
What's your favorite part about being on the team?
Mary: It's just so much fun. Terran is a good choreographer. She's awesome. The dance moves she gives us -- people don't expect people our age to move like that. The fans love us.

Jacqueline: The camaraderie with the others, exercise... I love Terran to death.
 
What's your secret to a long, happy life?
Phylliss: Eat clean and stay fit.

Mary: Loving yourself and loving other people. Living a good, truthful, and faithful life. You can't love others if you don't love yourself.

Jacqueline: Not getting stressed out. Having a husband and kids to listen to you. Having good health and a good job is enough for me.
 
How do you feel about manbuns?
Rob: I don't know…manbuns? I don't know that I have a take on that.

Phylliss: I think those are cute. Kind of like a Steven Seagal starter kit.

Jacqueline: Personally I don't care for it. To each his own, though.

Dian: Men's buns? I like them.
 
How about selfies?
Phylliss: I don't do them. I've never taken one.

Jacqueline: I don't care for them. I am not a photographic person.

Rob: I enjoy them. I've done them. I've photobombed them.
 
When are you going to dance with Justin Timberlake?
Mary: I've seen him, but we haven't met. He's right in front when we perform and he stands up and claps. Soon hopefully.

Sign up here for our daily Memphis email and be the first to get all the food/drink/fun in the Blues City.

Stacey Greenberg lives in Cooper-Young with her two sons. She's only got seven years until she can try out for the Grizz Grannies. She's the author of the award winning blog, Dining with Monkeys.