Those visiting Memphis are guaranteed to show up with a list of must-dos that undoubtedly includes Graceland Mansion, Sun Studio, the Stax Museum of American Soul Music, and other iconic Memphis music destinations. Go to those places. Please.
Memphians are proud of our musical heritage, and we want tourists to get the full experience. But when it comes to food and nightlife, it's best to experience Memphis like a local. Here's a list of hidden gems and off-the-beaten-path locales that offer a true taste of Memphis -- minus the long lines and wait times.
Barbecue
Instead of: Rendezvous
Go to: Central BBQ
Everyone from former president George W. Bush to the Rolling Stones has ducked into the narrow Downtown alley that's home to Charlie Vergos' Rendezvous. And while we're not saying the dry-rub ribs there aren't downright delicious, there's also no doubt the place will be packed with sightseers from all over.
Instead, hit up any of Central BBQ's three locations -- Downtown at 147 E Butler, Midtown at 229 Central, or Berclair at 4375 Summer. This locally owned barbecue chain features juicy, wet, or dry-rubbed ribs, saucy pulled pork sandwiches, even loaded barbecue nachos piled high with pulled pork, 'cue sauce, cheese sauce, shredded cheese, and jalapeños. Don't miss the crispy, kettle-style homemade barbecue chips. And while you're there, try a locally brewed beer from Memphis Made, Wiseacre, Ghost River, or High Cotton breweries.
Burgers
Instead of: Huey's
Go to: Belly Acres
Huey's, an award-winning burger cafe with graffiti-covered walls and toothpicks lodged in the ceiling, is a hit for locals and tourists alike. It does have the advantage of multiple locations, and it does make a damn fine burger. But depending on the time of day, you'll more than likely be dealing with a loud, crowded dining room.
For something a little different, try Belly Acres, a fast-casual concept with a focus on using meats and produce grown on farms with sustainable growing practices. All 12 of their signature burgers are made with grass-fed beef, and there are three beefless burgers (portabello mushroom, black-eyed pea, and lentil & caramelized onion) available for vegetarians. Burger toppings range from pickled collard greens, to pork belly, to jalapeño jam, to maple ketchup. Inside, the space is designed to look like a farm, with a bright yellow crop duster suspended from the ceiling. In keeping with the sustainable theme, Belly Acres features wall paneling and furnishings made from locally sourced, reclaimed wood.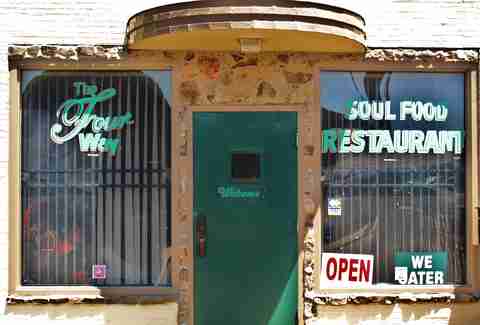 Soul food
Instead of: Gus's Fried Chicken
Go to: The Four Way
The story of Gus's humble beginnings as a roadside chicken shack in Mason, TN (just outside Memphis city limits) is endearing, and the spicy fried chicken there can't be beat. That said, one of the most well-known Gus's locations is in the heart of downtown Memphis. That location has become quite the tourist trap, and its small dining room simply isn't large enough to accommodate the masses during the lunch rush. It's not uncommon to see a line wrapped around the building at peak times.
Hit up The Four Way. There, you'll find fried chicken prepared with just as much (perhaps more) love and care from a mom-and-pop soul food joint in the heart of Soulsville (the South Memphis neighborhood that's also home to the Stax Museum of American Soul Music). Additionally, you'll find a full menu of soul food staples that far exceeds the variety of offerings at Gus's, which has a menu limited to fried chicken and standard sides. The Four Way offers country fried steak with creamy gravy, fried catfish, slow-simmered neck bones, and Southern-style turkey and dressing. Those are served with house-made sides that range from boiled okra and pickled tomatoes to mac & cheese and mashed potatoes & gravy.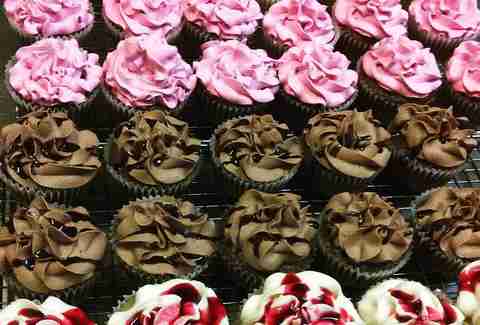 Cupcakes
Instead of: Muddy's Bake Shop
Go to: Pink Diva Cupcakery
While Muddy's isn't exactly a tourist trap (none of the local bakeries would fall into that category), it has become a bit of a hot spot. The cupcakes boast impossibly cute names like Prozac (chocolate) and Frankly Scarlett (red velvet), and their Midtown coffeehouse location does make a mean latte. But finding a spot in the crowded café, which is typically filled with artsy types glued to their laptops for hours, can be difficult.
Rather than shooting customers the evil eye until they free up their seat, head to the off-the-beaten-path Pink Diva Cupcakery in the south end of Downtown. Owner Cassi Conyers is a one-woman show, whipping up moist, sweet cupcakes filled with chocolate ganache, fruit fillings, even cookie butter. (Also, all of the cupcakes are vegan, and free of peanuts and tree nuts, but you might want to keep that to yourself). Pink Diva features new flavors daily -- call ahead a day for gluten-free options -- and there's also a full menu of savory dishes, such as tater tot nachos and veggie-filled pasta, in case you need something a little more substantial after satisfying your sweet tooth.
Dancing
Instead of: Paula & Raiford's Disco
Go to: Club Rumba
On any given Saturday night, partygoers pile into Paula & Raiford's Disco to relive the '70s with shiny disco balls, fog machines, and classic boogie tunes handpicked by the Jheri-curl-sporting, cape-wearing Robert Raiford and his platinum-haired daughter, Paula. The experience makes for an exciting evening if you're up for dealing with crowds, bachelorette parties, and a drink menu limited to 40oz beers.
For something a little more low key, check out Club Rumba. This South Main club features salsa dancing late into the night every Friday and Saturday. For those with two left feet, there are free salsa lessons at 9:30pm both nights. If salsa isn't your thing, Club Rumba has a hip-hop night on the first Saturday of each month from 6-9:30pm. Unlike Raiford's, which doesn't serve food, hungry dancers can feast on Club Rumba's small pub grub menu of nachos, wings, and taquitos.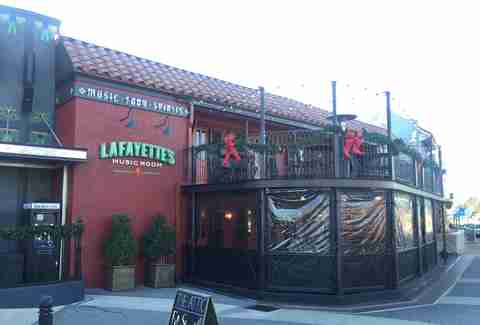 Live music
Instead of: Any Beale St bar
Go to: Lafayette's Music Room
Memphians view Beale St in much the same way New Orleans residents see Bourbon St -- a tourist trap. While a quick trip to Beale should be on any first-time Memphis visitor's to-do list, don't stick around for too long, unless you want to shell out big bucks for overpriced drinks and spend your evening hanging out with over-served Elvis fans.
To hear music like a local, head to Overton Square, the Midtown entertainment district where Memphians hang out, and grab a seat at Lafayette's Music Room. The live music menu features a mix of local and traveling performers every night of the week, ranging from Memphis soulstress Susan Marshall and blues saxophonist Brian "Breeze" Cayolle, to classic rockers Devil Train and singer/songwriter duo Pam and Terry. The two-story venue features floor and balcony seating, all with great stage views. Grab a bite from Lafayette's full menu of Southern dishes, like barbecue pork belly and jambalaya pasta.
Seeing the river
Instead of: Peabody Rooftop
Go to: Mud Island River Park
The historic Peabody Hotel's Downtown rooftop offers sweeping views of the Mississippi River, and it's certainly one of the best places to catch a sunset. During the summer months, the hotel hosts weekly rooftop parties on Thursday nights, with cocktails and live music.
But those who wish to get a little closer to the muddy Mississippi (and receive a geography lesson to boot) should check out Mud Island River Park. Take a monorail ride over the Mississippi River to this free attraction located on a large island in the river itself. The highlight is an exact scale model of 954 miles of the lower Mississippi, from Cairo, IL, to the Gulf of Mexico. Designed using Army Corps of Engineers navigation charts, the mini river, which stretches for one mile throughout the length of the park, features all the twists and turns of the real river. You can see the actual Mississippi from the park, so take your shoes off and wade in the model river while gazing at the real thing. There are mini bridges and maps of major cities along the river's route. At the end, take a leisurely paddleboat ride around the one-acre pool that represents the Gulf of Mexico. Mud Island River Park is open from April to October.
Arts
Instead of: South Main Arts District
Go to: Broad Ave Arts District
The South Main Arts District is just blocks away from Beale St, making it a convenient walk for tourists looking to take in the full scope of Memphis' bustling Downtown. And it certainly offers a wide range of art galleries, dining options, and boutique clothing & gift shops.
But those wishing to experience a more grassroots-style arts district should hop in a cab for the short drive to the Broad Ave Arts District. Just a few years ago, this strip of galleries, bars, and shops was a ghost town on the outskirts of the residential neighborhood Binghamton. But a few longtime residents banded together DIY-style, hosting neighborhood street festivals and using urban revitalization strategies to revive their little street into the lively arts district it is today. Pop into T Clifton Art for high-end sculptures, glassworks, and visual art, and enjoy a farm-to-table gluten-free dinner at Bounty On Broad. Then stop by Five in One Social Club for locally made jewelry and screen-printed tees, or sign up for one of the "kindergarten for grown-ups" crafting classes, where you can learn to make everything from etched glass to woodcut prints. Get a souvenir tattoo from artist Babak Tabatabai at Ronin Design & Manufacturing, and enjoy a handcrafted cocktail from nautical-themed bar The Cove (designed to look like a pirate ship). If you're lucky, you may catch live music or a dance performance by the students from the Collage Dance Collective on the outdoor Water Tower Pavilion stage.
Sign up here for our daily Memphis email and be the first to get all the food/drink/fun in the Blues City.
Katie Smith is a Memphis-based writer who spends her days avoiding tourist traps and long lines like the plague.