Memphis is a city known for its gritty reputation as much as it is for its blues and barbecue. But over the past few years, as young people have begun settling back into the city's urban core, the once-dirty river town is starting to sparkle. The city has added miles of bike lanes. Farmers markets are popping up everywhere. Downtown's South End is bursting with new condo construction, and the revitalized Overton Square entertainment district is packed with crowds every single night. And that's all well and good! But new developments aside, we'd like to remind you about some Memphis icons from its more uncompromising past -- some dating back to Elvis Presley's day and others reminiscent of the city's swinging '70s. Are they here to stay? We sure hope so.
Berclair
Open since 1966, the Summer Drive-in -- operated by Malco Theatres -- is among a handful of drive-ins left in the US. The four-screen cinema looks much like it did on opening day in '66 (when it screened Doris Day's The Glass Bottom Boat and Paul Newman's The Prize on one screen) with its massive, retro hourglass sculptures designed to emit neon lights. The theater is open seven days a week from Memorial Day through Labor Day, and on Fridays and Saturdays for the rest of the year. Each screen shows a double-feature, and patrons can listen to the movie through their car radios. Although there's a concession stand, many people opt to bring their own snacks and beverages. Some folks will even pack small, portable grills.
Berclair
With its neon pink and teal exterior, this 1970s-era snow cone shop is a frozen-treat oasis. The building -- a converted gas station -- is topped with a giant ice cream cone and a polka-dotted polar bear sculpture, which beckons patrons from as far as the eye can see. As the name would imply, snow cones are the specialty at Jerry's. They come in an assortment of wild flavors -- Tiger's Blood (cherry & coconut), wedding cake, banana, Jolly Rancher (that's the blueberry and green apple combo, get that one) -- and the employees aka Sno Cone Artists have a heavy hand with the syrup. Order yours "supreme" style, and you'll get a swirl of vanilla soft-serve in the center. Jerry's, which was named for the original owner's son, also serves burgers, hot dogs, nachos, and traditional concession fare, but Delta-style chicken tamales are the most popular menu item.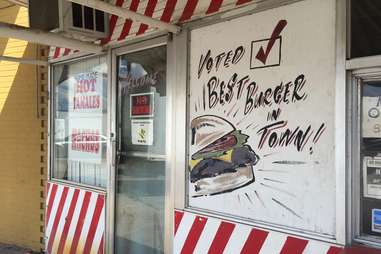 Nutbush
Sweden Kream's history is a bit of a mystery, but owner Terry Hardaway has said the diner predates the residential neighborhood that surrounds it. That would date it back to possibly the 1940s. From the outside, it may not look like much, but inside, Southern hospitality mixed with juicy burgers and shakes will take patrons back to simpler days. Also on the menu are snow cones, milkshakes, and a hot fudge cake sandwich stuffed with vanilla soft serve.
Paris Adult Theater
Binghampton
Technically, the business inside 2432 Summer has changed, but besides the name on the neon marquee outside, the structure has remained largely the same since it opened as the Luciann movie theater in 1939. These days, you're more likely to find Blown with the Wind (that's probably not a real porno, but it sounds good, right?) screening at the Paris Adult Theater instead of Gone with the Wind. The Luciann was converted into a bowling alley after it closed in 1958, and it became a nightclub in 1966. In the 1970s, the building became home to a theater once more, but this time screening adult films. If questionable patrons in trench coats tend you make you turn the other way, the Paris also has DVDs for sale and plenty of sex toys in its lobby shop.
South Main Arts District
Stepping into The Arcade Restaurant feels like stepping back into Memphis' glory days when Elvis reigned supreme. This 1950s-style diner actually dates back to 1919, making it Memphis' oldest continuously operating restaurant. The space at South Main and G.E. Patterson was redesigned in the '50s by owner Speros Zepatos' son Harry, and it hasn't changed much since. Diners feast on greasy breakfasts and meat-and-three plates atop boomerang-style tables. Servers buzz behind a classic diner-style counter with bar stool seats for those dining solo. Elvis was a fan of the Arcade, and his favorite booth is marked with a plaque. The restaurant is often used as a film location and has made appearances in Mystery Train, Great Balls of Fire!, The Client, The Firm, 21 Grams, Elizabethtown, Walk the Line, and My Blueberry Nights.
Beale St
The only remaining original business on Beale, A. Schwab dates back to 1876. It was opened by Abraham Joseph Schwab as a men's haberdashery, but it later became more of a dry goods store. These days, Schwab's is still selling a few dry goods (old-fashioned candies, homemade soaps), as well as Memphis souvenirs. There's also an old-timey soda fountain, where soda jerks whip up milkshakes and phosphates with homemade syrups, but the store is more bizarrely known for its wide selection of voodoo paraphernalia (candles, spell books, dolls, incenses, etc.). Need to attract new love or ward off evil? Schwab's has you covered. In fact, the store's motto is "If you can't find it at Schwab's, you're probably better off without it." They're probably right.
Victorian Village
Not much is left of Memphis' stock of grand Victorian mansions. Once known as "Millionaire's Row," Adams Ave was lined with stately homes before the 1960s urban renewal movement oversaw their demolition. But a few homes have remained storing, and one -- the Woodruff-Fontaine House -- hasn't changed much at all since it was constructed in 1871 for the family of carriage maker Amos Woodruff. As the other nearby homes in the area were being demolished, the Association for the Preservation of Tennessee Antiquities managed to step in and save the Woodruff-Fontaine House in '62. These days, the space is open as a museum filled with period furniture and artifacts from the Woodruff and Fontaine families.
South Main Arts District
Legend has it that this old dive bar (located across the street from the aforementioned Arcade Restaurant) was once home to a brothel, and the rooms upstairs are still intact, with peeling paint and various pieces of old mismatched furniture. But before it got that seedy reputation, the two-story building was home to a 1930s-era pharmacy best known for selling owner Abe Plough's homemade hair-straightening product (it was used to create the styles you see women sporting in those old sepia-toned photographs). A couple of hair-stylist sisters -- Earnestine and Hazel -- eventually turned the pharmacy into a cafe, and Earnestine's husband Sunbeam, who ran a nearby music joint called Club Paradise, would send the musicians over to the cafe after-hours for food and a little action from Memphis' ladies of the night. The now-deceased Russell George purchased the building in 1992 and re-opened it as a dive bar, leaving the building mostly untouched from its early days. These days, Earnestine & Hazel's offers bar patrons a glimpse into Memphis' past, along with greasy "Soul Burgers," pool, beers, and a famous haunted jukebox that's known to play songs all by itself at all hours of the night.
Overton Square
You wouldn't know it from witnessing the crowded patios, gorgeous murals, gleaming sculptures, and overall shiny appearance of Memphis' newly revitalized Overton Square, but this hip entertainment district sat nearly empty for more than a decade -- up until a few years ago when Loeb Properties ushered the Square back into popularity. In the 1970s and '80s, the Square was the hottest spot in town for bar-hopping and shopping. But most of the old restaurants and shops were shuttered after the closing of the second-ever T.G.I. Friday's in the country (its flagship) in 2003. A couple businesses weathered that storm, one of which is Maggie's Pharm: a purveyor of dried herbs and handmade lotions and soaps. Elizabeth "Beaver" O'Cain opened Maggie's in 1981, and it hasn't changed much since. There's a decidedly funky, hippie vibe inside, and they still sell plenty of patchouli, as well novelty items, such as candles, cards, handmade jewelry, and unique gifts.
Sign up here for our daily Memphis email and be the first to get all the food/drink/fun in the Blues City.
Katie Smith is a writer for Thrillist who prefers her Jerry's Jolly Rancher snow cone supreme-style (and with a side of fries).