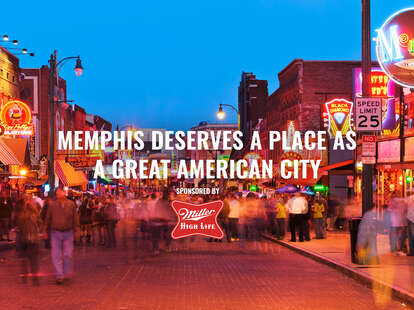 Memphis has been surprising people for more than a century, and it happened again in the wake of the Great Recession. With Memphis hit harder than almost any city in the country, many commentators predicted that it could not recover from the blow.
These were tough times for Memphis, leading it to identify viscerally with its NBA team's mantra: grit and grind. The Great Recession left this Mississippi river city on the Fourth Chickasaw Bluff to draw inspiration from the Memphis Grizzlies, who touted its refusal to give up and to find a way to win, even if wasn't always pretty.
One small example: Memphis, the image of a slow-moving, sedentary river city suddenly became known for it's outdoor recreation. We went from zero to almost 300 miles of bike lanes and built more than 30 miles of greenlines in only five years, bike lanes are being added to the bridge connecting downtown's riverwalk to Arkansas, a bike-share program is beginning soon, and the city was named one of America's best paddling towns.
It's been a remarkable turnaround in such a short time, and in truth, it surprises even many of us. When it began, downtown was seriously struggling, key neighborhoods were languishing, new construction was nonexistent, self-confidence was flagging, and young adults were moving away in droves.
But now, the Memphis U-turn is in full force, and although Memphis isn't where it needs to be, the momentum is moving it in the right direction. New Mayor Jim Strickland says the task is for City Hall to get "brilliant at the basics." As for the basics of Memphis as a whole, it's still about affordability, authenticity, and creativity.
These basics converged surprisingly and often in the city's history, most famously making it the place where musical traditions fused to produce America's most genre-bending music -- blues, rockabilly, rock 'n' roll, alternative, and soul. As Memphis music icon Sam Phillips, midwife for the birth of rock 'n' roll at his Sun Studio, often reminded us: "If you're not doing something different, you're not doing anything."
Many people lament that Memphis didn't become a center of the music industry, but it could never happen. The artistic freedom and individuality that lay at the heart of the music here could never morph into the commoditized music that dominates the industry now. Even today, the city remains a magnet for free spirits looking to tap into the city's mythic vibe, attesting to the reason that Memphis is in the lyrics of more than 1,000 songs.
While the outside world may think Memphis music ended with the death of Stax Records in 1975 and Elvis two years later, that notion was blown up when Boo Mitchell took the stage at last year's Grammy Awards as producer of Mark Ronson and Bruno Mars' record of the year, "Uptown Funk," which was recorded in Mitchell's Royal Studios, a Memphis landmark for 59 years.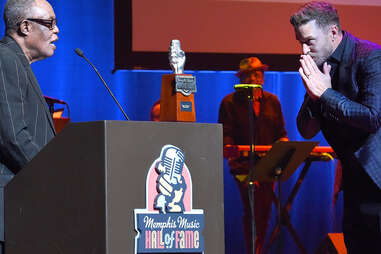 Just thinking about Memphis' music heritage brought Justin Timberlake to tears last October at his induction into the Memphis Music Hall of Fame. "I'm truly honored to merely stand on the shoulders of all these legends I grew up listening to and I grew up admiring to say that I stand alongside them now," he said in a speech lasting almost 30 minutes and that even included his leading the band in the University of Memphis fight song and his shout out to the Grizzlies, where he is a minority owner. "Memphis is the global capital of soul, and that soul is not just in the music, it's in the people."
Timberlake's emotional speech struck a chord, and his speech quickly went viral here, and in the process, he's become the poster boy for how the city can hang onto old Memphis -- booze, blues, and barbecue -- while pushing toward a new future. (It didn't hurt that the first public photo of his new son in April, 2015, showed the baby wearing a Memphis Grizzlies t-shirt.)
In other words, even today, if you want to understand Memphis, it helps to understand the music. The mix of creativity, often rebellious individuality, and rich diversity that created great music can also be found in our food, our culture, and our entrepreneurial history. We are a surprising contradiction -- laidback and nonchalant about the music legends who sit next to us at dinner or a sports event but willing to argue for hours about the best barbecue restaurant and whether the best barbecue is chopped or pulled, wet or dry, or with or without slaw. At the same time, there's no argument about great Memphis barbecue: it's got to be pork.
We don't look for fancy, because it's about the food, which sometimes includes spaghetti as a vegetable and barbecue taking form as tacos and pizza. Although there are several dozen barbecue restaurants and joints in Memphis, we tend to be cultish in our support and dismissive of anyone who disagrees. Most of all, we have no patience with people who don't know the difference between barbecuing and grilling. While Memphis these days is a hotbed of nationally recognized young chefs and there are more ethnic options than the United Nations dining room, there are times when every one of us just has to go out and eat some barbecue.
Meanwhile, the South Main Arts District, where the Lorraine Motel, site of Dr. Martin Luther King Jr.'s murder, now anchors thriving resident and commercial development.
It's part of $5 billion in new projects just finished or under way, and they include the 2013 reboot of the declining Overton Square entertainment district into a thriving theater district with Playhouse on the Square, nationally known Ballet Memphis, and Hattiloo Theatre, one of the only free-standing, independent black theaters in America, and in 2011, Livable Memphis began to transform their Broad Street neighborhood with its "A New Face for an Old Broad" event, one of the early tactical urbanism projects in the US.
There's hardly anything more surprising in Memphis than the 535,000 square foot, Las Vegas-style Bass Pro Shops store in the former arena housed in a 32-story pyramid on the city waterfront. It now attracts three million people a year, and with the five million visiting historic Beale Street a year, downtown is now the biggest attraction in Tennessee.
A few blocks east, the surprises are more like miracles at St. Jude Children's Research Hospital, because treatments invented there by its 4,000 researchers and staff members have pushed the overall childhood cancer survival rate from 20 percent to 80 percent. The hospital is beginning yet another expansion, and this time, it's costing $2 billion and adding 2,000 employees.
Most Americans are surprised to learn that St. Jude Children's Research Hospital is located in downtown Memphis. For that matter, many don't know that FedEx, which invented modern global commerce, has its World Headquarters here and that it is city and state's largest employer.
Another surprise for those remembering Memphis as a gritty city will be the opening of $70 million Shelby Farms Park in September. It was once a county penal farm, but it will be reimagined into a park designed by James Corner of New York's High Line fame. It will feature the restoration of its native ecologies, an award-winning playground, construction of a 70-acre lake, and the addition of modern facilities, intricate trail systems, an outback with meadows and lakes, and two new restaurants by Kimbal Musk and Hugo Matheson. To top it off, it's connected by a greenline to the 10,000 year-old growth forest in the center of the city in Overton Park and connected by river to downtown Memphis.
Even with all the progress, the margin for error is small, and we need help. That's why Memphis is reaching out in so many ways to convince, keep, and attract young adults to be part of this surprising, new city movement.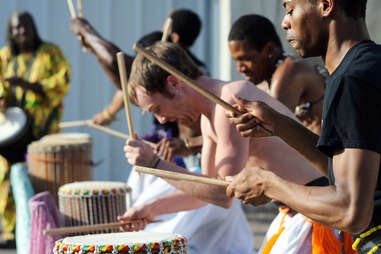 Richard Florida of "creative class" renown once said that young adults can move to San Francisco, get involved, and with luck, they can move the needle slightly, or they can stay and come to Memphis, where the opportunity is to plug and play and move the needle more at a younger age.
It's what Geoff Calkins, local newspaper sports columnist" called "Memphis' special gift". "Every one of us can make a difference," he said. "It's not that we have an obligation. It's a gift. It's an opportunity that doesn't exist in other places. You can easily get involved in what gives your life purpose and meaning."
Perhaps, in today's surprising Memphis, the biggest surprise of all is that more and more people are taking us up on the offer.
Tom Jones writes a monthly column, City Journal, for Memphis Magazine and is the primary author for the Smart City Memphis blog, described by The Commercial Appeal described as "some of the most well thought-out thinking about Memphis' past, present, and future you'll find anywhere." He continues the blog's conversations here.