The 15 Most 'Memphis' Songs Ever Recorded
Other cities have had their music moments, but Memphis has been cranking out iconic, timeless hits day in and day out for over 70 years. The songs on this "Most Memphis" list don't necessarily have Memphis in the title or the lyrics. Rather, they have a certain sound -- that Memphis sound -- that was conceived, birthed, and nurtured here in world-famous recording studios like Sun (and its predecessor, Sam Phillips' Memphis Recording Service), Stax, Ardent, and Royal.
And although creating a definitive list of the "Most Memphis" songs is indeed a bunch of fun, in the end, it's an impossible task. There's simply too much incredible Memphis music to choose from. So think of this list as an introduction, or something to argue about with other music fans.
CBS Productions
"That's All Right" by Elvis
Most Memphis line:I say, I'm leaving town, baby, I'm leaving town for sure/Then you won't be bothered with me hanging 'round your door
Elvis' first (and somewhat accidental) single was recorded by Sam Phillips at Sun Studios. This world-changing track was the timely cross-pollination of "black" music and "white" radio that put Memphis solidly on the map as the birthplace of rock and roll.
 
"Rocket 88" by Jackie Brenston and his Delta Cats
Most Memphis line:Everybody in my car's gonna take a little nip/Move on out, movin' and cruisin' along/We gone y'all, we gone
The band was led by 19-year-old Ike Turner, who also wrote the song. A broken amp is what lends the signature fuzzbox sound. Produced by Sam Phillips, it is considered by many to be the first rock and roll song ever recorded.
"Whole Lotta Shakin' Goin' On" by Jerry Lee Lewis
Most Memphis line:We ain't fakin'/Whole lotta shakin' goin' on.
Jerry Lee was indeed the son of a preacher man, but he pretty much embodied "Memphis as fuck" way before it was ever a thing, especially with songs like this rockabilly anthem, recorded at Sun Studios.
 
"Big River" by Johnny Cash
Most Memphis line:"I found her trail in Memphis, but she just walked up the bluff/She raised a few eyebrows and then she went down alone."
Is it possible to ever get enough of that Johnny Cash dollar bill click-clack guitar sound? This is yet another gem from Sam Phillips and Sun Studios. Best line about being Johnny Cash: "Now I taught the weeping willow how to cry/And I showed the clouds how to cover up a clear blue sky."
"Green Onions" by Booker T. and the M.G.'s

Most Memphis line:OK, it's instrumental. BUT it has one of the most recognizable grooves ever, and perfectly demonstrates the Stax sound.
Booker T. & the M.G.'s were the Stax Records house band and one of the first racially integrated rock/R&B/soul bands in the country. They are also one of the most prolific, respected, and imitated groups of all time. The originators of modern soul music and that famous Stax sound, these guys kill it with this one.
Den Haag
"Son of a Preacher Man" by Dusty Springfield
Most Memphis line:Bein' good isn't always easy/No matter how hard I try.
Recorded in Memphis as part of the Dusty in Memphis album, this song was a major hit in America and the UK. Is that the legendary Tom Dowd in those famous photos of Dusty listening back to the first take of this track at Royal Studios? Yup.
 
"Do the Funky Chicken" by Rufus Thomas
Most Memphis line:"This is the kind of stuff/To make you feel like you/Want to do something nasty/Like waste some chicken gravy/On your white shirt."
If Memphis is in fact one of the weirdest cities in America, then Rufus is this town's patron saint. He's been called the embodiment of all Memphis music, as well as "The World's Oldest Teenager." This song is a prime example of Rufus' unmatched ability to entertain and get people up on their feet.
William Henderson
"Shaft" by Isaac Hayes
Most Memphis line:Who is the man/Who would risk his neck for his brother man/Shaft!
Hayes was one of the creative forces behind Stax, where he served both as an in-house songwriter and as a session musician and record producer throughout the mid-'60s. Shaft is Isaac's best-known work and the best-selling LP ever released on a Stax label.
"How Can You Mend a Broken Heart" by Al Green
Most Memphis line:And how can you mend a broken heart?/How can you stop the rain falling down?/Tell me how can you stop the sun from shining?/What makes the world go 'round?
This song, originally by the Bee Gees, is a perfect example of how you can drop anything in Memphis' music meat grinder and know you're gonna end up with a truly authentic bellyful of local perfection.
 
"I'll Take You There" by The Staple Singers
Most Memphis line:You oughta, you gotta gotta, come let me, let me (I'll take you there)/Take you, take you, take you over there (I'll take you there)
This is the most successful and recognizable single of the soul/gospel family band's half-century-long career. It was recorded in Sheffield, AL, at the famous Muscle Shoals Sound Studio, overdubbed and mixed at Ardent Studios in Memphis by engineer Terry Manning, and released by Stax.
Marcelo Costa
"Thirteen" by Big Star
Most Memphis line:Won't you let me walk you home from school?/Won't you let me meet you at the pool?
Known as the quintessential "power pop" band and one of the most influential cult acts of all time, Big Star is a Memphis favorite. "Thirteen" was written by Alex Chilton six years after he first saw The Beatles. So, six years plus the seven letters in Chilton's last name equals thirteen... whoa. Coincidence? Probably.
Marty Perez
"Never Change" by Oblivians
Most Memphis line:Someone's always telling me I'm no good /Well I don't care what you say/Someone's always giving me a hard time /Well I live day to day
The best and the worst about Memphis, all rolled up into one two minute burner. Band members of the Oblivians include Greg Cartwright, Jack Yarber, and Eric Friedl (who went on to found Goner Records). Each adopted Oblivian as their surname while in the band, a la The Ramones.
Bill Shouldis
"Chuck Taylors All Star Blues" by Reatards
Most Memphis line:I got a car won't go real far, got a pair of Chuck Taylor's All-Stars./I live on ramen noodles, that's all I ever eat/Been wearing these same Chuck Taylor's on my feet now, for 52 weeks
Jimmy Lee Lindsey Jr. is best known by his stage name, Jay Reatard. Lindsey named his first project the Reatards, which at the time included only himself as a member, and adopted a Ramones/Oblivians-influenced surname, calling himself "Jay Reatard." The Reatards' first release on Goner was all storytelling of Jay's own teenage life played on a guitar and buckets in his room.
 
"Whoop That Trick" by Terrance Howard
Most Memphis line:Born and raised in the M-Memphis, Tennessee/Before it's said and done you bitches gon' remember me
Written and produced by local legend Al Kapone, "Whoop that Trick" personifies the home-grown, Southern lo-fi hip hop we have here. Also, no Grizzlies' game is complete without it.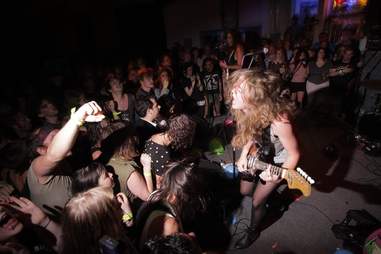 Geoffrey Brent Shrewsbury
"Reactor" by Nots
Most Memphis line:React, react or reactor/You know you're capable of worse/[Not sure anyone knows the rest of the lyrics!]
Big time Memphis up-and-comers, this all-girl garage band took pieces of the local punk sound and filtered it into something completely unique. Natalie Hoffmann, Charlotte Watson, Meredith Lones, and Alexandra Eastburn bring it with echoing guitars, powerful drums, synthesizers, and gang vocals.
 
In conclusion...
While most of the above tracks feature local or regional artists, tons of other acts came here to get some of that famous Memphis mojo on their records: Wilson Pickett, Bob Dylan, Led Zeppelin, Cheap Trick, ZZ Top, The Replacements, R.E.M. -- the list goes on and on. So what was the greatest record ever made that was ALMOST recorded in Memphis? Confirmed by a 1966 letter from George Harrison to Atlanta DJ Paul Drew, the Beatles originally wanted to record Revolver at Stax, but for various reasons couldn't make it happen. It's hard to imagine what Revolver would have sounded like if it had been marinated in BBQ sauce instead of tea and biscuits, but it is a lot of fun to try.
Sign up here for our daily Memphis email and be the first to get all the food/drink/fun in the Blues City.
Stacey Greenberg has Al Green's Greatest Hits on repeat. She's the author of the award-winning blog, Dining with Monkeys.