Fall is usually overflowing with festivals, and this year there are still plenty to attend virtually. However, for those who are tired of staring at their computers, we have some other ideas! As masking up becomes de rigueur, Memphians are seeing more and more doors opening for business, and finding ways to safely enjoy the city outdoors and from a social distance. Supporting restaurants and Black-owned businesses is more important than ever. Local artists have created a new community radio station and a mind-blowing exploratorium for much needed mental escapes. So let's eschew the obvious, embrace the unknown, and really get into the things that make Memphis one of the best cities in the South.
Downtown
$
Multimedia artist Christopher Reyes recently unveiled his 2,000-square-foot art installation, Baron Von Opperbean's Exploratorium of Magic, Science, and the Multiverse, in the Off The Walls gallery warehouse space. Inspired by visits to The City Museum and Meow Wolf, Reyes birthed Baron Von Opperbean, a scientist/magician who travels space and time collecting technology and artifacts. Visitors to the exploratorium can choose to solve the mystery of his disappearance by following his trail through a series of portals to different worlds. Groups of up to 16 can visit by appointment.
Cooper Young
$-$$
We can thank the pandemic for amplifying our local food system and the importance of knowing where our food comes from. Stop by one of our amazing farmers markets and meet the people growing and making the food that sustains us. The Cooper Young Community Farmers' Market held in the First Congregational parking lot on Cooper and Walker is open year round on Saturday mornings. There you'll find fruit, vegetables, flowers, bagels, pastured meat, mushrooms, rice, pasta, a compost drop off, and much more. Even if you aren't stocking the fridge, you can enjoy lively conversation and tamales.
Downtown/West Memphis, Arkansas
Free
There are many ways to enjoy the Mighty Mississippi, and it should be at the top of everyone's list. Big River Crossing gives visitors the opportunity to cross the river from Memphis into West Memphis, Arkansas on foot or by bike and take in staggering views along the way. The four wheeling crowd should cross the new bridge just before sunset, meander along some country roads in West Memphis (take the Mound City exit) and then return to catch the city skyline at dusk. Picnics on the bluff in Harbor Town are always a great choice as well. Restaurants offering stellar views include River Terrace and the Gray Canary. Drive to the Shelby Forest section of the Mississippi and enjoy the closest thing we have to a beach.
Citywide
Free
Turn the dial to 91.7 FM on October 5 at 5pm for the launch of WYXR, Crosstown Radio Partnership's new community radio station brought to you by Memphians from all walks of life. Led by Robby Grant who has been a constant presence in Memphis' music scene, most recently performing, recording, and touring with Mellotron Variations, and Jared "Jay B." Boyd, a Memphis-based journalist, DJ and host of NPR-syndicated radio program Beale St. Caravan, the station is the most exciting to hit the airwaves in a very long time and can be safely enjoyed from the comfort of home.
Definitely sample the local brews
Various locations
$-$$
Here in Memphis, we're known for our amazing drinking water, which springs from artesian wells, and local brewers credit it for making our homegrown beers extra tasty. There are currently nine breweries in town (Ghost River, Crosstown, High Cotton, Memphis Made, Wiseacre, Meddlesome Brewing, Hook Point Brewing, Grind City Brewing, and Beale Street Brewing), and five of them are within a five mile radius of each other. Various phases of the pandemic have affected whether they can have visitors, but as of now, they are open and/or offering delivery and curbside pickup. Take advantage of the great weather and spend the afternoon tasting local favorites like Midnight Madness, Traffic IPA, Mexican Lager, Junt, Tiny Bomb, and 901 Hoplar. Not to be missed is the massive new Wiseacre taproom and production facility downtown with tons of outdoor seating. For those who prefer someone else to do the navigating, there's the Memphis Brew Bus.
East Memphis
Free-$
In addition to a 50-acre range for their herd of 15-20 buffalo, Shelby Farms Park offers paved and natural trails for running and biking, a BMX track, a horse stable, disc golf, boating, fishing, laser tag, paintball, a ropes course, state of the art playground, a dog park, and more. The preferred method of accessing the park is via the Shelby Farms Greenline, a 10.65 mile paved, urban rails to trails project that extends from Midtown through Shelby Farms Park to Cordova. The park has several pandemic friendly events like outdoor movie nights and "Cocktails and Canoes."
Midtown
Free-$
Overton Park is a 342-acre public space that has benefitted from the pandemic in the sense that it was car free for nearly six weeks and has had a much needed relief from overflow zoo parking. Start with a short hike in the Old Forest State Natural Area, which has literally been standing for over 10,000 years. Enjoy a $2.50 beer and clean restrooms in the Abe Goodman Golf House. Rent a cart and play a few holes. Lay on a blanket, throw a Frisbee, or kick a soccer ball on the Greensward. Join in a drum circle, Tai Chi class, or kettlebell workout.
Various locations
$
Yes, we have good barbecue and lots of it. We also have a lot of tacos! Spend a day visiting the taco trucks around town and deciding which one is your favorite. An individual taco costs anywhere from $1.25-2.50, so a $20 bill will get you far. The trucks typically park along Summer and Jackson avenues and Winchester and Germantown roads. These streets will take you around the edges of our fine city and offer up views you might not see otherwise. Combining this activity with hitting up yard sales, thrifting, and/or antiquing usually works out quite nicely. You can peruse the trucks along Summer Avenue with the Summer Avenue Antique Warehouse, The Quantum Antique Mall, and a Moment in Time for a pretty fun day.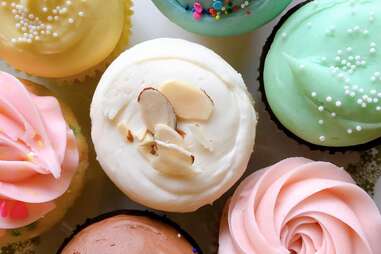 Broad Avenue Arts District
Free-$$
The Broad Avenue Arts District is a great place to spend the day walking around, window shopping, socializing from a distance, and taking pictures. Start off with a third wave coffee soda at City & State and get a photo on the patio next to the "Well hello" wall or in back by the "Yay, coffee!" wall. Browse in the gift shop and then head over to the Liquor Store (which is a restaurant constructed in what was once a liquor store) and have full on pancake breakfast, a slice of homemade pie, a Cuban sandwich, or a quart of specialty cocktails from in-house crafters Memphis Whistle. Whatever you choose to photograph will look great on the tropical laminate tables or against the bright orange patio umbrellas. Make your way down the street and stop in the myriad boutiques. Falling Into Place has a butterfly mural on its east facing wall you should take in. Pick up a funky house plant at Everbloom Designs. Enjoy happy hour with a pint of Wiseacre Tiny Bomb, either on the Cove's back patio and/or at the Wiseacre Brewery Taproom. Pick up some treats at Muddy's Bake Shop, which hosts a bake sale every weekend. And no trip to Broad Avenue is complete without a shot of the water tower, preferably at sunset.
Sign up here for our daily Memphis email and be the first to get all the food/drink/fun in the Blues City.