The Best Places to See Free Public Art in Memphis
Memphis is brimming with public art. Case in point: the creation of the UrbanArt Commission, which has overseen the creation of more than 100 public projects since its founding in 1997. Basically, it's safe to say that it's inspired and encouraged the city to include public art when revitalizing public and commercial areas. From Broad Avenue to Overton Park to Cooper-Young to Downtown, there are murals, sculptures, mosaics, light & sound installations, and even garbage bins that will leave you quizzically staring at them stroking your chin. These are our top picks.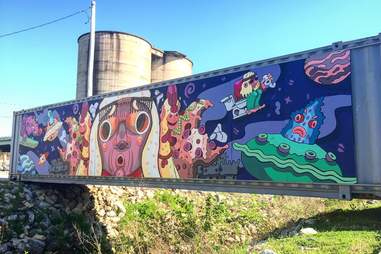 Amanda Hill
Broad Avenue Arts District
They don't call it the "Broad Avenue Arts District" for nothing. The Broad Avenue Water Tower is Memphis' tallest and most iconic installation of public art, soaring 150ft into the air. Youngblood Studio did the mural, and Jeremy Allen Fisher did the lighting design.  The mural itself reflects the topography of the Mississippi River. 
Just below the water tower on the warehouse is the This is We mural by French artist Guillaume Alby, aka ReMed. The mural is one of the largest in Memphis, spanning approximately 200ft. Adjacent is Terpsichore -- a color block mural brought to life by students from one of the Binghamton schools under direction of resident artist Tom Clifton. In Greek mythology, Terpsichore, or "delight in dancing," was one of the nine Muses and the goddess of dance and chorus. The Wiseacre container bridge mural by Michael Roy, graffiti artist, changes every six to eight months, so you never know who will greet you on your way to the tasting room of Wiseacre Brewing Company. 
South Main Arts District
The most notable public art on South Main these days is the South Main Mosaic Artwalk -- a collection of eight temporary public art installations throughout the South Main neighborhood featuring the works of local artists. Don't miss Lance Turner's Jay, which pays homage to Memphis musician Jimmy Lindsey, the famous garage- and punk-rock icon known as Jay Reatard who passed away at the age of 29. The artist's technique shows a memory as simultaneously fading from life and becoming famous (you can view them all here, by the way). Keep going to the train station to see Anthony Lee's Modern Hieroglyphics, and right across the street, along a 48ft stretch, eight popular song lyrics about Memphis are stenciled in white on a bright red background from renowned musicians. Among them are such notables as Roy Acuff, Big Bill Broonzy, Jerry Lee Lewis, Junior Parker, and Rufus Thomas. The 4ft panels form a fence of poetic expressions of love for Memphis, while documenting our outstanding musical heritage.
Melissa McMasters
Overton Park
The Overton Park Conservancy's gateway project has made the city's crown jewel a more welcoming place. The arched sculpture that artist Tylur French of Youngblood Studio created from scrap bicycles was installed at the intersection of East Parkway and Sam Cooper Blvd in February 2014.  The sculpture weighs 7,000lbs and is made up of more than 300 bicycles, each welded onto a steel frame. 
Yvonne Bobo's Rhapsody was recently installed at the gateway beside golf clubhouse. This ring-like structure is a movable sculpture that opens on a pivot. The individual birds that form the structure are made of COR-TEN steel and bronze and will change color as they age.
Two more gateways will be installed over the next few months: Ben Butler's Growth at the one adjacent to the East Parkway Playground (this simple but dramatic archway, built from layers of steel, will call to mind the many natural forms found in the Old Forest), and another from Tylur French called Art Nouveau at the gateway between the Rainbow Lake Playground and Overton Park. It will feature bollards that control vehicle access while also offering educational panels about the plants of the forest.
Steel Guitar -- sculptor Christopher Fennell's 2012 installation of a monumental gateway at the Levitt Shell -- honors the heritage, architecture, and mission of this beloved Memphis concert venue located centrally in Overton Park.  This dynamic work of art, inspired by the silhouette of an electric guitar, was designed and fabricated by Fennell using recycled steel.
Courtesy of Greely Myatt
Main Street pedestrian mall
The mall boasts a new mural almost every day it seems. Students from the Memphis College of Art along with a few local artists transformed the ugly green utility boxes on Main Street pedestrian mall into works of public art. Concepts range from men's hairstyles to a No. 2 pencil. Behind City Hall, facing Front St, is Greely Myatt's breathtaking Quiltsurround, which is composed of recycled street signs. You definitely don't want to drive by; rather, get up close and personal on this one. And you absolutely can't miss Roof Like Fluid Flung Over the Plaza by Vito Acconci, which sits at the entrance to the Cannon Center. Think of it as Memphis' version of Cloud Gate in Millennium Park. At nigh, don't miss Lightspan, a 60-meter pedestrian bridge lit with action-sensitive lights over by the law school.
Crosstown
Home to endless -- and often amazing -- art shows, the Crosstown Arts area has sprouted up in anticipation of the redevelopment of the Sears building. The mesmerizing Beacon sculpture, also known as the "Bicycle Windmill," by Eli Gold and Colin Kidder greets visitors to the area. There are also several murals including the new I Love Memphis mural by Jay Crum and Kong Wee Pang. The Moonpie Project is a rotating mural series featuring new artists (from both Memphis and other cities) every two months. Now look up! The billboard "Jackie in the Secret Garden" is by Maritza Davila.
Cooper-Young
Cooper-Young is an eclectic neighborhood named after the intersection of Cooper St and Young Ave. The entrance to the neighborhood is marked by another one of Midtown's most iconic works of art, the Cooper-Young Trestle, a 150ft steel sculpture which depicts homes and businesses found in the neighborhood. Created by metal artist Jill Turman, the sculpture was dedicated in 2000, and has become a source of community pride and identity. Adjacent to it is the original I Love Memphis mural which has probably appeared in more photos than any other mural in the City, ever. Go for a jog (or a walk, bike ride, whatever) through the neighborhood and you'll find numerous colorful underpasses. Also of note are the city's most beautiful recycling bins, thanks to Project Green Fork and artists Jay Crum and Kong Wee Pang, in the First Congo parking lot.
Overton Square
A hideous turquoise blue building housing Yosemite Sam's used to be the focal point of this entertainment district. But thanks to Loeb Properties, it's now a colorful, vibrant home to murals and sculptures. The most recent mural, Love Birds, by artists Jay Crum and Kong Wee Pang, is a real standout thanks to its iridescent, sparkly nature. In addition to all of the live music in the Square, the massive wind chimes in the tower, installed by Sean Murphy and Anne J. Froning of Being Art, are well worth a listen.
Sign up here for our daily Memphis email and be the first to get all the food/drink/fun in the Blues City.