Having friends come in town can be stressful. You have to get your place ready for company, and then you have to come up with cool ways to entertain them. (Ugh. Why are friends so needy?!). You start out all excited and try to come up with fun things to do, and suddenly, you realize you have absolutely no idea what to do and you start going down the rabbit hole of unanswerable questions like What do I do for fun? Do I have fun? Oh God, maybe I'm not fun. WHAT DOES FUN EVEN MEAN? So before you start calling your therapist for an emergency life evaluation, checkout our list of actually cool things to do below, sorted by price.
Also, note that none of these options include LIV. Or Kendall.

Go to the beach. Duh.
Free
... like, everywhere
Do we even need to explain?

Recommended Video
This Fanny Pack Gives You an Instant Dad Bod Beer Gut
Ride bikes over Rickenbacker Causeway
Free
Key Biscayne
This is Miami's gateway to the Keys. It's a little more than five miles long, goes right over the water, is bordered by a beach, and has insane views of the Downtown Miami skyline. It's also a direct route to Rusty Pelican, so...

Go get sunset drinks at Rusty Pelican
$
Key Biscayne
Drinks. Sunset. Sexy waterfront restaurant and lounge. Any questions?
Go on a picnic at Vizcaya
$
Coconut Grove
OK, so you can't actually bring your own food and wine (you have to buy it from the café that's there). Womp! BUT you can bring the blanket, the string quartet, an iPad that streams The Notebook, that fake love potion you bought in Hialeah, and whatever else you need to woo whoever you're with, and the café will make a boxed lunch for two.

Go kayaking at Oleta River State Park
$
North Miami Beach
If you're one of those Miamians who can't afford a yacht (WHO ARE YOU?), your next best option is to get a kayak. Wake up early on a Saturday or Sunday, go to this state park, rent a kayak, and paddle it out on Oleta River and Biscayne Bay. You'll see mangroves, lots of wildlife, eerily huge birds, a giant sandbar, and of course, yachts. All the yachts.

Eat tacos in Homestead
$
Homestead
If you put enough lettuce on your taco, it's basically a salad in a wrap. So what we're saying is... eat them, be healthy. For one that will change your life, go to Taqueria Morelia. It's connected to a Valero gas station and makes $2.15 al pastor pork tac -- er, salads -- that make the $10 you spent in gas to get there totally worth it.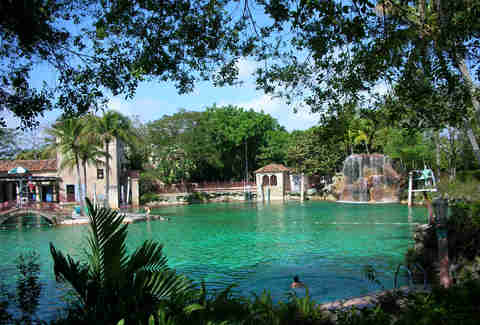 Go swimming at Venetian Pool
$
Coral Gables
In Miami, we love our rooftop pools, but we're also OK with historic pools that are made out of coral rock formations, have Mediterranean caves, lookout towers and stone bridges, and are emptied and filled with fresh spring water daily.

Go to Miami's "hidden" tequila bar
$
Wynwood
Aside from amazing slow-roasted pork shoulder tacos, Wynwood's COYO Taco is also home to one of Miami's speakeasies. Go for dinner, walk to the back, and look for a door marked "Employees Only." It's the secret passageway to a mezcal and tequila-based sanctuary that pumps electric music, serves popsicle-infused margaritas (or "Palelaritas"), and makes all of your tequila dreams come true.

Go to Robert Is Here
$
Homestead
Rednecks aside, Homestead is also known for its huge groves of exotic fruits, including the weird ones that no one else has, like star fruit, papaya, lychees, carambola, jackfruit, and dragonfruit. Started by a guy named (gasp!) Robert, this fruit stand has been a local staple since 1960. Go when it's hottest -- which in Miami, is like, whenever -- and order a strawberry banana milkshake.

Do Brickell's nightly happy hour
$
Brickell
During happy hour, Brickell is where you go for cheap drink deals and really hot lawyers. The happy hours end at different times, so you're going to have to strategize. Start with $5 well drinks at Brother Jimmy's, get $4 sake at Doraku, grab a beer at Fado's, and end with $5 tequila sunrises and truffle fries at Batch Gastropub. If you play your cards right, maybe one of the hot lawyers will even buy you the drink deal, which then makes this activity practically free. (Bonus!)
Get "Raspados" at Oasis Raspados
$
Wherever you can find them
This food truck has perfected the art of the ultimate Miami afternoon snack: "raspados." It's part shaved ice, part ice cream, part exotic fruits like lychee, mango, coconut, and pineapple, and part everything you've ever wanted in your mouth. Since it's a food truck, it's constantly on the go; but head to the US1 and 232 St parking lot on Fridays, from 5pm to 9pm, and look for the super long line. That's definitely them.

Go fishing in the Everglades
$
Everglades
Drive to Everglades National Park. Rent a tiny boat. Fish. Disconnect from life. But only if you promise to Snapchat it, so we all know that you're disconnecting.
Eat dinner at Golden Rule Seafood
$
Palmetto Bay
If you like seafood, there's nowhere you'd rather be than Golden Rule. In the same spot since 1943, what was once a seafood shop has now added a restaurant and bar to the mix. Go for dinner, order the Caribbean Fried Conch, and ask for the owners, Pam and Walter -- they're pretty much neighborhood celebrities.

Wait in line at Knaus Berry Farm
$
Homestead
Unless you're passed out on a park bench after a night at STORY, there's no reason to have to wake up at 6am on a Saturday and stand outside. Unless, that is, it's between November and April, and you're waiting for a strawberry milkshake and cinnamon rolls from Knaus Berry Farm. They're closed during the summer months, but every other day of the year, you can expect to see hungry Miamians from all over waiting for hours to get one for themselves -- and you'll want to be one of them.

Visit Fairchild Tropical Botanic Garden
$
Coral Gables
No matter how many times we make fun of Hialeah, Miami is actually a beautiful city. There's no other place to see that firsthand than at Fairchild. It's 83 acres of rare palms, flowers, walking paths, and art installations, and hosts an annual festival celebrating all things chocolate.
Do happy hour, shopping, and people watching at Lincoln Rd
$
South Beach
In terms of both shopping and people-watching, Lincoln Rd is one of the best spots around. It's a mile-long pedestrian-only street lined with stores, indoor-outdoor cafés, bars literally handing out happy hour deals, and pretty much every type of human imaginable.

Drive down to the Keys
$
The Keys
As great as Miami is, sometimes even us natives need a break. It's never a bad idea to hop in a car, drive south to Key Largo, Islamorada, or if you're really in the mood for a getaway, Key West. Go to Snappers or Jimmy Johnson's Big Chill in Key Largo, Tiki Bar in Islamorada, or if you want to get real local... Alabama Jacks.

Tour Wynwood Walls
$$
Wynwood
Because when an entire neighborhood becomes famous mainly because it's covered in graffiti... you should probably go see what that graffiti is all about. This hub of six neglected buildings has since become a canvas for some of the world's coolest art. They have daily tours by local artists, or you can just go there and do what most people do with art -- look at it and act like you "get it."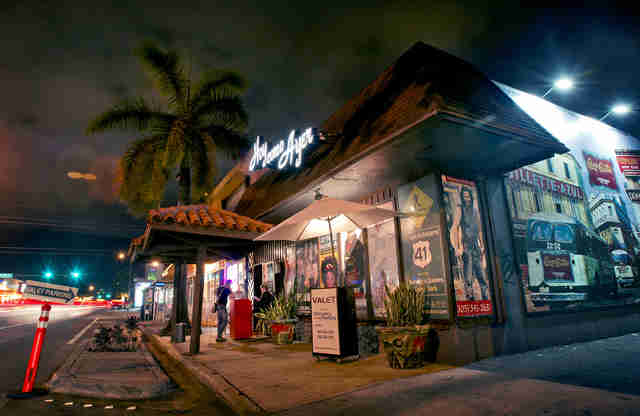 Go out in Little Havana
$$
Little Havana
Little Havana is that part of Miami where your mom fits in just as much as Pitbull. Head to Ball & Chain for mojitos, live music, a bandshell, dancing, and the only well-dressed Miamians you'll find in Little Havana... and then see if your mom (or Pitbull) is actually there.

Do brunch at the Palace
$$
South Beach
On South Beach, the best brunches involve bottomless mimosas -- and drag queens. Get both at the Palace, during their 11:30am or 2pm Sunday "Brunchic," which comes with a buffet brunch and non-stop drag shows.

Drink wine at South Florida's only winery
$$
Homestead
Sometimes Florida gets classy, but when it does, it's still in the most "Florida" way possible. Like that time it opened Schnebly -- a winery, brewery, and restaurant -- where all wine and beer is made from Homestead fruits like mango, guava, coconut, and lychee. It's definitely in the middle-of-nowhere, USA but it has giant light-strung tiki huts, long picnic tables, flowing waterfalls, surprisingly good wine and beer, and on the weekends, live music.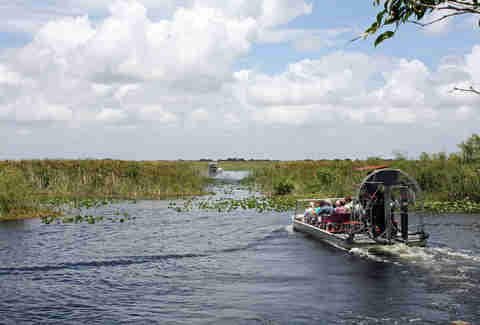 Take an airboat ride
$$
Everglades
If you're really into alligators and swamps, you're the reason someone invented "the airboat ride." Drive way down Tamiami Trail, past the Miccosukee casino, and look for signs for different ones hidden in the sides. Pick one at random, and hop onboard -- it's powered by a giant fan, and is a safe way to see alligators, snakes, and lots of other Everglades animals you wouldn't normally want to be that close to.

Shop at Sawgrass Mills Mall
$$
Sunrise
If you think we are sending you to an average mall, think again. Sawgrass Mills Mall is a shopper's Promised Land. It has every store you can think of, crazy discounts, a movie theater, and its own bus system. When you're done trying to convince yourself that you can actually afford that pair of jeans, you can even go to a Ghirardelli shop and consol -- um, reward -- yourself with a life-size bag of dark chocolate sea salt caramel bars.
Have brunch at the Epic
$$
Downtown Miami
Sundays mean one thing: brunch. If you don't want one with drag queens, go to an equally awesome one at Area 31, in the swanky Epic Hotel & Residences, in Downtown Miami. Head up to the 16th floor, get a table on the terrace, and stuff yourself with "Waffle & Jerk" -- waffles, fried jerked chicken, and mango slaw. Consider it comfort food while you glare at all the people casually taking their yachts on Biscayne Bay right below you.

Do happy hour at Monty's
$$
Coconut Grove
Monty's is probably the only place in the world where UM frat guys, football players, Coconut Grove drifters, old Florida hippies, and hot locals can stand around yachts together and drink fruity rum drinks in harmony. Go there every day except Friday night (when it's full of college kids) and order a Pain Remover #3.

Hangout at Broken Shaker
$$
Mid-Beach
Pretty much all times other than this, if we tell you to go drink at a hostel, ignore us. But the Freehand Miami has an award-winning courtyard bar, Broken Shaker, that has its own herb garden, hammocks, and a pool. They also throw some great BBQs and serve up a weekly changing menu of Instagram-worthy cocktails like Froot Loop Old Fashioneds. So basically, hang out there a lot.
Find a pool. Lie by said pool.
$$
Everywhere
These. And all others. The South Beach hotel pools might cost you a pretty penny to get in, but once you're in, congrats! You're now a cool Miamian.

Go on a food tour of Calle Ocho
$$
Little Havana
Fritanga. Pastelito. Chicharrones. Cafecito. Flan. If you're not from Miami, these words probably mean nothing to you, but for us, they mean Cuban food. Sign up for the Little Havana Food Tour with Miami Culinary Tours, try all of them, and then go back to wherever you're from and cry over the fact that there's no Cuban food there.

Have dinner and drinks at Juvia
$$$
South Beach
In Miami, the land where nothing makes sense, Lincoln Rd has a really fancy restaurant with views of the whole city sitting on top of a parking garage. Go there at sunset, order a $26 "Bubbling Bonito" cocktail, eat raw crudo, and pretend you're one of those rich people who casually drink champagne, eat raw crudo, and look at pretty views on the reg.
Sign up here for our daily Miami email and be the first to get all the food/drink/fun in town.