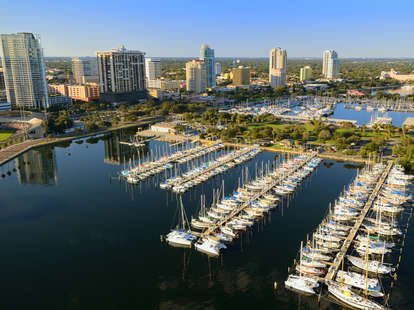 Oh, Florida, you beautifully weird creature you! As a state, you have one of the worst reputations in America, but you make up for it with your near-perfect weather, your hilarious debauchery, and of course, your fun and beautiful beach towns -- all of which are packed throughout the year. As a Florida native who loves to travel, can't keep up with the M-I-A, and always chooses a day at the beach over being an adult with "responsibilities," I love a good road trip to another part of the Sunshine State. So, Florida, this one's for you -- a completely objective ranking of your best beach cities from a Miami native who loves to visit them.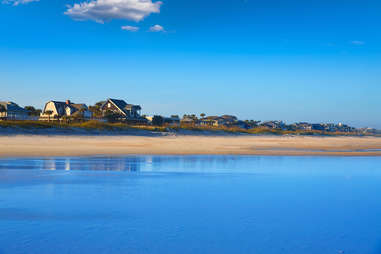 12. Jacksonville Beach
Pros: It can be as expensive or inexpensive as you want it to be
Cons: It's... really close to Jacksonville
In my opinion, there's no legitimate reason to visit Jacksonville proper for a vacation (a Jags game, maybe?). I feel like the majority of the population are either from the area, have moved there for work, or are passing through because flying into Jacksonville was the cheapest way to get to their eventual destination, which is probably St. Augustine. Jacksonville Beach, on the other hand, has some street cred. Called the "River City by the Sea," it sits on the longest stretch of St. Johns River -- the longest river in Florida -- and has 20 miles of beaches, cheap hotels, and loads of laid-back "artsy" folks. So in all fairness, visiting Jacksonville isn't a total loss -- but stay close to the beach.
11. Daytona Beach
Pros: Spring break and NASCAR
Cons: Only having Spring Break and NASCAR as reasons to visit.
Daytona Beach earned a higher ranking than Jacksonville Beach because of NASCAR. I'm not a huge fan of people driving at breakneck speeds only to turn left, but 75 million other people seem to be. And I like staring at Jimmie Johnson, so I'm supportive. Daytona Beach isn't a bad place to go per se, but it's a haven for other Floridians looking to leave their less-fun towns. So instead of a melting pot of tourists from Ohio and Illinois, you'll be hanging around with groups of people from Orlando... and Jacksonville. That said, visiting in February for Daytona 500 with your biker uncle whilst enjoying weather in the '70s is something that can't be beat. And if you get sick of the Speedway, hop in your car and drive onto the beach. Literally. You can actually drive on the sand there. Another reason this place bested J-Ville Beach.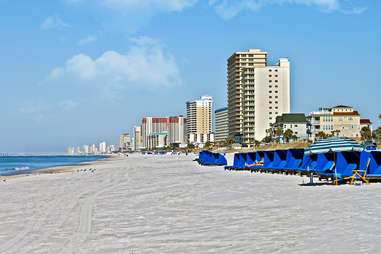 10. Panama City Beach
Pros: Giant tiki drinks
Cons: Spending all your money on giant tiki drinks
I was there for a fraternity beach weekend, and it seemed like everyone else there was also probably part of a fraternity beach weekend. Or maybe a bachelorette weekend. Anyway, PCB has 27 miles of white-sand beaches that would be easier to enjoy if the group tanning next to you wasn't an outlaw biker gang. Much like Daytona, weekends here don't have defined boundaries, but that's not to say it isn't a perfectly good beach getaway for people who are not in an outlaw biker gang. The huge houses right on the beach make for great places for families to host reunion weekends, and if you're there in the spring, you might even catch Spring Jam -- a huge country festival in the sand with big names like Rascal Flatts, Thomas Rhett, Sheryl Crow, Darius Rucker, and more.
9. West Palm Beach
Pros: CityPlace, yachts, Worth Avenue, and fetching landscaping
Cons: A lot of Botox and a lot of ex-New Yorkers
West Palm Beach is what happens when old Manhattanites get sick of the cold weather and decide the only logical answer is to buy a mansion in Florida. This means that there's no shortage of beautiful neighborhoods in the area... but if you're younger than 70, expect to be stopped by security and led back to Downtown. Go there for the sun, Worth Avenue, Clematis, and the 8 million oceanfront mansions. It's also the fourth wettest city in the country, so do with that menial trivia what you will!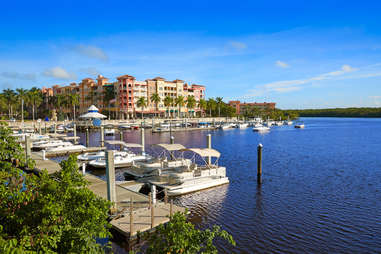 8. Naples
Pros: A pretty solid dating pool
Cons: Everything closes early, even on the weekends
Less than two hours from Miami, but on the West coast of Florida, Naples gives you the feeling that you've left the Sunshine State altogether. Almost everyone who lives there is a Northern transplant who decided to buy a "winter condo," likes to wear lots of J. Crew, play golf, "do" boutique shopping, and have early wine dinners so they can be in bed by 10pm. This can be a detriment to some, but after spending a weekend in Daytona, Naples is the pristine escape you'll be glad you decided to check out.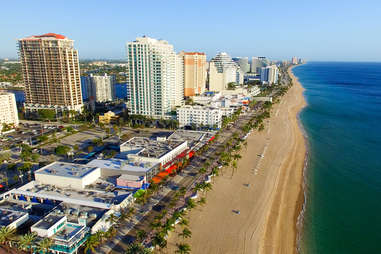 7. Fort Lauderdale
Pros: It's not Miami
Cons: It lets people think it's Miami
Fort Lauderdale is where you go when you want to tell your friends you went to Miami. But in reality, Miami was too expensive -- or too much for you to handle -- so you picked the next best thing. In Fort Lauderdale's defense though, there are better (read: cleaner) beaches, people who won't try to get you to invest in their pyramid scheme 10 minutes after meeting you, a sexy restaurant and nightlife scene, and an average yearly temperature of 75 degrees.
6. Sanibel
Pros: Bowman's Beach, Sanibel Lighthouse, the only fast food or chain restaurants are Subway and DQ
Cons: It's quiet and expensive, and there's no Taco Bell or Dominoes for your late-night munchies
Ah, Sanibel. The prized gem of Florida's southwest coast. I swear if people from other states never watched the news, stopped Googling "Florida," and only visited Sanibel, Florida would be known for myriad things other than "Florida Man," random horror stories of giant reptiles, and all of these crazy things that actually happened. Low-key, gorgeous Sanibel is our classiest asset, and we Floridians cherish our weekends there. That is... if we can afford it. Also, it's a huge draw for families as it's not insanely crowded and pretty quiet in general. So while it's worth every penny, you should REALLY want to go there.
5. Key West
Pros: Duval Street
Cons: Duval Street
I know what you're thinking: "Why isn't this No. 1? This should be No. 1!" And that's exactly the issue. For most of us Floridians, Key West is the Vegas of Florida -- not for clubs or casinos, but in appeal. It's one of those iconic destinations that you have to go to at least once, and though you've probably had the best weekend of your life there and will always say you need to go back... you won't die if you never do again. The laid-back people and vibes are awesome, the sunset views from Mallory Square are Instagram gold, the Key lime pie is a must-eat, and for the most part, there are no rules. Seriously, the last time I was there, it was St. Patty's Day weekend and I saw a group of college guys -- in lime green tutus -- taking shots off of a mom while wearing a full gorilla suit and belting out some Jimmy Buffett.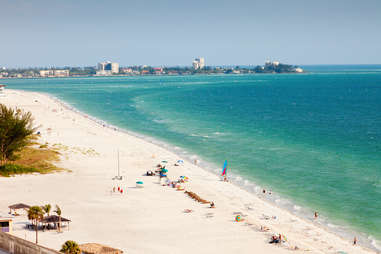 4. Sarasota/Siesta Key
Pros: The charming shops, pristine white-sand beaches, and St. Armands Circle
Cons: A LOT of retired people, families, and couples in la-la-land
I love this part of Florida because it's reliable. You know you're always going to get good beaches, good sunsets, stiff drinks, and a good crowd. That said, the traffic is horrendous during season, parking on Siesta Key is a myth, and be prepared to listen to a lot of Sublime covers. For a good alternative to hanging on the Key after sunset, head into a local bar Downtown or in the Gulf Gate district. A personal favorite is West End Pub -- you can play corn hole there while mingling with the locals.
3. St. Augustine
Pros: The lighthouse, the old-timey city center with the old-timey lampposts, bed & breakfast spots, and Pizza Time
Cons: There are brides everywhere. Everywhere.
You want a debaucherous beach weekend but you've recently hit 30, so "debaucherous" means "bespoke craft cocktail bar" and "beach weekend" translates to "somewhere nice with some sand." Where do you go? St. Augustine, of course! Just south of Jacksonville, it's a beach town where you can stay at B&Bs, eat baked French toast and Butterfinger Bites for breakfast instead of your usual IHOP special, go to the beach, tour war forts, or shop on one of the last remaining pedestrian-only streets in the US: St. George Street. St. Augustine is a huge destination for both weddings and eighth-grade history field trips, so when you go for those craft cocktails we talked about, try not to crash a reception. You'll actually have to try to avoid them.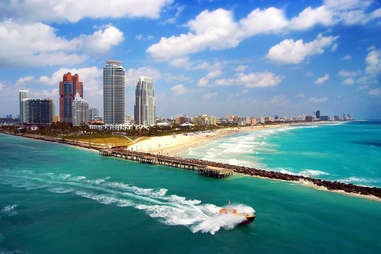 2. Miami
Pros: You get to tell people you went to Miami
Cons: Your chance of getting hit in the face with a chancleta, seeing old men in banana hammocks, and having the best Cuban food of your life are about the same
There's no denying Miami is a wonderful place, and as a Magic City native, not putting it as No. 1 probably means I will be subjected to bad karma later in life and end up living in Davie (noooo!). That said, in addition to its A-list beaches, insane food scene, "anything goes" nightclubs, and, you know, its beautiful people (ahem), Miami also has horrible traffic, really expensive drinks, and sweltering weather. We throw said weather in everyone's face from December to March, but then from April to November, we despise everyone else for having better weather than we do. Either way, we literally "live where you vacation," and for good reason. We're not called the Magic City for nothing.
1. St. Pete Beach
Pros: Laid-back people, packed beaches, excellent beach bars
Cons: Your life flashes before your eyes every time you have to cross Skyway Bridge to get there
St. Pete Beach is a magical place, both because it makes you feel like you're not in Florida and because the people/vibes are ridiculously cool. I was there during a Category 3 hurricane once, and aside from the tornadoes, you would have never known you were in a Category 3 hurricane. Everyone was busy drinking rum runners at a beach bar, totally unaware of the fact that said bar was flooded up to their ankles. Also in St. Pete -- not during a Category 3 hurricane -- I took "froot loops" shots with a guy from Hells Angels who later gave me a skull necklace (he was quite friendly!). Anyway, St. Pete Beach is No. 1 on my list because it can be anything you want it to be: quiet, a non-stop bacchanal, a foodie getaway, a family reunion spot, a romantic escape, a bachelor/bachelorette party destination, or just a weekend trip to get some R&R. And while you're there, don't forget to stop by the authentic Italian sandwich shop Mazzaro's, the Chihuly glass art exhibit, or the Dali museum. Hey, who knows, you might even meet a friendly Hell's Angel who'll buy you "froot loop" shots and give you a skull necklace.
Sign up here for our daily Miami email and be the first to get all the food/drink/fun in town.
Jennifer Agress is a Miami-based writer and editor who is 29, and therefore doesn't see the problem with going to bed at 10 in a beach town. Follow her to the beach on Instagram at @jenniferagress.