Miami has long been a great home for small business. Sure, some of those businesses may or may not have involved illegal goat importation and/or body disposal, but hey, a business is a business. That's why when you ask a guy in this town "What do you do?" at least half the time the answer is something along the lines of "I run a couple small businesses." When that's the case, it's usually better to not ask what those businesses are.
That said, aside from the illicit, there are some phenomenal (and legit) small shops around town doing some pretty amazing stuff -- both inside their walls, or out in the community. So in the great spirit of South Florida entrepreneurship, here are nine you should go out and support.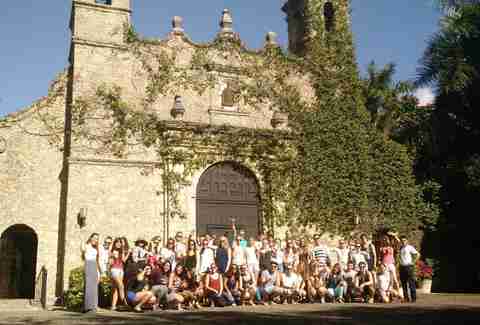 Miami Beach
The funny thing about people who were born and raised in Miami: A lot of them don't know much about the city beyond the neighborhood they grew up in. So Miami transplants Gus and Michelle Moore have set out to change all that by getting kids out on their busses, and learning all about this crazy city they call home. The husband-and-wife team met as servers at the now-defunct Tuscan Steak and began the tour company, giving GPS-guided small-group tours in a dozen different languages.
In addition to educating visitors on the city, Miami Tour Company also gives free tours to elementary school students, taking them on small busses through the city and teaching them its history. They also take them out to the Everglades for eco-education, and give a portion of their proceeds to both the Miami Beach Holocaust Memorial and the Miami Beach Botanical Gardens. And while you might think taking a tour of your hometown is a little redundant, you're guaranteed to learn some useful new stuff if you spend a few hours with MTC.
MiMo
Though Miami's art scene has certainly gotten its comeuppance in the national media, our local live music scene? Not so much. But in the decade it's been around, Sweat Records has not only helped a lot of local live acts get much-needed visibility, it's created a community space for cultural education and gatherings. It's also created a clothing brand and has twice been the recipient of the coveted Knight Arts Challenge Grant (from the Knight Foundation).
It's now the iconic music shop for the 305, the lone place one can go to talk with store owners about bands that'll never be heard on local radio stations. Its annual music festival is the largest indie music fest in South Florida, and reminds us that as much of a wasteland of live music as some think Miami to be, if you look hard enough you can find it.
Ft. Lauderdale
They call her Frany911. Which would have been an excellent name for this business that finds ways to get problem children to learn (without medication). But, she hit some legal issues. So Fran Rubio-Katz and her business partner Alyson Young opted for the Learning Loft, an aftercare program that finds ways to get even the toughest kids to educate themselves. Fran and Aly are both school teachers and parents, and have seen how parental involvement, physical fitness, and emotional wellness contribute to a child's education.
So in addition to offering customized, specialized programs for children, the Learning Loft also teaches parents how to keep the education going at home. They offer tutoring not just for academic needs, but also for emotional and social ones. Part counseling center, part aftercare program, the Learning Loft is helping busy, stressed out parents raise better people, and for that they definitely deserve our support.
Ironside
There is, of course, the old cliché that a good gym changes lives. And this boutique boxing gym in the Ironside arts complex certainly has an impact in the lives of its members. The small, intimate classes give gym-goers a family feeling, albeit one that's run under the iron fist of boxing coach Mickey Demos. Demos runs classes and trains both amateur and professional fighters out of this space, so it's not uncommon for sparring sessions to go on in the background of one of the gym's brutal hour-long boxing classes.
But the atmosphere isn't why this gym is special. Demos was instrumental in forming -- and for a time coaching -- the University of Miami boxing team. And he helps raise money for its fighters to attend tournaments as far away as London. The gym also has drop-in classes for charity, where members are encouraged to bring their friends for a donation, and the proceeds go to cancer research and other worthy causes. Between helping student boxers and the less fortunate, Demos still finds time to make every member here feel like an integral part of the gym, and in a city that's become saturated with boxing aerobics studios, this one is the undisputed champ.
Sunny Isles
To many, dry cleaning is a bit of a commodity. All you need is somewhere that gets your clothes clean, and won't judge you too hard for the mysterious stains you leave in curious places. But dry cleaning can be a pretty nasty process for the environment with the number of chemicals involved in getting those stains out -- and over 90% of cleaners use PERC, a confirmed carcinogen. And let's not even get started on all those plastic bags and metal hangers.
But this family business cleans your clothes with the patented K4 process, the most effective eco-friendly dry cleaning method, with absolutely no PERC. It also utilizes biodegradable bags and recyclable hangers. What's more, it's convenient. Even though the shop is in Sunny Isles they pick up and deliver all over Dade, Broward, and Palm Beach Counties. Dryeco also donates a portion of all its proceeds to St. Jude's and Miami Children's Hospital. Which means next time you "spill ketchup" on your white linen jacket, you're not being a slob. You're helping the children of South Florida.
North Miami
Taking your kid to the neighborhood ball pit isn't necessarily the highlight of any parent's week, but if you can help some underprivileged kids and endangered animals in the process, it makes the screams just a little more bearable. This brand-new kids play place in North Miami features a sprawling play structure shaped like a pirate ship, trampolines, ziplines, and a giant maze to keep your little ones entertained. There's also a coffee shop and candy store to help you try and keep up with them.
Your energy (and your money) are well spent, however. IGi donates 10% of its profits to children in poor countries, ostensibly letting the less-fortunate children of the world have fun like your kids for at least a little while. It also donates money to help save endangered animals, a cause any kid can definitely get behind.
Liberty City
Even though "small business incubator" is right up there with "realtor" on the list of douchey, ubiquitous, small Miami businesses, EcoTech Visions is decidedly the opposite. First, let's start with where it's located: Liberty City. Not exactly a sexy address, but an address founder Pandwe Gibson knows needs just such a business to help it improve. Inside EcoTech's building you'll find an incubator for green start up companies, making everything from electric motorcycles to biodegradable forks... along with soil-free growing labs to try and inject some fresh food into the nearby food wasteland.
The companies that come here are heavily owned by women and minorities, so while it sets out to help the environment, it also aims to change Miami's corporate landscape. Not every business is a fit to set up shop here, but what Gibson is doing is a perfect example of private enterprise solving public problems.
Miami
Miami does urban green space about as well as we do driving. And while the city certainly has had its chances to create some world-class nature, rampant overdevelopment has left much of the 305 a concrete jungle. However, Howard Tonkin wants the change that one urban space at a time. His landscape design company utilizes native plants that are being aggressively wiped out by developers. Providing both a space for near-extinct plant species to thrive, but also for the animals that depend on them for survival.
It's the only South Florida landscape company to engineer landscapes that mitigate their water use as well as design spaces that are resistant to flooding. Each residential, commercial, and municipal design is created with the carbon footprint in mind, geared towards using as little water and energy as possible. Miami might be past rescue in terms being a "green" city, but Urban Habitat can help turn the spaces we do control into something a little more livable.
Ft. Lauderdale
Do you have a skittish dog that runs like a greyhound every time a 4pm thunderstorm rolls around? It's not that your dog is a big fraidy-cat, it's just that he might suffer from anxiety. And since they haven't invented CBT for canines, dog lovers Jonathan Azevedo and Chris Lightcap set out to create a dog crate that isn't a cage, but more like a spa. The result: the ZenCrate
The crate uses motion sensors (or a smartphone app) to activate music and a whisper quiet fan, designed to soothe agitated dogs. It's also equipped with WiFi, so you can entertain all your coworkers by showing them live feeds of your dog, which they'll totally want to see. And on top of that, the crate has got memory foam on the bottom and sound insulation. Really, the only thing it's missing is a eucalyptus spray. Maybe in the next iteration.
Sign up here for our daily Miami email and be the first to get all the food/drink/fun in town.