Support Small Business at These South Florida Shops This Holiday Season
Support your community—and score cool stuff.
A lot of people think of Miami as a "hot place for shady people." Shows like Real Housewives of Miami and movies like Scarface may play into our stereotypes, but Miami is much more than beautiful bodies and drug deals.
Dig deep and you'll find a community of people who are passionate about what they do. Miami is a cultural melting pot, and its shops and businesses reflect the diversity of people from Latin America, the Caribbean, and Central America in its music, flavors, and art.
That rich cultural tapestry can be found in its shops. Whether you hunger for fair trade chocolate, thirst for a good read, or want to adorn yourself with treasures, here are a dozen small businesses worth supporting in South Florida.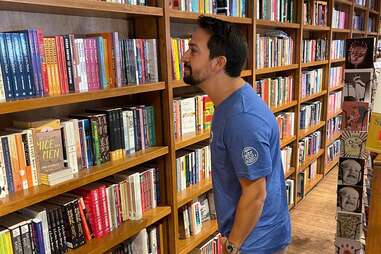 Multiple locations
Books & Books is Miami's hub for readers. The flagship Coral Gables location, set in a beautiful Mediterranean house, features a robust calendar of signings, meet and greets, concerts, and lectures. You can literally spend the entire day lost in the shop, which houses a cafe, wine bar, and thousands of titles. Books & Books has other locations, too, including at Miami International Airport and Bal Harbour Shops.
Online
Owners Ricardo Trillos and Anelith Ortega make chocolate using only cacao beans sourced from fair-trade farms in Venezuela, Nicaragua, Honduras, Costa Rica, Brazil, Tanzania, and others. Those high-quality beans are combined with cane sugar in their Miami factory to make amazing chocolate. Cao also produces artistic bon bons and novelty shapes that make festive gifts for everyone. Visit the website to order.
Wynwood
This delightful boutique, located next door to the Wynwood Walls, is a hodgepodge of items you want to buy. It has t-shirts screened by local artists, hand-crafted jewelry, limited-edition prints and art, candles, scents, and more. This is a one-stop gift hub, offering everything from packable travel blankets made from eco-friendly cotton to a perfect little notebook to jot down your dreams. Shop for your friends and don't forget a little self-care in the form of retail therapy.
Little River
If you have kids or friends with kids who are addicted to televisions, tablets, and video games it's time to pull the plug and Happy Monkey is there to help. This adorable shop offers creative toys that kids will actually love including building blocks from Germany, encrusted with gemstones to build a castle; a collection of wooden bugs, and mod scooters for exploring the neighborhood. Happy Monkey also sells clothing, tableware, and decorative furnishings so chic and mod you'll wish you were five again.
Little River
People from around the world come to Miami for its warm weather and shorts and flip flop weather the year round. That same weather, though, makes it a challenge for locals to find something cool yet fashionable to wear on those few occasions that beach attire simply won't do. Enter Karelle Levy. Born in Paris, Levy was raised in Miami's warmth. A textile artist, Levy set out to create a line of knitwear that's light enough for Miami weather but would fit in a Parisian runway show. KREL offers a line of everything knitwear from dresses and sweaters to shorts and whimsical dolls, fitting literally every human body.
In Hollywood, about 15 miles from Downtown Miami, lies Old Ghosts and Kreepy Tiki. Located in a former corset shop along Hollywood Boulevard's charming Downtown business district, Old Ghosts is filled with the stuff of gentle nightmares. It's got carnival sideshow banners, mannequins, old clown dolls, tiki mugs, and Shriner hats. Walk to the back of this palace of strange and get a permanent souvenir at Kreepy Tiki tattoos, a parlor that specializes in classic tattoo styles. Not sure what you'd like on your arm? There are dozens of books of tats to help you out.

Multiple locations
Joel and Leticia Pollock source beans from small coffee farms and roast them on site at their Wynwood shop. You won't find gingerbread peppermint lattes at Panther, but you will get one fine cup of coffee. Panther also offers locally-made treats, and its walls act as a gallery for local artists (most of the art can be purchased). Bring home a few pounds of beans before you enjoy your coffee outside under a mature shade tree.
Wynwood
With its aqua-blue ocean, white beaches, and neon accents, Miami is a colorful city. That calls for a colorful wardrobe—that basic black you've been rocking for years won't cut it here. If your drab life could use a pop of color, Pitusa's got your back. This Wynwood boutique is a female-led company that sources its fashion from female-owned makers in Peru and India. The items are ethical, sustainable, and simply gorgeous. Caftans trimmed with tassels in a rainbow of colors, jute totes in vibrant hues, beach coverups, and sandals—all in shades of grass, sky, flamingo, lime, and orange. If clothes are a mood, then Pitusa is serotonin that you can wear.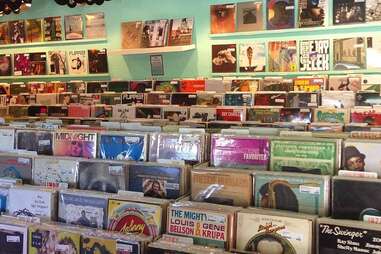 Little Haiti
Sweat Records owner/co-founder Lauren "Lolo" Reskin and her staff carefully curate the records at this Little Haiti shop. Sweat Records offers new and used vinyl, with just about every genre covered. It also serves as a live music venue and community hub, with locals stopping by to shop for vinyl, cassettes, pins, and other merch.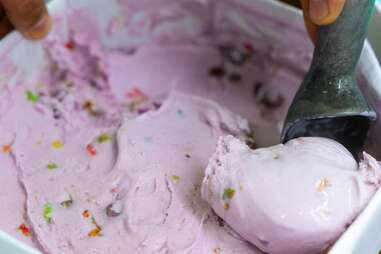 Multiple locations
Mike Romeu started Sweet Melody in his home when he took a cheap ice cream maker off his shelf where it was collecting dust and started making the sweet treats as a way to keep himself busy. That hobby turned into Sweet Melody, an ice cream shop that offers unique flavors that change on the regular. Sweet Melody (named for Romeu's daughter, Melody) ice cream starts with fresh milk, cream, and organic cane sugar, with Romeu crafting each batch by hand. Core flavors include a bright blue Kookie Monster (named after everyone's favorite cookie-lover), guava and cream cheese, and flan. Rotating flavors include a monthly astrology-based ice cream flavor, and flavors using local ingredients. There are also vegan and gluten-free options available.
Multiple locations
Unless you're a real aficionado, walking into a wine store can give one a bit of anxiety. Do you choose wines by the pretty label or country? And what's terroir? Vinya, a wine and bottle shop by Nicholas Garcia, Mauricio Garavano, and sommelier Allegra Angelo, is designed to take the stress out of shopping for wine. The shop offers an assortment of unique wines at affordable price points (including a lot of bottles priced under $20). Angelo also offers monthly subscription boxes that include tasting notes and can even suggest a wine paired with your astrological sign—a perfect excuse for a gift certificate if you ask us. Plus, there are weekly wine-tasting classes and other events designed to form a community of wine lovers.
Hollywood
This weekend-only spot is a seriously massive indoor-outdoor market where local vendors, farmers, and entrepreneurs offer everything from just-picked produce and farm-fresh eggs to handmade jewelry. There's something for everyone here, from plants for your garden to freshly made pasta and kombucha. In addition to food, small boutique owners offer soaps, Mexican pottery, dresses, and more. Yellow Green also has a trove of small cafes, several wine and beer bars, and live music.
Sign up here for our daily Miami email and be the first to get all the food/drink/fun in town.