Vizcaya Museum and Gardens

| Jorg Hackemann/Shutterstock
Vizcaya Museum and Gardens

| Jorg Hackemann/Shutterstock
My fellow Miamians, you may already be planning your fall calendar, but there are still a few weeks left until we're officially done with summer. As the last few months have been filled with scorching heat, lavish poolside soirees, and unending waves of bubbly drinks (which happen to be year-round fixtures in the 305), the beginning of fall will make certain things a little less, well, socially acceptable... even by Miami's standards. Squeeze in one last beer float, Marlins game, or Vizcaya visit before it's too late.
See a dive-in movie
South Miami
Put on your favorite suit and swap a movie theater for a pool. On the last Friday of September, catch the summer's final dive-in flick at Grapeland Water Park, where movie watchers can go for a night swim while watching a feature.
Go for a bike ride on Rickenbacker
Downtown Miami
There's more than eight miles of paved roads waiting for you to bike on. Smear on some sunscreen and breathe in the last of Miami's summer air.
Hit an opulent pool party
South Beach
Every Sunday through summer's end, there's a booze-filled, DJ-thumping pool party waiting to be experienced. Pick your poison with our round-up here.
Go to the damn beach
Anywhere
Believe it or not, some Miamians haven't set foot on the sand once this summer. Blame it on work (or the influx of tourists), but whatever it may be, there's absolutely no excuse to end summer without at least one beach trip where you step on the pavement and almost immediately get a third-degree burn on your foot.
Homestead
Though it may not be the fairy-tale castle you imagined as a kid, it's South Florida's next best thing. There are tours daily that take visitors through 1,100 tons of coral rock.
Eat a Miami Spice meal
Across Miami
Mourn the end of summer with some really fucking good food. More than 200 restaurants across South Florida are offering three-course $23 lunches and $39 dinner menus through September 30th.
Go see some... country music (?)
West Palm Beach
Grab your leather boots and throw on a flannel. There's still time to get the most out of Cruzan's country fest, which will hit West Palm Beach's Cruzan Amphitheatre two more times in September.
Take a break and people watch
Anywhere
Unfortunately, tourists are still everywhere. The solution? Use it as entertainment, because bulky suitcases overflowing with 305-plastered swag haven't hit Netflix or Hulu yet.
Go to Vizcaya, finally
Coconut Grove
You've seen the Instagrams, and you've heard the chatter. But you've never actually walked around Vizcaya. Spend the afternoon around its gardens and in its main house, which boasts some much-needed and -appreciated air conditioning.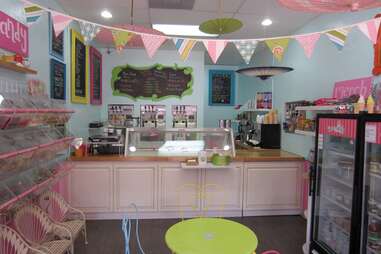 Wynwood
The ice cream shop's Wynwood outpost features various pairings like Blue Moon and blood-orange sorbet, as well as J. Wakefield Stout and salted caramel cream.
Take a tour of Stiltsville
South Miami
The best time to visit South Florida's collection of vibrant, pastel-colored wood-frame houses is in the summer. Get a glimpse into where Miami's rich and famous hung out and partied. Though now, the structures remain quiet and untouched.
Walk around Bill Baggs Park
Key Biscayne
There's a photo-worthy lighthouse here, which also happens to be the oldest standing structure in the greater Miami area!
Cheer on the Miami Marlins
Downtown Miami
There's games through the end of the month, and tickets are less than the cost of one Miami Spice dinner... although we won't say which one is more satisfying.
Wynwood
Despite Zika scares, The Wynwood Yard is back open. Grab a cocktail or a bite, and catch one of its nightly events, like live music, games, or socials.
Miami Beach
The Forge's summer-inspired revamped happy hour brings $50 bottles of Veuve Clicquot, along with small plates like meatball sliders and fried chicken dumplings.
Go to Big Night in Little Haiti
Little Haiti
Catch one last music- and culture-filled iteration before summer ends.
Sneak into a hotel pool
Anywhere
It's worth the risk.
Coral Gables
Take a swim through Coral Gables' 820,000-gallon aqua-colored pool, filled with spring water pumped from an underground aquifer.
Watch the sunset at South Pointe Pier
South Beach
It might not be a West Coast sunset, but it'll definitely inspire awe.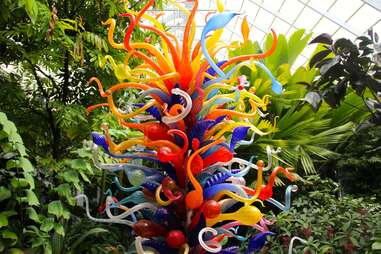 Smell the flowers at Fairchild
Coral Gables
Snag a free garden and flower tour inside the lush tropical paradise that is Fairchild Tropical Botanic Garden.
Squeeze in one last patchouli-scented drum circle
Miami Beach
Celebrate the full moon with good vibes on 79th St and Collins Ave.
Sign up here for our daily Miami email and be the first to get all the food/drink/fun in town.
Clarissa Buch is a Thrillist contributor who is sick of summer and just wants a pumpkin spice latte. Follow her foodie adventures on Instagram and Twitter.