Black-Owned Businesses Hold the Key To Reenergizing Miami's Overtown
Once a glamorous hangout for iconic jazz performers, the area is now becoming a hub for Black entrepreneurs.
Vanilla-scented waffles with spiced apricots aren't what you'd expect to be eating in the shadow of an abandoned Downtown Liquor Mart. At least not ones this good.
But it seems an appropriate dish to enjoy at the literal and figurative crossroads of Overtown, where a couple blocks from the ghosttown-like NW 5th Street liquor store, you can also indulge in Miami's hottest brunch.
The waffles are served at Rosie's restaurant at the Copper Door B&B, a Black-owned business opened by a South Florida native Akino West and his fiancee Jamila Ross. It's nearly impossible to get a brunch table here on the weekend, where West has taken what he learned as chef at Copenhagen's NOMA, and serves it out of a makeshift trailer on the B&B's patio.
Prior to the Copper Door, the building was the Demetree Hotel, which sat boarded up like a lot of Overtown over the past 50 years. But before that, it was everything from a brothel and a casino to a resting place for jazz legends.
The neighborhood itself has a rich and complicated history. Originally referred to as Colored Town, Overtown was the only section of Miami where Black residents were allowed to live because of Deep South segregation laws when the city of Miami was incorporated in 1896.
"It didn't have amenities like paved roads, parks, or indoor plumbing," says Paul George, the resident historian at HistoryMiami. "Despite that, it was a tightly knit community that drew Black, middle-class tourists [in the early 20th century]. And despite discrimination, if you look at revenue flow, it was pretty stable."
Its legend as the Harlem of the South grew in the 1940s as Black musicians—including Count Basie, Billie Holiday, Louis Armstrong, and Ella Fitzgerald—played the big resorts on Miami Beach and were forced to return "over town" at night. They would then play shows at spots like the Lyric Theatre later in the evening.
"It was kinda like where the real party happened," Ross says. "All these great jazz musicians stayed at the hotels and ate at the diners and it had this great energy."
All that came to an end in the late '50s, as urban renewal programs and the construction of Interstate 95 through the heart of Overtown decimated the neighborhood. "The cloverleafs for 395 and 195 just took out block after block of Overtown," George says. Because people were forced out of their homes to make way for the new highway, the population went from approximately 34,000 in 1960 to just 9,500 five years later.
Becoming a hub for Black entrepreneurship
For decades, Overtown fell into a steep decline, but in the last 10 years or so, both local and out-of-town entrepreneurs have been breathing new life into the historic neighborhood. And as Miami's most celebrated Black enclave begins to reawaken, figuring out how to revitalize a neighborhood without succumbing to the pitfalls of gentrification is the challenge.
West and Ross are among the business owners who have begun the monumental task of bringing Overtown back to its former glory.
"Some people were nervous, like, is this being gentrified? Who is actually taking over this space?" says Ross, who opened Copper Door with West in 2018. "But once they saw us, these two young Black kids, they saw that you shouldn't be afraid of change, because no one's here to push you away. We still want you guys to be a part of our community."
Another young entrepreneur, Ultrina Harris, is an Overtown native who opened clothing store Suite110 Urbanwear in 2017. Harris is also looking into funding to launch The Shops of Overtown, a retail hub featuring neighborhood businesses for outdoor vending.
Outside investors have also taken an interest in redeveloping the area. "There's been a lot of promises to this neighborhood that haven't been fulfilled," says Derek Fleming, a New York native and partner in Marcus Samuelsson's Red Rooster, which opened in December 2020 inside the old Clyde Killens Pool Hall on NW 2nd Avenue.
The restaurant pays homage to the history of the neighborhood with its interior art—walls are adorned in pages from the Green Book, as well as images of local landmarks like the Hampton House, which was the setting for One Night in Miami. The food features Samuelsson's take on traditional soul and Caribbean staples like conch fritters, sour orange pig ribs, and fried chicken with pigeon peas and orange honey.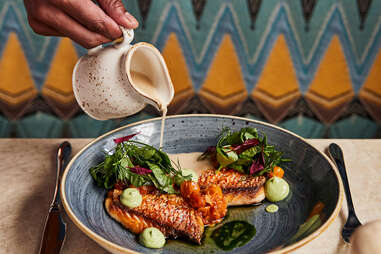 "This restaurant is bringing people to Overtown who have never come here before," Fleming says from the old pool hall's new terrazzo floor. "So it creates a new perspective, and a sense of hope, that Overtown has all the potential to be just like any other neighborhood in this city."
While there has been excitement around Red Rooster's arrival, the price point isn't necessarily friendly to locals, with entrees ranging from $17-42 and a $105 Wagyu on the menu. So some may argue that despite its Black ownership, it still contributes to gentrification.
"I see Rooster as a catalytic project to help revitalize the community, but also create new jobs for people living in the neighborhood," Fleming says.
While there are obvious downsides to pricey new eateries, providing jobs to locals rather than bringing in transplants is an important part of community revitalization. It's also driven a surge in the creation of affordable housing within new real estate developments.
Frank Melo, a real estate investor who has been managing property and investing in Overtown for more than 15 years, says the bulk of new developers are looking to build 200 units or more, although only 30% of those will be for affordable housing.
The outside money pouring into the area may also be a product of its location. Where the interstate once doomed Overtown, the new MiamiCentral station may bring it back to life.
"You have this incredible connection between the airport, with this entire train system shooting out of Overtown," Melo says. "It's going to be very practical for someone who says, 'Hey, I only have a few hours in Miami, what can I see?' To get to Little Havana, you have to transfer. Here, you walk west off the train and you're going to see things that are really unique to the neighborhood—and that are historical."
He's right. Within a few minutes of Miami Central, you can stroll by the house of D.A. Dorsey, Miami's first Black millionaire. Or to the Black Archives at the Lyric Theatre. Or to Jacksons Soul Food, which has been feeding the community since 1946. Or into Clyde Killens pool hall, which is now home to Samuelsson's Red Rooster.
Avoiding the mistakes of Wynwood
But Overtown may not be ready for its tourism close-up quite yet. While it's still rich in history, two new restaurants and a B&B do not a destination make. The Southeast Overtown Community Redevelopment Agency (CRA) has kicked around the idea of building a museum to commemorate the neighborhood's history, but no real plans have been put into place.
"It's going to depend on what else comes into this area," West says. "Like if we get this African-American museum the CRA is talking about? Maybe. But if you're saying just let me walk the streets of Overtown? No, there's not enough for me to do."
Historian George, who leads walking tours around Miami and knows the neighborhood's history all too well, agrees.
"It's gonna take some more restaurants, another tourist hotel," he says. "I think in a few years, Overtown will be a major stop with tour buses. But we don't wanna see what happened in Wynwood happen in Overtown. You've got to make it affordable."
For now, a handful of new Black-owned businesses foster optimism for Overtown's revitalization. As blighted streets get freshly painted, the landscape is undeniably changing. But the key to keeping the neighborhood's character intact is making sure locals at the forefront of the redevelopment process.