Lean Into the Back-to-School Vibes with These Adult Classes in Miami
From skydiving to sushi making, these are the best classes for adults in Miami.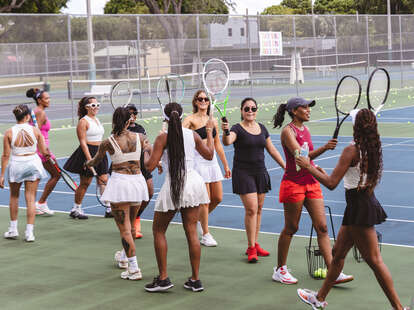 Photo courtesy of the Slice Girls
Photo courtesy of the Slice Girls
Miami's definition of "self-improvement" often involves some sort of silicone injection or just finding the right Instagram filter. But if you're looking to better yourself by learning a new skill or pushing your boundaries, Miami has plenty of cool classes for adults that don't require much more than a reservation. Whether you want to pick up some new knife skills or learn how to fly on a trapeze, there's someone in South Florida who'll teach you. From skydiving to sushi rolling, here's a look at the best adult classes you can take in and around Miami.
Food and drink classes in Miami
Learn to roll sushi at Casa Sensei
Las Olas
If sushi prices are limiting your ability to enjoy a nice set of rolls, perhaps consider learning to make sushi yourself. Fort Lauderdale waterside sushi hotspot Casa Sensei gives you the chance every second Saturday from 3 to 5 pm, where you'll learn how to make two different sushi rolls while sipping on a glass on house sake. Classes are $60 per person, with an option to upgrade to premium sake for $20 more.
Japanese craft and tea classes at Morikami Museum and Japanese Gardens
Delray Beach
South Florida's leading Japanese cultural center is more than just a place to meditate among meticulous gardens. Each weekend, the museum hosts a workshop covering some kind of Japanese art, ranging from the cultivation of Bonsai trees to delicate gift wrapping classes around the holidays. This month, you can learn the art of Kokedama—growing plants in a moss-covered ball of soil—on September 9. Then learn how to play the Koto on September 16 before diving into indigo dying on September 24 and 25. Morikami also hosts classes in traditional Japanese tea ceremonies inside its ornate garden tea house.
Croissant making at Flour and Weirdoughs
Key Biscayne
You think making croissants is as easy as popping open a tube and throwing them on a baking sheet? Not if you're making them like Miami's croissant kings at Flour and Weirdoughs, who walk you through their painstaking process once a month. This month's class is on September 12, where starting at 7 pm you'll learn how to mix, laminate, cut, and shape a full batch of croissants, all the while enjoying unlimited wine, beer, and non-alcoholic beverages.
Wine education at Vinya Wine and Market
Key Biscayne
Key Biscayne's destination wine shop invites you to gain some knowledge from the sommeliers who stock its shelves. Allegra Angelo leads classes delving into different regions of the world, as you learn about the distinguishing characteristics of its wines and some names you should know. This month's September 20 class is Rhone: North vs. South where you'll explore the wines on both sides of France's Loire Valley then vote on which you think is better. And yes, the classes include wine tasting too.
Pizza making at Mister 01 and Harry's Pizza
Wynwood and South Beach
Two of Miami's top pizza makers teach you how to make pizza like the pros. At Mister 01 in Wynwood, weekly evening classes have you making your own pie while tasting some of the pizzeria's most popular drinks and pizzas, then going home with some dough to try on your own. Mister 01 also offers a family class once a month where kids aged 9 and above are welcome. Out on Lincoln Road, Harry's Pizzeria is hosting a cooking class on September 27, where the restaurant's top chefs help you create pizzas while you sip on Harry's menu of specialty cocktails.
Cooking classes at Feeding South Florida
Boynton Beach
South Florida's largest food bank has all kinds of ways to hone your culinary skills at its Boynton Beach Community Kitchen. Each month, Feeding South Florida hosts a handful of different cooking classes focused on particular dishes and cuisines from Pad Thai to French Patisserie and tart making. It also offers courses in cooking technique, like a knife skills class coming up on September 13.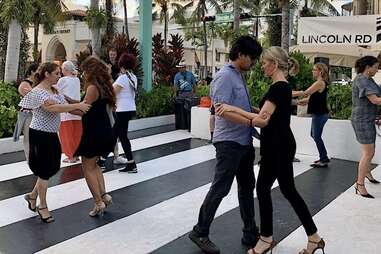 Sports and dance classes in Miami

Tennis lessons with the Slice Girls
Various locations
The Slice Girls Tennis Club aims to get women involved in the game through four-times-a-week classes for beginners and intermediates. Slice Girls' also hosts skill-specific clinics with catchy names like "Forehand Frenzy" and "Backhand Bash," with each class lasting about 90 minutes on rotating courts around Miami. Lest the men feel left out, the team hosts weekly coed sessions on Mondays.
Dance classes at the Miami City Ballet School
South Beach
You don't need to devote your life to being a bunhead to get some of the fitness, flexibility, and grace that comes with learning ballet. Miami City Ballet has open adult classes for all levels at its South Beach studio, where dancers can drop in for beginner classes on Mondays, and intermediate and advanced classes Tuesday through Thursday. You can also try a Thursday night intro class, or bring your little one for Toddler and Me Tuesdays at 9 am.
Belly dancing at Belly Motions
Pinecrest
Ever wanted to master the art of belly dancing? Now you can at the Jill Mallory Dance Studio near The Falls. Dance and fitness instructor Portia Lange leads beginner and intermediate classes on Tuesdays and Thursdays where you'll get the basics and put together your own routines. If the Falls feels a little far, Belly Motions also offers online videos and private classes.
Open-air tango classes on Lincoln Road
South Beach
As the air cools down, the tango heats up on Lincoln Road. The landmark pedestrian mall hosts monthly outdoor tango classes near the Euclid Circle, so show up on the second Wednesday of each month at 6 pm and you'll get a one-hour tango lesson from a top professional instructor, followed by a few hours of "open milonga" where you can test out your new skills.
Skydive at Miami Skydiving Center
Homestead
There are classes that make you a better person. And there are classes that make people say, "Are you having a mid-life crisis?" Some might say skydiving lessons would be both, as you'll learn to conquer your fears and find confidence in yourself, all while plummeting towards the earth with a parachute on your back. You can always do the standard tandem dive, which is the staple beginner skydive everyone does to cross it off their bucket list. Then you can take Skydive Miami's Accelerated Freefall Program, which takes you through a series of jumps until you're ready to literally fly solo.
Arts and culture classes in Miami
Trapeze and circus skills at Miami Circus Arts Center
Allapattah
Ever gone to Cirque du Soleil and thought, "I could do that!" Probably not, but you can at least gain a little proficiency in everything from trapeze to contortion at the Miami Circus Arts Center. It works a little like a group fitness gym, where you pay by the class and attend regularly scheduled workshops based on your discipline and skill level. So on Monday, you can show up for your 7 pm trapeze class, then go on Tuesday for Rope and Saturday for Straps.
Art classes at Oolite
South Beach
Lincoln Road's local art showcase offers an array of classes in addition to its regular artist exhibits. Whether you're interested in figure drawing, screen printing, textiles, mixed media, or watercolor, you'll find a class that fits. Courses last anywhere from one day to six weeks, with a small selection of virtual courses available too.
Pottery classes at OCISLY
Wynwood
Head to this idyllic backyard garden in Wynwood for pottery lessons to the tune of great music. Each beginner wheel-throwing class at OCISLY is themed to a different playlist, so whether Bad Bunny will get you going or you'd rather cement your new skills to iconic TV Show theme songs, they've got you covered. The studio also hosts special events with other local businesses—for example, later this month you can learn to make your own smokeware at a Puff Puff Pottery workshop or build a new home for your plants.
The Curious Gardener at Pinecrest Gardens
Pinecrest
Pinecrest Gardens stretches the idea of gardening classes with its Curious Gardener series every third Thursday. Course topics are all over the board, with September offering a Garden to Glass Cocktail Making Class; Sip and Create Painting Floral Skills in October; and Festive Floral Arranging for November. Regardless of the topic, each class runs about three hours and includes one free drink.
Pottery and painting classes at Color Me Mine
Hallandale Beach
Color Me Mine in the Village at Gulfstream Park goes far beyond the traditional paint-and-wine experience that's become so popular for a night out. Sure, you and your crew can sign up for a private class and learn to paint pre-made pottery with a bottle of BYOB vino. But you can also take classes in everything from clay hand building to holiday ornament painting, if you want to get your Christmas shopping done early and learn something at the same time.
Glass blowing at Benzaiten Center
Lake Worth
If you've always wanted to host a dinner party where wine was served in colorful glasses you made yourself, consider some classes at the Benzaiten Center for Creative Arts. This trackside Lake Worth studio offers classes in glass blowing, flameworking, and fusing, where you'll craft everything from marbles to vases and paperweights.
Matt Meltzer is a Miami-based contributor for Thrillist, a veteran of the United States Marine Corps, former pageant judge in the Miss Florida America system, and past contributor to
Cosmopolitan
magazine. Matt graduated with a BBA from University of Miami and holds a master's in journalism from the University of Florida. He currently lives in Miami with his Betta fish, Bob.