Dear Miami, This Is Why We Love You
As someone who was born and raised in the 305, I never imagined that, at 28, I'd still be here. Yet here I am, with no plans of escape anytime soon. As much as I complain about its wretched humidity, lamentable traffic, and weird dating scene, I'm deeply in love with this cesspool of insanity we call the Magic City. And I'm willing to bet that if you're reading this, so are you. So no matter how hard we try, Miami, here's a list of all the reasons so many of us just can't seem to quit you:

Your irrational weather (that we thankfully never need a coat for)
Sometimes you're 80 degrees and sunny, and sometimes you have hurricanes that wipe out entire neighborhoods. Sometimes both those things happen on the same day. Your weather is definitely bipolar, but we can also run on the beach (in shorts!) in February, never have to buy winter coats, and spend a good five months of the year rubbing it in the faces of the rest of the country.
Your endless array of bizarre news stories that never cease to entertain
The bath salts guy who ate the naked guy's face. Guys hiding cocaine in their butts. Alligators in backyards. Most of
these
. Living here makes us constantly rethink ever leaving our houses. But in terms of reality TV, the Emmy goes to… the full cast of the 305.
Your baffling mix of families, outlaws, and ethnicities
Anyone who visits Miami will tell you that, as entertaining as we might be, our people are the worst (and, in true Miami fashion, most of us also "leeeterally" couldn't care less). But what we lack in common courtesy, we make up for in culture. Miami is a melting pot of South Americans, Cubans, other Hispanic people, white Jewish people, northerners looking to escape to the cold, all the girls in that "
Shit Miami People Say
" video, more Cubans, recently divorced dads who want to have fun, Pitbull, B-list celebrities who are friends with Pitbull, and Enrique Iglesias. It's confusing for anyone not from Miami, but it makes for one hell of a Nochebuena.
Your pulsating siren song
From the South Beach Wine & Food Festival, to Art Basel, Ultra Music Festival, Winter Music Conference, the South Beach Comedy Festival, and any other reason to escape a NYC winter, people all over the world come here to eat, party, do fancy art things, and get a taste of the good life.

Your ability to make it seem like partying 'til dawn is normal
We Miamians know pretty much anything goes here. A-n-y-t-h-i-n-g. Want to party 'til 4am on a Wednesday? Go to LIV. Want to drink piña coladas at 8am and pass out on the beach? We'll join you. Want to turn up on a Tuesday with your mom and Justin Beiber, find yourself at a Nikki Beach party with Rick Ross, and end up doing a cameo on some E! reality show before driving away in someone else's Maserati? You're in the right place.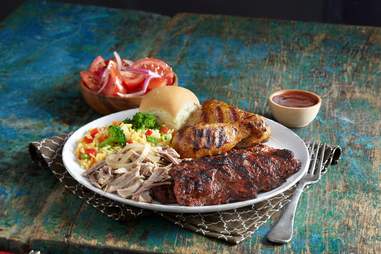 Courtesy of Pollo Tropical
Your unwavering commitment to serving the best late-night munchies
Serious question: where else in the world can you get authentic back-alleyway pastelitos at 3am? Whether you want Casola's pizza in the early hours of the morning, your daily cortadito at 3:05pm, Pollo Tropical for breakfast, lunch, and dinner, or a "Sausage Chubbie" after midnight (we're only referring to Los Perros), whatever your craving, it can be satisfied any time of day.

Your obnoxious yet loosely defined dress code
There's no denying that South Beach is all about who and what you're wearing. But come down to the mainland, and real Miamians know that true Magic City fashion means there will always be someone dressed worse than you. Throw your dress on inside out and pair it with Crocs, and you'll still be pageant queen compared to the girl in ripped Daisy Dukes walking "pata sucia" down Kendall Dr. (And there's always someone walking "pata sucia" down Kendall Dr.)
Your unapologetic weirdness
We drink Cuban coffee (read: liquid cocaine) like it's nothing. We kiss strangers on the cheek. We wear flip-flops wherever and whenever we want. We don't believe in driving with blinkers or lane lines. We have our own sense of time, and it's a half hour later than anyone else. When sports teams win championships, we stop traffic to run through the streets banging pots and pans. We're unlike anywhere else in the world.
Your lingo that no one else in the world understands
Pero liiiiike… que bola, bro? Part of the magic of the Miami is that we have a suuuuuper
Miami-only language
. Like saying "suuuuuper" instead of "super," and taking Spanglish to a whole new level of strange. We also make up words like "irregardless" and "supposably," and have "getties" instead of get-togethers. White people pretty much "can't even" everyday, and you know it's a party when your Cuban grandmother starts to yell "DALE." It takes weeks for visitors to even begin to catch on, but for us Miamians, ya tu sabes. And dasit.
Your world-class beaches
If there's anything we're known for, it's our beaches. Here in Miami, a beach is more than sand and an ocean. It's its own city. In fact, when we hear "let's go to South Beach" at 8am on a Saturday, 80% of the time we assume you mean for clubbing later that night. During daylight, though, we have sand, waves, beach volleyball, beautiful people-watching, and palm trees for days -- and we know how lucky we are to have it right in our own backyard.
Your really ridiculously good-looking people
Need I say more?
Sign up here for our daily Miami email and be the first to get all the food/drink/fun in town.
Jennifer Agress is a Miami-based writer who yells "dale" because she "can't even." Irregardless, follow her on Instagram at @jenniferagress.