Nobody does corruption quite like Florida. Sure, places like Illinois and Detroit have had high-profile cases, but no state has public corruption to quite the extent that we do (seriously, Integrity Florida found that between 1976-2012 over 1,760 public officials in this state had been convicted of corruption), so narrowing it down to a top 12 is almost impossible. Almost. From a US attorney biting a stripper to dead people casting votes, here are the dozen weirdest, most egregious, and just flat-out only-in-Florida political scandals in our history.
12. Someone sold Florida to the British
You knew our state was in for it when we were involved in a political scandal... before we were even a state. Yep. In 1796 Tennessee senator and constitution signer William Blount helped the British reach an agreement with Floridian Native American tribes to fight the Spanish and get them out of the territory. Presumably, Florida would then become a British colony with a new colonial governor named... waitforit!... William Blount. This would be like if John McCain worked with the Canadians to take over Turks and Caicos and make himself governor today. Needless to say, President Adams got word and moved to impeach the disgraced senator, who was kicked out of Congress, but then returned to his home state, where just like a Floridian, he was promptly elected to the state legislature.
11. Slot machines for "veterans"
Leave it to Florida to take all the patriotic fervor around support for veterans and turn it into something corrupt. Florida gambling laws state that parlors with slot-type games, bingo, and the like are only legal if the majority of the proceeds go to charity. So a group called Allied Veterans of the World ran about 50 parlors around the state under the guise that they were raising money for veterans charities. But a five-year investigation found that of the $290 million the group made, only $6 million made it to charitable organizations. And even in Florida, that's nowhere near a majority. Then-Lt. Governor Jennifer Carroll, a Navy veteran herself, was implicated in the scandal because the PR firm she co-owned represented the "veterans group." She was never charged but resigned immediately after being questioned.

10. The old "my wife is boning my lawyer" defense
Humberto Hernandez -- former Miami city commissioner and the man Carl Hiaasen lovingly refers to as Smirkin' Bert -- lasted nine months on the commission before it was discovered he was inflating property values and defrauding Medicare to boost his Key Biscayne real estate holdings. After being suspended by Gov. Lawton Chiles, and months of claiming he was a "racial target," Bert eventually pled guilty and was sentenced to four years in federal prison. In Florida, that's barely even news except... HIS WIFE WAS SLEEPING WITH HIS LAWYER. Yes, Jose Quinon (you'll see more on him later) may have had some ulterior motives in seeing his client behind bars for almost half a decade, and after discovering this, Hernandez appealed for a new trial. Sadly for him the federal appeals courts weren't buying it, and he served all four years before his release in 2002.
9. Palmetto punch-out
Raul Martinez was the longtime mayor of Hialeah. We could pretty much drop the mic right there and you'd know he was about as straight as a water slide. But in Hialeah, stuff like selling your influence to the highest bidder for zoning rights in industrial areas doesn't really seem to matter to voters. Hernandez was charged with all of that, but managed to avoid conviction after his skillful lawyer Jose Quinon (no word if he was sleeping with Martinez's wife too) managed multiple hung juries, and eventually the charges were dropped by US attorney Kendall Coffey (see #8). But not even a longtime mayor is immune to the rage caused by one too many hours on the Palmetto Expressway: in 1999 Martinez got into an altercation with a protester on Miami's most infamous roadway, and like any good-natured politico, socked him straight in the face. Of course, Hernandez claimed he was "coming to the defense of police officers who were being assaulted," and the guy who he assaulted spent the night in jail.

8. The Mike Tyson of the Champagne room
Undoubtedly lured by its catchy "The Place to Go After Losing the Biggest Cocaine-Smuggling Case in History" ad campaign, US attorney Kendall Coffey found himself at Lipstick nightclub on US-1 the night after Willie Falcon and Sal Magluta were acquitted in 1996. Not content to drown his sorrows in a $900 bottle of Champagne, Coffey grew agitated with the stripper who joined him for some bubbly, and proceeded to bite her arm during an argument. At first Coffey completely denied being in the club at all (of course), but he eventually admitted to the incident even though charges were never filed. And while all the poor dancer ever wanted was an apology, Coffey instead resigned after a lengthy meeting with Janet Reno. But not before he dropped all charges relating to Raul Martinez.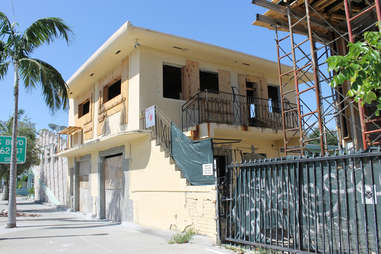 7. "Loans" for affordable housing
"Affordable housing" has become kind of an oxymoron in Miami over the past 20 years. And people like Rene Rodriguez and Barbara Gomez didn't help. Rodriguez was director of the Miami Dade Housing Agency, the organization charged with creating homes for people who can't afford them. Part of the way to fund that housing: a tax on commercial property sales that would then be used as loans to developers to fund low-income projects. The loans definitely happened, the housing, not so much. Rodriguez "loaned" the money to many of his personal acquaintances who didn't even have land to build on, much less a plan or any collateral. As a result, nothing got built, aside from a private house in South Miami for one of the developers. And who "oversaw" the distribution of these loans? None other than the head of the Miami Department of Community Development, Barbara Gomez. Who was also Rodriguez's wife. Her lawyer after she resigned in disgrace: of course, Jose Quinon.

6. Bob Allen's bathroom bonanza
A guy who runs as a "family values" candidate getting caught paying for sex is about as novel a concept in American politics as wearing a red tie. But leave it to Bob Allen to put a little Florida twist on it. When Allen was caught offering an undercover male police officer $20 to perform oral sex on him in a park bathroom, instead of admitting that's what he was after, the then-Florida House member claimed he was simply in the park to inspect his handiwork (he'd apparently lobbied for the park's funding), then out of NOWHERE a thunderstorm hit and Allen had to go and hide in the bathroom, where he claims the undercover officer threatened to rob him. Unless, of course, he gave him oral sex and a $20 bill. Which he did, saving his life but killing his political career.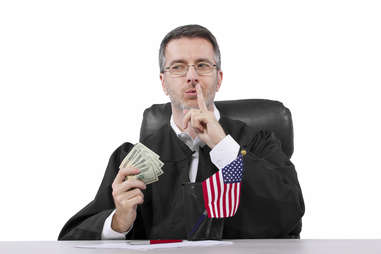 5. Operation Court Broom
Ah, the 1980s in Miami. A time when a judge could sell his decisions, freebase cocaine, and dime out drug informants to cartels for a measly 50 grand. Or at least they could before Operation Court Broom. That's the name of an FBI sting of Dade County judges, where fake cases were created and Manuel Noriega's lawyer wore a wire to catch five judges, who took up to $50,000 to fix cases. Two of the most upstanding among them: Harvey Shenberg, who gave up the name of a confidential drug informant to a cartel for $50,000. And Phillip Davis, who when federal agents raided his home looking for marked cash used in the bribery sting, found Amanda Bynes-levels of cocaine along with all the tools used for freebasing.

4. The miniskirt mayor and mother of the century
Gilda Oliveros was not content to let little Hialeah Gardens sit in the shadow of Hialeah's mayoral corruption. The woman nicknamed the "miniskirt mayor," because she dressed like she was headed for an afternoon at Mall of the Americas instead of City Hall, was convicted of attempting to pay two Hialeah Gardens city employees to kill her husband, on whom she'd just taken out a $45,000 insurance policy. Her defense? One of the employees -- Robert Godwin -- had filed a suit against her for anti-gay discrimination and had a vendetta. So he -- along with another gay employee -- made the entire story up. In the process of trying to paint herself as a bastion of tolerance, Oliveros testified in open court that she could not possibly dislike homosexuals, and then promptly outed her lesbian daughter.
3. The world's worst speed trap
If you've ever tried to drive from Gainesville to Jacksonville, you're familiar with the notorious speed trap along US-301 in Hampton. Here police literally sit in lawn chairs and hide behind dumpsters with radar guns, waiting for unsuspecting motorists. Or at least they did. Funny thing was, despite racking up over $600,000 in ticket revenue between 2010 and 2012, the city was still a dilapidated dump. And where was all that money going? Certainly not to the mayor's office, where to make ends meet Barry Layne Moore was dealing oxycodone. And while the police department had some of the nicest cars in the state, nothing else had gotten better. The state audited the city and found, among other things, a $27,000 city credit card bill and a $132,000 credit account at a BP station, then moved to dissolve the city. But proud Hamptonians managed to save it, despite standing as one of the worst cases of small-town corruption in US history.

2. Miami River Cops
The 1980s were not exactly a glorious time for the Miami Police Department, and bottomed out with the Miami River Cops. In summer 1985, a boat full of $12 million worth of cocaine docked on the Miami River, and somewhere along the line the offload went bad. A nearby night watchman called the police claiming gunfire during a "police raid," but somehow the raid mysteriously had no police report. Nor were the 400 kilos of cocaine on the boat ever heard from again. Though they may have been floating in the Miami River next to the three dead bodies that resulted from the "raid." The missing drugs prompted an investigation that unearthed a network of crooked Little Havana cops who shook down drug dealers, stole their money and drugs, and profited from it all. In the end, 24 cops were convicted and 17 went to prison as a result of the investigation.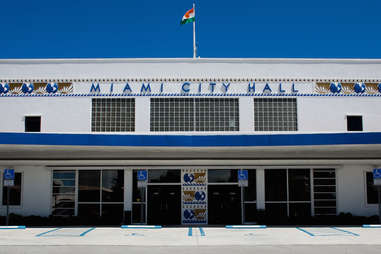 1. Miami mayoral recall
Why the world was even slightly surprised South Florida botched the 2000 presidential election is a mystery to anyone who was here in 1997. That was the year that, despite capturing nearly half the vote in the general election, Joe Carollo lost the mayoral runoff to Xavier Suarez. The big difference during the runoff? Some very important voting blocs turned out to pull the lever for Suarez, including the dead, convicted felons, non-residents of Miami, and homeless people Suarez staffers paid $10 apiece. Also credited for his win: a flood of absentee ballots coming in from City Commission District 3 represented by... Humberto Hernandez, who at the time was on suspension pending federal indictment. While the FDLE investigated and Suarez encouraged Miamians to keep their mouths shut, a federal trial began in February, and a month later the election was declared invalid. Joe Carollo ultimately took over as mayor, several Suarez staffers were indicted, and Humberto Hernandez still went to prison.
Sign up here for our daily Miami email and be the first to get all the food/drink/fun in town.
Matt Meltzer is a staff writer at Thrillist, a position he in no way got because he knew/paid somebody. Follow him on Instagram: @meltrez1.