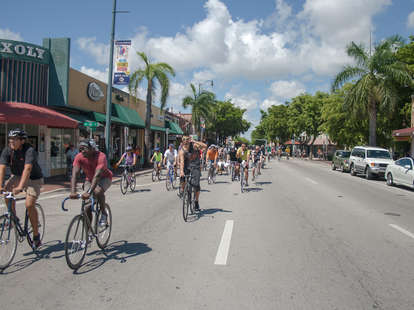 critical mass

| flickr/christopherneetz
critical mass

| flickr/christopherneetz
With Miami's summer starting in April and ending in March, it's no wonder people strive to maintain their beach body year-round. But -- like most things Miami -- staying in shape doesn't come cheap. So before you shell out $500 to flip over a giant tire and jump on a box for a week, check out this list. We've included everything, from running clubs, spinning classes, yoga, Zumba, and even capoeira. All you need is a water bottle, a towel, and the motivation to shower yourself in your own sweat.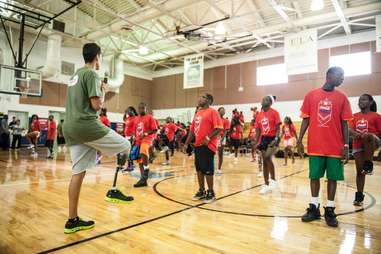 All over Miami
Step up your workout with a one- to two-hour session of circuit training taught by a local vet. Expect high-interval exercises, including moves like jump squats, push-ups, and sprints. Make sure to bring a few bottles of water as well as a towel. And remember, move at your own speed, as you'll gain strength each week. It's OK not to be the fastest in the pack. As to where to go, there are a number of parks to get your weekly boot camp fix, including Live Like Bella Park in Homestead, Tropical Park in South Miami, and Greynolds Park in North Miami.
Downtown Miami
Though the Underline, a proposed 10-mile linear park beneath the Miami-Dade Metrorail, will take nearly a decade to complete, the group sponsors a free monthly cycling club the first Saturday of every month. It's open to all levels of the community, so don't forget your helmet.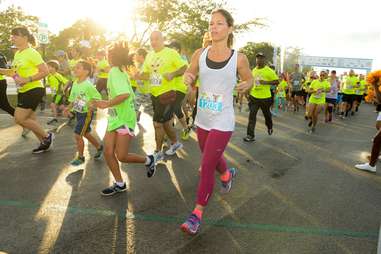 Homestead
Show up at 7pm every Tuesday night at Baptist Hospital ready to run off the day's stress. Participants are encouraged to jog -- or run -- the 3.5-mile route, taking up to about an hour to complete. Dress light and wear sturdy running shoes that can sustain multiple miles of use. Free water is given to all first-timers. Parking is free also.
All over Miami
Thanks to Baptist Health's community exercise programs, experience one of the most Miami workouts that has ever existed: Zumba. There are classes nearly every day of the week, at all hours, across Miami. Sessions run for about an hour, and participants can expect to shake and jump to incredibly energetic reggae tunes. Wear comfortable sneakers and light clothes. Choose which location works best, and get ready to shimmy.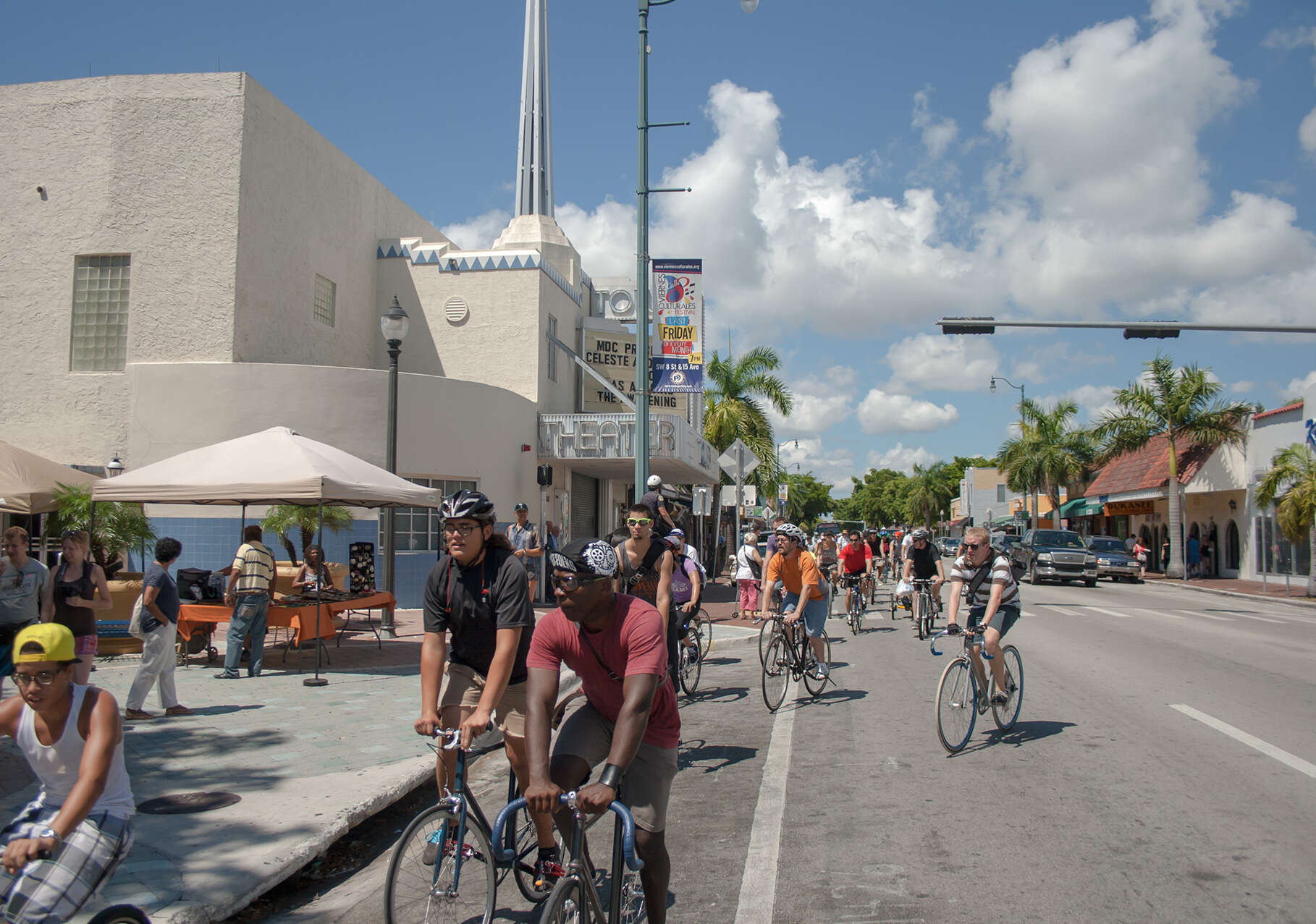 Downtown Miami
Grab a bike and join one of Miami's largest cycling groups around. The last Friday of every month, riders from near and far converge near the Government Center in Downtown Miami and cycle through the city's streets through nightfall. Known as Critical Mass, the event is geared towards more experienced cyclists, but is open to welcoming newbies in too. Riders should bring their own bikes, as well as helmets, water, and whatever else they want (like lights!).
Bayfront Park
Learn capoeira, an Afro-Brazilian martial art form, every Saturday from 10:30am to noon. Classes are taught by Brazilian-born master Adailton Dos Reis, who goes by Mestre Ze Com Fome of Brazil during sessions. Each class incorporates dance, martial arts, music, and acrobatics, with a consistent drum rhythm in the background to keep participants moving and energized.
South Beach
Get sweaty every Tuesday, Thursday, and Saturday at 9am with a team of experts (24Fit Fit Camp) who know a thing or two about health and wellness. Similar to a regular boot camp, all workouts are done on the sand, giving the class an added balance challenge. The free classes take place near the boardwalk and 73rd St.
Spinning
All over Miami
It's no secret that spin studios charge a small fortune for monthly memberships. Thankfully, most offer the first class free. Given there's a multitude of studios across Miami, you can make a month-long schedule without paying a dime. During class, expect to ride a stationary bike as fast as physically possible. It's said that one class can burn upwards of 800 calories, giving you permission to splurge on another slice of pie. In terms of studios, try RedBike in Downtown, Flywheel in Coral Gables and North Miami, WynWheels in Wynwood, or the Secret Cycling Society in Hialeah.
Pembroke Pines
If yoga is too slow and Pilates too fast, try a mixture of the two. Once a week, the best of Pilates and yoga come together for a workout meant to build strength, lose weight, and increase flexibility. Expect to hold power and strength poses that'll make your body shake, along with slow, repetitious strength moves as well. Make sure to pack your own mat, water, and towel.
Yoga
All over Miami
Find free yoga every day of the week across Miami. 3rd Street Beach Yoga offers classes on the sand every morning at 7am and evenings at 5pm or 6pm. In Coconut Grove, Dharma Studio sponsors sessions at Peacock Park every Tuesday and Thursday at 6pm and at the Mayfair Rooftop on Saturday mornings at 8am. Rina Yoga offers free classes in Coral Way each first and third Friday, along with sessions every Thursday at 6pm in Little Haiti courtesy of Nago Yoga. Dress light and remember to pack your own mat.
Sign up here for our daily Miami email and be the first to get all the food/drink/fun in town.
Clarissa Buch is a Thrillist contributor who has a love-hate relationship with working out, unless it involves an invitation to a free spin class. Follow her foodie adventures on Instagram and Twitter.