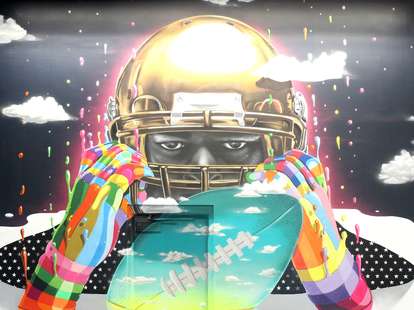 Tom Irby
Tom Irby
We don't want to jinx it or anything but... HOW 'BOUT THEM DOLPHINS??!!! With a red-hot running back and Ryan Tannehill looking like he deserves at least half that money, things are looking up. And in Miami, that can only mean one thing: time to fire up the bandwagon! But even if you don't know Jay Ajayi from Jay Leno, the improvements they've made to Hard Rock Stadium make the game fun no matter what happens on the field. From a special zone for Uber drivers to craft beer bars, street art, short-rib burgers, and a VIP lane off the Turnpike, here are the absolute best parts about the new Hard Rock Stadium you probably didn't know about.
They've got assigned, numbered spaces for Uber drivers
Trying to call an Uber outside a stadium amidst 67,000 other people and a sea of automobiles might best be described by autocorrect as a "colossal cluster-duck." Hard Rock Stadium has at least mitigated this communication nightmare by assigning an entire parking lot to Uber drivers, with assigned spaces. So when you call your driver, he or she can tell you they're waiting in space ochenta y dos. Then you just saunter up, get in, and let someone else deal with the traffic.
... and an entire tailgate zone for Uber riders, too!
Wanna showcase your world-famous Kenny Stills short-rib sliders, but don't want to mess up your nice, newly leased car with a greasy grill? Well, right next to the Uber loading zone, there's an entire tailgating area dedicated to people who ride-shared to the game. It includes grills for public use, and is completely BYOB... whether B stands for beer, beef, or boniatos.
Art is, literally, around every corner
Now, instead of having to deal with $10 beers and hipsters to see great street art, you can deal with $10 beers and football fans! Hard Rock Stadium has Wynwood-style street art murals every time you turn a corner in the concourse. Billed as the "world's largest indoor street art gallery," the program features a rotating collection of 20 pieces from worldwide artists, including CRASH and Jen Stark. Perhaps the most impressive: a portrait of Don Shula jackhammered into the HRS concrete by Portuguese artists Vhils.
The fancy seats come with VIP lanes on the Turnpike
Those traffic jokes we made? They don't apply if you're sitting in one of the stadium's new super-exclusive premium seating areas. Starting at about $75,000 for four seats, people sitting in the Ford Field Club seats (those aqua recliners you see in the back of the end zone), the 72 Club on the 50-yard line, or the ultra-premium Nine Suites, get a dedicated lane coming on and off the Turnpike into the stadium... which they don't even have to drive in, because the seats also include a black car and driver that picks members up at their homes. Other benefits include a group dinner with Dan Marino, two Super Bowl Tickets, a personal gameday concierge, and your own sitcom on FOX.
It's got the only organic concession stand in the NFL
Take THAT, San Francisco! You think you lead the world in organic EVERYTHING??? Not when Shannon and Ray "You owe me that third championship, Dwyane" Allen opened up the second location of their fresh, organic concept Grown in the stadium. The South Miami drive-thru health spot is slinging stuff like the Mediterranean wrap (pictured here) and a wild-caught salmon burger with caramelized onions on both the Club level and behind section 148.
Don Shula is now slinging burgers here
Someday, you'll be taking your kid to his first Dolphins game, and he'll point to the statue of the greatest coach in the history of profanity-laced tirades and say "Why is there a statue of the burger stand guy out here?" Because while Don Shula's coaching record is pretty darned fantastic, it's also 21 years old. The new Shula burgers you can get inside, however, are just as fantastic, and much more topical to your average eight year old. And with a proprietary mix of brisket, short rib, and chuck flame-broiled to order, you might find yourself forgetting about the coach too.
The canopy makes a HUGE difference
Unlike the Marlins, who've trapped South Floridians in our natural habitat of air-conditioning for all but about 12 games a year, the Dolphins have solved the rain-and-oppressive-heat problem while still letting us enjoy the out of doors. The new canopy mostly protects against rain, other than the classic Florida Sideways variety. And its shade has registered as much as 31 degrees cooler than on-field temperatures in the sun. The other big benefit: It actually gets noisy, too.
It's got a better beer bar than most Miami neighborhoods
It's amazing that Miami is further removed from the Dolphins' last playoff appearance than we are from a day when having Heineken and Corona made you a legitimate beer bar. Now even our football stadium has a first-class suds slinger, one on each sideline concourse along the 100 level. The Tap Room boasts 35 varieties of craft beer bottles ranging from local favorites like MIA Beer Company to stuff from Brooklyn Brewing and Anchor Steam. And on tap there's a dozen different local beers from spots like Funky Buddha and the brand-new 26 Degree.
Your SunPass gets you into the parking lot
Watch out, surly parking lot attendants! You're about to go the way of surly toll booth attendants and get replaced by a little plastic transponder. Right now if you are a SunPass holder there's no need to hit the ATM before the game to pay for parking, because a quick scan of your SunPass will get you right into the stadium's lots. So, sadly, you won't have that brightly colored parking pass to dangle from your rearview mirror all week to tell everyone "Hey! I went to the Dolphins game!" Though depending how the rest of the season goes, that might be a good thing.
Sign up here for our daily Miami email and be the first to get all the food/drink/fun in town.
Matt Meltzer is a staff writer with Thrillist who still doesn't understand why Hillary Clinton thought stealing the Dolphins' marketing slogan was a winning idea. Follow him on Instagram @meltrez1.