Fotoluminate LLC/Shutterstock
Urban Dictionary -- the MOST trusted dictionary -- defines a tourist trap as "a place specifically designed to attract stupid tourists and take their money." This definition is particularly apt for describing around 80% of the places in Miami. But hey, it's only normal. The city is a major destination that relies heavily on the tourism industry to bring in billions of dollars a year (which somehow always ends up in the government's hands). And as our city continues to grow and expand, more tourist traps are bound to arise. Here's your guide to avoiding them.
Beach
Instead of: South Beach
Go to: North Beach
Despite what you may have heard, Miami Beach is not synonymous with South Beach. Miami Beach is an island that's divided up into sections (some obviously more popular than others). South Beach -- the area between 1st and 23rd streets -- is where most tourists flock to for the shops, hotels, and restaurants, as well as Lummus Park where impossibly tan bodybuilders workout and people stuck in 1998 still rollerblade.
A little further north, away from the hustle and bustle, between 67th St and 87th Terrace is the quieter North Beach, an old, predominantly Argentinean and Uruguayan community that retains its '50s and '60s charm. There's easy to find parking, unique mom and pop restaurants, and a less crowded beach. This all may soon change as development is slowly creeping through Mid Beach, changing the vibe of the entire 'hood. But, in the meantime, it remains an idyllic spot.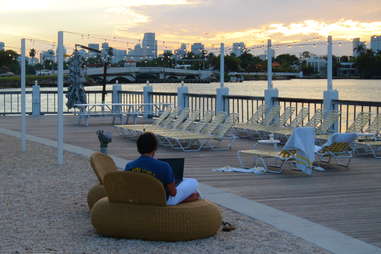 Pool day
Instead of:The Clevelander
Go to:The Standard Spa or The Vagabond
Even though most folks in Miami have their own pool, The Standard Spa, and the recently rebirthed Vagabond, have become local cult favorites for their tropical gardens, rooms with private terraces, and, at The Standard, a hydrotherapy playground. The Standard is heavy on the holistic approach to life and offers hidden oases with hammocks for napping while Vagabond is a rebirthed MiMo property that offers a pool oasis with great music and a poolside bar. The Standard also hosts a seemingly unusual monthly bingo night called Not Your Standard BINGO.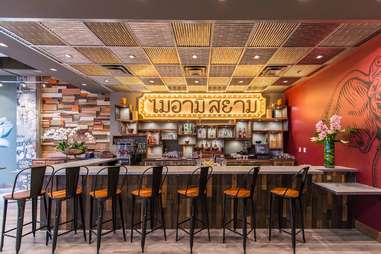 Miami Beach eats
Instead of: Ocean Drive
Go to: Sunset Harbour
TGI Fridays, Columbus Restaurant, News Cafe, The Pelican Cafe, and all the other random no-name spots don't even come close to the likes of Pubbelly, NaiYaRa, Barceloneta, and Lucali. Even the coffee shop, Panther Coffee, beats the hell out of Ocean Drive's coffee places.
Nightclub
Instead of:Mango's
Go to:Electric Pickle
Going to Mango's is on the list of 18 things no self-respecting Miamian should do. So don't do that. Meanwhile, celebrating 7 years this year is the Electric Pickle, an indoor/outdoor indie-but-appeals-to-everyone spot that has managed to stay open and successful despite all the changes going on around it. All the while, sustaining a healthy live music scene and perfecting the resident DJ system. Plus, cover is cheap -- if at all -- and you'll probably be asked to leave if you seriously mention "bottle service."
Cool neighborhood
Instead of: Little Havana
Go to: Little Haiti
Due to its close proximity to Downtown, Little Havana became a hub for Cubans early on. They retrofitted the neighborhood, not only adding supermarkets and other diverse shops for every need, but also monuments and parks. The last few years have seen a rise in the interest of the neighborhood and commercialization has set in. Dozens of buses now bring in herds of tourists daily to tour the area that you'll want to avoid.
Across town, another enclave-like neighborhood gaining steam is Little Haiti. However, unlike the new Little Havana, the local community of Little Haiti has ramped up their effort to make the neighborhood into a cultural destination. The community's hub has a special emphasis on art, music, and food. Your main points of interest can be found along NE 2nd Ave, around 62nd St.
Cuban eats
Instead of:Versailles
Go to:Rio Cristal
Out in the suburban boonies, Rio Cristal is where the local folks come to eat. Just make sure you go with an empty stomach, 'cause you may need to eat a mountain of papitas to get to your actual meal. Somehow, there's always space for flan though. As an added perk, they have reserved parking spots for those dining at the restaurant.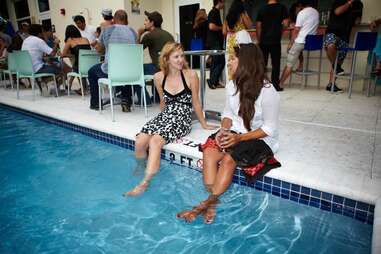 Day drinking
Instead of:Wet Willie's
Go to:Lou's Beer Garden
While Wet Willie's has its merits -- frozen drinks, refreshing, beachfront -- but for those reasons, it's ground zero for tourists. Locals that have been coming to the beach for years know to bring a flask of grandpa's cough medicine and stop in at the 7-Eleven for a slurpee.
Lou's has frozen sangria along with a fully stocked bar for cocktails and long list of ice cold craft beer. The poolside bar sits in the courtyard of a boutique hotel hidden amongst the palm trees. There's also couches and lounge chairs throughout to chill the day away. Oh, and don't forget to ask about the bone luge.
Rooftop
Okay, we get it, Juvia is located on top of a sweet parking garage designed by Herzog & de Meuron on the shinier part of Lincoln Rd, but the limited bar space and overpriced drinks and small plates are getting old. Over on the mainland, Friday's happy hour is when you'll find every hottie from Brickell, Downtown, and beyond hoping to beat the clock with by swigging glasses of champagne. Plus, Area 31 offers two of the best views around -- Brickell Ave as far as the eye can see, and the junction where the Miami River meets Biscayne Bay.
Attraction
Instead of:Miami Seaquarium
Go to: Walk Old Cutler Trail
Seriously, how is the Seaquarium still open? Not only is it an eyesore, but Lolita -- the resident orca -- is said to be the world's loneliest whale going on 45 years of performances. Instead of feeling sad, head over to Old Cutler, which offers 11 miles of paved trail along Matheson Hammock Park, Biscayne Bay, Fairchild Tropical Botanic Garden, Pinecrest Gardens, and Deering Estate traversing some of the most unique and oldest neighborhoods in the city.
Sign up here for our daily Miami email and be the first to get all the food/drink/fun in town.
In case you were wondering, Miami writer Mandy Baca hopes Lolita can soon return to her whale friends. Follow her on Twitter.