Miami Tourism
Miami Tourism
Miami is a city with many layers -- starting with its 1500s Spanish past up to its effortlessly forward-thinking Art Basel and Miami Music Week present. Throw in a mix of culturally vibrant neighborhoods like Little Havana, the artist-inspired murals of the Wynwood Arts District, golden hour views of the Biscayne Bay, and you have one of the most influential international cities in the world…. and the most Instagrammable.
Each evolution Miami has undergone, from the birth of its iconic Art Deco District following the Great Depression to the Harlem Renaissance in Historic Overtown, the city has become the exemplar of the US melting pot. It's why so many beautiful neighborhoods (and yes, beautiful people) visit and call Miami home.
Even though the whole city is teeming with amazing vistas, there's a handful of iconic neighborhoods and landmarks that should grace the top of any successful photo tour.
BIENVENIDOS A MIAMI
Kick off your visit to Miami with the ultimate warm welcome. After a $12M renovation that began in 2015, the iconic Bass Museum of Contemporary Art has the type of exhibits you'd only find in a technicolor dream. Opened in 1964 in Miami Beach's Art Deco Historic District, its 2015 transformation added more than 4,000 square feet of space designated exclusively for more interactive art installations and fixtures. Even the museum's lobby has been heavily posted on social media by guests. Designed by artist Pascale Marthine Tayou, vibrant-colored neons in various fonts say "welcome" in over 50 different languages.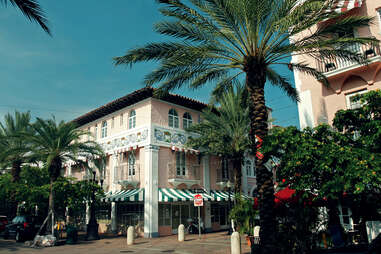 SOUTH BEACH MEETS SPAIN AND FRANCE
Don't be fooled by Española Way's seemingly small two-block corridor between 14th and 15th Streets. Its historic ivy-covered buildings pack endless boutiques, cigar shops, and art galleries between their faded pink stucco walls. Originally built in the 1920s as an artist's colony, community events like Thursday night salsa classes outside Havana 1957 give it the look and feel of a quaint European village you'd normally only find in Spain and France. And the back patio at cafe and French creperie À La Folie, filled with palms and wicker chairs, is so charming, no one will judge you for taking pics of your espresso.
SERENE SCIENCE
The beauty of Miami (again, those layers!) is there's always more than meets the eye. The Phillip and Patricia Frost Museum of Science holds its own in a city mostly known for its contribution to design and art, and it starts with its immersive three-level aquarium. Beat the midday heat with a tour starting at the top deck, which clocks in at 100 feet wide and holds a massive 500,000 gallons of water, and work your way down below the "surface" as hammerhead sharks, mahi-mahi, and devil rays circle by. By the end of the plunge, the thousands of vibrant fish swim above you to simulate what it's really like to be at the lowest depth of the ocean. No wetsuit or underwater camera required.
HAITI IN THE CITY
You're only scraping the surface of Miami if the Little Haiti Cultural Complex's Caribbean Marketplace doesn't make it into your phone's photo library. The 9,000-square-foot pastel yellow marketplace is the bustling heart of Haitian lifestyle. Hit up the community market every Saturday from 10am to 4pm for a taste of Afro-Caribbean fashion, handcrafted homeware, books, arts & crafts, and cuisine. Palm trees and bright murals line its breezy outdoor courtyard as the sound of Caribbean drums drift throughout the space -- a true kind of Miami sensory overload everyone should document at least once.
ARCHITECTURE WALKABOUT
Switch gears on social media from colorful closeups to wide angles of asymmetrical roofs, glass curtain walls, and neon signs during a 90-minute guided walking tour of the North Beach Resort Historic District. Grand resort lobbies, supper clubs, and cocktail lounges of the '30s, '40s, and '50s greet you at exclusive stops at resorts like The Casablanca Hotel and the art deco-laden Normandy Plaza Hotel. Not only does the North Beach MiMo Tour include looks into 12 private and public buildings, it provides an effortless way to wander Collins Avenue with the Atlantic Ocean as your backdrop.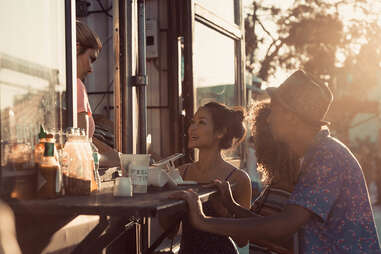 OUTDOOR FOODIE HEAVEN
A proper photo tour of Miami isn't complete without POV snaps of the attractive food offerings at The Wynwood Yard. Residing in four lots converted into a sophisticated backyard hangout, this pop-up hub operates under a sea of string lights and rotates creative art and food options throughout the year. Grab a bite from one of the many food trucks lining its perimeter, like savory shawarma from Arabian Knife or an artisanal cheese and charcuterie board from Charcoal Garden Bar and Grill (which sourced shipping containers to create its outdoor space). Add an iced matcha from Yōko, Miami's first matcha bar, and then put your feet up on a porch swing next to a perfectly overgrown garden. Like your food options, the laid-back vibes are endless.
ONE COOL POOL
Opened in 1926, Miami Biltmore Hotel hosted both royalty and Hollywood celebs during its heydey. (The Duchess of Windsor, Judy Garland, Franklin D. Roosevelt, and Al Capone all frequented its guest list.) The Mediterranean revival architecture, complete with hand-painted ceiling beams and open-air courtyard with fountains, was designed to make guests feel like they wandered into a Spanish castle. Sure, it's easy to snap every inch of the inside, but the 23,000-square-foot pool adorned with statues and cabanas is where the views really start. Nestled between native palms and hibiscus plants, you'll grab lunch at the Cascade Poolside Cafe, if you don't want to spring for a highly in-demand lounge chair. (But you're on vacation, so maybe you should.)
DESIGN 101
The intersection of fashion, design, architecture, and food is in the Miami Design District. Public art pieces (like the Fly's Eye Dome), celebrity chef-run restaurants, high-end fashion boutiques, and modern art galleries make the neighborhood about as picturesque as it can get. Architecture takes on new meaning with former warehouses -- and even a post office -- converted into luxurious stores and art galleries. Consider grabbing free admission to the newly relocated Institute of Contemporary Art and wander around its over-the-top indoor and outdoor exhibits and sculptures.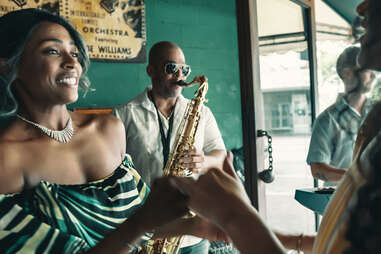 A TASTE OF HAVANA
A surge of Cuban culture, food, and music flooded Miami in the '50s, and the city's celebrated that influence ever since in Little Havana. The smell of Cuban coffee greets you on a sunny stroll through Calle Ocho, where you'll find hand-rolled cigars, fruit stands, and locals playing dominoes. But for total old-school vibes, head inside to Ball and Chain, a recreation of an iconic 1930s Cuban bar that occupied the same space. The combo of live Latin music, handcrafted cocktails, red leather seats, and dark green walls effortlessly transports you straight to Cuba, while the vintage neon and pineapple stage are all you need to garner those likes on social. Grab the nutmeg, vanilla, and cinnamon ice cream (a Cuban favorite) from Azucar Ice Cream Company on the way home and get that Insta story rolling.
SUNSET OASIS
No matter what city you're exploring, The Standard Hotel always delivers on design that favors modern touches, and of course, prioritizes ridiculously fine vistas with craft cocktails on hand. The same applies to its glamorous Miami Beach venue, set right within Belle Isle in the Biscayne Bay. Don't worry if you're not a guest at the hotel --- make a reservation at The Standard's bayside deck, The Lido Bayside Grill, right before sunset. 'Gram the views with Lido's glorious blend of a daiquiri and a piña colada in the photo. Just because you've lost the natural light doesn't mean you'll run out of subject matter. Once it's dark, you can hit up the lounge for a stylishly upscale night out: wood panel walls, red mid-century modern lounge chairs, and a ping-pong table to boot. That much fodder will keep your feed photogenic no matter how fun and fuzzy the rest of the night gets.