How to Sneak Into 13 Miami Pools
Courtesy of The Palms Hotel
Pools are essentially giant bathtubs filled with chlorine, foam noodles, and water jets in weird places. And we love them. Especially the ones loaded with hot people spraying Champagne bottles whilst electronic music plays loudly in the background and a possible C-list celebrity is sunbathing surrounded by security. However, while these pools exist, they are all super-expensive, and that's simply not cool.
Fortunately for you, however, we've scoped out some of the best pools in Miami and figured out 1) if you can get into them, and 2) if so, how to do it. Of course, it's up to you to actually follow our directions and get yourself in there -- so for the love of God, be cool.
Courtesy of The Confidante
The Confidante
Miami Beach
Level of difficulty: Easy

How to get in: This is one of the few Miami Beach hotels with pools that are free and open to the public. You can literally just walk on in. So do that, and then order lots of rosé. Namely because they're on special for $40 a bottle during the summer.
Nautilus, a SIXTY Hotel
South Beach
Level of difficulty: Easy

How to get in: OK, you have two options here. First, you can go there on Sunday mornings for poolside yoga (it's free), and Downward Dog crawl your way to a pool chair. Second, you can usually walk on in without any trouble. There's sometimes a guy "guarding" the pool, but he's almost always never there, and you can get to the pool from either the beach or the hotel lobby.
The Surfcomber
South Beach
Level of difficulty: Easy

How to get in: This hotel has the ideal setup for being cheap and sneaking into places. The lobby is a separate building from the pool and has a popular restaurant, The Social Club, so there are always people walking in and out of it. The key is to get there early so they think you just rolled out of your hotel bed and stumbled to the pool. Grab a pool chair and be nice to the attendants. And by "be nice," we mean "tip them with your money."
Miami Resort and Spa
Miami Beach
Level of difficulty: Easy
How to get in: Park in valet like you're staying there, and walk through the giant lobby, down the staircase on your right, and out onto the pool deck. There is an attendant there, but as long as you don't have a cooler, or are obviously a tourist, you can usually walk onto the pool deck and grab a pool chair. To seal the deal, order a drink from Seabreeze Bar & Grill, the pool bar, and before they even ask, tell them, "No, I do not want to charge this to my room."
Freehand Miami
Miami Beach
Level of difficulty: Easy

How to get in: This is a hostel -- an incredibly fantastic one with the extremely popular cocktail bar, Broken Shaker -- but a hostel none the less. To get to the pool? Go ahead and walk on in. But be sure to grab a drink and play it cool as you do... and try to look like a tourist for some extra camouflage.
Mondrian South Beach
South Beach
Level of difficulty: Easy

How to get in: While doable, sneaking in is going to take strategy. So listen up: walk past the lobby bar and go straight to the pool. If you don't see an attendant, congrats! You're in. If you do, play dumb and pretend you're lost and looking for the spa. Go up to the spa, wait about 10 minutes, then come back down. If you see that same attendant, tell him your massage was delayed and you're going to wait for it by the pool. Boom.
Courtesy of The Fontainebleu Miami Beach
The Fontainebleau Miami Beach
Miami Beach
Level of difficulty: Hard

How to get in: Everyone wants to be at the Fontainebleau. Everyone. And because it's so popular, the pool has more security than Obama (there are even velvet ropes. VELVET!). Here are your options, keeping in mind they might still be a crapshoot: flirt with someone with a cabana. If that doesn't work, go to lunch at the poolside restaurant, La Côte, and take your time. Allegedly, someone is supposed to escort you there and back, but because it's always so busy, it's usually easy to avoid that last step. Sneak out, and if you can find an empty pool chair, make a pit stop there on the way to valet. Stay for hours. If you want to go earlier, hit the public beach a few blocks down, walk over to the Fontainebleau beach, and shimmy up to the pool deck and into a pool chair. But don't actually shimmy -- this is the Fontainebleau, and you're supposed to be playing it cool, remember?!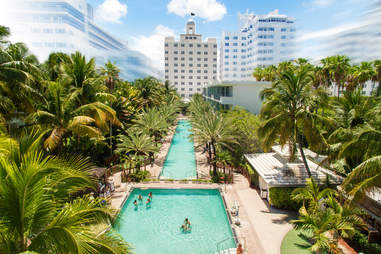 Courtesy of The National Hotel Miami Beach
The National Hotel
South Beach
Level of difficulty: Hard

How to get in: This is an old hotel, so as glamorous as it is, it's not as "uptight" as its more contemporary Collins Ave neighbors. That said, it has the longest pool in Miami, so people want to go to there and the pool attendants are always on their A-game. The pool has two restaurants: the main, trendy one at the front and the more casual The Aqua Club pool bar/restaurant in the back. Start with a drink or three at The Aqua Club and act like a regular. From there, the pool is literally 10ft away -- we have faith in you, young poolhopper.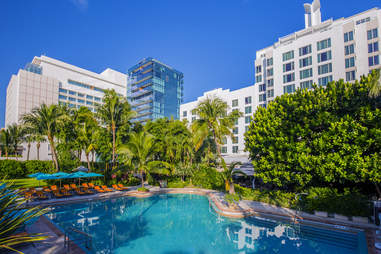 Courtesy of The Palms Hotel
The Palms Hotel
Miami Beach
Level of difficulty: Basically impossible

How to get in: This is a boutique hotel, which means that everyone who works there always knows everything that is happening. This is not a giant pool that you can simply casually sneak into, though you will totally want to and will probably try to... like we did. The good thing about this place is that everyone who books a spa treatment, even just a $15 polish change, gets access -- so head to the spa, walk right by it, then go to the pool and tell the pool attendant you just went to the spa. Loophole alert! OR actually book a spa appointment and go to the pool that way. You will not regret this option.
The SLS Hotel
South Beach
Level of difficulty: Basically impossible

How to get in: This is the home of Hyde Beach, the hottest pool in Miami, and because of that, it's also one of the hardest to sneak into. People will shell out thousands of dollars to plop their ass in a Hyde Beach cabana. You can try to sneak in, but the giant bouncer man will not let this happen. Accept this and move on to a lesser pool.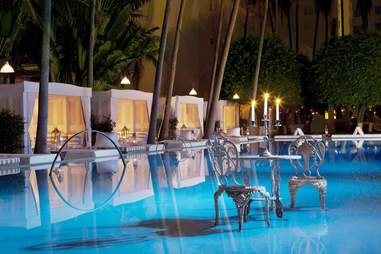 Courtesy of The Delano Hotel
Delano South Beach
South Beach
Level of difficulty: Basically impossible

How to get in: Like Soho Beach House, this one is on-point with its security, so sneaking will be -- as us Miamians like to call things -- "a mission." To get to the pool, you have to go through the lobby and past the main restaurant, Bianca. Then there's a little grassy area, the long pool, and the beach bar. If anyone stops you (and they will) tell them you're meeting someone at the beach bar, hangout there for a little, and when the moment is right, saunter over to the pool. A pool attendant will be on your ass like white on rice, and they don't play. So when things get to real, ABORT ABORT ABORT and go to The Confidante.
Soho Beach House
Miami Beach
Level of difficulty: Basically impossible

How to get in: This place is like a maximum-security pool-prison for celebrities and in-the-know socialites who only like to fraternize with other celebrities and in-the-know socialites. Not only will the valet guy interrogate you about why you're there and whether you have a reservation, but two girls at the front desk will do the same AND consult a list. That's two obstacles before you even get through the lobby! Your best bet is to friend someone with a membership, and let them give you guest access. Or, get to Mandolin Beach early for brunch on Sunday, and gradually sidestep your way to the pool. If you choose the latter, nine people will probably inquire about your intentions along the way, all of whom have security on speed dial to escort you out. Try not to trip on a celebrity on your way out the door if you don't make it.
Courtesy of The Villa, Casa Casuarina
The Villa, Casa Casuarina
South Beach
Level of difficulty:
Impossible

How to get in:
Unless you're sleeping with a Kardashian or want to shell out $1,000 a night to actually stay in the hotel, your chances of sneaking into this pool are pretty much slim to none. The Villa is the famous Versace house resurrected, the pool is made of 24K gold, and said 24K gold is guarded by the equivalent of whatever the Secret Service would be for... well, gold. We tried to pretend we were staying there, which they humored for like five seconds, but ultimately, they have a pool made of gold and we had sandals made of plastic. Oh well.
Sign up here for our daily Miami email and be the first to get all the food/drink/fun in town.
Jennifer Agress is a Miami-based freelancer who doesn't believe in paying for things. See her try to sneak into all kinds of places on Instagram, at @jenniferagress.