Tony Lesesne was in absolute disbelief when he heard the news of the attack at the U.S. Capitol in early January. He was test driving a car when he was fumbling with the radio, and stumbled upon a ESPN newscaster reporting the events. Listening to the commotion pained Lesesne, who considered himself a patriot, and served as a crushing reminder of this country's dark past and shaky future. "I was stunned, I was saddened, and I was hurt," Lesesne says.
As the president of the Black Owned Media Alliance—a South Florida organization that aims to address the disparity within mainstream media and Black media—Lesesne says the organization stayed vigilant as the inauguration came and went. Lesene urges everyone to remember the Capitol siege as a dark spectre that haunts this country. "We have to be patient and stay focused on our business, and focus on our community," he says.
From places to donate and resources for becoming a better ally to shops where you can use your cash to support local businesses, here are some of the ways you can make a difference in Miami's Black community right now.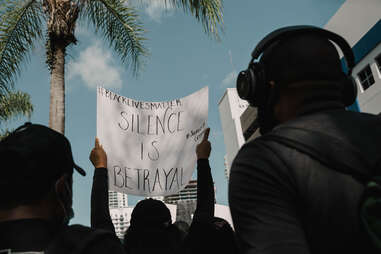 Donate to nonprofits and community efforts
South Florida-based social justice organizations are working tirelessly to aid protestors and fight racial injustice and police brutality both locally and nationally. Fempower Miami, a queer culture-shifting organization, backed many of the Miami protestors by holding one of the county's first bailout funds during the summer protests.
Miami's Dream Defenders branch has been active long before the protests. When the COVID-19 outbreak first hit Miami, the Dream Defenders wanted to make sure homeless people stayed safe and had the necessary supplies to protect themselves. The organization did this while calling for the decarceration of inmates currently serving time in Miami-Dade County jails.
Similar to Dream Defenders, Miami-based New Florida Majority is an organization group focused on achieving equity and justice for the state of Florida. The organization recently hit its $10,000 goal its annual #FreeBlackMamas campaign to help bail out black mothers and caregivers. For some of Miami's most marginalized youths, Power U Center For Social Change engages students in becoming active in their community through social justice.
Various Miami government officials have also spoken out on the recent protests -- Miami Gardens Mayor Oliver Gilbert III held an interfaith press conference declaring solidarity with the protestors. Candidate for the Miami-Dade County Commissioner Sybrina Fulton, also the mother of Trayvon Martin, has made similar comments in light of recent events.
Order takeout and delivery and support restaurant funds
Neighborhoods such as Overtown, a once prosperous black neighborhood that was disenfranchised by the construction of Interstate 95, and Little Haiti contain some of Miami's most notable Black-owned restaurants and businesses. Despite issues like gentrification endangering the local existence of these neighborhoods, some of its proudest businesses continue to thrive.

Overtown's House of Wings offers more than 60 different sauces and rubs. For soul food lovers, Miami Rapper Trick Daddy opened his restaurant Sunday's Eatery in Miami Gardens last September and Jackson's Soul Food in Overtown is one of the neighborhood's oldest and most popular restaurants. Other restaurants such as Shuckin' and Jivin and The Licking bring Southern comfort food to Miami.
Caribbean favorites Chef Creole, Piman Bouk and Clives Cafe are home to some of Miami's best Haitian and Jamaican food.
World Famous House of Mac, started by the former manager of Pitbull, offers a unique spin on the American classic, with intricate flavors such as jerk and lump crab macaroni and cheese. For those who abide by plant-based diets, Vegetarian Restaurant by Hakin offers the Caribbean and American-inspired flavored dishes.
Shop at local Black-owned businesses
While the new coronavirus outbreak has impacted businesses all across the globe, Black-owned Miami-based businesses are doing their best to push through. Black Girl Sunscreen wanted to create a sunscreen for melanin-sufficient women to protect their skin without the white residue.
For those interested in street wear, Suite 110 in Overtown has original graphic t-shirts and popular sneakers. The colorful Lighthouse Garden Center near Kendal's Lakes offers a wide variety of shrubs, flowers, trees and other plants.
More ways to help?
Check out a list of national organizations we've compiled here. If you have thoughts on other businesses you'd like to see included in our local stories, please email feedback@thrillist.com.
Sign up here for our daily Miami email and be the first to get all the food/drink/fun in town.
Tamica Jean-Charles is a recent graduate of Florida International University, covering urban communities and local governments. When she is not working, she loves to attend local concerts and source out the best Haitian food in South Florida. You can follow her on Twitter.