The Best Rainy Day Activities in Miami
Stay dry, friends.
In a city where the sun's out pretty much all the time, it's easy to forget that we're almost exclusively set up for good weather. But when it rains, stuff like rooftop bars, beach clubs, and outdoor movie theaters all of a sudden don't seem so inviting. Waiting out the rain is always an option, since our storms often last less time than it takes to complain about them. However, should the rain continue all day, the day's not shot. From our collection of museums to sports best experienced in bad weather, South Florida's still got plenty going on. Here's what to do on a rainy day in Miami.
Immerse yourself in high tech art
Miami has become an American hub for tech-driven art and immersive experiences. The most renowned is Superblue in Allapattah, where the current exhibit "Every Wall is a Door" features a mirrored maze from Es Devlin and the trippy, minimalist Ganzfeld piece from James Turrell. In South Beach, Artechouse, as the name might imply, fuses art and technology for interactive walk through art installations that rotate every few months.
Browse books and drink wine
What with the advent of Amazon, bookstores have had to get creative to keep their niche alive. In Little River, Paradis Books and Bread lets bookworms curl up with a new book and a glass of wine, doubling as a book shop and one of Miami's best wine bars. You don't even need to leave if you get hungry, since their house baked breads could get them on a list of best bakeries too. For a bigger selection of books, but not nearly as much wine, check out Books and Books in Coral Gables, which hosts frequent author readings and has a small café onsite.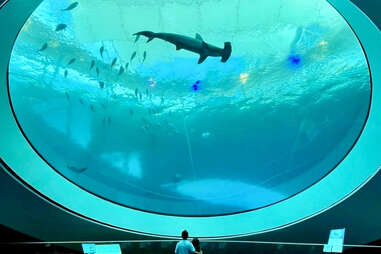 Pose in front of the Oculus at the Frost Science Museum
There is actually more to our downtown science museum and aquarium than the big, circular window that's more ubiquitous on Instagram than bikini pics on a boat. It's also got a full mock-up of the Everglades on the top floor, where you can see baby alligators and rare roseate spoonbills. And a stroll-through live lab where Frost staff is regrowing coral species. You can also delve into an underwater coral reef as you descend to the ground floor, then take in a galactic show at the planetarium.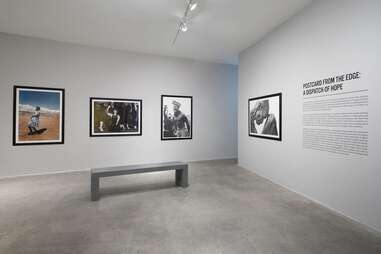 Ponder modern art
If you wanna see that head-tilting stuff that your parents wouldn't understand, head to the Museum of Contemporary Art in North Miami, where galleries are filled with provocative works, and special exhibits from Latin American and Caribbean artists. Though we might not suggest a walk through its sculpture garden on a rainy day, the Institute of Contemporary Art in the Design District has an inside filled with cutting edge modern showcases. It's also free, if your rainy day fund got used up at the bar over the weekend.
Go golfing…up top
You won't worry about your six iron becoming an instant lighting rod when you smash some balls at Top Golf, where every driving bay is completely covered from the elements. You and your crew will marvel at the brave souls who still go out in carts and shag balls in such nasty weather. But as you order your fourth round of beers and tee up another game, that thought will dissipate as soon as you hear that first thwack of the club.
Climb some rocks in South Dade
If they can put a ski slope in Dubai, by God, they can find a way to import climbing rocks to South Florida. Sure, the rocks at The Edge Rock Gym are about as real as the snow in the Arabian desert, but that doesn't mean you can't spend a solid afternoon indoors tearing up your hands as you traverse over 14,000 square feett of climbing wall—or just relax in their brand-new yoga room.
Expand your horizons at an art cinema
Going to the movies in Miami is a special experience, what with the bonus soundtrack of people on cell phones saying stuff like, "Oh my God, bro, you won't believe this movie I'm at right now." If you prefer more polite movie audiences, try catching some lesser-known art films at places like O Cinema, the Coral Gables Art Cinema, Tower Theater, and the Cosford Cinema at UM. You'll not only hear the movie, you might actually learn something, too.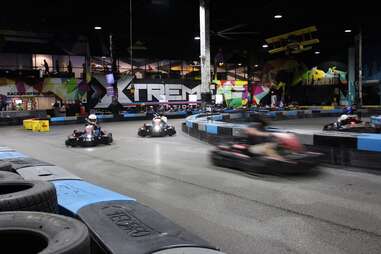 If it's raining out, you will no doubt see better driving from the collection of 10-year-olds on the Go Kart Track here than you will on any of the roads in South Florida. But if you don't feel like taking your life into your hands at your destination, too, this Ft. Lauderdale entertainment palace also has a ropes course, escape rooms, bowling, and a laser tag/paintball hybrid called Bazooka Blast. And a brand new VR dive where you can don a headset and fight zombies, still a safer experience than I-95 during a rainstorm (or anytime, really).
Learn about art, history, or sex at one of our museums
Downtown's Pérez Art Museum Miami (or PAMM, as the cool kids call it) might be the sleekest-looking art museum in America, with a killer view and a great restaurant at Verde. But the Rubell Museum in Allapattah probably boasts the city's best collection of classic art, and a stunning restaurant at Leku. History buffs can learn about the Miami that once was—or even Frank Sinatra—at HistoryMiami Downtown. Or if you want to get a little risqué, the World Erotic Art Museum in South Beach can make for an interesting—or very awkward—date.
Try to bowl over 100
Though the Miami native in your group will inevitably not shut up about Don Carter's, there are still some pretty cool bowling alleys in Miami that offer totally different experiences. It can be a chic, trendy South Beach experience if you hit the lanes at EDITION, or a full dinner with drinks and dancing when you roll to King's Dining and Entertainment in Doral. Or—our suggestion—an absolute immersion in Miami culture if you hit the legendary Bird Bowl in Westchester.
Day drink at a local brewery
Experience the fun people in Seattle and Portland have been having for the last 30 years when you spend an entire day inside looking at overcast skies and drinking craft beer. In Broward, hit Funky Buddha for a Disneyland of beer experience or Tarpon River for the best brewery food in Ft. Lauderdale. In Dade, try intense sours at Tripping Animals or belly up to the dozens of taps at M.I.A. in Doral. You can also drink craft beer in the mall at EST. 33 in Brickell City Centre, or in a sprawling Hialeah warehouse at Unbranded. Wherever you are, remember to relish in the fact that you won't have to do this for nine months at a time.
Smoke cigars in Little Havana
All the trademark cigar shops will let you smoke inside, and many serve drinks. Without the cigars, you can still grab drinks at historic Ball & Chain, or see what bars were like in Havana 60 years ago at the Cubaocho Museum & Performing Arts Center. OR... catch a movie at the historic Tower Theater.
Pro tip: rainy days are when the most long shots come in at the horse track. Maybe? Regardless, an afternoon at Gulfstream betting on horses in the slop can be profitable, and is always educational. You'll not only learn the precise science of reading the racing form, you'll also learn how to curse at slow-moving animals in about 14 different languages. Valuable life skills all around.
Explore a historic home
That wedding or quince you went to at Vizcaya was probably out in the gardens. But have you ever really taken the time to tour the actual house? Or made the trip to the Deering Estate to see that Gilded Age mansion? Miami's historic mansions are as grand as anything you'd find in Newport, and even more impressive considering people lived in them…. without air conditioning.
Escape a panic room
The premise here is pretty simple. You and your friends are put in a room, and have a set amount of time to follow hidden clues in that room to try and escape. Run out of time, and all hell breaks loose, and, yes, panic ensues. The rooms have themes like CSI: Miami or Halloween or Mediaeval times, and teach you to think in different ways. Try The Great Escape Room near the Gables, South Beach Room Escape in the Beach, or Escape Hunt Downtown.
Bust your ass trying to ice skate
Though the only naturally occurring ice we have in South Florida bedazzle gold watches and chains, the skatable variety can be found in a few locations and, if nothing else, will have you learning a fun new skill on a rainy day. The Kendall Ice Arena is a locals' favorite, but also check out the Scott Rakow Youth Center in Miami Beach, or if you want to be fancy, the basement rink at the EDITION.
Matt Meltzer moved to Miami for the friendly people and doesn't feel cheated at all when it rains. He's also got a million followers on Instagram, follow him to more lies @meltrez1.