20 Things We Love to Do on a Rainy Day in Miami
Whoever said "it rains in Miami, but only for like an hour" never spent much time here in summer... and clearly wasn't here last winter. Contrary to what some might think, we get more than our fair share of days where the sun doesn't come out, and we spend the whole day inside saying, "Dude, it's not supposed to rain, like, ALL day."
In a city where most of the fun is built around having nice weather, sometimes it's hard to figure out what to do on a rainy day in the 305. But aside from going to the local multiplex and assessing your car's flood damage, there's plenty going on. From checking out the Batmobile to hitting up the Turkish baths in Miami Beach, here are 20 great ideas you can do when it's raining in Miami.
Become a Ninja Warrior at Ninja Lounge
You ever watch that show with the salmon ladder and the warped wall and were like, "I could totally CRUSH that," but then conveniently had to wash your dog the day they had tryouts in Miami? Well, no more excuses, pal, because your rainy day can be spent putting your money where your core strength is at this re-creation of the Ninja Warrior course in North Miami.
Climb some rocks in South Dade
If they can put a ski slope in Dubai, by God, they can find a way to import climbing rocks to South Florida. Sure, the rocks at
X-TREME Rock Climbing
are about as real as the snow in the Arabian desert, but that doesn't mean you can't spend a solid afternoon indoors tearing up your hands as you traverse over 14,000sqft of climbing wall... or just relax in their brand-new yoga room.
Sadly, more people in Miami probably know jai alai as an IPA than as a pari-mutuel. But if you want to see how the beer got its name -- and why in the 1980s this was THE place to be -- hit Miami Jai-Alai and bet on guys hurling a ball against a wall who are absolutely, positively
not
fixing the matches. The crowd may well be full of people still
there
from the '80s, but with enough beer and the right amount of heckling, you'll see why people loved this stuff 30 years ago, and probably still should.
Expand your horizons at an art cinema
Going to the movies in Miami is a special experience, what with the bonus soundtrack of people on cell phones saying stuff like, "Oh my God, bro, you won't believe this movie I'm at right now." If you prefer more polite movie audiences, try catching some lesser-known art films at places like
O Cinema
, Cinematheque, Tower Theater, and the Cosford Cinema at UM. You'll not only hear the movie, you might actually learn something, too.
If it's raining out, you will no doubt see better driving from the collection of 10-year-olds on the Go Kart Track here than you will on any of the roads in South Florida. But if you don't feel like taking your life into your hands at your destination too, this Ft. Lauderdale entertainment palace also has a ropes course, bowling, and a laser tag/paintball hybrid called Bazooka Blast.
Learn about art, history, or sex at one of our museums
If you haven't been to the Pérez Art Museum Miami (or PAMM, as the cool kids call it), it might be the sleekest-looking art museum in America, with a killer view and a great restaurant. You can also learn about the Miami that once was -- or even Frank Sinatra -- at HistoryMiami Downtown. If you want to get a little risqué, the World Erotic Art Museum in South Beach can make for an interesting -- or very awkward -- date. And if it gets too weird, the Wolfsonian-FIU is only a few blocks down Washington Ave in South Beach.
Swim in the ocean
If there's no lightning out, taking a trip to the beach can be refreshing for a lot of reasons. First, you can actually park, and won't have to share the beach with screaming children and blaring reggaetón. Second, you can get in the water without worrying about somebody stealing your wallet. And third, once you're in the water, the warm rain hitting you while you wade into the turquoise-and-steel-grey Atlantic is a surreal, magical experience.
Yes, you CAN play video games at home. For free. But can you also play AC/DC pinball,
Star Wars: Starfighter,
and
House of the Dead
versions one through four? If so, then stop reading, never leave your house, and let us know your address in the comments. If not, this spot has 131 different video games and pinball machines, and even a snack bar with Japanese candy and drinks.
Try to bowl over 100
Though the Miami native in your group will inevitably not shut up about Don Carter's, there are still some pretty cool bowling alleys in Miami that offer totally different experiences. It can be a chic, trendy South Beach experience if you hit the lanes at EDITION, or a full dinner with drinks and maybe a movie after you roll to Splitsville at Sunset Place. Or -- our suggestion -- an absolute immersion in Miami culture if you hit the legendary Bird Bowl in Westchester.
It's definitely a trip back to another era when you step into the "basement" of the Design Suites in Miami Beach. Past the velvet curtains are rock walls and grottos, within which you'll find steam rooms, cold plunges, mud baths, waterfalls, and even people who will beat you with tree branches in a traditional "relaxation" treatment called platza. It's as calming as it is weird, and a hidden indoor activity few in Miami know about.
Day drink at a local brewery
Experience the fun dudes in Seattle and Portland have been having for the last 30 years when you spend an entire day inside looking at overcast skies and drinking craft beer. In Broward, hit Funky Buddha, in PBC, Due South is your go-to. And in Dade, hit brewery row in Wynwood and hop from Concrete Beach to Wynwood Brewing to J Wakefield. Also, relish in the fact that you won't have to do this for nine months at a time.
See cars from Batman and Bond at the Dezer Collection
Yeah, the Batmobile is cool, and so is the ENTIRE COLLECTION of souped-up Bond cars. But this place also has Ecto-1, Greased Lightning, Chitty Chitty Bang Bang, and, of course, a Ferrari from
Miami Vice,
plus all sorts of American and European classics, and a ridiculously oversized statue of the Heat's former (future?) Big Three.
Be a tourist in your hometown
You might think of Miami city tours as hokey things tourists do. But taking a half-day to jump on a bus will actually teach you a surprising amount about Miami, as most of the guides know all kinds of fun facts about places around the city that you never bothered to learn. While the open-air buses and Duck Tours are probably a bad idea if it rains, companies like the
Miami Tour Company
have small groups in air-conditioned shuttles, and a pretty witty tour script.
Smoke cigars in Little Havana
All the trademark cigar shops will let you smoke inside, and many serve drinks. Without the cigars, you can still grab drinks at historic Ball & Chain, or see what bars were like in Havana 60 years ago at the Cubaocho Museum & Performing Arts Center. OR... catch a movie at the historic Tower Theater.
Pro tip: rainy days are when the most long shots come in at the horse track. Maybe? Regardless, an afternoon at Gulfstream betting on horses in the slop can be profitable, and is always educational. You'll not only learn the precise science of reading the racing form, you'll also learn how to curse at slow-moving animals in about 14 different languages. Valuable life skills all around.
Explore a historic home
That wedding or quince you went to at Vizcaya was probably out in the gardens. But have you ever really taken the time to tour the actual house? Or made the trip to the Deering Estate to see that Gilded Age mansion? Miami's historic mansions are as grand as anything you'd find in Newport, and even more impressive considering people lived in them…. without air conditioning.
Escape a panic room
The premise here is pretty simple... you and your friends are put in a room, and have a set amount of time to follow hidden clues in that room to try and escape. Run out of time, and all hell breaks loose, and, yes, panic ensues. The rooms have themes like
CSI: Miami
or Halloween or Medieval times, and teach you to think in different ways. Try
The Great Escape Room
near the Gables,
South Beach Room Escape
in the Beach, or
The Escape Zone
Downtown.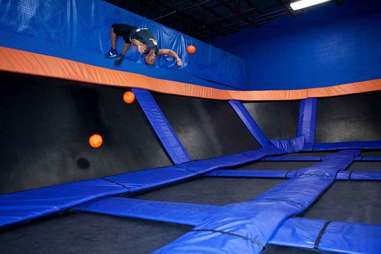 Get high... on a trampoline at Sky Zone Miami
This has nothing to do with anything you'd do in the parking lot, but everything to do with bouncy walls at this adults' bounce house in Doral. Get a big group of friends together and play dodgeball on trampolines, literally bouncing off sidewalls to make trick shots and pegging your friends in the head. Or convince yourself you can dunk by playing trampoline basketball.
Bust your ass trying to ice skate
Though the only naturally occurring ice we have in South Florida is typically made in bathtubs, the skatable variety can be found in a few locations and, if nothing else, will have you learning a fun new skill on a rainy day. The Kendall Ice Arena is a locals' favorite, but also check out the Scott Rakow Youth Center in Miami Beach, or if you want to be fancy, the
basement rink at the EDITION
.
Go discount shopping/people-watching
You know those people at MIA who have 48 suitcases who ALWAYS seem to be checking in right in front of you? They came here to shop, and most of them do it at Dolphin Mall or Sawgrass Mills. Why? Well, though neither is what you'd call a relaxing shopping experience, both malls have outlets from big designers where you can get clothing and accessories at serious discounts. And since it's raining outside, spending the entire day navigating the places is just part of the fun.
Sign up here for our daily Miami email and be the first to get all the food/drink/fun in town.
Matt Meltzer moved to Miami for the friendly people and doesn't feel cheated at all when it rains. He's also got a million followers on Instagram, follow him to more lies @meltrez1.