Miami's a hotspot for tourists and out-of-towners, so naturally, there are tons of things to do in the city. So many, in fact, that this list could have easily been 1,000 ideas long, but ain't nobody got time for that. Thankfully, we narrowed it down (in no particular order) to 29 totally sweet and not-so-obvious things to do in the 305 before you bite it. Dale, Miami!
Recommended Video
France's Fête des Lumières Is a Light Festival Unlike Anything You've Ever Seen
1. Eat stone crabs at Joe's Stone Crab
From October 15-May 15, eat all the stone crab your stomach (and wallet) can handle at this old-school institution. Just get there early or else you're going to wait 2+ hours for a table.
2. Play a round of golf at Doral's Blue Monster
You'll be dropping at least $450, but it's one of the best courses in the country.
 
3. Have brunch at The Biltmore
$85 gets you a massive spread of big baller brunch food and bottomless Champagne in a lush courtyard setting. Afterwards, veg out poolside.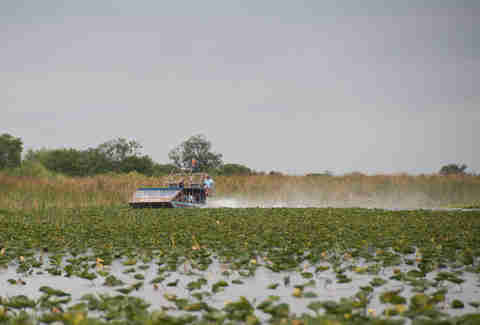 4. Ride an airboat through the Everglades
What with urban sprawl and global warming, the Everglades may bite it before, er, you do. Plus, you may run into some alligators, snakes, and birds.
5. Watch a Miami Heat playoff game at the American Airlines Arena
Because we've made it to the finals plenty of times without you LeBron James.
6. Have a cafecito at a ventanita
3:05 Cafecito is the city's official cafecito time. Head to two of the city's most popular places -- El Exquisito (pictured above) or Versailles, and order it with extra sugar and a side of pastelito. Stick around and you may hear some interesting Cuban stories.
7. Swim at the Venetian Pool
At 820,000 gallons, it's the largest freshwater pool in the country and a great place to cool off from the Miami heat.
8. Play dominoes at Maximo Gomez Park
This here is the city's non-official. official gathering place for domino enthusiasts. Whether you're playing or just watching, it's serious business. Located in the middle of Little Havana, you thankfully don't need to speak Spanish to understand what's going on.
9. Go to Homestead to eat Mexican food
Real deal Mexican food can be found in Homestead, so create own multi-restaurant food tour and on the way back; visit Mexico Market and Redland's Farmers Market for authentic products.
 
10. Get lost in Downtown Miami
Downtown sometimes gets a bad rap, but it's actually quite beautiful. Park your car and walk around, you'll find cool architecture, hidden walkways, and international food.
11. Watch the Flight of the Flamingos at Hialeah Park Racing & Casino
Flamingos take flight daily during race days. Then, stick around to play the slots at the new casino.
12. Eat a Publix sub
Preferably a chicken tender one, but any will do. They are a true rite of passage.
13. Check out Wynwood's art
Whether you are a tourist or a local, this is a requisite. Grab a coffee or tea at Panther Coffee and walk amongst some of the sweetest street art you'll ever see. You may even bump into an artist in action.
 
14. Stand in line for a Knaus Berry Farm cinnamon roll
Much like Joe's, diehard fans make plans around this sweet number's seasonality, October-April. Pro tip: go on a weekday when the lines are shorter as rolls tend to sell out on weekends. Work off the calories by picking strawberries on the fields afterwards.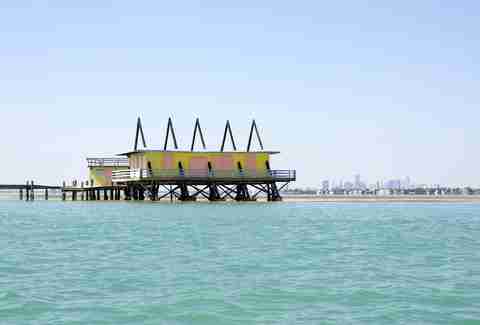 15. Get on a boat and see Stiltsville
Kill three birds with one stone: get on a boat, cruise around Biscayne Bay, and pass by this group of seven wood-stilt houses, which served as party central in the city's heyday of sin. With special permits, you can even host a party in one of the houses.
16. Join a CSA
Skip the supermarket and eat some local stuff. There is a healthy CSA community in Homestead.
17. Go on an Art Deco walking tour
Made most famous by Miami Vice, this preserved architectural style of short pastel buildings, porthole windows, and terrazzo floors, actually dates back to the late '20s and '30s. Walking tours help put context to it all.
 
18. Get invited to a quinceañera party... or crash one
Quinceañera courts, choreographed dance numbers, ridiculous dresses, and reggaeton music. If you haven't been to one of these parties, brush off your best Wedding Crashers skills and do it. Hang around any one of the city's banquet halls, and you'll find one in no time.
19. Catch a show/use the bathroom at Churchill's Pub
An icon since 1979, this is CBGB-esque club is Miami's haven for the alternative clad, and it's got a disgusting bathroom with a reputation all its own.
20. Go to one of the city's many festivals
Miami is host to hundreds of festivals all year long, so why not take advantage? There's something for every taste: South Beach Wine & Food Festival, Ultra Music Festival, Florida Supercon, Miami Book Fair International, Calle Ocho Festival…
21. Take a dip in the Atlantic Ocean
Sometimes life gets in the way, but don't forget we live less than 25 minutes from the beach. Visit it once in awhile, even just to dip your toes.
 
22. Take a cruise from PortMiami
We live in one of the cruise capitals of the world, so why do we insist on planning our weekend getaways from Port Everglades, 45 minutes away. This also gives you an excuse to check out the new-ish Port Miami Tunnel, too.
23. Watch a game of jai alai
Passionate players are still perfecting the "world's fastest game" on the outskirts of Miami Springs.
24. Eat alligator or frog
Before there was Cuban, Jewish, and even Bahamian cuisine, there was Florida fare. Indulge in the past with alligator and frog legs, because... um, what doesn't kill you makes you stronger?
25. Roast a pig in a Caja China
A large Cuban population means lots of pork eating. The best way to make it is in this Cuban pig roasting box. Crunchy skin meets juicy pork fat and tenderlion.
26. Eat Haitian food
Stepsister to Cuban cuisine no more, Miami is home to the largest Haitian and Haitian-American populations in the country. With that comes some of the best food this side of the Caribbean island.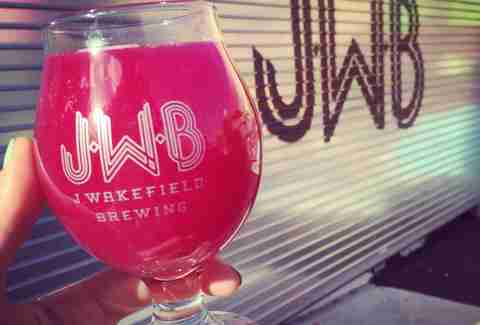 27. Drink a Florida Weisse beer
A traditional style (Berliner Weisse) goes Miami with an infusion of fresh local fruits. Johnathan Wakefield of J. Wakefield Brewing is the style's local godfather.
28. Come out of a nightclub when the sun comes up
You can have your 2am closing times, rest of the country. We like to party until the sun comes up and then some. E11EVEN is open 24/7, while Club Space is notorious for their into-the-afternoon parties. At which point, you should probably get some breakfast.
29. Get Clevelander seats at Marlins Park
Only in Miami can you party AND watch a baseball game (lower level next to third base) at the same time. Priorities, yo. Did we mention there's a pool?
Sign up here for our daily Miami email and be the first to get all the food/drink/fun in town.